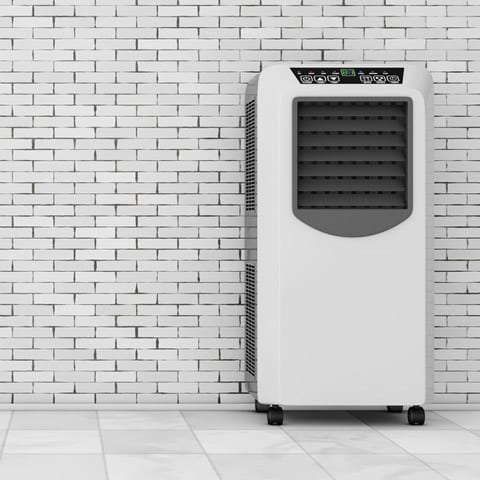 With all the buzz surrounding portable air conditioning units, you may be wondering, "Are portable air conditioners worth it?"
Honestly, if you're one of those people who have their doubts about these home appliances, we can't blame you.
Considering that most people (and other websites) usually only talk about central air conditioning systems and window-mounted AC units, it's only natural for you to ask yourself, "Are portable air conditioners any good?"
Because so many are on the fence as to whether they should invest in this cooling unit or not, we decided to create this post to answer those types of questions.
Let this be your one-stop-shop to clarify all your doubts about portable air conditioners.
We're going to look at how they fare against other types of cooling systems, in what situations they work best, their cons, as well as things to keep in mind when using them.
Let's get started!
No products found.
Are Portable Air Conditioners Good?
Portable air conditioners are good for specific cooling needs. If you want a portable AC unit that can move from room to room, then it is a good cooling option. It's also the efficient air conditioner choice that is not permanently installed.
If you're looking for an affordable and mobile air cooling system, then you will enjoy a portable air conditioner unit.
Having said that, choosing a portable AC unit over another type of cooling system is highly subjective and depending on your specific cooling needs, they might not be the best option.
The purpose of this guide will help you make that decision.
After reading this post, if you decide that a portable air conditioner is a good choice for you, then we invite you to check out out these two pages:
Each guide iscompletely free and will help you pick the perfect appliance for your needs and budget.
Now, let's find out if portable air conditioners are really worth it or not.
Are Portable Air Conditioners Worth It?
Truthfully, depending on what your cooling needs are, you can derive a lot of benefits from using portable air conditioners.
These include:
Portability and Ease of Installation
Clearly, the most obvious benefit which these types of air conditioners bring to you is the fact that they're portable.
These appliances are designed so that you aren't supposed to have much difficulty moving them between rooms in your home (more about this later.)
What's more, they're also easy to install and hardly require you to make any changes inside a room to set them up.
Compare this to window air conditioners that require a dedicated window for installation and usually two people to tackle the job.
With portable air conditioners, you don't necessarily need a window for ventilation and you can easily set them up by yourself.
Because they're self-contained devices, these units can literally be set up anywhere in your home irrespective of whether you have a window or not. (They also serve well as both large room and small room coolers.)
While yes, venting a portable air conditioner through a window is the most traditional way of removing hot air from a room.
That said, it's not the only venting option for portable AC units.
You can also vent this device in other ways including:
through a wall

into a ceiling

in a dryer vent

out casement windows

out sliding doors and windows
With window air conditioners, you don't have those options.
They must be installed inside a standard window frame.
Therefore, portable AC units afford you the flexibility of cooling various rooms in your home without the hassle of doing lengthy (and usually permanent) structural installations.
Portable Air Conditioners Save You Money
Are portable air conditioners worth it when it comes to saving money?
They sure are.
In fact, portable AC units have proven to help cut your electricity bill by saving energy costs that you normally incur when using air conditioning systems like a central air conditioner.
When comparing a portable AC vs central AC, the former unit can lower your monthly energy bills as long as you know how to use it in the most effective way.
For example, using this appliance to regulate the temperature inside a specific room of your home while keeping your central air conditioner unit off (or on a higher temperature setting) can significantly cut down on your energy expenditures.
You can spend as little as $20 to $40 per month using a portable air conditioner versus $100 to $200 on central AC. And even the best mini split air conditioner system costs around $50 per month for the lowest BTU output (not including the installation cost of around $3,000.
If you want to save the most money on a portable AC unit, check out our free guide on the best cheap portable AC units.
Require Little-To-No Maintenance
If you buy a portable air conditioner that features a fully self-evaporative design it won't require any daily maintenance.
That's because these models evaporate the water they accumulate during the dehumidification process.
This eliminates the hassle of draining a collection tank or routing a drain tube to a drain.
Wi-Fi Control is Available
Based on new trends in the market, you can now purchase Wi-Fi enabled air conditioners or upgrade an older model to work with a smartphone or tablet.
Wi-Fi portable air conditioners include a mobile app that allows you to control it remotely.
Some of the top brands like Frigidaire, LG Electronics, and Kenmore have come on board with this new technology and offer some fantastic apps with a lot of convenient features.
What's more, you don't necessarily need to buy a Wi-Fi portable AC unit—you also have the option of upgrading your original, regular air conditioner to support Wi-Fi control.
In order to do that, all you need to purchase is a Smart/Wi-Fi controller to get mobile functionalities.
Some brands of controllers also allow voice control through Amazon Alexa, Google Home, and Apple HomeKit.
Depending on your needs, this feature alone may be the best answer for you when asking, "Are air portable air conditioners worth it?"
Looking at the Cons of Portable Air Conditioners
While portable AC units do bring certain benefits, they're not perfect.
Here are some of the disadvantages you might have when using these devices.
Portable Air Conditioners Are Not "Easily" Portable
As contradictory as this may seem, portable air conditioners can be difficult to move.
While theoretically, it's possible to move them between rooms, they're often quite heavy, up to 70 lbs. or more.
Granted, many portable AC units do feature wheels which help them to be moved around easier.
But not all machines have this luxury.
And, if you have thick carpeting in a room, wheeling an air conditioning unit through it may not be the easiest task.
If you're physically challenged or have difficulty lifting or moving heavy objects, keep in mind that you may not be able to move a portable AC unit around as much as you thought.
Noise Can Be a Factor
Out of all of the different types of air conditioning systems available, portable air conditioners are the noisiest units around.
The average noise level of these appliances is 70 dB which is similar to the sound of a dishwasher or vacuum cleaner.
If you're someone who likes to have a quiet space or minimal interference from outside sounds, putting a portable AC unit in your room might not be the best option.
You can learn more about how portable AC units are built in our guide on how do portable air conditioners work.
Buying the Right Size Unit Can Be Confusing
A huge part of answering the question "Are portable air conditioners good?' has to do with the home appliance's British Thermal Units (BTU) and its capacity optimally to cool a room in your home.
With so many different BTU numbers available for portable AC units, it can be quite confusing as to which product is the best buy.
BTUs are units used to measure heat.
Simply put, this refers to how much square footage a portable air conditioner can efficiently cool.
Some portable air conditioning units have high BTUs (14,000) whereas some have low ones (5,000).
Knowing this is key to determining which type of portable air conditioner you should use to cool a room.
If you're looking at cooling a big room, you should look for a portable air conditioner which has a high BTU number and vice versa.
Below is a quick chart to help guide your decision.
BTU Selection Chart by Room Size
| Room Area To Be Cooled | Capacity Needed |
| --- | --- |
| up to 350 sq. ft. | 8,000 BTU |
| 350 to 400 sq. ft. | 9,000 BTU |
| 400 to 450 sq. ft. | 10,000 BTU |
| 450 to 550 sq. ft. | 12,000 BTU |
| 550 to 700 sq. ft. | 14,000 BTU |
To find a portable air conditioner that's right for you, take a look at these two guides:
Overall, Portable Air Conditioners are a Good Choice
As you learned earlier, there are several benefits of owning a portable air conditioner.
If you're looking for an easy-to-install, portable device that can cut your energy costs, you should definitely look at purchasing a portable air conditioner.
However, if you do so, you just need to be aware of the fact that these AC units can be a bit noisy, difficult to move, and require a specific BTU measurement in order to be the most effective for your cooling needs.
Always measure the size of your room and check your portable air conditioner's BTU before purchasing it.
Doing so will help you get the most from your cooling system.
But in the end, determining are portable air conditioners any good or knowing for certain are portable air conditioners worth it or not really depends on your own personal needs.