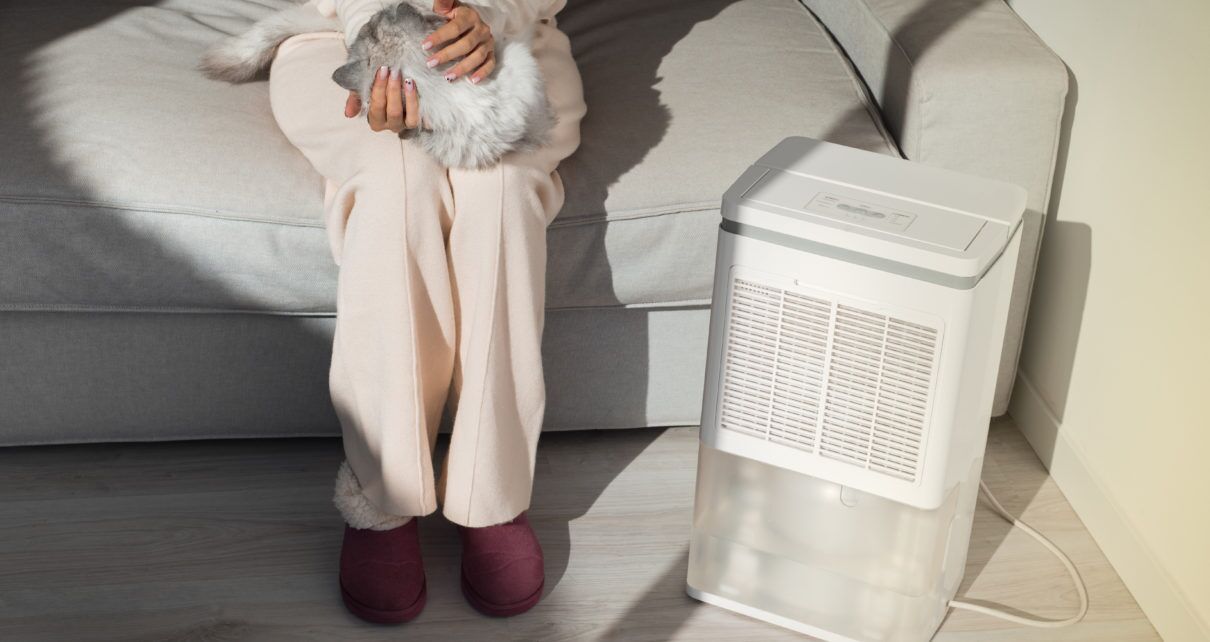 If you have trouble keeping your basement dry or struggle with high humidity levels throughout the house, it may be worth investing in a dehumidifier. To avoid the hassle of having to empty the unit several times a day, consider getting a dehumidifier with pump.
As the cold, dry winter weather gives way to spring, temperatures start to rise and so does the humidity. Adequate humidity levels are better for your skin and can help alleviate allergies and other respiratory concerns, but excessive humidity can contribute to increased sweating, frizzy hair, and overheating. Damp conditions can also increase the risk for mold growth.
In this guide, we'll talk about the benefits of dehumidifiers with pumps and give you our recommendations for the top four models available on Amazon.
What Does a Dehumidifier with a Pump Do?
A dehumidifier is a device that removes moisture from the air and, in doing so, helps reduce humidity levels in the home. High humidity levels are common in poorly ventilated areas like basements and crawl spaces, but they can happen in more well-used locations like bathrooms as well. By moderating humidity levels, a dehumidifier can help improve indoor air quality.
Dehumidifiers work in much the same way that air conditioners do. They draw warm air into the unit using a fan. As the air passes through refrigerated coils, moisture in the air condenses and is collected inside the unit. The moisture collects a single droplet at a time and falls into a storage tank which must be emptied when it gets full.
While most dehumidifiers have a storage tank, some also come equipped with a pump. The pump funnels collected moisture through a tube directly into a drain. This saves you the hassle of having to empty the tank and it helps ensure continuous function.
Tips for Choosing a Dehumidifier
When it comes to choosing a dehumidifier, it's important to consider the size of the space you're dehumidifying. From there, however, you have a number of other features to choose from.
Here are some features to look for when shopping for a dehumidifier:
Pint Capacity
The term pint capacity simply refers to how many pints of water the unit can remove from the air in 24 hours. This volume is affected by the size of the room.
Humidistat
This is an instrument that measures the relative humidity in the air and uses that information to control the unit. You can generally set a humidifier to keep the room at the desired humidity level.
Low Temperature
If you're looking for a basement dehumidifier with a pump, look for a unit that works in low temperature environments.
Electronic Control
Some dehumidifiers only have manual controls but many now come with electronic controls. The main disadvantage of electronic controls is that the unit may need to be restarted manually after a power outage.
Auto-Restart
This function is beneficial for units with electronic controls in the event of a power failure. The unit restarts automatically when power is restored.
You may also want to think about things like an air filter and the noise level of the unit. Having an air filter helps prevent large particles like dust and hair from being drawn into the unit. Noise level may not be a factor if you're using a basement dehumidifier with a pump, but it's worth considering for more frequently used areas.
The Best Dehumidifier with Pumps
Now that you know a little more about what dehumidifiers are and how they work, you're ready to start shopping. Amazon is a great place to shop for small home appliances and we've already done the research to bring you four of the best options on the market.
Here are our top four picks for the best dehumidifier with a built-in pump:
With nearly 40,000 customer reviews, this dehumidifier is easily one of the most popular models on Amazon. It is rated for spaces up to 3,500 square feet and has a 40-pint capacity. If you need a larger or smaller unit, hOmeLabs also offers units rated for 1,500 to 4,500 square feet.
This dehumidifier features a built-in pump with flexible draining options. The easy-to-use digital control panel makes operation simple. It offers a 24-hour timer and it is compact and quiet, producing only 49dB of noise. This dehumidifier is Energy Star Certified with a lower power consumption of just 1.8L/kWh.
View on Amazon
If you're willing to invest a little more, this 50 pint dehumidifier from Frigidaire offers a compact size and hassle-free performance. The washable filter captures dust and other particles from the air, helping to prolong the life of your dehumidifier. It comes with a front-loading bucket with a carrying handle and splash guard but also has a continuous drain option.
This Frigidaire dehumidifier features a portable design with caster wheels, making it easy to transport from room to room. The low temperature operation means it can be used in temperatures as low as 41 degrees Fahrenheit. Plus, with customizable humidity control you can set it and forget it.
View on Amazon
With four sizes to choose from, the Midea dehumidifier is an affordable choice. This unit is compact and efficient with a streamlined design. Caster wheels provide easy mobility and the built-in pump provides continuous drainage. It even comes with a 16-foot drainage tube.
This dehumidifier is Energy Star certified and comes with a built-in timer so you can program it to operate on a set schedule. You can adjust the humidity to between 35% and 85%, making it a great option for basements, crawlspaces, bathrooms, and more.
View on Amazon
If you're looking for a plain and simple dehumidifier that does what it's designed to do, the Danby 50 pint dehumidifier with pump is an option to consider. Rated for spaces up to 3,000 square feet, this dehumidifier has a built-in pump to offer continuous drainage.
This dehumidifier is equipped with a Smart Dehumidify feature, so it automatically controls humidity by factoring in the ambient temperature in the room. It is Energy Star certified and has electronic controls with an LED display.
View on Amazon
Bottom Line
If you struggle with high humidity levels during the warmer months and you're considering a dehumidifier, you might want to think about getting a model with a pump. A dehumidifier with a built-in pump empties directly into a drain, saving you the trouble of having to remember to empty the tank. Because it drains automatically, you don't have to worry about the unit stopping.
Any of the four dehumidifiers reviewed above would be a great pick. Be sure to consider the size of the space you're dehumidifying and any additional features you want to help you make your choice.