With all of the different basement heating options that are available, what is the best way to heat a basement?
No one wants to incur more cost on their electric bill than is necessary by either choosing an electric heater that is not energy efficient or by having a heating system that has more output than required.
Here, we will run through all the different types of heat sources and forms of electric space heaters available on the market to help you find out how to heat a finished basement in the best and most cost-effective way.
Best Way to Heat a Basement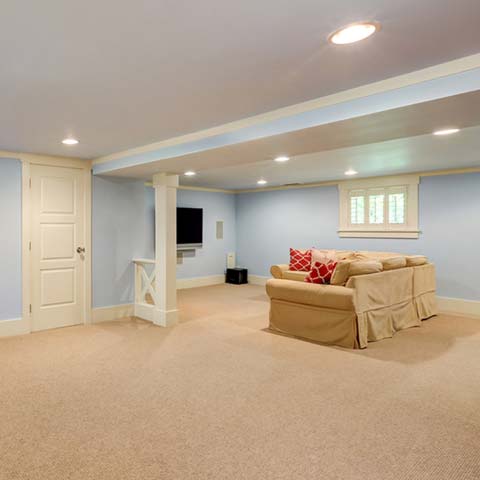 If you don't want to go to the lengths of installing a complete heating system and there is no fireplace, then don't worry, because there are various heating options available to you.
All basement heaters have their Pros and Cons but the best part is that they are easy to install. And for the more permanent type of solutions, you can get a professional to do the installation if you don't have to knowledge or desire to do it yourself.
Option 1: Infrared Space Heater – Radiant Heating
Just as the sun emits rays that warm the earth and anything in the shade is cooler, the electric radiant infrared heater works the same way warming the objects that are directly in line with its rays, i.e the basement floor, furniture, and of course people.
However, anything not receiving the rays will be cool.
Infrared is radiant heat and warms objects rather without heating the air and although the light spectrum these radiant space heaters emit is invisible to the human eye, it will be absorbed by objects such as your clothes and skin, etc.
This form of heating is becoming ever more popular and really does come in many forms such as propane, natural gas, and electric.
Infrared space heaters also have different output levels, designs, and even different controls along with big variants in the price range and costs. You can even get a good electric fireplace that has realistic flickering flames.
Pros
Instant heat
Does not alter the air quality
Runs almost silently
Good for directional heating of areas
Cons
They do get extremely hot and can therefore be a fire hazard
Doesn't hold heat when turned OFF
Continued direct use can cause skin problems, similar to the blotchiness of sitting in front of a hot fire too long
Option 2: Oil Filled Radiator – Convection Heating
Oil filled radiators are a form of convection heating that will warm the whole room slowly while maintaining a steady temperature without drying the air.
This design makes them a healthy and safe form of heating.
And it's possibly one of the best basement heating options, especially when good insulation is fitted.
Once the oil is warmed inside the unit to the set temperature, the thermal energy will then carry the heat out into your room; a process known as convection heating.
Almost all of these heaters are fitted with adjustable thermostats and will switch ON and OFF when required and once warm they are a surprising energy-efficient heat source choice.
Oil filled radiator heaters are a great way to keep a damp and cold basement dry and warm without incurring too much extra cost.
The size, in square feet, of your basement space or room will dictate the size of the heater that is going to be best for you. But with so many types of units available, there is something to suit everyone and every basement.
Oil filled radiator heaters can be free-standing or wall-mounted and unlike a hot water system, they require no installation; simply plug the heating system into a standard outlet and enjoy the warmth.
Requiring little or no maintenance either, these are a great option for heating your home. Just a quick wipe over to keep free from dirt and dust is all that is needed.
Pros
No noise, except the occasional click of the thermostat
Large surface heating area
Good energy efficiency
Doesn't dry out the air
Portable
Cons
Hot to the touch
Larger models without wheels can be heavy and cumbersome to move
Option 3: Ceramic Space Heater – Convection Heating
Electric ceramic space heaters come in many types, shapes, and sizes, and some units give you the choice of being either placed on the basement floor or installed on a wall providing efficient and effective heat.
There are models that are convection only, but there is also the option of a fan assisted ceramic space heater should you prefer to heat your room a little faster.
Requiring no installation, they simply plug into a standard outlet making them convenient and easy to use.
Being lightweight and portable you will also be able to move this kind of heater from room to room quickly and easily; never to be in the cold again.
So what is a ceramic heater and how does it work?
When you start looking at these options you will often come across the term PTC (positive temperature coefficient). Put simply, this is the type of ceramic used and when heated acts just as a metal element that you probably know better, would.
Without getting too complicated, convection means that a warm air current is sent into the room via thermal energy. As the cold air is drawn into the unit and circulated, the air passes over the ceramic elements and warmed.
With ceramic space heaters, the hot air is then carried out into the room via the thermal energy created from the heat or via the use of an electric fan.
Pros
Cool to the touch making it safe for younger children
Lightweight, compact, and portable
Instant heat
Cons
Not ideal for larger areas
Slower to heat a room if convection and not fan assisted
Needs surrounding space to ensure good airflow through the unit
Option 4: Fan Assisted Heaters – Forced Air
What is a forced-air system? Most people will have used or at least know about forced air heaters such as fan heaters, so we will keep it brief here.
Forced air heaters work in the same way as ceramic space heaters but use metal elements instead of ceramic.
Cool air is sucked in, circulated around the elements warming it, and once warmed a fan blows the warmer air out and into the surrounding area.
Pros
Instant heat
Lightweight and portable
Inexpensive
Cool to the touch
Ideal floor heaters
Cons
Not good for large areas
Needs space to allow for airflow
Objects will block heat
Option 5: Propane Heater – Gas Heating
A propane space heater is the only type of heater that doesn't use electricity as a power source.
This option for heating a basement uses liquid propane (LP) to fuel the heat.
The major advantage of using a propane heater is that it produces the hottest level of heat and is about 20% cheaper to run than an electric space heater.
And because propane space heaters use fuel for operation, it makes these units the most portable space heaters you can in a basement. There are no constraints of a power cord and can continue to run even if the electricity goes out in your home.
As for the heating system process, indoor propane heaters warm up a room with the method as infrared heaters: it emits electromagnetic waves into the air to heat up objects close by.
Pros
Most portable option
Doesn't require electricity
Hottest heat available
Cheapest to operate
Cons
Requires fuel
Higher risk of fire and explosion
Not every unit can be used indoors safely because of carbon dioxide emissions
Option 6: Baseboard Heater – Gas or Electric Heating
When reforming a basement you have more options and ways to heat it, because you will have the benefit of forward planning. That allows you to take full advantage of all the basement and home heating systems that are available such as a gas or electric baseboard heater system.
This basement heating option comes in various types and can be as advanced or simple as you like.
You can get simple plug in electric baseboard heaters, full fledge electric models that hardwire into your circuit box, gas floorboard heaters that connect to your existing gas lines, and more.
If this option appeals to you, check out our best baseboard heaters page for some good recommendations.
Pros
Many options available
Comes in various lengths
Can be a long-term installation system or portable unit
Cons
Slow to heat up
Do not use a fan to spread heat
Plug-in models can have an unsightly cord
Option 7: Wall Heater – Convection or Radiant Heating
Wall heaters are a newer option for how to heat a basement and are rising in popularity.
And for good reasons too. These heating solutions for a basement do not take up any floor space and come in both types of systems: convection and radiant heating.
Plus wall heaters can be powered by gas or electricity depending on the unit you choose. You can even get a wall mount electric fireplace. You can literally pick the exact model for your heating needs, style, and budget.
Pros
Not restricted to one type of heating
Doesn't take up floor space
Wi-Fi models are available
Can run on electricity or gas
Gas wall heaters can heat large rooms
Cons
Electric wall heaters do not heat large spaces
Requires tools and technical knowledge for home installation
Permanent installation; will be seen even when not heating, like in the hotter months
Option 8: Underfloor Heater – Radiant Heating
Underfloor radiant heaters use electric resistance cables to produce heat. The most popular style of this basement heating solution features cables embedded in thin mats.
The mats can be installed under most types of flooring material, including tile, stone, engineered wood, and laminate floors.
Once installed, the mats are connected to a thermostat controller where you can select temperature settings.
With a radiant heated floor, the warmth rises evenly from below, so the temperature of the basement is uniform from top to bottom.
Pros
Energy efficient heating option
Effortless to run
Does not take up space in a room
Works with all floor coverings
Safety
Comfort
Cons
Installation times
Installation cost
Potential floor height issues
Top Reasons to Heat Your Basement
Better living space: A basement can be a wonderful living space for you and your family to enjoy, you can use it as a games room, child's playroom, or just a sit back and watch a movie kinda space.
Poor insulation: Basements tend to be a naturally cold place in your home because they are typically made with concrete and very often have no insulation to prevent heat loss (foam insulation or otherwise).
No direct sunlight: Usually containing just a water heater, water lines, and air ducts, they also don't normally have the benefit of sunlight that the other rooms in your home do.
Does Heating Your Basement Keep Your House Warmer?
Have you ever thought that you need some form of radiant floor heating in your home to keep your feet warmer?
If so this may be because you have a cold basement below, but if you heat your basement you can prevent the cold air from cooling the floor above.
Basements can become extremely cold when the outdoor temperatures start to drop and as this cold air rises it can be drawn up to the floor level above causing you to have cold legs and feet.
By having a simple heating solution in your basement as discussed above, you will achieve a natural radiant floor heat instead of a cold floor without the high costs of installation.
How To Avoid Damp and Mold In Your Basement
As warmer moist air meets the colder foundation walls of your basement, it can cause unsightly and sometimes dangerous mold to grow; a warm space with low humidity can help you avoid this problem.
Therefore, having a good space heater in your basement along with a dehumidifier can keep the temperature and moisture levels at the right levels.
In the long term, you can save yourself a lot of trouble, effort, and money by not having to clean away these dangerous spores that this mold can have, giving you a drier, safer, and healthier basement.
How Can I Heat My Basement Cheaply? – Avoid Bigger Heating Bills
When cold air in your basement rises to the level of your water lines and ducts, you may find yourself cranking up your heating system, especially if your ducts are not completely sealed and are drawing the colder outdoor air in.
By heating your basement and finding the most cost-effective way for you to do so, you can help avoid turning up the temperature in your main living areas; saving you money on the heating systems bills.
That's why the space heaters we recommend above as well as the large room heaters here are a good choice. They can satisfy your much-needed warmth and keep your electricity bills low.
Summary on Basement Heating Options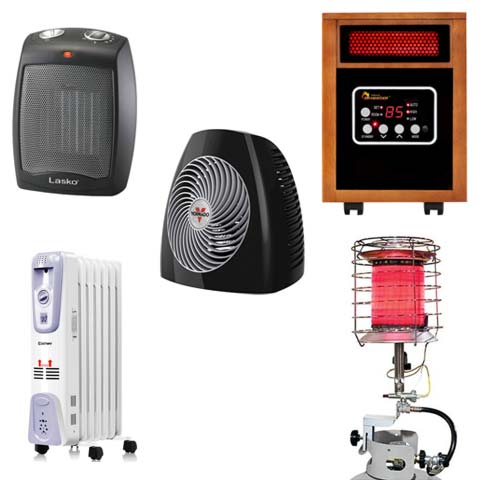 As you can see, it is not just the design that you need to think about when deciding the best way to heat a basement.
The forced air and convection methods of the basement heating options are the best for instant heat, while a heat source such as the oil radiator is best for a constant temperature throughout the winter months.
And if you want to go one step further, you can also have a professional install a baseboard heater, wall heater, or underfloor heating to get the results you desire. Or you can attempt one of these basement heating solution projects yourself.
And remember a warmer basement can mean warmer feet up above, so you won't have to turn up the central heating system as much.