Are you thinking of buying a Coway air purifier?
But not sure good it actually is at cleaning the air?
If so, this Coway air purifier review was written for you.
In this guide, we'll highlight the top features and capabilities of the Coway AP-1512HH (also known as the Coway Mighty Air purifier) so that you can decide if it's the right device for you.
If you're looking for Coway AIRMEGA reviews, then visit these links:
Whether you suffer from allergies, need to get rid of smoke, or just want overall fresher and cleaner air to breathe, this Coway air purifier may be just what you're looking for.
So, let's get into this Coway AP-1512HH review to find out what it does and how it works.
Disclosure: Home Air Guides is reader-supported. As an Amazon associate and affiliate for independent brands, we earn from qualifying purchases made through the links on our site. Learn more.
Coway Air Purifier Review
Coway is an innovative South Korean company based in Seoul that's been producing award-winning products since 1989.
Why the location of this company is important in this Coway Mighty Air purifier review is because the cities and towns in South Korea have a lot of air quality issues. And having an air purifier is a must.
That means you can rest assured knowing that if Coway air purifiers work well in Seoul, then they'll do a phenomenal job where you live.
This particular model (Coway AP-1512HH) is one of the company's earlier air purifier models; however, it's still incredibly popular with consumers, quite powerful, and an extremely reliable machine.
In fact, this air purifier continues has been featured on our top air purifiers guide.
Keep reading to find out why.
We'll go over the air filter types, the room size coverage, and the top features of these air purifiers.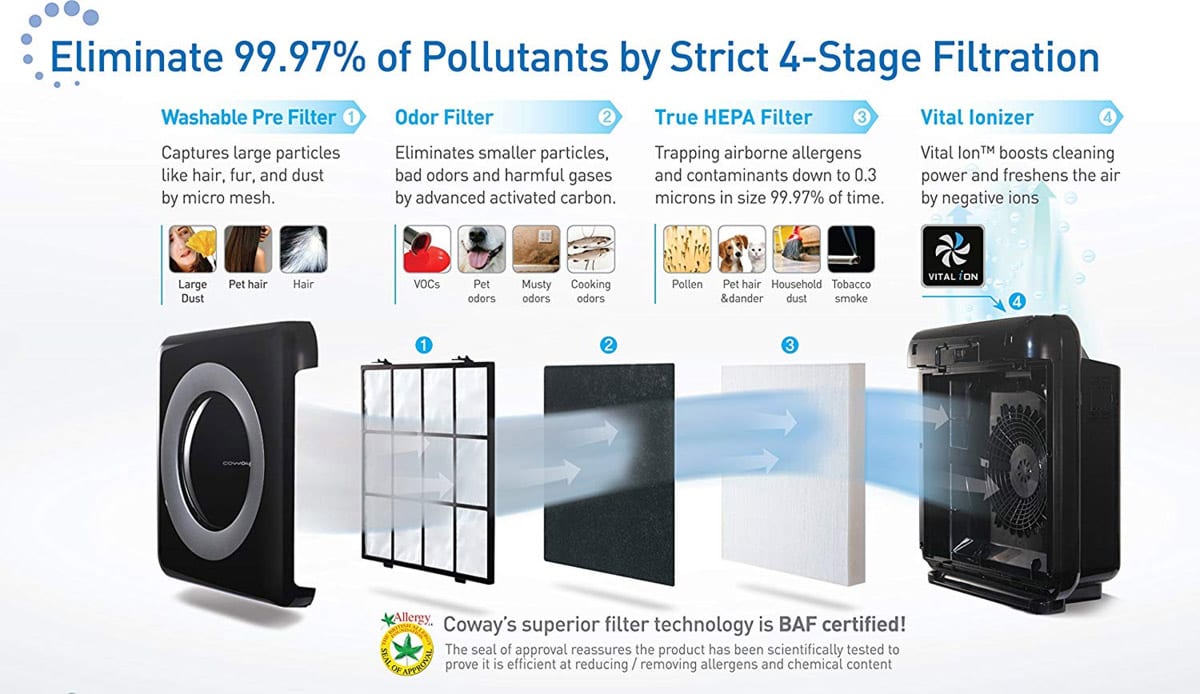 Filter Types
The Coway air purifier comes with four filters, and each one is a powerful and effective component that removes harmful elements from the air.
Pre-filter – A washable filter that captures the largest particles, such as dust, dirt, hair, and pet fur.
Odor Filter – A special filter made out of activated carbon that traps odor particles and harmful gases. It also captures larger particles not trapped by the pre-filter.
True HEPA Filter – A high-performance filter that traps 99.97% of the finest contaminants down to 0.3 microns. It excels at removing airborne allergens, pet dander, bacteria, mold spores, factory and automobile exhaust smoke, and other common indoor contaminants.
Vital Ionizer – This feature boosts the cleaning power by charging airborne particles. This makes it easier for the other filters to trap particles and helps to freshen the air. It can be turned on and off.
Room Size Coverage
The Coway air purifier was designed with the average person's needs in mind.
It doesn't cover a massive amount of space nor is it restricted to being used in a tiny room.
Instead, the Coway AP-1512HH air purifier handles average size rooms up to 361 square feet (sq. ft.). This makes it an economical choice for a majority of people who need a high-quality air purifier.
In particular, this machine is ideal to be used in the following spaces:
Bedrooms
Living rooms
Dens
Dining rooms
Kitchens
Home offices
Smaller finished basement areas
Craft rooms and workshops
Coway Air Purifier CADR Rating
Clearly, an air purifier's job is to remove impurities from the air.
And to prove that a device is effective at doing that, many manufacturers have their air purifiers independently tested by the Association of Home Appliance Manufacturers (AHAM) to get a Clean Air Delivery Rate Rating (CADR).
The purpose of this CADR test is to see how effective the machine is at removing dust, smoke, and pollen from the air.
If the numbers from the test are close to the room size coverage, then the machine is considered to be effective at removing that particular pollutant. The goal is to have a number in each category at least 2/3 the number of total square footage coverage.
This Coway air purifier scored the following CADR numbers:
Dust: 246
Smoke: 233
Pollen: 240
As you can see, the Coway Mighty Air purifier meets or exceeds the CADR ratings established by the AHAM. If you buy this air purifier, you'll have a device that's incredibly effective at removing the majority of contaminants found in the air.
Coway Air Purifier ACH Rating
Another important part of this Coway air purifier review is the ACH rating which tells you how often the device filters the air in the room every hour.
This Coway air purifier has a 4X ACH rating.
In rooms up to 361 sq. ft., this device can filter the full volume of air four times in one hour.
When you're buying an air purifier, you want to look for at least a 4X ACH rating since it keeps the air in your home the freshest and cleanest from pollutants.
Top Features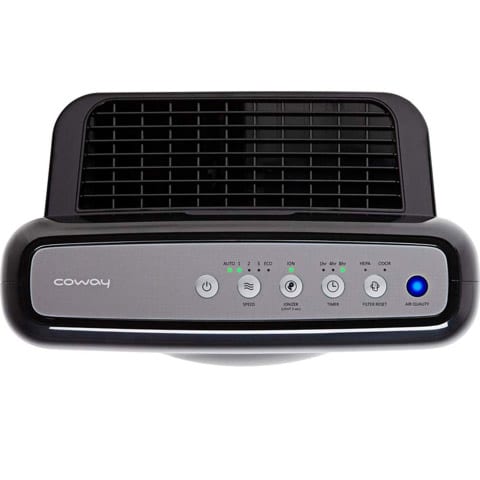 The first few sections of this Coway AP-1512HH review focused on the power of air purification that's inside this machine.
This section will cover the top features that make it simple and convenient to use.
With this Coway air purifier, you'll also get:
Filter Replacement Indicator – This alerts you when it's time to replace the filters so you don't have to guess. And it helps you keep the air purifier working at peak performance.
Air Quality Indicator – This air purifier has a colored LED light on top that lets you know the current air quality of your indoor air. The color changes in real-time.

Blue = Clean
Purple = Medium Polluted
Red = Highly Polluted

Variable Air Flow Control – This device is equipped with three fan speeds which allow you to manually adjust the air output to fit your air purification needs.
Auto Mode – This mode automatically adjusts the fan speed to be the most effective at removing harmful elements from the air. You can literally set it and then forget it while the air purifier works intelligently to purify your indoor air.
Eco Mode – This is a standout feature that isn't found on any other air purifier. Eco Mode ensures that your device is always running the most efficiently and saving you money in the process. When Eco Mode is turned on and the air purifier detects clean air quality in the room, the machine will go into a standby mode. Then, when air quality worsens, the air purifier will turn back on to quickly remove any contaminants. Eco Mode makes this Coway Mighty Air purifier one of the most energy-efficient and energy-saving products ever made.
Timer – If you need it, this machine can be set to run for 1, 4, or 8 hours before it turns completely off. This is a good option to have if you're ever gone for long periods of time and don't want the air purifier running when you're not home.
See More Features on Amazon.com
Design and Size
To make this Coway AP-1512HH review complete, let's talk about what this machine looks like.
For starters, Coway went with a modern design for this machine. The rounded corner square shape and thick circle band in the middle make it more appealing than just a flat colored box that's often found in competitor products.
You get two color options: black or white.
The front and back are covered in plastic, with the air intake vents on the front sides. The function buttons are located on the top, as is the air outlet vents.
The dimensions and weight of this air purifier are as follows:
Dimensions: 18.3″ (H) x 16.8″ (W) x 9.6″ (D)
Weight: 12.35 pounds
Who is the Coway Air Purifier for?
Now that you've read through our Coway Mighty Air purifier review, you may still be wondering who exactly is this product for?
This air purifier can clean the air in any home, but it can be especially helpful for the following people:
Anyone who suffers from allergies.
Asthmatics who need overall cleaner air to breathe.
Low to moderate smokers who want a fresher smelling home.
People who want less dust accumulating indoors.
Anyone who needs an inexpensive, yet high-quality air purifier for an average size room.
People who want to save the most money on their electric bill and air filter replacements (two major advantages of the Eco Mode).
Anyone who wants to know the current state of the air quality in their home. Not all air purifiers include an Air Quality Indicator like this model has.
Coway Air Purifier Warranty Information
This Coway air purifier comes with a 3-year warranty that claims the machine won't have any defects when it comes to workmanship and materials.
What Others Have to Say About the Coway Air Purifier
Are you still wondering if this Coway Mighty air purifier is the right air purifier for you?
Read the Coway air purifier reviews on Amazon to see what others have to say about this machine.
We hope those comments and this Coway AP-1512HH review are beneficial in helping you make a final decision.