Are you wondering how do propane heaters work and thinking of purchasing one?
If so, this is the perfect guide for you.
We'll discuss what a propane heater is, how it works, and also how to estimate the cost of using a propane space heater to keep you warm.
We'll also take you through the most important things to consider when you're buying a propane heater.
Both ventless and vented propane heaters come in different shapes and sizes and getting one that fits your needs can be difficult—but we'll make it easy.
This explanatory guide will take you through the top features that you need to look out for to purchase the perfect unit that suits your needs.
So, if you're curious about propane heaters, then read on.
You'll learn how exactly propane heaters work and which type of propane heater will meet your demands.
And, if you want to find out what the best propane heaters are, we have a detailed guide on that too.
What is a Propane Heater?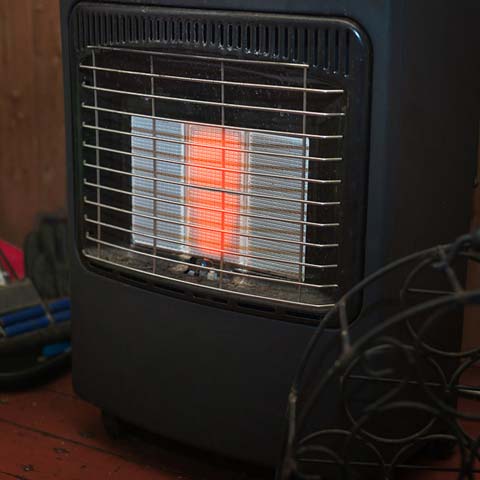 A propane heater with a thermostat warms a room using propane fuel. Fuel is filled in a tank and ignited manually or automatically.
Most people use propane heaters with blowers in larger areas like garages, balconies, or even as patio heaters without using electricity.
Propane heaters are portable and make it convenient for the user to move around with it in an event, in the house, or a construction site.
These heating units come in different sizes and shapes and can be used both indoors and outdoors. Some are freestanding and portable while others can be permanently mounted on the walls or ceiling.
The output heat in propane home heaters is in BTU values rather than watts like you'd find in ceramic heaters, infrared heaters, or oil heaters.
Therefore, you need to check out the BTU value of the propane heater in order to make sure that you're purchasing the best propane heater for your needs.
BTU to Square Footage Heating Chart
| Room/Area Size: | Recommended BTU: |
| --- | --- |
| 100-200 sq. ft. | 4,000-8,000 BTU |
| 200-300 sq. ft. | 7,000-15,000 BTU |
| 300-400 sq. ft. | 12,000-18,000 BTU |
| 400-500 sq. ft. | 15,000-24,000 BTU |
| 500-600 sq. ft. | 18,000-30,000 BTU |
| 600-700 sq. ft. | 22,000-36,000 BTU |
| 800-900 sq. ft. | 30,000-45,000 BTU |
| 900-1,000 sq. ft. | 32,000-48,000 BTU |
| 1,000-1,200 sq. ft. | 35,000-50,000 BTU |
| 1,200-1,400 sq. ft. | 44,000-70,000 BTU |
| 1,400-1,600 sq. ft. | 52,000-80,000 BTU |
| 1,600-1,800 sq. ft. | 58,000-90,000 BTU |
| 1,800-2,000 sq. ft. | 66,000-105,000 BTU |
| 2,000-2,200 sq. ft. | 80,000-115,000 BTU |
| 2200-2,400 sq. ft. | 95,000-130,000 BTU |
| 2,400-2,600 sq. ft. | 110,000-150,000 BTU |
| 2,600-2,800 sq. ft. | 125,000-160,000 BTU |
| 2,800-3,000 sq. ft. | 135,000-160,000+ BTU |
How Do Propane Heaters Work?
Most propane heaters have a piezoelectric igniter. It's made of quartz crystal that has an electric potential when forced air is applied. It's located in a mechanism that enables a spring-loaded hammer to strike. This generates a spark lighting up the propane heating system.
Propane heaters also have a pilot light that's lit using an igniter. It's lit by pushing the gas control knob towards the word "pilot".
Those are the basics of how a propane heater works.
Now, let's dig into each part of the process:
Fuel
Propane is an environmentally friendly non-fume gas that's compressed in liquid form for use in heaters and grills. It has a chemical formula of eight hydrogen atoms and three carbon atoms.
Igniter
It has a pilot light where a small flame burns continuously to save you time for lighting up the flame from scratch. When you press down the control knob pull down the ignition button until there is a flame in the pilot light.
Element
Propane heaters have elements like porcelain bricks that distribute the flame in a pattern across the heater body from the fuel.
Control
A propane heater has a temperature control feature. Some come with an automatic thermostat while some have a manual heat control from low to high. Those with an automatic thermostat sense the temperature of the room and regulate accordingly.
Safety
Burning propane in small enclosed places poses the risk of carbon monoxide intoxication. Carbon monoxide is an odorless gas that competes with oxygen in the blood causing suffocation.
Ventless vs Vented Propane Heaters
One last thing you need to be aware of is the differences between propane heaters that are meant for outdoor use only, and indoor-safe propane heaters.
Always determine if your propane heater is indoor-friendly. (Check out our reviews on space heaters for basements if you want to compare all types of units.)
Indoor ventless propane heaters are approved inside dwelling places because they don't emit carbon monoxide.
Vented propane heaters, on the other hand, are not approved for indoor use because they do emit carbon monoxide as they heat up a space.
Propane Heating Cost Estimator
The price of propane fluctuates throughout the year and ranges between $2 to $2.75 per gallon.
For a refill, companies charge $3.25 to $4.00 per gallon. You should also keep in mind that your refill will reach 80% of the maximum capacity according to the industry standards. This enables the propane to expand in the fuel tank during hot weather.
Propane Cost for a Small House
For a 1,500 square foot home in a mild climate area 1.5 million BTUs of propane is needed to heat the house for a month. For a cost of $2.86 per gallon of propane, it would take approximately $56 to heat the home for a month.
A house of the same size in a moderate climate would require 3 million BTUs every month and cost $114.
On the other hand, a house in a severe climate would need around 5 million BTUs per month and cost approximately $191 every month.
Propane Cost for an Average Home
In a mild climate area, a house of 2,000 square feet would require 2 million BTUs and cost $75 per month.
A house in a moderate climate would need 4 million BTUs and $152 per month to heat.
A house in a severe climate would require 6.5 Million BTUs and $248 monthly to heat.
Propane Cost for a Larger House
A 2,500 square foot home would need about 2.5 million BTUs and cost approximately $95 per month to heat.
The same house in a moderate climate would require 5 million BTUs and $191 to heat every month.
On the other hand, a house in a severe climate would cost $305 per month running on 8 million BTUs
Advantages of Propane Heat
Now that we've answered the question of how do propane heaters work, let's now take a look at the advantages of propane heat.
The list below contains the reasons why we would want to use a propane space heater in our homes.
Alternative to traditional fuels: Propane has high energy properties. Its octane rating is higher than gasoline. Propane is an odorant and the user can detect a leak in the heating system.
Eco-friendly: The portable propane heater is environmentally safe. Propane is a clean fuel and burns cleaner than other fossil fuels. It also does not contaminate soil or groundwater. It produces minimal carbon emissions due to its low carbon content.
Flexible usage: Propane heaters can be relied upon during an emergency. When your electricity has been knocked out your propane heater will come in handy. All you need to do is keep your propane tank full and well maintained. They're a good choice when looking for the best garage heater.
Safety: A propane wall heater for homes is safe to use. It has a distinctive smell and will alert you if there is a leak. Most propane heaters, even the portable units, come with a carbon monoxide detector that alerts you on high levels of carbon monoxide.
Save money: You can save money using cheap propane heaters. Infrared propane heaters are a good alternative to electric heaters. When using propane, you can save up to 30% annually on your electricity bills.
Disadvantages of Propane Heat
Apart from the benefits, propane home heating systems come with some disadvantages. No purchasing decision is complete without knowing about some of the most common disadvantages of heating houses with propane.
Propane poisoning: When you touch liquid propane you can develop frostbite like symptoms. If you inhale propane you can suffer from propane poisoning which can be fatal.
Carbon monoxide production: Incomplete combustion of propane leads to the release of carbon monoxide which can be life-threatening in poorly ventilated areas.
Propane is highly flammable: It's used as a reliable fuel since it burns up with minimal effort. However, a gas leak in a poorly ventilated area can lead to an explosion when in contact with a source of ignition.
The high pressure can be explosive: The high pressure in propane storage tanks can lead to an explosion during leaks. It's important to ensure that the storage tank is in good condition and does not have rusts or dents.
As a result, you might be wondering, "is propane heat safe?" If used correctly, propane heat is very safe. Mishandling of the propane heater is one of the causes and reasons why propane is bad sometimes.
How Does a Gas Patio Heater Work?
So how does a gas patio heater work? Patio heaters burn fuel like natural gas or propane, or they can simply use electricity. It uses radiant heat that passes through the air to keep you warm. This is unlike blowing warm air that will get lost into the air between you and the heater.
See our best outdoor heater page for good patio heater recommendations.
Choosing a Propane Heater
For a complete resource on how to choose the best propane heater for your home, have a look at our in-depth buying guide on the best propane heaters.
Below is a quick overview of the types of things to consider when choosing a propane heater that best suits you.
Ignition
Most propane space heaters have electronic ignition which operates by pressing a button and the heater turns on. Others are lit up manually and you need a matchbox to do this.
Portability
We mostly purchase space heaters for their portability. Some are lightweight, while others have different sizes, so you should choose the one that fits your intended use the best. Some propane heaters have casters or handles to make them easier to move.
Heat Settings
Some propane heaters have multiple heat settings and thermostatic control that enable you to set the most favorable temperature. Others just have an on and off system where you can't control the level of heat. So choose the type that works better for you.
Positioning
Propane space heaters come in different types: wall-mounted versions and floor-standing units. A wall-mounted propane heater is a good choice if you want year-round heat or a unit that doesn't have to be set up or taken down each season. A floor-standing unit is good when you need something portable.
Regardless of the type of propane heater you choose, ensure that the heater is positioned in an open place with plenty of clearance and not near any combustible item.
Safety Features
The more safety features the heater has the better. Ensure that it has a tip-over protection feature if it'll be sitting on the floor. Also, look for an Oxygen Depletion Sensor (ODS) no matter how the propane heater is mounted (on the wall or standing on the floor).
How Do Propane Space Heaters Work Summary
In conclusion, we've seen how do propane heaters work and highlighted some advantages and disadvantages of propane space heaters.
We've also discussed some important features to look out for when purchasing a small propane heater for homes.
However, it's not possible to find a single propane heater with every top feature available.
You need to choose the one that has the best balance of user features and suits your intended needs.