What is the difference between an infrared heater vs an electric heater?
And which type of heater is the most effective?
If you're looking for answers to those kinds of questions, then you're in the right place.
This article covers everything you need to know about infrared heaters and electric heaters so you can make the right choice for your home.
Infrared Heater vs Electric Heater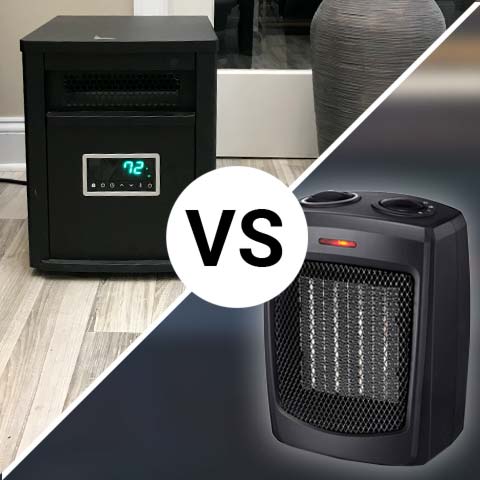 The first thing you should know is that infrared heaters and electric heaters are powered in different ways.
Electric heaters are powered by electricity or batteries. These heaters have to be constantly plugged into a power outlet or wired directly to a circuit breaker or fuse box.
If an electric heater is battery-powered, then the heating unit can be used anywhere without an electrical connection.
The best infrated space heater units, on the other hand, can be powered in several ways, including propane, natural gas, and electricity.
This variety of power sources makes infrared heaters the most popular option when it comes to available choices. They're also the top heater for outdoor areas like patios.
Another significant difference between infrared heaters and electric heaters is the type of heating they use, which we'll cover next
Infrared Heaters Use Radiant Heating
Infrared heaters emit radiant heating. This is the process of converting electricity into radiant heat.
Infrared radiant heat is a similar feeling you get from the sun when it warms you up.
The comforting feeling of radiant heat is often what makes people choose an infrared space heater.
Radiant heating is silent, energy-efficient, and most importantly uniform. It's also a safe pick if you're looking for a non-allergic heating source as they do not blow dust or allergens around the air.
Electric Heaters Use Convection Heating
Most electric heaters use convection heating; however, a select few do use radiant heating like infrared room heaters.
Convection heating is a type of heat transfer that heats the surrounding air. As a result, the air loses density and rises. Simultaneously, the cooler air is drawn from the room, creating a constant flow of hot air.
There are several good reasons for buying a convection based electric heater: it moves the air around the room, it's quiet, and offers an even heating source.
If you're looking for the best space heater for bathroom or the best wall mounted electric heaters available, then this is a good choice.
Next, we'll go over the various types of infrared heaters and electric heaters.
Types of Infrared Heaters
Infrared heaters come in many forms and have various applications.
Based on heating intensity alone, there are three main types to consider:
Short Wave Near Infrared Heaters: 0.78 to 1.5 microns; covers the thousands to hundreds of degrees Centigrade.
Medium Wave Middle Infrared Heaters: 1.5 to 3 microns; covers the high hundreds to mid-hundreds of degrees Centigrade.
Long Wave Far Infrared Heaters: 3 microns to 1000 microns (1mm); covers the mid-hundreds of degrees Centigrade to absolute zero.
The shorter the infrared wavelength, the hotter the infrared heater is and the more transmissive its heat is, meaning it can travel greater distances in narrower beams.
Now, let's get into the most popular types of infrared space heaters.
Infrared Space Heaters
An infrared space heater is good for rooms with high ceilings. It's also compatible with colder spaces with high heating demand.
This infrared space heater has the power to heat large cold places by itself.
The best infrared heaters on the market are highly energy-efficient. They use 100% of the produced heat, resulting in almost no loss of heat transfer.
Another benefit is that they're environmentally friendly and low maintenance. You'll have no hassle with these units.
One of the few disadvantages of infrared space heaters is their use of targeted heating. These heating systems generally create warmth in one direction. And that might make part of your room feel colder than other areas.
Infrared space heaters can run on propane, natural gas, and electricity.
Infrared Electric Heaters
An infrared electric heater is quite similar to the previous model, except it only runs on electricity. It employs electric current through a high-resistance element to produce heat.
Infrared electric heaters are a great solution if gas is unavailable or not your preferred method of heating.
These types of infrared heaters are some of the most cost-efficient heaters on the market because they're very efficient.
Also, infrared heaters don't just come in a plastic or metal casing, you can also get units that look like a real fireplace. If that sounds warm and cozy, check out our best electric fireplace reviews for all types and sizes, or narrow it down to wall-mountable versions with our best electric fireplace reviews page.
Infrared Patio Heaters
Opposed to an infrared room heater, a patio heater is designed for targeted outdoor area heating.
Infrared patio heaters are portable, slim, and highly effective at keeping you warm when it's cold outside.
If you like to enjoy your patio or front porch all year round, then these heating units can keep you warm throughout the winter season
The most notable downsides to infrared patio heaters are that they're only useful for spot heating, cannot heat wide-angle areas, and sometimes you need at least two to warm up a large outdoor space.
If you want to see what's available, visit our best outdoor heaters guide.
Propane Infrared Heaters
Propane infrared heaters share all the benefits of electric infrared heaters, except they use propane as fuel.
They're quiet, require little maintenance, and provide instant heat even on the coldest days. Many people choose these as garage heaters.
Propane infrared heaters are also the only option for places where no permanent energy source is available.
The only downside to propane infrared heaters is that they use a propane tank. This adds significant weight to the appliance and must be refilled often.
However, the best indoor propane heaters come in a variety of sizes and allow you to use 1 pound to 20 pound tanks.
Advantages of Infrared Heaters
Energy-efficiency: Infrared heaters use significantly less energy than other heating appliances, making them the best efficient space heaters.
Instant heat: They offer instant heat the moment they're turned on.
Gentle, comforting heat: Infrared heat is similar to the rays of the sun. The warmth it emits is considered cozy and comforting.
Disadvantages of Infrared Heaters
No heating when off: Despite offering instant heat when turned on, they stop heating the moment they're turned off. This can result in quick heat loss in the room.
Limited warming: Zone warming can feel cozy for some, and limited for others. If infrared wave heating is an issue for you, then this isn't the model to choose.
Types of Electric Heaters
As the name suggests, electric heaters convert electricity into thermal energy for heating the room.
Electric heaters are great for heating a room or even a complete home.
Next, you'll find an overview of the most popular types of electric space heaters.
Electric Baseboard Heaters
Electric baseboard heaters are among the most simple and cost-effective electric heating forms.
The baseboard unit heats the air and circulates it in the room. This process is called natural convection.
Electric baseboard heaters are considered one of the least expensive electric heating appliances but they do come with two major downsides: first, they take longer to heat a room than other electric heaters, and second, they can take up significant wall space along the floor if you choose a long model.
The best baseboard heaters available can be hardwired in a circuit panel or fuse box, or plugged into a power outlet.
Portable Electric Space Heaters
Portable electric space heaters are not hardwired but can be plugged into outlets or use batteries to power the device.
This design gives you the flexibility of carrying the electric heater around and is what makes them so popular. You can put these units wherever you need them for additional heat.
Many people consider portable units to be the best electric heater for bedroom as they can be moved around easily and taken to other rooms of the house during the day.
The primary downside of electric space heaters is that they're smaller units that do not heat up large rooms.
Electric Panel Heaters
Electric panel heaters are among the most preferred electric heating appliances for homes.
And they come with several great benefits.
First, electric panel heaters warm a room efficiently and evenly. Second, they're cost-effective, renewable-energy based appliances. Third, they can be fit for any room; you'll find both free-standing and wall-mounted models available.
The main downsides of electric panel heaters are that they're slower to heat up a room than a fan-force heater and some models can be expensive.
Electric Wall Heaters
Electric wall heaters combine a fan and a heating element to circulate hot air throughout the room. The fan helps these units heat a room much faster while lowering power consumption.
Electric wall hears are also smaller in width than baseboard heaters. This can free up more space and offer much more versatility regarding temperature control.
As for the disadvantages, there's not too much to share. Electric wall heaters are among the best choices for most households.
The plug-in units are easy to install, low cost, and come in small to large size units. Only the hardwired versions require professional installation.
Electric Heat Pumps
Electric heat pumps are among the most energy-efficient options on the market. These units use environmental heat to warm up a room as opposed to generating heat itself.
Electric heat pumps transfer heat from the outdoors to the indoors.
The optimal temperature range for conventional heat pumps is above 25 to 30 degrees Fahrenheit. It is not the most efficient heating option once temperatures fall below that level.
Heat pumps are also a permanent device and require professional installation by an HVAC technician.
Advantages of Electric Heaters
Safety and reliability: Electric heat is the safest possible option for your home. There are no fumes, burning elements, or gases to inhale or cause combustion.
Environmentally friendly: Electric heaters help preserve natural resources and emit no carbon dioxide in the atmosphere.
Affordability: Electricity is currently the cheapest and eco-friendly energy source on the market.
Disadvantages of Electric Heaters
Slower heating: Electric appliances take time to heat up their element and consequently the room.
Power outages: Electric heaters rely on electricity to heat. A power outage will cause them not to work unless you have a batter-operated heater.
Is an Infrared Heater Better Than an Electric Heater?
An infrared heater is better than an electric heater in terms of energy efficiency. These heating units use 100% of the heat produced compared to 80-90% for electric heaters.
Infrared heaters also offer various power source options, such as propane, natural gas, and electricity. Electric heaters can only be powered by electricity or batteries.
Do Infrared Heaters Use a Lot of Power?
Infrared heaters do not use a lot of power. These units heat a room more efficiently than electric heat, kerosene, propane, or wood. The amount of energy needed to run an infrared heater is low.
For an exact quote, you can always find the consumption rating on the back of each heater.
Can I Leave an Infrared Heater On All The Time?
Infrared heaters can and should run all the time. Infrared heaters with thermostats allow you to set up the right heating parameters so you can leave them on indefinitely.
Summary of Electric Heaters vs Infrared Heaters
There you have it, the ultimate comparison between an infrared heater vs an electric heater.
The main takeaway is that both electric and infrared heaters are high-quality appliances for heating specific areas of the home and even the outdoors.
If you're looking for a clear winner among the two, then you must make that choice for yourself.
What matters is finding the best appliance for your needs and house. To do that, just take your heating requirements, home size, and personal preferences into consideration when choosing between electric heaters vs infrared heaters.
We hope our guide cleared up any confusion between infrared heaters and electric heaters.