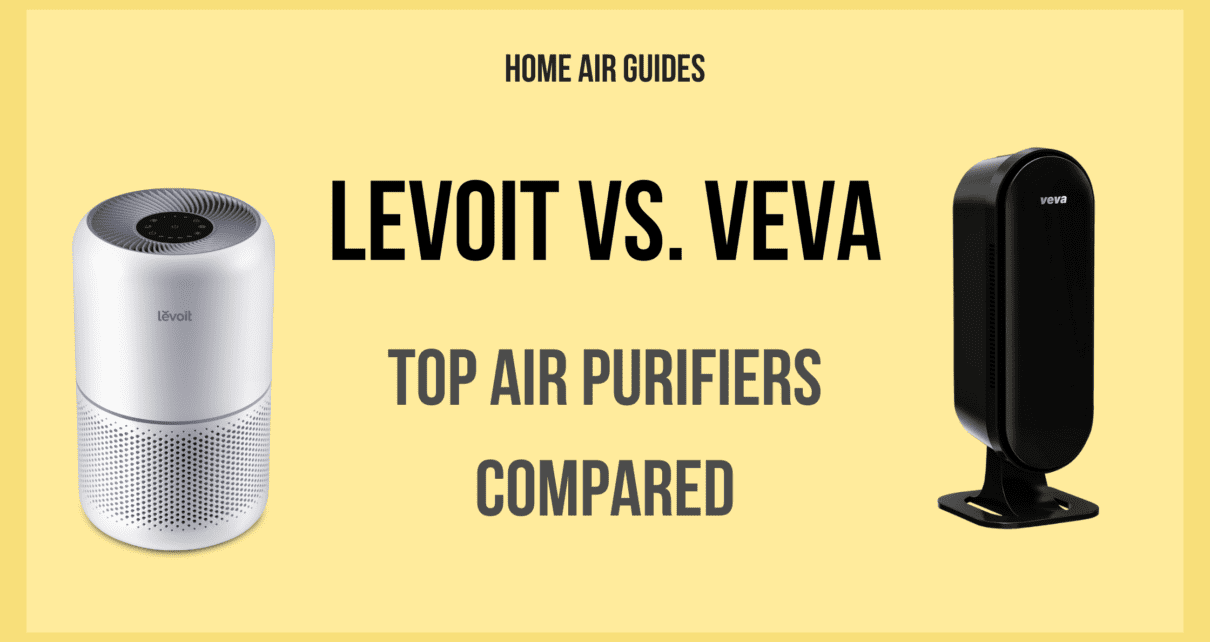 The Levoit air purifier has long been atop a short list of popular air purifier brands. But given new technology and growing demand for air purifiers, is the Levoit air purifier still the affordable top performer? Let's take a closer look.
At a Glance: Levoit Air Purifier vs. VEVA Air Purifier
On its face, you might think nothing stands out between the two air purifiers just by looking at them — they're both neutral colors and small enough to sit on a desk or coffee table without being an eyesore. So how do you determine which one stands out?
Our team did the research for you, particularly on the factors of price and performance. Below, you'll see a quick overview how we sized up the Levoit air purifier and the VEVA, and highlighted in green which one won out in a given category.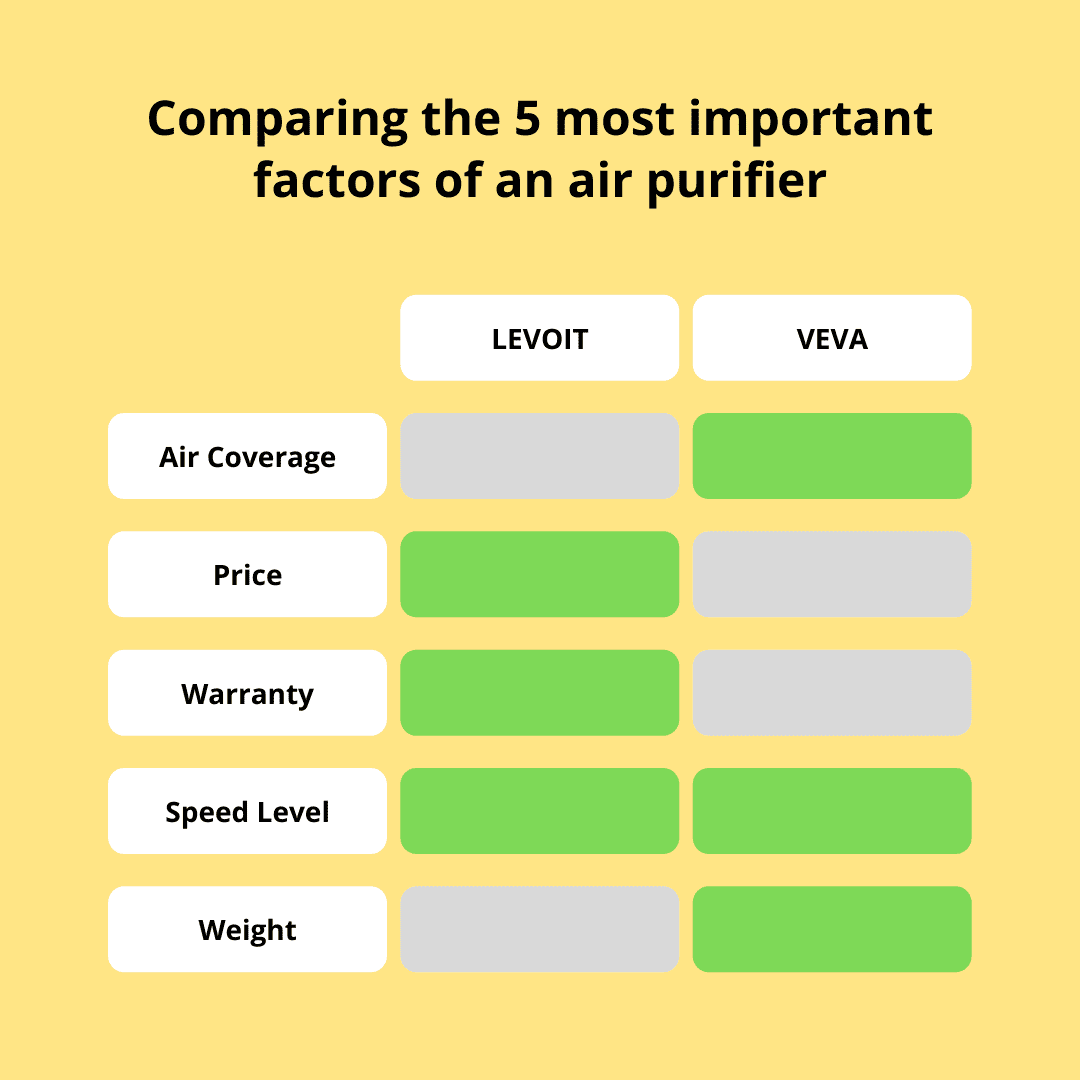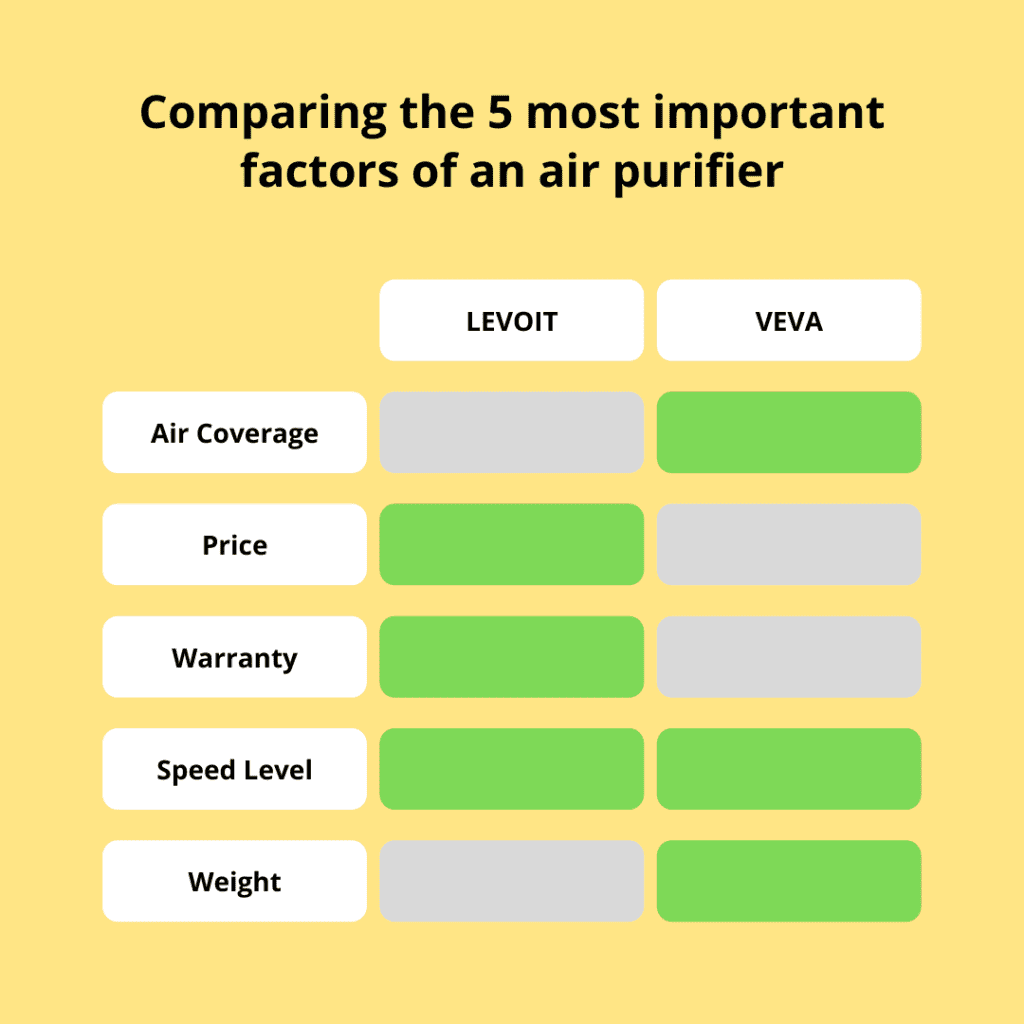 By now, though, you may be wondering how much more air coverage you get with the VEVA, especially if you're paying more, or asking how big the weight or warranty difference is between the two. We broke each factor down further to explain how the VEVA and Levoit air purifiers measure up against each other.
How to Choose Between the VEVA and Levoit Air Purifier
The good news is that both of these air purifiers are top performers, especially when it comes to affordable and minimal attributes. Overall, if you need an air purifier for a small space, you'll likely be better off with the Levoit air purifier. But if you have a small to medium sized rooms, you'll likely be better off with the VEVA air purifier
Air Coverage: VEVA Wins
Aside from price and whether an air purifier is in stock, air coverage is the largest factor in making the right decision. The VEVA 8000 beats out the Levoit air purifier in this category and it's not even close. The VEVA stretches roughly 325 square feet whereas Levoit takes care of 219 square feet.
Price: Levoit Wins
While both of these air purifiers are relatively budget-friendly — they both come in under $100 — the Levoit air purifier does edge out the VEVA by a few dollars. That said, pricing on each of these air purifiers can vary from time to time, so we encourage you to check out each before you purchase.
Warranty: Levoit Wins
Both the VEVA and Levoit air purifier instructions encourage you to contact the manufacturer if you experience a problem at any time. That said, Levoit offers a 2-year warranty whereas the VEVA only offers a 1-year warranty, letting Levoit take the cake here.
Speed Level: VEVA and Levoit Tie
When deciding between air purifiers, you'll want to examine the various speed levels. In this case, both the VEVA and Levoit have three. We preferred the highest setting on each over the course of our testing, especially because these air purifiers already cater to small spaces. Additionally, if you're looking for more air coverage than even the VEVA 8000 provides, consider the larger model air purifiers from each of these brands.
Weight: VEVA Wins
Chances are, at least initially, you'll be moving whichever air purifier you choose around a lot. We certainly did while testing the range and effectiveness of the VEVA and Levoit air purifier. Neither of these products are extremely heavy, but the VEVA is slightly less weight at 6.7 pounds to Levoit's 7.5 pounds.
Decision Time
Ultimately, you can't go wrong with the Levoit air purifier or the VEVA 8000 air purifier. In our experience, the VEVA 8000 offers more far more area coverage at a comparable price. Either way, neither of these air purifiers are going to disappoint.
You can get an additional 10% off the VEVA 8000 by using code VEVAHAG10 at checkout.
Buy Veva 8000 Air Purifier
Buy Levoit Air Purifier
Not impressed? No problem. We know the Veva and Levoit air purifier may not be for everyone. We've also reviewed several other affordable air purifiers and saved you the guesswork.