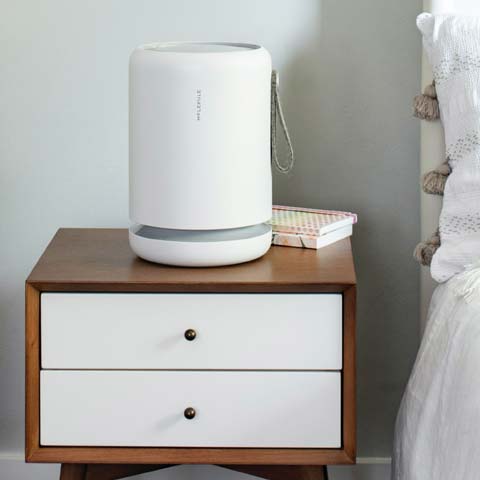 Have you been looking for a small air purifier with Wi-Fi control?
Are you considering the Molekule Air Mini air purifier but need some trusted advice about it?
If so, you're in the right place.
In this Molekule Air Mini review, we'll look at the top features and capabilities of this unit so you can decide if it's the right air purifier for your needs.
In the end, you should have all of the information you need to make the best choice about this popular smart air purifier.
So let's get started with the Molekule Mini review to see what it can do for you.
Disclosure: Home Air Guides is reader-supported. As an Amazon associate and affiliate for independent brands, we earn from qualifying purchases made through the links on our site. Learn more.
Molekule Air Mini Review
The Molekule Mini air purifier is one of several air cleaners by this brand.
There's also the bigger Molekule Air and Molekule Air Pro with more advanced air cleaning features.
Something we'd like to mention first before we get into the full review is that Molekule is a science company.
And when you're considering the purchase of the Molekule Air Mini air purifier, that's an important aspect to understand.
As a science company, the Molekule team conducts extensive research and rigorous testing on indoor air quality and air cleaning technologies.
These scientists also collaborate with some of the world's top independent labs and academic institutions.
In 2016, Molekule introduced the world's first molecular air purifier that worked like no other air purifier on the market.
With patented technology that brings a new approach to air purification, you're getting a unit that destroys the full spectrum of indoor pollutants, breaking them down on a molecular level. Hence the name "Molekule".
Therefore, the Molekule Air Mini is one of the most advanced air purifiers ever designed.
Current Price
Check Direct Price on Molekule.com