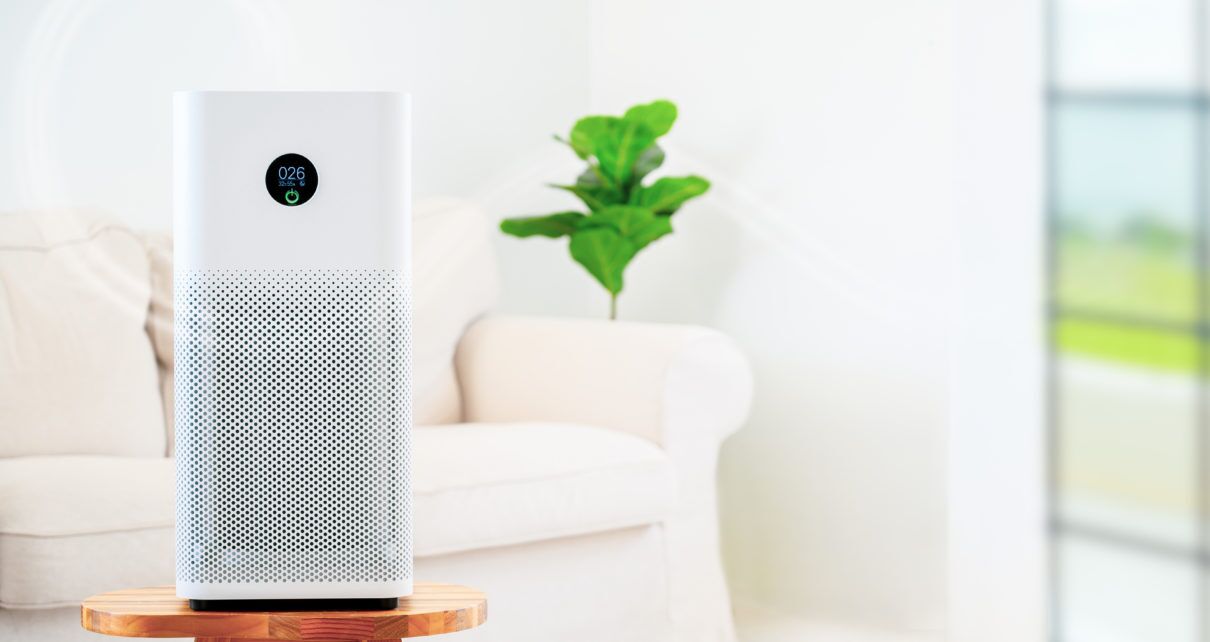 We all want to keep our families safe but some of the things you need to protect your family from aren't visible to the naked eye. Airborne impurities and pathogens can cause respiratory irritation, aggravate allergies, and could even make you sick. That's where an air purifier comes in. We take an in-depth look with the VEVA 8000 air purifier review. We'll explore its features, talk about the pros and cons of this particular model, and help you determine if it's the right choice for you and your family.
Air purifiers remove pollutants and particles from the air in your home, improving indoor air quality and neutralizing odor. There are countless air purifiers on the market, so it's understandable if you're having a hard time choosing one. Don't worry – we're here to help.
About VEVA
VEVA manufactures high-quality air purification systems for home and business use. The company believes that clear air is a core element in health and happiness, so all of their products are designed to help you and your family breathe easy. VEVA utilizes the latest in air filtration technology with strict attention to detail and quality to ensure efficient performance and reliable function in their products.
VEVA 8000 Elite Pro Series Air Purifier Review
Perfect for the home or office, the VEVA 8000 Elite Pro Series air purifier delivers powerful HEPA filtration in a sleek, compact design. This air purifier features a premium HEPA filter and an activated carbon pre-filter to remove airborne particles as small as 0.3 microns.
Specifications
Dimensions

: 9x8x23 inches

Filters

: HEPA, activated carbon

Coverage

: 325 square feet

Power Usage

: 50W

Warranty

: One year
Remove dust, pollen, pollutants, and pathogens from the air in your home or office with the VEVA 8000 Elite Pro Series air purifier. This sleek and stylish air purifier features an upright design that can be placed on the floor or a piece of furniture to clean the air.
This model is equipped with a 3-stage fan so you can choose from three speed settings. The compact filtration system includes a HEPA filter and an activated carbon pre-filter which helps tackle odor as well as airborne impurities. This model doesn't produce any ozone, so it is completely safe for use around children and pets. It is also ETL Certified and has an automatic shut-off safety feature that turns the unit off when the front panel is removed.
Unlike some air purifiers that only remove large particles, the VEVA 8000's HEPA filter is effective in removing particles as small as 0.3 microns. Combined with the activated carbon pre-filter, this model removes everything from pet hair and dust to mold, bacteria and viruses.
Not only is the VEVA 8000 perfectly sized for home and office use, but it runs quietly as well. Whether you use it in the bedroom or in the home office, the noise won't disturb you. The sound may be noticeable on the highest fan setting, but you can easily switch it to the lowest setting for sleep.
While the VEVA 8000 is an excellent option for home and office use, it does have a few limitations. This model is designed to draw air in through the front and push it out the back, so it works best with plenty of open space around it. In smaller or more crowded rooms, it may be difficult to place the unit optimally for proper circulation.
Another minor detail to consider is that this model doesn't have a filter change indicator, so you'll need to check the filter yourself from time to time to see if it needs to be changed. The HEPA filter should last between 9 and 12 months while the carbon pre-filters need to be replaced every three months or so.
The VEVA 8000 is economically priced but what really makes it a great buy is the fact that it comes with three replacement carbon pre-filters. This unit comes with everything you need to get up to a full year of performance before you need to buy replacement filters.
VEVA 8000 Replacement Filters
When shopping for an air purifier, it's important to ensure you'll be able to use the device for as long as you need to. Filters need to be replaced from time to time to optimize function of the unit, so make sure you can easily find replacements before settling on a model.
The VEVA 8000 air purifier comes with one HEPA filter and four activated carbon pre-filters. The HEPA filter lasts between nine and 12 months, depending on usage, and the carbon pre-filters each last up to three months. Once you've used the filters that come with the air purifier, you can easily purchase more on Amazon or directly through the Vevo website.
Pros and Cons
Before buying an air purifier, it's important to consider the pros and cons of the options you're considering. All models have their benefits and drawbacks, so it's just a matter of deciding which features are most valuable to you and what you can do without.
Pros of the VEVA 8000
Affordably priced around $100

Removes mold, pollen, bacteria, and viruses

Filters particles as small as 0.3 microns

Comes with three replacement carbon pre-filters

Can be set on the floor, desk, or counter
Cons of the VEVA 8000
No filter change indicator

Exhaust flow direction limits options for positioning
Who is it Good For?
The VEVA 8000 Elite Pro Series air purifier is a great option for anyone looking to improve the air quality in their home. It is perfectly sized for large bedrooms, living rooms, and kitchens up to 325 square feet and can also be a good choice for small offices. In fact, the VEVA 8000 is one of our most-recommended products.
Because the VEVA 8000 comes with four carbon pre-filters, it's a good option for people who don't want to have to shop around for replacement filters shortly after buying the unit. It's also affordably priced around $100 which makes it an economical option for budget-conscious buyers.
You can get an additional 10% off the VEVA 8000 by using code VEVAHAG10 at checkout.
Buy on Amazon
Bottom Line
With its reliable performance and affordable pricing, the VEVA 8000 is one of the best air purifiers you can buy for home and office use. It removes airborne pathogens and neutralizes odors and allergens to keep you breathing easy. Plus, this air purifier comes with enough filters to get you through the first year and replacements are inexpensive and easy to find.