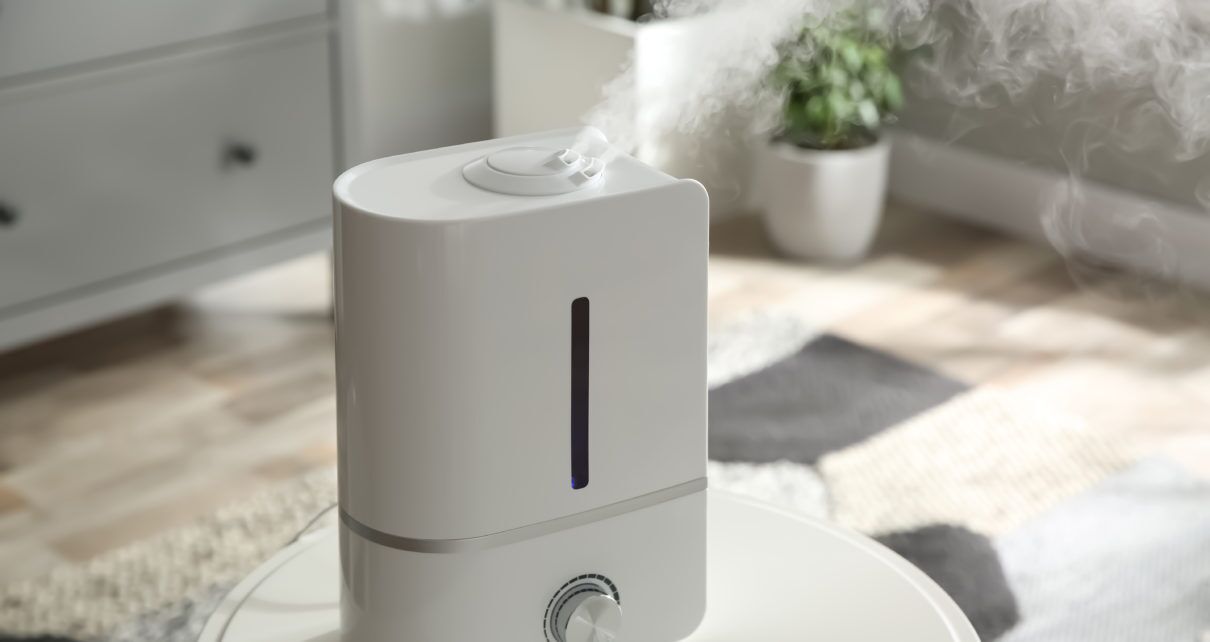 A large humidifier works well for bigger bedrooms, open floor plans, or small apartments. We know there's no lack of options are the market, so we've done the research for you. Today we'll talk about what to look for in finding the best large room humidifier for you and provide four recommendations from Amazon.
With enhancements like smart home connectivity, automatic humidity control and various safety features, the right humidifier can solve low humidity problems with minimal effort on your part.
What Does a Humidifier Do?
A humidifier is a portable device that increases the moisture content of the air. While whole-home humidifiers exist, they can be very expensive. They may also be an unnecessary expense if you spend most of your time in one or two rooms. Large room humidifiers increase humidity in the spaces you use most.
While humidifiers use various technologies, they all perform a single function: to increase humidity. Some produce warm mist and others cool, all by absorbing water from a reservoir tank.
Evaporative humidifiers absorb water through a filter and pass air through the moistened filter to release vapor into the air. Steam humidifiers, also known as vaporizers, boil the water to produce steam. An ultrasonic humidifier uses a vibrating diaphragm to create water droplets in the form of a cool fog.
If you plan to use a humidifier in your home, it doesn't hurt to invest in a hygrometer as well. Some humidifiers have one built in but if not, a hygrometer can help you monitor the humidity in your home so you can adjust the output of your humidifier.
What Are the Benefits of Using a Humidifier?
Low indoor humidity can cause dry, irritated skin as well as chapped lips. When the air is too dry, it may dry out the mucus membranes in your nose and throat, resulting in a scratchy throat congestion. Low humidity can even increase your susceptibility to colds and flu.
Winter is a particularly bad time for humidity. Cold air has a lower ability to hold moisture than warm air. As the cold air enters the house to be heated, it reduces the relative humidity in the home. Arid climates may also experience low humidity due to the use of excessive air conditioning.
By adding moisture to the air in your home, a humidifier can ease dry skin and scratchy throat. It may also ease the symptoms of asthma or allergies and help your body fight off colds, flu, and other respiratory conditions. If you do get sick, a humidifier can help make your cough more productive.
How to Choose the Right Large Room Humidifier
The first factor to consider when shopping for a humidifier is the size of your space. A small bedroom or nursery may cover under 100 square feet while a large bedroom or open living space could exceed 200 square feet.
There's generally no harm in getting a bigger humidifier than you need as long as you make sure the humidity doesn't get too high. Purchasing a humidifier too small for the space, however, may make it difficult to achieve and maintain the desired humidity level.
Once you've determined the size of your space, think about what kind of humidifier you want. Cool mist humidifiers like evaporative humidifiers are generally safer for use around babies and children. They also tend to run a little quieter, so it may be a good choice for a large bedroom. However warm mist humidifiers may be more effective in reducing bacteria and germs – they can also generally achieve higher levels of humidity than cool mist models.
Finally, think about what features are important to you. Most humidifiers have an automatic shut-off that prevents the unit from running dry. Consider whether you want a smart model with WiFi or smart home connectivity and whether you want to be able to set a specific humidity level. The other option is a humidifier with different fan settings.
Best Large Room Humidifier Picks
A large room humidifier should have a generously sized water tank. A large reservoir not only enables the humidifier to accommodate bigger spaces, but it may help the unit work longer before running dry. This saves you the hassle of refilling the tank every day.
With a 4.5 liter reservoir, this cool mist humidifier is big enough to humidify rooms measuring 400 square feet or more. It offers a run time up to 30 hours on the lowest mist setting.
This Mikkin humidifier features a 360-degree adjustable swivel nozzle so you can disperse mist in any direction. This enables you to control the distribution of moisture in the room. Plus, with three different mist settings, you can completely customize its function. This model offers simple touch button operation as well as sleep mode which can be activated by holding the power button for three seconds.
What makes this humidifier a convenient choice is its top fill design. You don't need to remove the tank to fill it and there's a large opening on the top for easy cleaning.
View on Amazon
If your bedroom is very large, this 6-liter humidifier might be an appropriate choice. It's rated for spaces up to 500 square feet and offers a run time up to 50 hours on the lowest setting.
This Everlasting Comfort humidifier is an ultrasonic model so it's safe for use around babies and children. It also runs quietly (under 30 dB), so it works well in a bedroom or nursery. This model is filterless which helps reduce maintenance costs and it comes with a 2-year replacement policy to ensure long-lasting function.
Another unique benefit of this humidifier is that it doubles as an essential oil diffuser. Simply add essential oils to the diffuser tray to disperse fragrance as well as moisture into the air.
View on Amazon
Another 6-liter humidifier, this model works for rooms as large as 505 square feet and delivers up to 60 hours of continuous operation on the lowest mist setting.
This LEVOIT humidifier offers WiFi connectivity so you can control the unit from your phone. It also pairs with smart devices like Alexa and Google Assistance. Another feature that makes this model a convenient choice is Auto Mode. It measures the humidity in your room and automatically adjusts the mist level to balance the humidity.
This humidifier operates quietly at under 30 dB and it's made from BPA-free materials. The primary downside is that it's a little more expensive than smaller models.
View on Amazon
The largest for our four recommendations, this humidifier has an 8L reservoir so it can humidify spaces 500 square feet or larger. It offers a run time up to 24 hours before needing to be refilled.
This humidifier offers intelligent humidity control with three different mist levels. While it doesn't offer WiFi or smart home connectivity, it comes with a remote so you can control it from anywhere in the room. This model includes a built-in ceramic stone filter to help remove pathogens but it never needs to be replaced.
With its tower design, this humidifier delivers leak-free performance by drawing water up from the tank positioned on the bottom of the unit.
View on Amazon
Large Room Humidifier Bottom Line
Humidifiers come in all sizes and it's important to choose one that's appropriate for your space. Small humidifiers may be ideal for nurseries and small bedrooms, but if you're looking to humidify a large space you'll need a much bigger humidifier.
If you're not sure where to start shopping, any of the four humidifiers recommended above would be a great choice.