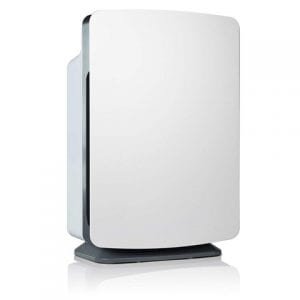 Are you looking for an in-depth Alen BreatheSmart review?
More particularly, do you want a review that not only points out the pros and cons of these air purifiers but also helps you decide if it's the right product for you?
If so, you've landed on the right page.
In this post, you'll find a comprehensive review of the Alen BreatheSmart air purifier, which has been featured on the best air purifier page.
Every aspect of these machines will be covered to help you make the best decision for your needs.
Alen BreatheSmart Review
Did you know that there are actually five versions of the Alen BreatheSmart air purifier?
While each model does have a slightly different name, the truth is that they all work about the same.
We'll get into those specifics in the next, but just know that you can save a significant amount of money or get larger room coverage just by going up or down one version.
Disclosure: Home Air Guides is reader-supported. As an Amazon associate and Alen affiliate, we earn from qualifying purchases made through the links on our site. Learn more.
The Alen BreatheSmart models include:
Similarities Between Each Alen BreatheSmart Model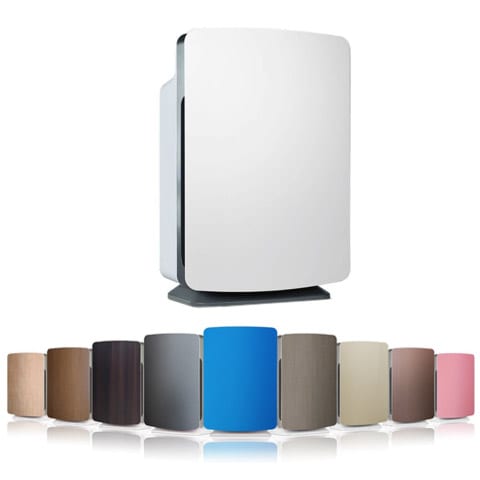 When you're researching and comparing Alen BreatheSmart air purifiers, you'll quickly discover that all of the models include a common set of features.
This is a nice quality to have because it means you don't have to sacrifice air cleaning performance even when you choose a lower-priced model.
Alen meets the most important air purifying needs in each machine.
Regardless of the air purifier you choose, you'll enjoy these benefits:
Customizable HEPA Filter (Traps 99.97% of pollutants down to 0.3 microns in size.)

HEPA-Pure – This is the basic version of the filter that removes indoor allergen particles, such as dust, pollen, pet dander, and mold spores.
HEPA-Silver – This version includes an antimicrobial compound on the HEPA material that protects it from bacteria and microbe growth. An additional layer of Activated Carbon also reduces light odors and chemical compounds in the air.
HEPA-OdorCell – This version features hundreds of cells filled with Alen's patented Molecular Conversion Powder in addition to the HEPA material. Odors from pets, babies, and cooking are destroyed at a molecular level to leave the air smelling fresh.
HEPA-FreshPlus – This version includes 3 lbs. of Activated Carbon in addition to the HEPA material. It provides maximum performance against household odors and chemical vapors from cleaning products, smoke, cooking, pets, etc.

Smart Sensors – These sensors monitor the air quality and automatically adjust the device's fan speed to filter out pollutants. Consider it intuitive intelligence that works on your behalf.
Numerous Color Options – More than 14 different colors and designs available so you can match your personal style and taste. Also includes unique options such as brushed bronze, marble, rosewood, and more.
Timer – This allows you to set up a time in the future for the device to shut off. The timer function ranges between 2 to 12 hours. (See the differences section below for specifics on each BreatheSmart machine).
Forever Guarantee – Your air purifier is covered forever. If anything goes wrong with the internal components, Alen will replace the machine free of charge. (Filters are not included.)
Differences Between Each Alen BreatheSmart Model
As you read above, the main air cleaning functions of every Alen BreatheSmart air purifier are the same. That means you'll get an equal amount of clean, fresh air from each device.
The differences between these machines, however, are much more subtle.
To save you countless hours of research, we've included an in-depth look at those differences in this Alen BreatheSmart review:
Ionizer Function (This boosts the air cleaning power by electrostatically charging air molecules.)

BreatheSmart FLEX is the only model without this feature.

Timer Function (Automatically turns the unit off after a specified time.)

BreatheSmart Classic offers 4, 8 and 12-hour timers.
All other models offer 2, 4 and 12-hour timers.

Child Lock (Locks the control panel so the settings can't be changed.)

BreatheSmart Classic is the only model without this feature.

Room Size Coverage (The amount of space the air purifier can handle in square footage.)

BreatheSmart Classic = 1,100 sq. ft.
BreatheSmart FLEX = 700 sq. ft.
BreatheSmart FIT50 = 900 sq. ft.
BreatheSmart 45i = 800 sq. ft.
BreatheSmart 75i = 1,300 sq. ft.

Pink Noise (The fan sound is tuned to generate a soothing frequency that can help you sleep better.)

Only the 45i and 75i models include this feature.
View Each Model Up Close
Alen BreatheSmart Design and Size
From a quick glance, you'll see that all of the Alen BreatheSmart air purifiers have the same general design.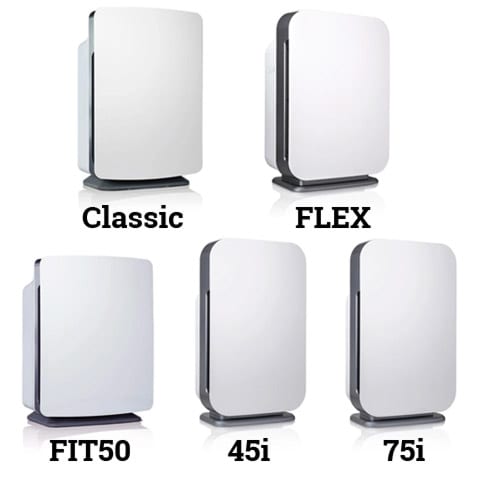 The only real difference is the roundness of the front panel corners and the actual size of each machine. But even then, those variations are subtle.
BreatheSmart Classic = 17.75″ (W) x 26.75″ (H) x 10″ (D)
BreatheSmart FLEX = 15″ (W) x 25″ (H) x 8.5″ (D)
BreatheSmart FIT50 = 16.75″ (W) x 22.25″ (H) x 10″ (D)
BreatheSmart 45i = 15″ (W) x 25″ (H) x 8.5″ (D)
BreatheSmart 75i = 18.5″ (W) x 27″ (H) x 11.5″ (D)
Unless you're really tight for space in your home or apartment, these minor size differences shouldn't impact your buying decision.
BreatheSmart Buying Recommendations
Overall, you can't go wrong choosing any one of the BreatheSmart air purifiers.
But, for many people who are reading this review, the final choice will likely come down to square footage coverage.
If you have a small to medium size room (i.e. bedroom or living room), any of these models will work; however, for very large spaces (i.e. basement or open floor plan) you'll likely need the BreatheSmart Classic, FIT50, or 75i since they cover the largest areas.
If you're buying an air purifier for a bedroom, then the 45i or 75i are the better options since they include the Pink Noise feature.
If you have small children in the home, you can skip the Classic model and choose any of the others, since the Classic doesn't have a Child Lock.
While the Ionizer function is a nice bonus to have, it shouldn't be a dealbreaker because the HEPA filter is extremely efficient. So, don't let the lack of that feature sway you from choosing the BreatheSmart FLEX if it meets your intended room size.
The small variation in timer hours between the BreatheSmart Classic and the other models is not that large. So, don't let that impact your final decision either.
Who is the Alen BreatheSmart Air Purifier for?
The people who would benefit most from these air purifiers include:
People with allergies or asthma
Anyone who's sensitive to airborne chemicals
Those who have difficulty breathing at night
Light smokers
Pet owners
People who need a variety of options in their HEPA filter
Anyone who wants to choose a particular color for their air purifier or needs to match existing room decor
Looking for More Alen BreatheSmart Reviews?
Still not sure which BreatheSmart model is the right air purifier for you?
Check out additional reviews on Amazon to see what other people have to say about it.
We hope that our overview and those Alen BreatheSmart reviews help you make the best choice for your needs and budget.