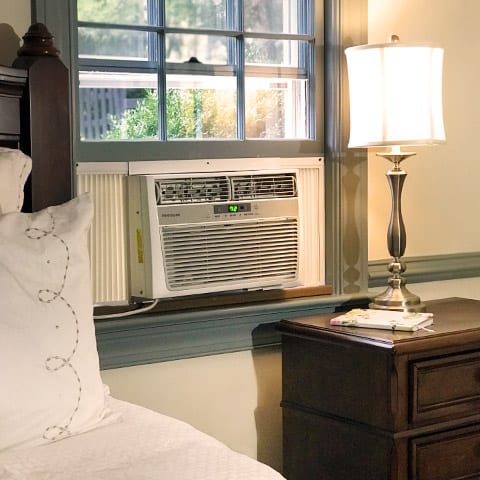 Are you looking for the best window air conditioner to keep you nice and cool from the summer heat?
Do you want to save yourself countless hours of time by getting a list of the top window air conditioner brands for each size room?
If so, you've landed on the right page.
Below, you'll discover everything you need to know about getting the best window AC unit for your home so you can stay cool—and save money—all summer long.
In this expert guide, we'll show you what the top rated window air conditioners are for small, medium, large, and even extra-large rooms.
So keep reading our window air conditioner reviews to find the best performing units from the most reliable brands you can trust.
Disclosure: Home Air Guides is reader-supported. As an Amazon associate and affiliate for independent brands, we earn from qualifying purchases made through the links on our site. Learn more.
Window Air Conditioners Reviewed in This Guide
Here's a quick comparison chart showing the top window air conditioners. We'll cover each aspect of these units in the reviews section below, but this gives you an idea of what's available and an easy way to compare them.
Best Window Air Conditioner Reviews (Top 8 List)
If you want to cool down a space like a living room or large bedroom with less noise, then this is the best window air conditioner brand you can get.
This top window AC unit by MIDEA is rated to handle a space up to 350 square feet and has the most versatile features out of any other 8,000 BTU product on the market.
If you want to cool down a larger room, then you can choose between these models:
The U-shaped design keeps the noise level as low as 42 dBA by blocking the sound coming from the compressor outside.
Plus, the innovative U-shaped groove allows you to open your window to enjoy fresh air even with your AC unit installed.
Another good feature is that this product is Wi-Fi enabled. Therefore, you can control it from anywhere inside the house—or even when you're not home—through the MIDEAAir app on iOS or Android.
If you want voice control through Alexa or Google Assistant, you can do that too.
Note: a remote is also included if you don't want to use the smart Wi-Fi or voice command controls.
Finally, this is an ENERGY STAR Certified unit.
---
If you're looking for a top rated window air conditioner that's very affordable and efficient, then this one is a good choice.
Not only has this popular window unit received more than 4,000 positive reviews, but it's one of the highest quality devices in its class.
With 5,000 BTU units, it can handle a space up to 150 square feet and is perfect for many home applications.
The rotary dials, two cooling modes, two fan speeds, and 2-way air direction control are standard features at this level.
If you want digital controls and a remote for a small window air conditioner of this size, then you can choose to upgrade to one of these MIDEA window-mounted air conditioners:
These window AC units also have a washable air filter. This filter cleans the air by removing dust particles, hair, dirt, bacteria, and odors while you also enjoy the cool air.
Finally, each air conditioner is ENERGY STAR Certified for low operating costs.
---
Here is another top window air conditioner brand that you can control with a smartphone or other mobile device.
This unit is one of the only other products available that has Wi-Fi control.
You can use the Wi-Fi app to cool your room from anywhere, at any time, and set up daily schedules.
Note: a standard remote control is also included if you want to use it.
You get 350 square feet of cooling capacity, 4-way air direction control, several fan speeds, and a sleep mode.
A mesh antibacterial air filter is also included for air purification while cooling.
And finally, because this is a smart room air conditioner, you can control it with your voice by speaking to it through Amazon Alexa or Google Assistant—making it the best window AC unit for anyone who likes that type of convenience.
It's also ENERGY STAR Certified.
---
---
Out of all of the window air conditioners on the market that are made for large rooms, this is the best rated window air conditioner available without Wi-Fi control.
It has everything you would ever need in a large room air conditioner, including an LCD screen, degree settings, three fan speeds, automatic mode, a timer, sleep mode, remote control, and 8-way air direction control.
Additionally, this window unit has both an air ionizer and washable filter to strip the air of as many harmful particles as possible.
It's a dream come true for asthma and allergy sufferers who require the freshest, coolest air they can get up to 550 square feet.
You won't find anything else that can beat this top window AC unit in this price class that also holds the ENERGY STAR Certification. So if you want the best window air conditioner for a large room, then this is a good unit to consider.
---
Now, if you want a smart air conditioner for larger rooms, you'll want to invest in this window AC unit right here.
It offers all of the same advantages as the previous recommendation but gives you the added benefit of controlling your air conditioning with a Wi-Fi app.
This window-mounted air conditioner also includes an air ionizer and washable filter to clean the air while also chilling it, and can handle big rooms up to 550 square feet.
If you want the best-of-the-best in window AC units at this size that's also ENERGY STAR Certified, this is your top choice.
---
If you need the best window AC unit for larger rooms in your home, you're going to want to go with either this product here or our next recommendation.
The cooling capacity of this model is good for areas up to 850 square feet.
It also includes all of the standard features for a window air conditioner, including an LCD screen, temperature control buttons, three fan speeds, automatic mode, a timer, sleep mode, remote control, and 4-way air direction control.
Finally, these window ACs have a washable antibacterial filter to reduce odors, bacteria, and other airborne pollutants while also delivering cold air.
And it carries the ENERGY STAR Certification for low operating costs.
If you want a small window air conditioner that includes a full-function remote and digital touch controls, this is a better option for you.
It's one of the best window air conditioners for small rooms and covers the same amount of space as our #2 window air conditioner review⁠—150 square feet
You also get the luxury of a washable antibacterial filter to help purify the air while also cooling it.
It has three fan speeds: low, high, and automatic, and a sleep mode to keep the noise level down while you're sleeping.
If you're looking for window ACs that have the most features at this price point and enough power for a small room, this is your best bet.
It also has the ENERGY STAR Certification.
---
Our final recommendation for the top window air conditioner handles larger rooms up to 1,050 square feet.
It's a true beast of a machine and gives you everything you need to cool an extremely large space.
It also includes a supplemental heat function if you want to warm up an area too.
You get all of the same functions as our previous recommendation except this window unit allows 8-way air direction control.
It would have been nice if this air conditioner included Wi-Fi controls, but unfortunately, no window AC unit of this size has that capability yet.
However, a remote control is included for added convenience.
---
Window Air Conditioner Buying Guide
What is a Window Air Conditioner?
Believe it or not, window air conditioners are actually the simplest and most basic type of air conditioning unit out there.
In short, window AC units are self-contained, single-unit air conditioners that are mounted inside an open window.
This means that all of the components which enable the air conditioner to function are located within itself.
There are no external components to the system. Once it's installed, it can start cooling right away.
Window air conditioners are different from other types of air conditioners, like whole house central AC systems, in the sense that they're designed to cool only a specific part of your home—usually just a single room.
Window AC units are known to be very good air conditioners that can cool a reasonably sized room quickly and are much better than a portable air conditioner without window access.
Granted, factors such as age, the size, and the device's British Thermal Unit (mentioned later in this guide) still play a role in how well your appliance cools a space.
But for the most part, window AC units are very effective at making even the hottest room comfortable to be in. And we consider them to be some of the best small air conditioners available.
How Do Window AC Units Work?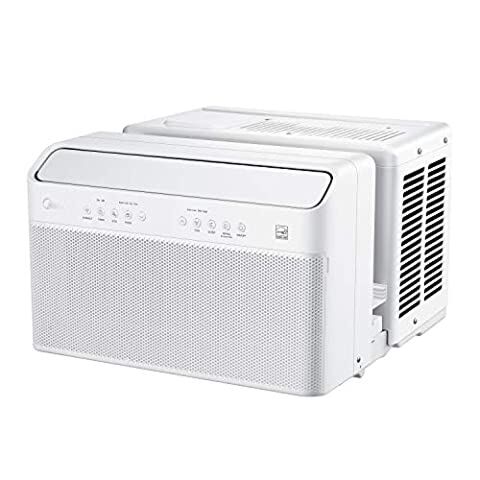 The working of a window air conditioner consists of several parts.
Window air conditioners come equipped with a double shaft motor that has two fans located on both ends of the motor. One fan is located by the evaporator and the other by the condenser.
The side of the unit with the evaporator faces into the room and is what regulates the indoor temperature.
The side of the unit with the condenser faces outdoors and is what blows hot collected from a room outside.
When the window AC unit is turned on, the blower is what gets the indoor air moving. It sucks in the air from the room and passes it through an air filter.
The air then comes into contact with the evaporating coil which does either one of two things:
If the temperature in the room is hotter than the coil, then the coil absorbs the heat from the air and colder air is blown back out.
If the temperature in the room is colder than the coil, dew will begin to form on the surface of the coil, thus helping to remove humidity from the space.
All window air conditioners come with a thermostat to regulate the temperature of cold air.
Depending on the type of air conditioner that you purchase, the type of thermostat you get will be different.
Lower-end units feature a rotary dial that must be manually adjusted in order to change the cooling temperature. Hitting and exact degree is not possible.
Higher-end units come equipped with digital controls that let you fine-tune the temperature setting, such as 72-degrees. They also include remote controls or Wi-Fi mobile apps for added convenience.
The U.S. Department of Energy states that "nearly all air conditioners used chlorofluorocarbons (CFCs) as their refrigerant, but because these chemicals are damaging to Earth's ozone layer, CFC production stopped in the United States in 1995. Nearly all air conditioning systems now employ halogenated chlorofluorocarbons (HCFCs) as a refrigerant, but these are also being gradually phased out, with most production and importing stopped by 2020 and all production and importing stopped by 2030."
An according to market research, "the increasing demand for window air conditioners across the globe is evidence of increasing market penetration of the global window air conditioners market."
When it comes to cooling power, a window unit is much more efficient than even the best cheapest portable air conditioners. What you may save in the initial upfront cost for a portable unit won't be as important when you're trying to cool an overly hot room in the most effective way.
They're also the next-best-thing to a ductless air conditioner that requires professional installation as a two-part system.
How to Choose the Best Window Air Conditioner Size
Some people think they can just buy the best rated window air conditioner brand on the market and they'll be happy.
But that's often not the case.
One of the biggest mistakes you can make when buying new window ACs is getting one that's not properly sized for the room you want to cool.
It's fairly common for people to unexpectedly pick window units with cooling power that's under- or overpowered for the intended use.
An underpowered window unit may seem like a better deal because of its lower sticker price, but it actually costs you a lot more to operate each month in your home. Not adequately cooling a larger room means that the appliance will run more often which increases your monthly energy costs.
An overpowered window unit will cost you more to purchase up front than you really need to spend. It will also cycle on and off too much, which also wastes energy, increases electric bills, and strains the unit.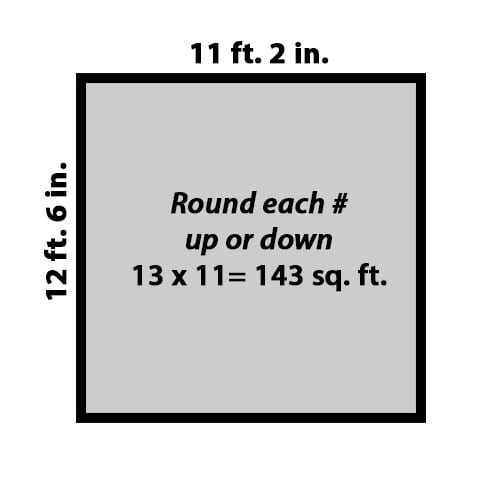 The most cost-effective and efficient thing you can do is to make sure you get a window-mounted air conditioner that's designed for the size of the room you plan to use it in for cool air. And you don't have to be an expert to do that.
Below is a two-step process for deciding what size window air conditioner do I need?
Step 1: Measure the Square Footage of the Room
Take a tape measure and measure the length and width of the room you want to put a window AC unit in.
For odd lengths, round up or down to the nearest whole foot number.
Then, multiply these two numbers together to get the square footage room size.
Here's an example:
For a room that is 12 ft. 6 in. long by 11 ft. 2 in. wide, we would round these two lengths to 13 ft. by 11 ft., and then multiply them together.
13 x 11 = 143 square feet
Step 2: Find the Correct Cooling Capacity for the Window-Mounted Air Conditioner
Once you have the square footage room size, you can easily figure out what the proper cooling power is for the best window air conditioners.
All you need to do is make sure that the square footage of your room lines up with the British Thermal Unit (BTU) measurement of your air conditioner.
BTU is just the international standard for energy and is listed on every unit.
Here's how it works:
If you take our previous example of a 143 square feet room, the correct air conditioner would be one with a 5,000 BTU units.
To make things easy for you, we've included a general British Thermal Unit cooling capacity chart below from Energy Star; the expert resource for energy efficiency product information for your home.
Window Air Conditioner Sizing Chart
| Room Area To Be Cooled (square feet) | Capacity Needed (BTUs per hour) |
| --- | --- |
| 100 up to 150 square feet | 5,000 BTU |
| 150 up to 250 square feet | 6,000 BTU |
| 250 up to 300 square feet | 7,000 BTU |
| 300 up to 350 square feet | 8,000 BTU |
| 350 up to 400 square feet | 9,000 BTU |
| 400 up to 450 square feet | 10,000 BTU |
| 450 up to 550 square feet | 12,000 BTU |
| 550 up to 700 square feet | 14,000 BTU |
Note: If a wall divides two adjacent rooms then they're thermally separated. Buying a more powerful window-mounted air conditioner and expecting it to efficiently cool side-by-side rooms will not work. When cooling multiple rooms like this, you'll want a separate unit for each room to get the right amount of cool air.
For example, a 14,000 BTU window air conditioner can cover 700 square feet, but it won't work for a 500 square feet living room size and a 200 square feet bedroom that are next to each other; even though these two rooms combined equal 700 square feet
You would want to buy a 12,000 BTU air conditioner for the living room and a 6,000 BTU unit for the bedroom in order to maximize the cooling power and energy efficiency for the lowest monthly electricity costs.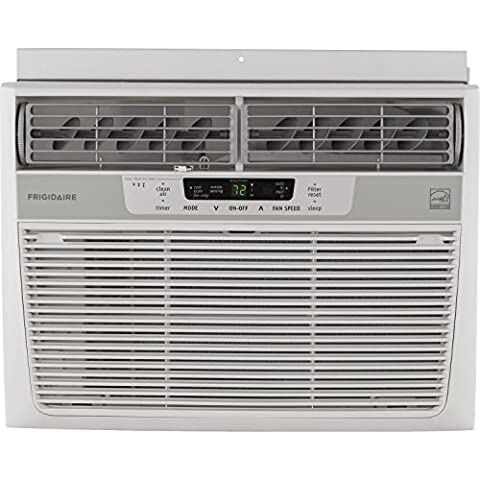 TopWindow AC Unit Features
When shopping for the best window air conditioners for your house or apartment, you'll find a variety of features included with each particular device.
Some of these options will matter a great deal to you, while others won't.
Obviously, the more features a product has, the more expensive it will cost.
However, just keep in mind that as long as the BTU units are sized correctly for the room you want to use it in, then you'll achieve maximum efficiency no matter what other perks that a top window AC unit may have.
With that being said, here are the most important window air conditioner features you'll find in these units.
Cooling Speeds
This is the most basic feature on all air conditioners but different manufacturers choose to include a variety of cooling speeds.
Most commonly, you'll find products that have either two or three cooling speeds.
These come in high, medium, and low settings.
Some window units may also include an automatic fan speed setting if it has a digital thermostat to regulate the room temperature.
Temperature Control Options
Although we live in the digital age, there are still many window AC units that use a rotary dial for controlling the temperature.
You'll see these dials labeled with numbers like 1-7, with the highest number being the coldest setting.
With a dial style unit, you won't be able to choose a specific degree setting; instead, you must rotate the dial until it feels like the right temperature in the room.
The more advanced units include electronic push buttons and an LCD screen to gives you precise control over the level of cooling in your home.
Those handy features allow you to set the air conditioner to a specific cooling degree (i.e. 72 degrees Fahrenheit) and have it maintained by the device.
Air Direction Control
When you're looking at air conditioners, you'll find a range of options for how much control you have over the direction of the air stream.
The most common setups include:
2-way air direction control (left to right with one vent)
4-way air direction control (left to right and up to down with one vent)
8-way direction control (left to right and up to down with two separate vents)
Although 8-way control may sound like the best version to get, it's actually one of the last things you should worry about when comparing window air conditioners.
The truth is that once a room is cooled down by the unit, it doesn't really matter which direction the air is entering into the room.
At that point, it's already cold and the temperature is just being maintained.
The air direction control feature becomes more important when the air conditioner is blowing air in a certain direction that may become an annoyance, such as toward a dinner table or directly on you while you sleep.
Automatic Timer
If you want to save the most money while keeping your rooms cool, an automatic timer is a must-have feature for your window air conditioner.
Automatic timers allow you to control when the window AC unit turns on and off without having to manually do it yourself.
For example, you can set the air conditioner to turn off automatically after three hours of continuous use or between specific hours like 9 a.m. to 5 p.m.
Some timers even let you turn the device on at a certain time of day, such as one hour before you get home from work, so that the room is nice and cool before you arrive.
Air Cleaning Functions
All rooms in your home have impurities floating around in them.
The most common pollutants include dust, mold, bacteria, pollen, smoke, and odor-producing particles.
Since air quality is a concern for many people, some of the top window air conditioners are now being outfitted with air cleaning technologies to remove these contaminants from the room.
Air cleaning features on air conditioners include:
Washable antibacterial air filter that traps airborne pollutants on the surface
Air ionizer that sends negatively charged ions into the air to neutralize harmful contaminants.
While the air ionizer is the much better option of the two, you'll often find that a window air conditioner that includes this feature will also have a washable antibacterial filter as well.
So, if you want cleaner, fresher air in your home while cooling it at the same time, make sure to look for this air purification feature in your new device.
Noise Level
If noise is a concern for you then you'll want to check out the noise level for a particular window-mounted air conditioner.
But keep in mind that you won't find an appliance like this that's super quiet unless it has a sleep mode or as a U-shaped design like our #1 window air conditioner review.
That's because all of the AC components are located in one compact shell and there are a lot of moving parts needed to cool the air. There's also not a lot of insulation to block the noise from the compressor.
On average, these appliances produce between 40 to 60 decibels of noise which is much better than even the best standing air conditioner units.
That noise level is louder than a refrigerator but softer than a vacuum cleaner.
The reason a central air conditioning system has a low noise level is that the compressor unit, which powers the cooling evaporator, is located outside, instead of in the room you're cooling.
Just know that all of the top rated window air conditioners listed in this guide have moderate amounts of noise level, and several include a function to minimize the loudness for you while sleeping.
Common Questions About Window Air Conditioners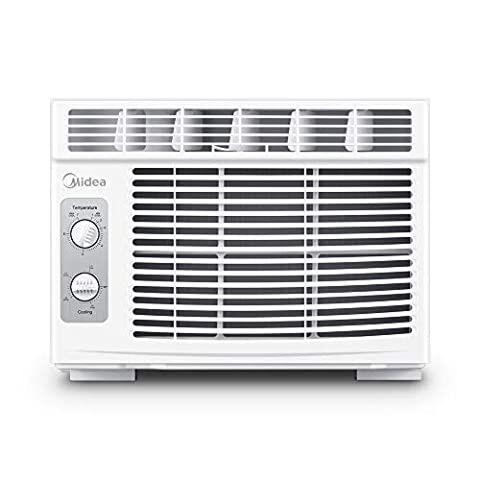 What is the best window air conditioner brand?
The best brand of window air conditioners is Frigidaire and MIDEA. According to our research and industry experts, these brands offer the best value, cooling capacity, and features in window AC units. You can select from a variety of sizes: small to large, to meet your individual needs.
How long do window air conditioners last?
The average window air conditioner lasts between 8 to 10 years. If you maintain it well, then it can even last long. Additionally, you can easily troubleshoot common problems with window AC units to keep them running smoothly and efficiently for many years.
Check out our window air conditioner troubleshooting guide if you ever need help with fixing your unit.
Do window air conditioners pull air from outside?
Window air conditioners do not pull in air from the outside. A window AC unit is a sealed device that carries cool, pressurized refrigerant through the evaporator cooling coils and pushes cold air into a room through a blower fan.
How many BTUs do you need to cool a room?
The number of BTUs you need to cool a room depends on the size of the room. Some common BTU capacity and room sizes include 5,000 BTUs for 150 square feet, 8,000 BTUs for 350 square feet, and 10,000 BTUs for 450 square feet.
We have dedicated guides on the best 5000 BTU window air conditioners and 6000 BTU window air conditioners if you want to compare specific size AC units.
Will rain damage a window air conditioner?
Rain will not damage a window air conditioner. Window AC units are made with a protective casing on the outside to protect the air conditioner from rain. If a window air conditioner is in deep standing water, then it could damage the unit as the moving parts and electrical components may not be operable.
How do you vent a window air conditioner without a window?
There is no way to vent a window air conditioner without a window. If you want to vent a window AC unit in another way, then you'll need to buy a through the wall window air conditioner that contains a sleeve that you can install through a wall.
Check out this guide for tips on how to install a window air conditioner the correct way.
What is the biggest window air conditioner?
The biggest window air conditioner available has a 28,000 BTU capacity. A window AC unit of this size can cool a room up to 1,500 square feet. The two top brands for the biggest window air conditioners are Frigidaire and Friedrich.
What is the lowest BTU air conditioner?
The lowest BTU air conditioner available is 5,000 BTUs. A window AC unit of this size can cool a room up to 150 square feet. The best window air conditioner brands with low BTU capacity are Frigidaire and MIDEA.
Do window air conditioners dehumidify?
Some window air conditioners do dehumidify your home. If this feature is available, condensation forms on a coil inside the unit as the AC system runs. Moisture from the air condenses and drips into a drainage system beneath the unit or onto the ground outside.
How can I make my window air conditioner quieter?
You can make your window air conditioner quieter by blocking as much noise as possible from the compressor. To do this, place insulation on either side of the window air conditioner without blocking the vents and use weather stripping to fill the gap between the upper window insert and AC unit.
How cold do window air conditioners get?
As a general rule of thumb, window air conditioners gets as cold as 20 °F (11 °C) below the outside temperature. In other words, they're not made to continually go lower and lower until the room is freezing. The coldness of window air conditioner is dependent on the ambient temperature around the unit.
There are also some tricks for how to make window AC cooler that you can try which we put together on one page.
Do window air conditioners use a lot of electricity?
A typical window AC unit uses between 500 to 1,500 watts of electricity. A midsize window air conditioner that uses 900 watts of electricity will consume approximately 200 kilowatt-hours of electricity each month if operated 8 hours per day. You can find out more here: how much electricity does a window AC use.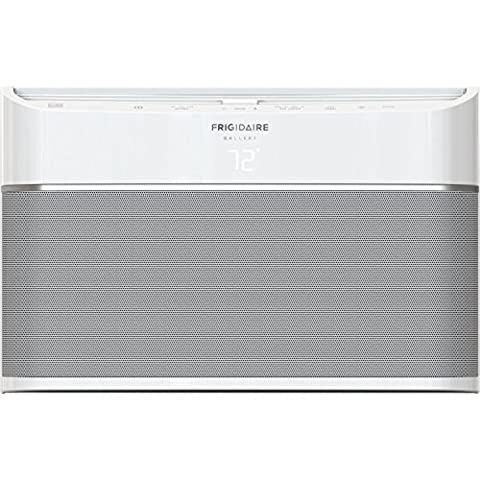 How to Maintain a Window Air Conditioner
Clean and Replace the Air Filter
Although it plays a critical role in your window air conditioner, the air filter is probably one of the most overlooked aspects of air conditioning unit maintenance.
According to Energy Saver, you can save up to 15% of the energy consumption cost when you replace a dirty or clogged filter.
For optimal efficiency, you should clean the filter once a month during the operating season. You can do it more frequently if you're allergic or have pets in the house.
To clean the filter, you need to remove the front panel to access it then use warm water and dish soap or vinegar to clean.
If your filter has some holes, tears, or other damages, then you should instead replace it.
Check and Clean Condenser Coils Each Season
Dirt builds up over time, especially on the inner part of the condenser coil, when you use your window air conditioner continuously.
Accumulation of dust or dirt leads to inefficiency which means that your AC will have to work more to remove heat. This will ultimately translate to higher energy consumption.
You can solve this by inspecting and cleaning both the evaporator and condenser coil at the start of the summer.
It's recommended to use a bristle brush and a vacuum cleaner to clean these parts.
You might need to remove these units from the casing for a more thorough cleaning.
Make sure to remove the lint or dirt that might have built up on the bottom side of the conditioning unit. This will ensure the condensing fan blade slinger will pick up condensate water with ease.
The best time to do a thorough cleaning would be the start and the end of the cooling season.
As you clean, take great care because you can easily bend the aluminum coil fins.
Inspect for Insects and Animal Nests
Inspecting for insect and animal nests is useful, especially when you have left your window air conditioner uncovered during the winter.
You should check for common occurrences like bees, spiders, and rodent nests on the internal part of the conditioner and remove them.
The best way to avoid this is to store your air conditioner in a protected space. And, if you must leave it on the window, you should cover it.
Check the Coil Fins
Another part of the AC unit that can affect the efficiency of your air conditioner is the coil fins.
The coil fins can easily bend under the slightest amount of pressure or flying debris.
The good thing is that you can restore them effortlessly using a fin comb to straighten the fins out.
In addition to this, you should also check on coils on the front of your air conditioner for ice buildup.
Sometimes, when the outside temperature becomes cool (60 degrees Fahrenheit or lower), ice can accumulate and impair the normal operation of the air conditioning unit.
It's best to avoid using window air conditioners during temperatures unless they have a heat pump function for delivering warm air.
Inspect and Clean the Water Pan
Another routine cleaning tasks that you should do is to clean the inside base, especially the water pan.
This will prevent the development of musty odor and mold.
To carry out this process, you need just need to wipe it down with dish detergent and warm water.
Replace Batteries in the Remote Control
This might seems like an obvious thing, but if your air conditioner comes with a remote control and it fails to work properly, it may be because the remote has old batteries.
Make it a habit to replace the batteries of your unit's remote control each season.
Find a Suitable Storage Place
When removing and storing your window AC unit, you should ensure that the location is free from pests, small animals, and moisture conditions.
Some suitable places to consider are the basement, attic, and utility room.
You should avoid garages because a majority of insects and small animals like to seek shelter there.
Insects could find their way to the internal part of the AC unit and make a home there.
Likewise, rodents and mice are notorious for chewing the wiring, which can cost you a lot to repair.
Pre and Post-Season Preparation/Maintenance
The best way to avoid most complications associated with air conditioner efficiency or breakdown is to do a full inspection before and after the cooling season.
This means all the routine maintenance activities should be done before the storage of your unit.
You should also inspect the window seals to make that there are no gaps that will let cool air out or let outside contaminants inside.
If you're not going to remove the air conditioner from the window during the winter season, then you should make that the outside of the unit is covered.
Use a suitable cover made for your brand and model or any other all-weather material that can securely fit the unit.
Doing this will also prevent heat loss in winter and stop cold air from entering through the various openings in the unit.
Other Maintenance Issues
If the above maintenance routines are not sufficient to keep your unit running smoothly, then you should consider enlisting the service of an HVAC technician.
Sometimes your window air conditioner might develop other problems even after regular maintenance.
And these professionals can test for refrigerant leaks, check the belts and fans, measure the airflow in the evaporator coil, lubricate the motor, and ensure all the electrical units are functioning as good as they should.
What's More Energy Efficient: Window Air Conditioners or Central Air Conditioning?
Will a window air conditioner actually reduce your monthly energy bills or is central air conditioning better for the long haul?
Questions about energy efficiency are the most common ones asked people when they're considering the purchase of a window AC unit.
The short answer is yes, window units do come out on top in terms of energy efficiency when it comes to window AC vs central AC.
Here's why: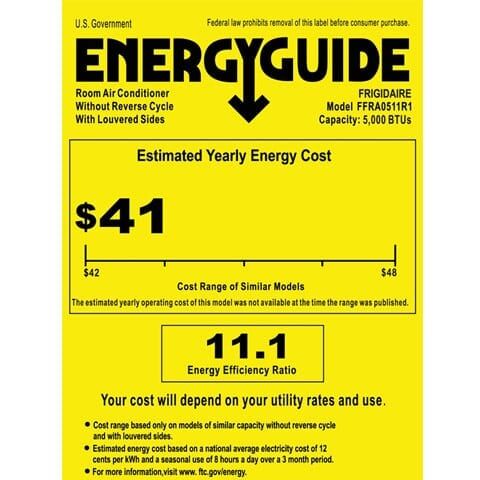 The Top Rated Window Air Conditioners Use Less Energy
You don't have to be an expert to understand how window air conditioners are more cost-efficient per cooling degree.
If you were to look at the Energy Efficiency Ratio (EER) for the top-selling whole-house air conditioners, you'd probably find an EER rating between 14-16, which is really great.
In contrast, the top window air conditioners have an EER range of 11-12.
While a lower EER rating technically means that a product is less energy efficient, you can't look at this number in isolation when comparing these two types of cooling systems.
In fact, even though window units have lower EER ratings, they actually cost less to operate and use less energy.
On a per cooling degree and per square footage basis it's a factor of 1.75.
How can this be?
There are several reasons:
People who use window units often cool down just one or two rooms in a house, while those with central AC must cool down all rooms at once (even the ones that are unoccupied).
Many central AC systems have ducts in unconditioned attics which can result in a loss of about 20% of the cooling output.
Central AC often gets left running by mistake because it's out of sight and out of mind. Window ACs are always visible; therefore, we're much more conscious to turn them off when they're not in use.
Cost Savings of Window Air Conditioners
So how does this all stack up in regards to monthly savings on your energy bills when using window ACs?
A central air conditioner costs between $100-200 per month depending on the amount of use.
You can expect to pay about $20-30 per month when using any one of the best rated window AC units recommended above at a rate of eight hours per day.
As you can see, window air conditioners offer substantial cost savings for homeowners and renters alike because of their energy efficiency.
Benefits of Window Air Conditioners
Affordable: Most top rated window air conditioners range in price between $99 to $250. Some models can cost up to $450 or more, but those are usually for very large rooms that need high power output.
Energy Efficient: If you get a unit that's Energy Star certified, then it will use very little electricity. As mentioned previously, you can pay as little as $20 per month to cool a room with a good window air conditioning unit.
Easy Installation: No HVAC expertise is needed to get it up and running. Step-by-step instructions are always included as well as all of the parts for installation. The only thing you'll need to supply is a screwdriver to secure the panel extenders. To process for installation is opening a window, placing the unit on the window sill, and then securing it in place. Other window air conditioner alternatives can require professional installation.
Compact Design: These air conditioners can fit in any standard size window. Plus, the smaller models are lightweight and easy to handle during installation.
Customized Cooling: If you get a unit that has an LCD screen and digital thermostat, then you can set an ideal temperature for the room. If you get a model that includes Wi-Fi connectivity and a smartphone app, then you can customize the cooling even further by setting up daily schedules and temperature ranges.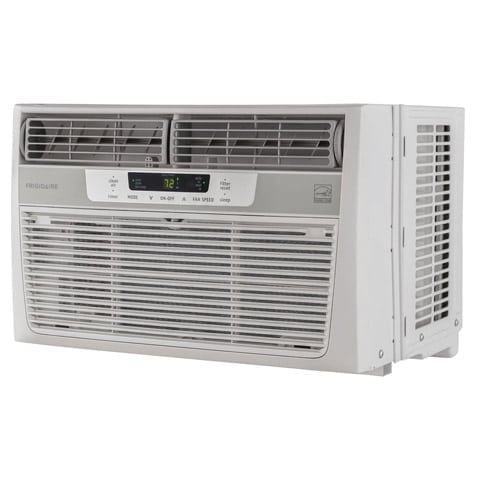 Enjoy Your News Window Air Conditioner
We hope this guide on the best window air conditioners has helped you find the best window AC unit for your needs.
Our goal with these window air conditioner reviews was to give you enough information to make the right decision on your own.
However, you can't go wrong with any of the top window AC units recommended on this page.
So start there.
Then, if you don't find exactly what you're looking for, feel free to check out other products and compare them to the best rated window air conditioners we outlined above.