Would you like to find the best 12000 BTU air conditioner on the market?
If so, this guide can help.
Below, you'll find the most popular and best-performing AC units with 12000 BTUs of cooling capacity to chill a room up to 550 square feet.
As experts in air conditioning, we know that everyone's cooling needs and budget are different, so our goal here is to help you find the perfect appliance for your cooling comfort.
As you'll see below, we have reviews on the best 12000 BTU window air conditioner units, best 12000 BTU portable air conditioner models, and top 12000 BTU ductless mini split systems to help you find an appliance that meets your exact needs.
By taking our advice, you can you save a lot time and money on your new air conditioner purchase.
Disclosure: Home Air Guides is reader-supported. As an Amazon associate and affiliate for independent brands, we earn from qualifying purchases made through the links on our site. Learn more.
12000 BTU Air Conditioners Reviewed in this Guide
Here's a quick comparison chart showing the top 12000 BTU air conditioners. We'll cover each aspect of these units in the reviews section below, but this gives you an idea of what's available and an easy way to compare them.
Best 12000 BTU Air Conditioner Reviews (Top 10 List)
If we had to choose one best 12000 BTU window air conditioner, then this MIDEA U Inverter would be it.
This unit comes with excellent technology and a design that's unmatched in the marketplace.
It also has a high cooling capacity to cover large rooms up to 550 square feet.
The U-shape design allows you to keep your window operational which is not available with other window AC units. Traditional units require the window to remain shut to hold the unit in place, but the MIDEA U Inverter allows it to open freely.
It's also the quietest 12000 BTU air conditioner we've ever reviewed at 42 decibels. You'll barely know it's running because it's so quiet.
Plus, the DC inverter technology allows you to save up to 35% on your energy consumption compared to other traditional AC units of this size. ENERGY STAR rated this unit with the "Most Efficient 2020 Certification", so you know it's been tested for low operational costs.
The best part; however, is the Wi-Fi capabilities. With this air conditioner, you can control it through your smartphone or a home assistant like Amazon Alexa or Google Home. This gives you the utmost convenience in operation, and you can change settings without even being in the house.
There's not much else you can ask for in a good air conditioner of this size that fits inside a window. And more many people, this is the best 12000 BTU air conditioner their money can buy.
---
If you want a budget-friendly window air conditioner, and don't care about Wi-Fi controls, then this unit from MIDEA offers a good value for the price.
By choosing this model over our #1 best 12000 BTU window air conditioner review, you'll be giving up the innovative features like the U-shaped and extremely low noise level, but you'll still get the same level of cooling power at 450 square feet.
An Energy Saving mode is also included to help lower your operational costs. Plus, a Sleep mode ensures the quietest operation at night.around 54 decibels, which is not too loud.
The front panel includes digital controls and an LED display that display the set temperature between 62-90° F. A remote control is also included.
If you want a good air conditioner that's not too expensive, then this is a top choice to consider.
---
The Frigidaire brand has been around since 1918, and it continues to be the most popular brand for window AC units.
The Frigidaire FFRE123WAE has the most common features that buyers love and it offers excellent performance and build quality.
It has an EER rating of 12, which is exceptional and hard to match. EER stands for Energy Efficiency Ratio, and the higher the number, the less energy the unit requires to cool a room.
It works for rooms up to 450 square feet and has five modes to meet your air conditioning needs: cooling, dehumidification, fan-only, automatic, sleep, and ECO for further energy savings.
A standout feature of this unit is that it has a remote temperature sensor. What this does is accurately keeps track of the temperature in the room and displays it on the actual remote control. It also measures the temperature of the room where the remote is sitting, so the air conditioner will continue cooling until the area around the remote meets the set degree.
Another nice benefit is the air filter cleaning indicator. This will light up when the filter needs cleaning so you don't have to guess. With other units, you have to manually inspect the filter to know when it's time to clean it.
---
If you're looking for a standard Wi-Fi air conditioner that can be installed in a window, then the Friedrich Chill Premier is a top option.
Friedrich is one of the highest quality brands for air conditioners and well-known for its superior features and performance.
As this is a Wi-Fi controlled air conditioner, the price is going to be slightly higher than basic units. However, the capabilities that come with it make this more than worth it.
This 12000 BTU air conditioner cools large rooms up to 450 square feet and lets you control it from anywhere with the smartphone app. You can also set up custom cooling cooling schedules and get push notifications.
Aside from the modern convenience of Wi-Fi, this air conditioner has all of the other essential features that make a great unit, including three cooling modes: air conditioning, dehumidification, and fan-only; an automatic and sleep mode; and ECO mode (labeled as Money Saver).
Overall, this is a greate smart air conditioner that does most of the work for you after you get it set up and running to your liking.
---
In our expert opinion, the best portable 12000 BTU air conditioner on the market is the MIDEA MAP12S1CWT.
It has a good room size coverage of up to 275 square feet for average size rooms in the home, like bedrooms, small living rooms, home offices, etc.
This portable AC unit is also Wi-Fi enabled, meaning that you can control it through your smartphone app or home assistant like Amazon Alexa or Google Home. Use these two methods to switch the controls up and adjust any of the settings while on the go.
A remote control is also included as well as an onboard LED display with digital controls. So you can operate this unit anyway you'd like.
It has four cooling modes (cool, dry, fan, auto), four fan speeds, a timer, sleep mode, ECO mode, and swinging air vents.
The five-foot hose and window brackets also allow you to easily install this AC unit to any window while still keeping it portable. The installation is temporary and easy to set up and take down if you want to move the unit to other rooms throughout the day.
No matter how you want to use your air conditioner, the MIDEA MAP12S1CWT has you covered.
---
Black + Decker offers a number of air conditioners to suit everyone's budgets or lifestyles. But this portable AC unit offers excellent features and functionality at a budget price.
You can use this air conditioner wherever you need it most and move it around the home with you. It has a single hose that connects to a window (window kit included) and caster wheels for easy transport.
It's a true 3-in-1 air conditioner that offers cooling, dehumidification, and fan only modes. What's also good is that it has a self-evaporation system to expel the collected moisture out the back hose of the unit, so you never have to empty a water collection tank.
Now, the product description on Amazon states that this portable air conditioner is good for rooms up to 150 square feet, but that's inaccurate. It can technically handle rooms up to 250 square feet with no problems. As you read in our previous review, the MIDEA unit can handle up to 275 square feet and it's a 12000 BTU air conditioner as well.
That makes this product a good choice for medium to large size rooms such as bedrooms, offices, and living rooms.
Controlling the features through the remote control is very convenient, and you can also use this to alter the 24-hour timer so it shuts off automatically after a set number of hours.
Overall, this is a great budget air conditioner for its size, and comes from a trusted brand in the air conditioner industry. It has amazing reviews and continues to be a top seller.
---
If you do a search for portable air conditioners, you'll undoubtedly come across the Whynter brand.
In fact, they're considered the top-of-the-line portable AC units for every size and purpose. That's why we've listed this model as the best portable air conditioner brand on the market.
Now, many people think that the square footage of an air conditioner is the only important factor to consider. But the level of dehumidification that can occur is also important and should be taken into consideration if you live in an humid climate.
The Whynter ARC-12S is a 12000 BTU air conditioner that excels in this area.
This unit can dehumidify up to 91 pints of moisture on a daily basis, which is amazing for people who live in humid climates.
But dehumidification is not the only benefit of this appliance. It also cools a room very quickly and keeps it at a comfortable temperature without any hassles. Plus, you get three fan speeds to choose from to get the right amount of airflow for your needs.
In terms of noise level, the Whynter ARC-12S runs at an impressively low 52.5 decibels on its lowest setting. This is a bit lower than the industry standard that hovers closer to 56 decibels.
As far as room size coverage, the manufacturer states it can cool a room up to 400 square feet. However, that's based on the older ASHRAE rating and not the newer SACC rating. As experts in this area, we recommend that you only use it in rooms as large as 250 to 275 square feet for the most cooling power.
---
Honeywell offers a good value on portable air conditioners and this model is no exception.
The automatic vertical wind motion helps to distribute powerful bursts of cool air throughout the room evenly to cool the room quickly and consistently. If you want an AC unit that cools your room as quickly as possible, the Honeywell HL12CESWK is an excellent option.
The dual-filter design ensures that dust particles don't clog the air conditioner and keeps it running smoothly for longer periods of time.
There are three fan speeds to choose from, a sleep mode, 24-hour timer, energy saving mode, and digital controls.
The high-quality castors and handle make it easy to transport the AC unit to whichever room you need it the most. And the remote control also comes with an LED display that tells you the temperature and currency settings at a quick glance.
But like we mentioned in the previous portable AC reviews, the total square footage claim is a bit exaggerated. Honeywell claims that the HL12CESWK can cool rooms between 450 to 550 square feet, but the truth is it's closer to 250 to 275 square feet based on the new SACC ratings.
---
This mini-split air conditioner is a great option for anyone who wants a permanent and highly-efficient 12000 BTU air conditioner.
Pioneer is a trusted brand with a loyal customer base and is one of the only units you can buy without going directly through an air conditioner dealer like Mitsubishi or Daikin.
It has an impressive SEER rating of 19.5, making it extremely efficient on energy and your monthly electric bill.
It cools large rooms up to 450 square feet.
You can use the remote control to easily alter the settings, select different functions, and use the timer.
There is also an automatic function which you use to let the air conditioner do all of the hard work for you to maintain a consistent temperature in the room.
What's also nice about this unit is that it doesn't just push out cool air, but provides supplemental heat as well. So you can use it year-round to keep your home cool during the summer and warm during the winter.
Best of all, you get free tech support and a 5 year warranty coverage on the compressor.
---
Another good mini-split air conditioner is the Senville SENL-12CD, which comes with everything you need to install it in quickly.
With an SEER of 19, it's just as efficient as our previous 12000 BTU air conditioner review. So if you choose this unit over the other one, you'll still enjoy incredibly low running costs.
In many ways, it's identical to our #9 review.
This air conditioner cools rooms up to 450 square feet, has an automatic mode, and provides supplemental heat.
But where it really stands out is the remote control.
The remote has a temperature sensing function called "Follow Me" that turns the device into a thermostat. That means the air conditioner will keep cooling the room until the area around the remote has reached the desired temperature.
That function is great for reducing hot spots in a room.
Additionally, the remote includes all of the top functions you'll use as buttons on the device. You can quickly tap a button to set the timer, turn on the LED light, activated sleep and turbo modes, initiate the self cleaning function, etc.
On the Pioneer model, you have to sift through menu options to do similar things.
So if you like the idea of a more user-friendly remote control, then you may want to choose this 12000 BTU air conditioner instead.
---
12000 BTU Air Conditioner Buying Guide
Our buyers guide below is a good source of information for everything you need to know about 12000 BTU air conditioners.
If you need to know more about these size air conditioners before making a purchase, then this section can help.
We'll be looking at the main features of a 12000 BTU air conditioner, comparing it to some different size units, as well as answering some popular questions that other previous buyers have had in the past.
Types of 12000 BTU Air Conditioners
Window Air Conditioners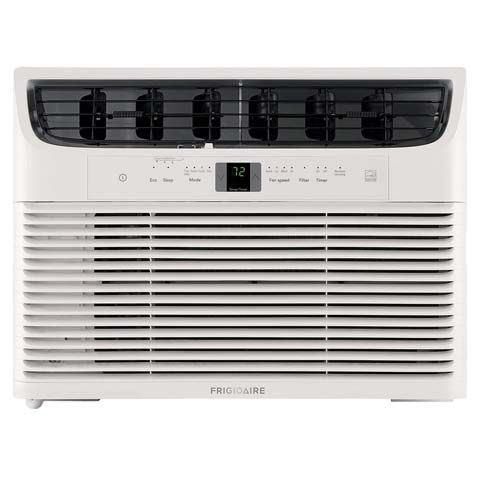 Window air conditioners are permanent fixations that are not designed to be moved from room to room.
This type of air conditioning unit can often cool larger spaces than any other type of AC unit and their running costs are low.
The best 12000 BTU window air conditioner units can cover up to 550 square feet, which is about 250 square feet larger than portable units and about 100 square feet more than ductless mini split system.
So if you're looking to cool a large room and don't mind the installation of a window AC unit, then this is a good choice.
Portable Air Conditioners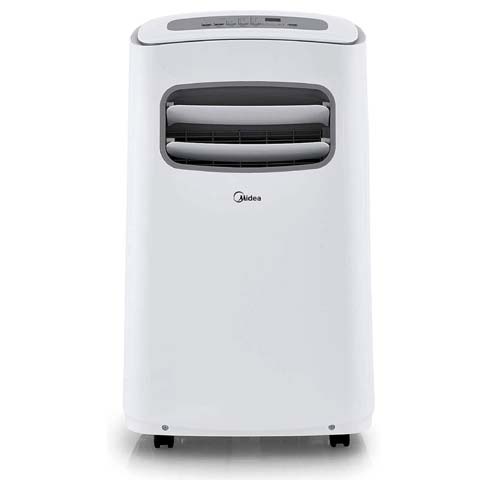 As the name suggests, portable air conditioners are moveable AC units.
You can roll portable air conditioners around your house thanks to the castors and handles they come with. They also hook up to a window via an exhaust hose that comes out the back of the unit. The hose is what expels hot air that's used to cool down the compressor.
Portable air conditioners include a window slider kit that gets placed in a window sill and connected to the exhaust hose. Setup and takedown only takes a few seconds. That's another reason why these units are so portable.
One thing to keep in mind here is that portable air conditioners will have a lower cooling capacity than window air conditioners, even though the BTU output is the same at 12000 BTUs. The largest room these AC units can cover is 250 to 275 square feet.
This discrepancy is due to many manufacturers using the original ASHRAE rating system for portable AC units to make their product look more appealing.
The Department of Energy (DOE) came up with a newer rating that is more accurate, called the Seasonally Adjusted Cooling Capacity (SACC) rating. The SACC takes into account other environmental factors that reduce the total effectiveness of cooling that the ASHRAE does not measure.
The SACC is about 50 to 60 percent lower than the ASHRAE rating on portable AC units. For example, a 12000 BTU portable air conditioner will also be labeled with 5000 or 6000 BTU SACC rating.
To keep things from being too confusing, every portable AC unit on the market will include both BTU measurements so you can get accurate details of the efficiency.
Ductless Mini Split Air Conditioners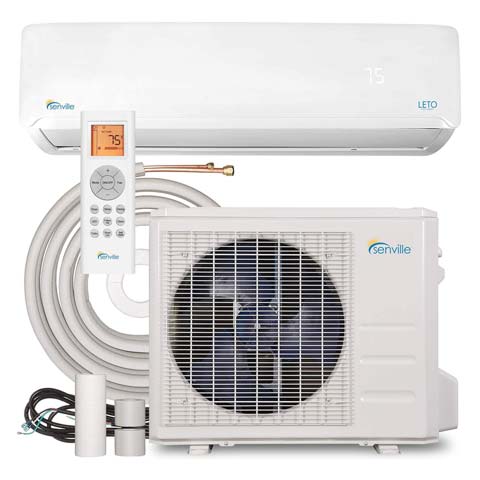 Mini split air conditioners are a type of ductless AC system that can be installed in any room of the home without the need for windows.
This type of air conditioning system includes two parts: an evaporator and compressor.
The evaporator gets installed high up on an interior wall and is what delivers the cool air into a room. The compressor is mounted outside and is what drives the cooling power of the evaporator.
Now, a ductless mini split air conditioner does cost the most amount of money, but it's also the most efficient system available with a 12000 BTU cooling capacity for rooms up to 450 square feet. If you want a permanent solution that will last for 15 years or more, then this is the best choice.
What is the Best 12000 BTU Air Conditioner?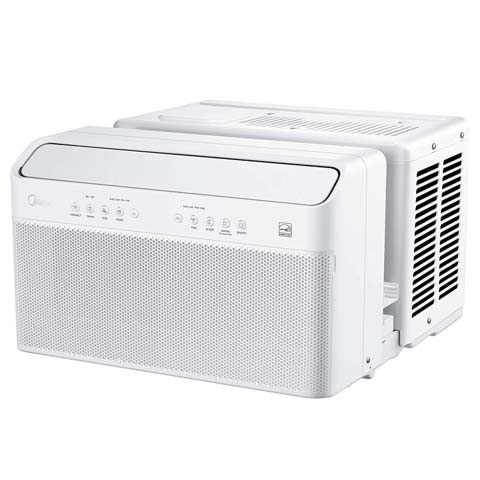 The MIDEA U Inverter is the best 12000 BTU air conditioner overall thanks to its innovative design, quiet operation, and energy saving capabilities.
Your window remains fully functional, keeping your view and fresh air away from obstructions. And with a noise level of just 42 decibels, you'll be able to enjoy company, entertainment, or sleeping without the noise disturbing you.
One of the main features that previous customers found helpful with this air conditioner is the ability to control the settings through multiple channels. You can connect it to your smartphone via Wi-Fi, a voice activated assistant, or use the remote control.
Another highly popular feature is the DC inverter technology that can cut around 35% of your energy costs when compared to similar units. You'll be able to enjoy cool air for longer periods of time without worrying about your bills increasing as much.
What is the Quietest 12000 BTU Air Conditioner?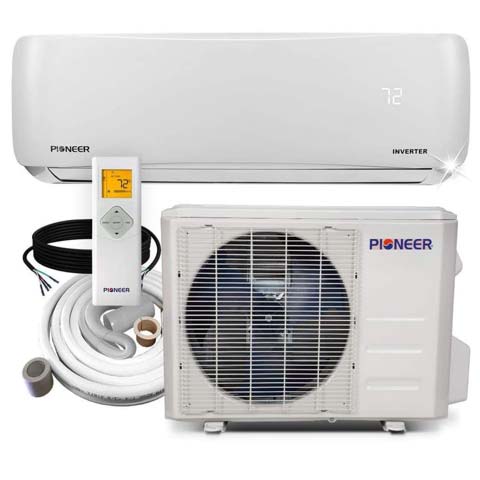 The Pioneer WYS012G-19 air conditioner is the quietest 12000 BTU unit on the market.. This can be attributed to the exterior compressor being physically separated from the interior evaporator.
The noise level is between 28 and 38 decibels. The lower setting will run at 28 dBA, the medium will be at 30 dBA, and the highest setting will have a noise level of 38 dBA.
This mini split air conditioner is incredibly quiet, and you'll probably never hear it running from the inside. Outside, the compressor is not too loud either.
If you don't want to deal with the installation of a mini split air conditioner, then the next best option is the MIDEA U Inverter with a noise level of just 42 decibels.
The U-shaped casing blocks noise from being heard inside while the compressor remains outside. This differentiates the MIDEA U Inverter from the rest of the window AC units on the market which are considerably louder.
Features to Look for in a 12000 BTU Air Conditioner
Energy Efficiency Ratio (EER)
The Energy Efficiency Ratio (EER) is a standardized rating that will tell you how efficient your air conditioner is.
Most AC units include the EER number on the list of specifications, but if you want to it out, you can simply divide the BTU capacity by the wattage per hour that the unit uses.
Cooling Output (BTU) / Energy Usage (wattage per hour)
The higher the EER, the more efficient your AC unit will be. A number above 9 is respectable, but the most efficient air conditioners will have an EER of 11 or 12 or higher.
A high EER will reduce the energy consumption of the unit and therefore reduce your electricity bills.
ECO Mode
ECO mode reduces the speed of the air conditioner and therefore reduces your energy usage and therefore your running costs. It will also reduce the noise level which is ideal for people who want to use their AC unit while they're sleeping or during work hours.
Heat
Having an air conditioner that also has a heat function is a great benefit that allows you to use your unit all year round. If you want the most value for your money, then consider an air conditioner that provides supplemental heat.
Dehumidification
Many air conditioners will also come with a dehumidifier setting to extract moisture from the air. This is a good option to use if you live in a humid environment.
This function draws air into the unit, collects the moisture, and stores it in a tank or expels it out the back of the unit to the outdoors.
Digital Controls
Digital controls are not essential, but they're very convenient for many people. These types of controls are easier to use and look more stylish than manual controls, appearing more high tech.
Digital controls often come with an LED display which makes it easier for you to read the temperature and current settings.
Wi-Fi Enabled
Wi-Fi air conditioners give you the most control over the unit.
With a Wi-Fi air conditioner, you use an app on your smartphone to control the settings or pair it with a home voice assistant like Amazon Alexa or Google Home.
Wi-Fi air conditioners also give you the ability to create custom schedules to personalize your air conditioner to exactly how you want it to cool throughout the week.
Remote
A remote control allows you to alter the settings of your air conditioner without having to use the controls on the unit itself. Some remote controls double as a temperature sensor and have a display on them to show you the current temperature reading.
Noise Level (dBA)
Air conditioners are typically noisy machines, which is one of the reasons why people are hesitant to purchase one. However, modern units are becoming more quiet with a lower decibel level, which is why they're becoming more popular.
The lower the noise level the better. Avoid air conditioners with a noise level higher than 60 decibels as this is likely to disturb your everyday life.
A good 12000 BTU air conditioner will produce between 52 to 56 decibels; however, you can also find quieter units like the MIDEA U Inverter that's as low as 42 dBA. Ductless mini split air conditioners even go down to 28 dBA which is inaudible.
12000 BTU vs 14000 BTU Air Conditioner
12000 BTU air conditioners can cover larger areas, but they might still be too small for some larger spaces. If you're unsure whether you need a 12000 BTU or 14000 BTU air conditioner, then read our comparisons below so that you can make the right decision.
Size
There isn't much in the size difference between the 12000 and 14000 BTU air conditioners. As there is only 2000 BTUs between the output, the size and weight should be similar to one another.
Noise Level
There's not much difference between the noise level of 12000 BTU vs 14000 BTU air conditioners. They should both range between 52 to 56 decibels.
A higher capacity 14000 BTU air conditioner might have a slightly louder noise level, but there are also 12000 BTU AC units that have higher noise levels as well.
Area Coverage
A 12000 BTU model can cover large rooms up to 550 square feet. A 14000 BTU air conditioner can cool spaces up to 700 square feet. If your space is larger than 550 square feet, then you'll want a 14000 BTU AC unit.
Energy Consumption
A 14000 BTU air conditioner requires more energy than the 12000 BTU alternative because it uses more watts to power the unit.
12000 BTU vs 18000 BTU Air Conditioner
If you've read our above section and are still thinking that you need a larger air conditioner still, here we'll compare the 12000 BTU AC unit to an extra large 18000 BTU unit.
Size
A 18000 BTU air conditioner is going to be considerably larger than a 12000 BTU unit. It is also likely to be heavier and therefore much less portable. The weight will also require two people for installation.
Noise Level
Due to the higher cooling capacity of an 18000 BTU air conditioner, it is going to be louder than a 12000 BTU unit. An average 12000 BTU unit will have a noise level between 52 and 56 decibels while the 18000 BTU alternative has around 60 dBA or higher.
Area Coverage
An 18000 BTU air conditioner can cover a large room up 1000 square feet. This is almost double what the 12000 BTU air conditioner can cover at 550 feet.
Energy Consumption
Due to the larger cooling capacity, the 18000 BTU air conditioner will require a higher energy consumption than the 12000 BTU unit.
Common Questions About 12000 BTU Air Conditioners
How many square feet will a 12000 BTU air conditioner cool?
A window air conditioner with an output of 12000 BTUs will cool spaces up to 550 square feet.
A portable air conditioner with the same output will cool smaller spaces around 250 square feet. Mini split air conditioners cool around 450 square feet.
How much electricity does a 12000 BTU air conditioner use?
A 12000 BTU air conditioner uses between 1000 to 1200 watts of electricity. However, the amount of electricity a 12000 BTU air conditioner uses depends on the average number of watts per hour.
How much does it cost to run a 12000 BTU air conditioner?
The average cost to run an 12000 BTU air conditioner is $0.14 per hour, $1.14 per day at 8 hours of use, and $34.20 per month.
The exact cost to run your air conditioner will depend on a number of factors, such as the wattage used per hour, your local electricity rates, and how long you plan to use the unit each day.
The formula for figuring out how much it costs to run an 12000 BTU air conditioner is:
(Watts ÷ 1,000) X kWh X Hours Per Day
In the above example, we used (1100 watts ÷ 1,000) X 0.13 kWH X 8 Per Day = $1.14 per day to run the air conditioner.
Enjoy Your New 12000 BTU Air Conditioner
We hope you enjoyed this guide on how to choose the best 12000 BTU air conditioner for your home.
As you discovered, good 12000 BTU AC units come in three types: window ACs, portable ACs, and ductless mini split systems.
The best 12000 BTU window air conditioner can cover up to 550 square feet while the best 12000 BTU portable air conditioner units can cool a room around 250 square feet. As for ductless mini splits, they have enough cooling power for 250 square feet of coverage and can also provide supplemental heat.
Some of these appliances also have Wi-Fi capabilities if you're looking for modern convenience.
Clearly, everyone's needs will be different, so just pick the right air conditioner for your cooling comfort, budget, and installation preference: permanent, portable, or window-mounted.