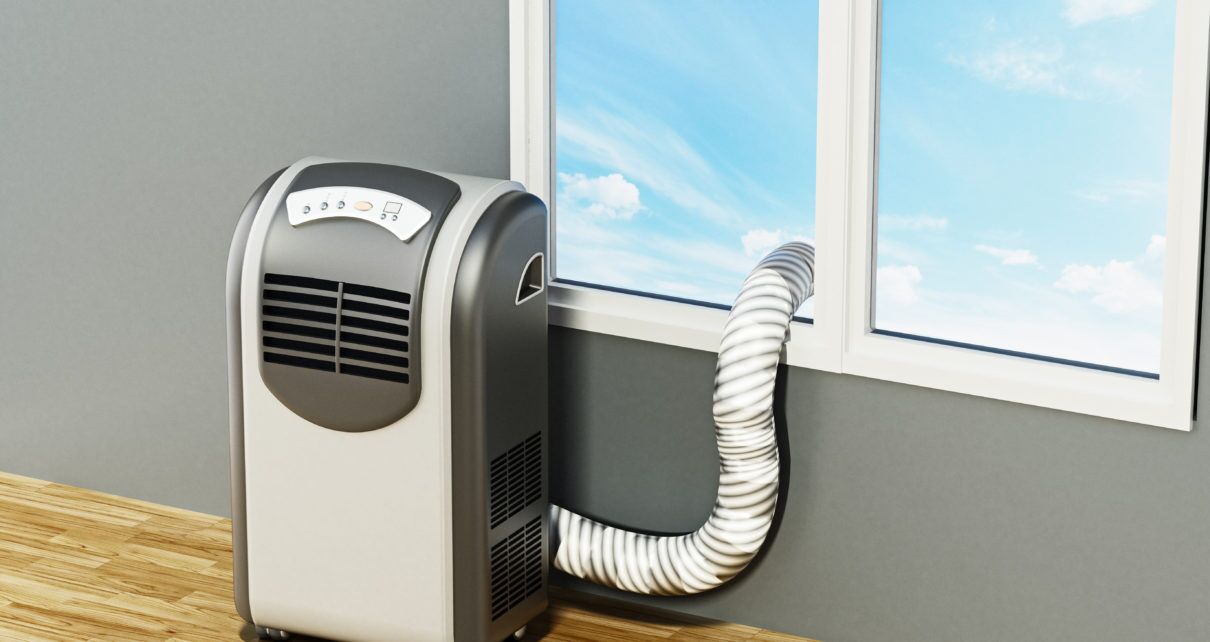 Are you looking for the best quiet portable air conditioner that can keep you cool without a lot of noise? If so, you've come to the right place.
Here, we've rounded up everything you need to know about choosing the best portable air conditioner for you and your family. Our picks can be used in any home, office or apartment, so there's really something for everyone here.
What to Look for in a Quiet Portable Air Conditioner
Before we get started, though, let's take a look at what features you should consider and know about before purchasing a quiet portable air conditioner.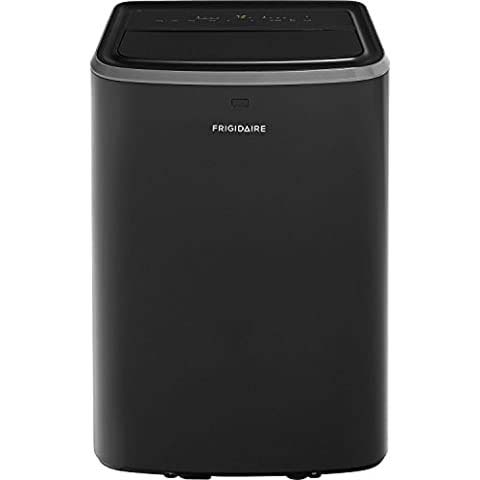 Single Hose vs Dual Hose
A single-hose portable air conditioner has one hose coming out the back of the unit. The purpose of this hose is to remove hot air that's generated by the internal compressor. It can also expel moisture that has been removed from the dehumidification process.
A dual-hose air conditioner has two hoses on the back of the unit. The first hose is used to draw outdoor air into the unit to cool down the internal components. The second hose is an exhaust hose. Its purpose is to send the air that's been used to cool down the portable AC unit to the outside.
In regards to the noise level, there usually is not a big difference between single and dual-hose portable AC units. A single-hose portable air conditioner is just as quiet as a dual-hose system. Single-hose ACs produce around 52 to 54 decibels while a dual-hose unit will average between 51 to 53 decibels.
Dehumidifier Mode
A dehumidifier mode on a portable air conditioner allows the unit to pull moisture out of the air as a way to cool it down. Air with high humidity feels hotter and just the act of reducing the level of water vapor can make a room feel cooler.
If you live in an area that has a lot of humidity, then a dehumidifier mode is a good feature to have in a quiet portable AC unit.
Auto Evaporation
A portable air conditioner with auto evaporation will get rid of the collected moisture that's removed from the air during the cooling cycle or dehumidification mode. This means that you won't have to empty a water collection bucket or connect a drain hose to the system to get rid of the water.
With auto evaporation, the portable AC unit expels the moisture through the exhaust hose and to the outdoors.
Heat Mode
The heat mode on a portable air conditioner will blow warm air into the room instead of cool air. This prevents you from having to purchase a separate heater or having to take the unit down when the outdoor temperature drops.
Wi-Fi
Smart AC units are becoming more popular because of their convenience. Connecting your unit to your Wi-Fi connection allows you to control it with an app on your smartphone or tablet. This means that you can adjust the settings of your AC unit without having to be home.
There are also Wi-Fi portable air conditioners that allow you to connect the unit to virtual assistant devices like Amazon Alexa or Google Home for added voice control.
Timer
Some people prefer their AC unit to have a timer integrated into it so that they can program the air conditioner to turn on and off when they want it to.
For example, you can use a timer to set your portable air conditioner to turn off shortly after you fall asleep and turn it on right before you wake up. Alternatively, you can use the timer to turn the AC on before you return home so that the air is cooler for when you walk in the door.
Remote
A remote control is a good thing to have if you don't want to be able to control the settings of the AC unit without having to get up and touch it.
Top Quiet Portable Air Conditioner Sizes
Room Area (Square Feet)
Capacity Needed (BTUs per Hour)
Average Decibels (dBA)
150 to 350 square feet
8,000 BTU ASHRAE
5,000 BTU DOE
50 to 53 dBA
400 to 450 square feet
10,000 BTU ASHRAE
5,500 BTU DOE
52 to 54 dBA
450 to 550 square feet
12,000 BTU ASHRAE
6,500 BTU DOE
52 to 56 dBA
550 to 700 square feet
14,000 BTU ASHRAE
9,500 BTU DOE
52 to 56 dBA
This table shows how much BTU output you should be looking for to cover the square footage of a room. The third column also highlights the decibel level that you'll commonly find for each portable air conditioner size.
Be mindful that this is a rough estimate for comparison's sake. Some brands offer AC units that cover larger or smaller spaces than the BTU output would indicate as well as noise level. You can see that just by reading our reviews above as not every model correlates exactly with this table in terms of square footage, BTU output, and decibels.
Why Correct Size is Important
It's incredibly important to choose a portable air conditioner that is the correct size for the intended room. Doing so will give you the best balance between cost and noise.
An oversized typically runs at a higher decibel level and is more expensive to operate because it uses more electricity (i.e. watts) to power the BTU output. So buying too large of a unit will cost you more on the upfront purchase, daily operation, and be louder to listen to.
Similarly, choosing an undersized portable air conditioner is not advised either. Sure, the initial cost might be lower and the decibel level might not be as loud, but you'll be spending more on daily usage because the AC unit will not be able to effectively cool down your room. Therefore, it will have to run for longer periods of time and waste electricity.
When you're looking to buy the quietest portable air conditioner for your home, be sure to pick one that meets the BTU output and square footage as referenced in the previous table. By following that guidance, you'll get a unit that's best suited for the intended space, the noise level, and your wallet.
ASHRAE vs. DOE SACC BTU Ratings
Portable air conditioners can either be rated with ASHRAE or DOE SACC BTU ratings. This gives the consumers a wider understanding of what they're getting from each portable AC unit on the market.
ASHRAE stands for the American Society of Heating, Refrigerating, and Air Conditioning Engineers. This society has been testing the cooling power of air conditioners for more than 60 years. They use a simple test to see how much heat an AC can remove in one hour, measured in BTU units.
However, the ASHRAE standard is not always the most effective way of measuring the efficiency of a portable AC unit. This is because external environmental factors are not taken into consideration. For example, as air is expelled out of the exhaust hose of a single hose portable air conditioner, it can create negative air pressure. This pulls air from the outside in, through windows, cracks, and electrical outlets.
During the cooling process, the air in the room where the AC unit is located will become cooler, but the rest of the air in the house will become warmer. This air can then circulate into the room and reduce the total effectiveness of the portable air conditioner.
Due to the physics behind this, the U.S. Department of Energy (DOE) created a new measurement for portable AC units called the Seasonally Adjusted Cooling Capacity (SACC). This BTU rating factors in the environmental factors and gives a more accurate rating.
You'll find that DOE SACC measurements are around 40 to 60% lower than ASHRAE due to the infiltration being factored into the result. Therefore, you can use the DOE SACC rating to get a more accurate and reliable measurement of how efficient your portable AC unit really is. On most brands, you'll find both the ASHRAE and DOE SACC BTU ratings for you to make an informed comparison.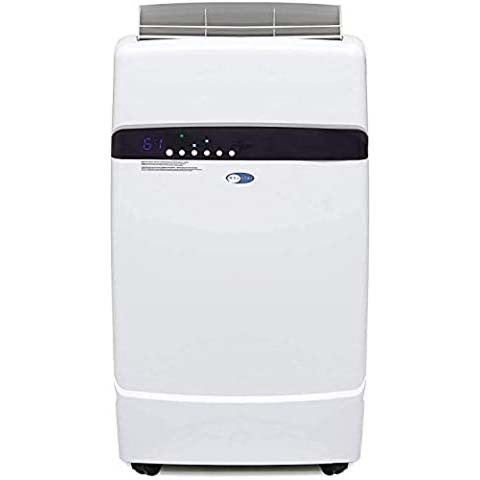 Overview: Quiet and Portable Air Conditioners
Here's a quick comparison chart showing the top quiet portable air conditioner.
Top 10 Best Quiet Portable Air Conditioners
We consider the Serenelife SLPAC10 the best quiet portable air conditioner on the market because of the price, size, noise level and options available.
This portable AC unit can cover medium to large rooms between 350 to 450 square feet with a decent noise level of 52 to 56 dBA.
There are four variations of this air conditioner so you can choose the exact type and power you need. This includes:
Regardless of the portable AC unit you choose, you'll get these three modes to meet your cooling needs: air conditioning, fan only, and dehumidifier. If you choose one of the models with heat, then you can use it year-round.
The Serenelife SLPAC10 has a lightweight body with a sleek design to fit any interior style. It also installs very easily with the included window installation kit. The remote control allows you to control every setting on the unit from anywhere in the room. It also has a sleep mode for the quietest operation and a 24-hour timer to complete this well-rounded package.
This quiet, portable AC unit has it all — including air conditioning, heat, Wi-Fi and a Bluetooth speaker. You can use it anywhere and at any time during the year.
It produces a noise level of 51 to 53 dBA, and squeezes out 50 more square feet of coverage to handle larger rooms up to 500 square feet with 14,000/7,2000 BTU output. Better yet, thanks to the smartphone app, you can control the portable air conditioner without even being home.
That said, the portable Bluetooth speaker is a luxury for a modern smart home — and while it can definitely come in handy, we know it's not the best fit for everyone.
If you have a large room to cool and need the quietest portable air conditioner possible, then Whynter ARC-14S could be the one for you. It has a 14,000/9,500 BTU output to cover up to 500 square feet while only generating 52 to 56 dBA of noise.
The dual-hose operation allows the air conditioner to work more efficiently and quickly than a single-hose design. It also prevents negative pressure build up that can occur in a closed room while a portable AC unit is running.
The dehumidification function is also very impressive. It can remove up to 71 pints of moisture from the air inside within 24 hours.
As for the air conditioning function, there are three fan speed settings to choose between for ultimate comfort. You can also switch it into fan-only mode for a pleasant breeze when ice cold air is not required.
The Whynter ARC-14S is an overall great and quiet portable air conditioner for large rooms and will continue to rank high on every expert review list.
On the other end of the spectrum, the Black + Decker BPACT08WT is the best and quietest portable air conditioner for small rooms.
Running with an output of 8,000/5,000 BTUs, this portable AC unit can cool rooms up to 150 square feet while producing a noise level of 51 to 53 dBA.
The sleep mode makes this air conditioner even quieter while it runs during the night, ensuring that you don't get interrupted while you're sleeping.
Although this portable air conditioner is for very small rooms, it has a wide variety of applications. You can use it in a bedroom, small living room, office, workshop, a studio apartment, and even a hot kitchen.
Transporting this unit is easy as well with the caster wheels. So you could move it from room to room if you'd like throughout the day.
If you're looking to buy a good smart quiet portable air conditioner, then this is a top unit to consider: it's one of the best portable AC units on the market with Wi-Fi control and voice commands.
The included smartphone app allows you to control the various modes, fan speed settings, timers, weekly schedules and temperature with ease. You can also connect the unit to an Amazon Alexa device for full voice control.
There are three sizes to choose from with this portable air conditioner and each one runs at the same noise level of 52 to 56 dBA.
No matter how far away you are from this portable AC unit, you can adjust its settings thanks to its smart capabilities.
If money is tight but you still want the quietest portable air conditioner for your home or apartment, then the MIDEA MAP08R1CWT is the best option for you.
With an output of 8,000/5,300 BTUs, this AC unit can effectively cool rooms up to 150 square feet with a running noise level of 51 to 53 dBA.
The controls are simple and effective without overcomplicating things. The top LED panel shows you exactly what the unit is doing at all times and reports an accurate temperature for cooling. The included remote also gives you added convenience without having to manually touch the unit.
A single hose comes out the back of the unit and attaches to a slim window adapter kit. You only have to crack your window about six inches for this portable air conditioner to be properly vented and ready to cool down your room of choice.
Having a nearly silent portable air conditioner with the added benefit of producing heat is a good choice for anyone who experiences all four weather seasons.
You can run the cooling mode during the summer and the heat mode during the winter, eliminating the need for separate units and additional costs.
The Whynter ARC-12SDH is excellent for this purpose as it has an output of 12,000/7,900 BTU to condition rooms up to 400 square feet. The noise level is also respectable at 52 to 56 dBA.
It provides four operational modes: air conditioning, fan, heater and dehumidifier, making it a very versatile unit that can be used for total indoor comfort. Plus, it works with most size windows in the home between 20" to 46" inches in width.
This Honeywell air conditioner is a popular quiet portable air conditioner that we highly recommend. That said, it's a popular unit and sells out quickly, so if you like it, grab it while you can.
The Honeywell MO10CESWK comes in two sizes that meet most people's needs and both portable AC units have the same level of quietness between 50 to 53 dBA.
The built-in dehumidifier can remove up to 61 pints of water from the air per day. You can also use the continuous draining option without having to empty the water collection tank if you're going to be using this portable air conditioner in a very humid area.
The window installation kit also accommodates small and large windows. It can adjust between 19.7" to 47.2" inches to fit horizontal and vertical windows.
If you want a classy black color in a quiet portable AC unit, then this is one of the few choices available — not to mention it's fairly good-looking.
There are two sizes to choose between, both of which run at a similar noise level of 49 to 52 dBA. Notice here that this is the most silent portable air conditioner on the market as it goes down to 49 decibels on the lowest fan speed setting.
As you can see, the square footage for both of these portable AC units is very impressive and some of the largest offerings on our list. So you're not only getting a great-looking appliance but one that also works very efficiently at cooling the largest rooms in your home.
If you're a fan of purchasing from the Amazon Basics range, then you'll be happy to know that this brand offers a good portable air conditioner.
It's a good budget option with simplistic controls, and comes in popular sizes:
A remote is included and the various features include three fan speed settings, cooling mode, dehumidification mode, fan-only mode, sleep mode, an automatic timer and on/off button for swinging the air vents to distribute cooled air more efficiently.
Frequently Asked Questions
What is considered a quiet portable air conditioner?
When talking about how loud or quiet something is, the unit of measurement for sound is displayed in decibels (or dBA). The lower the decibel level that something makes, the quieter the operation.
When looking for a quiet portable air conditioner, you will need to pay attention to the decibel level to determine whether it's actually quiet or not.
For a portable air conditioner to be considered quiet, the decibel level should range between 49 to 56 dBA. The majority of quiet portable AC units will not get below 52 decibels, but there are a select few models that can produce a lower noise level than this, such as the Frigidaire FFPA1222U1 that goes down to 49 dBA.
The BTU output is important when finding a portable air conditioner that is quiet or nearly silent. The quietest units will have an output between 8,000 to 14,000 BTUs. Anything larger than this will be too loud to be considered quiet.
Also there's not much difference between the decibel levels between each size portable AC unit for most brands. Each one tends to be the same loudness regardless if you get an 8,000 BTU or 14,000 BTU unit. The BTU output is what determines the total square footage that the portable air conditioner can cover.
Which portable air conditioner is the quietest?
The Serenelife SLPAC10 is the quietest portable air conditioner on the market with four different variations that each have their own unique selling point.
The 10,000/6,500 BTU models can cover a room up to 350 square feet while the 12,000/7,000 BTU model is good for 450 square feet. All run at a noise level between 52 to 56 decibels.
This brand of portable air conditioners also has a Sleep mode for the quietest operation and a 24-hour timer to round out this highly-rated affordable package.
How many decibels is a quiet portable air conditioner?
A quiet portable air conditioner produces between 49 to 52 decibels. However, the majority of portable air conditioners generate 52 to 56 decibels. If you want a quiet portable AC unit, then you need to look for one that is closest to 49 decibels.
What does 52 decibels sound like?
52 decibels sounds similar to an electric fan, running refrigerator, hairdryer, or a quiet street. This is quieter than a lot of things that produce noise, such as a blender, running at 90 decibels, a diesel truck at 100 decibels, or a crying baby at 110 decibels.
Is 55 decibels loud for an air conditioner?
55 decibels is on the higher spectrum of noise that an air conditioner can make, but it should not be considered too loud. Any air conditioner that makes a noise louder than 60 decibels is considered loud rather than quiet.
How can I make my portable air conditioner quieter?
Some people choose to wrap their portable AC units in a blanket to make them quieter, as the fabric absorbs a lot of the vibrations and noise pollution.
Placing the AC unit on a carpet rather than hardwood floors can also make it appear quieter as the unit is not vibrating onto such a hard surface.
Another easy fix for making a portable air conditioner quiet is to place the unit further away from you. The main issue with portable units is that they are often placed too close to the user and therefore appear louder than they need to be.
Are portable air conditioners quieter than window units?
Portable air conditioners are not quieter than window units. Window air conditioners average between 42 to 55 decibels while a typical portable air conditioner measures between 49 to 56 decibels.
Why are portable air conditioners so noisy?
Portable air conditioners are so noisy because the compressor is located inside the unit which is in the room with you. Unlike a window AC unit where the compressor is located outside for the noise to travel away from the house, a portable air conditioner doesn't have anything to dampen the sound.
Bottom Line
There are some nearly silent portable air conditioners that offer more than just cooling; you can also choose a quiet portable AC unit that can produce heat and get an appliance that is smart-enabled with Wi-Fi control. This list can help you narrow that down.