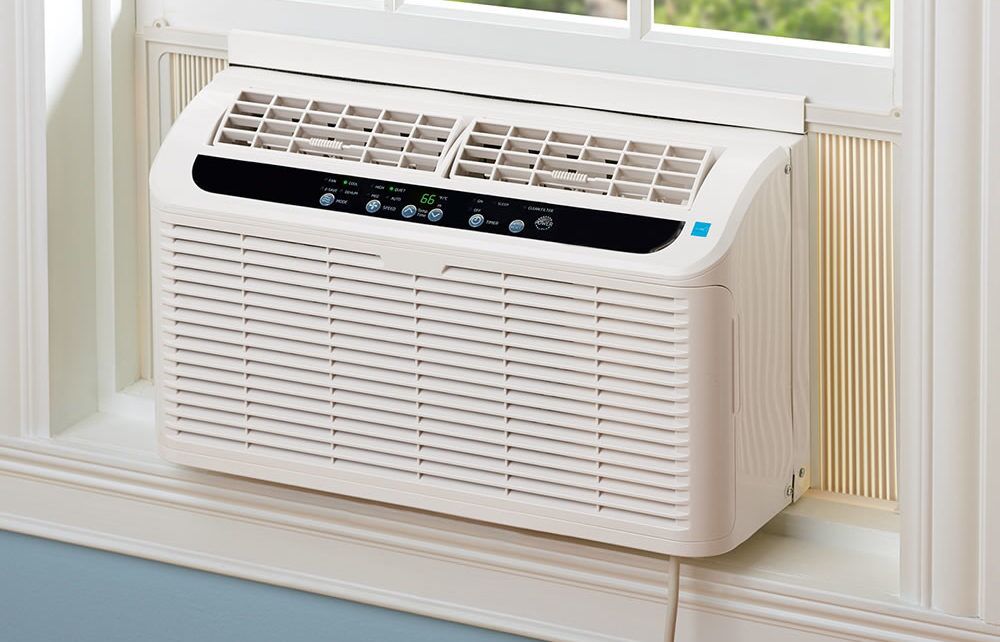 In this guide, we'll take an in-depth look at some of the quietest window AC units on the market, as well as explain the top features each one has to keep you cool and comfortable.
Ultimately, we put together everything you need to know to make a well-informed decision on buying the best silent window air conditioner for your home or apartment.
Before we get started, though, let's dive into the fundamentals of buying a quiet window air conditioner so you can make the best informed decision for you and your family.
What is Considered a Quiet Window Air Conditioner?
Decibels are a unit of measurement regarding how much noise something makes. The lower the decibel level, the quieter something will be. Looking at window air conditioners when it comes to their noise level, you'll need to take care to notice the decibel level that they offer.
For some context, breathing reaches 10 decibels and a lively conversation can reach around 60 decibels. Quiet air conditioners will have a decibel level between 42 and 54 decibels. The amount of noise your window air conditioner will create directly relates to the BTU output (British Thermal Unit).
The quietest window air conditioners typically range between 5,000 BTUs to 8,000 BTUs as these will need the least amount of power to work.
However, some brands have been able to maintain the same decibel noise level for all size units between 8,000 to 12,000 BTU. Examples of this include the MIDEA U Inverter and the TOSO Chalet. So it is possible to get a more powerful window air conditioner without having to endure a higher noise level.
Keep in mind that opting for a model with a BTU output any higher than 12,000 will increase the noise level too much to be considered quiet.
A little later in our buyers guide we will be looking at how BTU output relates to square footage so that you don't buy a window air conditioner that is too noisy for your needs.
What is the Quietest Window Air Conditioner on the Market?
The MIDEA U Inverter is the quietest window air conditioner on the market with a low noise level of 42 decibels. This is the quietest option that you will find thanks to the inverter technology.
No matter which BTU output you choose, the decibel level does not change so even the largest AC unit of this kind is still silent.
You won't find anything else quite like this window air conditioner. It includes everything you need for cooling comfort as well as Wi-Fi connectivity and a remote control.
What Makes a Window Air Conditioner Quiet?
Inverter Technology
Inverter technology is used to control the speed of the compressor motor in an air conditioner, allowing it to constantly regulate the temperature. The DC inverter units can vary the frequency drive that converts AC current to DC and then passes it through a modulation in an electrical inverter.
This process produces a current with the desired frequency, which the microcontroller can then sample to ensure that it is the correct temperature. If the temperature is incorrect, a signal will be passed to the compressor to adjust its speed.
Inverter technology allows window air conditioners to have varied speeds rather than just one constant speed with an on and off function. This means that the AC unit is not always running at its maximum capacity, making it quieter as well as reducing running costs and increasing its efficiency.
On our list of the quiet window air conditioners, only the MIDEA and LG window air conditioners have inverter technology. The LG has dual inverter technology which promotes more stability while operating at full capacity. The better stability creates fewer vibrations and therefore less noise. However, both brands do run at low noise levels of 42 to 44 dBA.
U-Shaped Design
A U-shaped design reduces the noise levels of a window air conditioner by blocking the sound of the compressor from entering the room. The window pane acts as a sound buffer.
The U-shaped design also allows you to keep full control of your window, which other AC units don't offer. You can choose whether you want to have the window open or closed, which contrasts with other models that require the window to stay in one position as it anchors the AC unit in place.
Only the best window air conditioner on the market, the MIDEA U Inverter, comes equipped with this innovative U-shaped design.
Insulation
It stands to reason that the better insulated your air conditioner is, the less noise you're going to hear from the model. This isn't to say that the window AC unit isn't making a louder decibel output, but the insulation muffles the vibrations and causes it to appear quieter in your home.
Over the years, people discovered that you can use sound dampening blankets to reduce the noise output of their AC units, which has forced the manufacturers to amp up the insulation that they use for their window air conditioners.
Therefore, the newest models on the market often have the most effective insulation and therefore are quietest.
BTU Output
As we mentioned earlier, the BTU output will directly affect the noise level of an air conditioning unit. The lower the BTU output, the lower the noise level.
This is because AC units with lower BTU outputs have smaller compressors which make fewer vibrations and therefore less decibel output.
Fan Speed
It doesn't take an engineer to know that the slower the fan speed, the quieter a window air conditioner is. This is due to the vibrations that the compressor and fan makes at maximum capacity.
The quicker the fan, the harder every component within the AC unit is working.
This is a prime example of why an AC unit with inverter technology is better than without it. A variable speed will adjust the fan speed as it needs more power and prevent it from working at maximum capacity on a constant basis. This leads to lower noise levels and even a completely silent window air conditioner at times.
Top Quiet Window Air Conditioner Sizes
Below is a table of how much BTU output you should be looking for in regards to the square footage of your room. We've also included the decibels that will come with each AC unit depending on the BTUs.
| | | |
| --- | --- | --- |
| Room Area (Square Feet) | Capacity Needed (BTUs per Hour) | Average Decibels (dBA) |
| 100 to 150 square feet | 5,000 BTU | 42 to 52 dBA |
| 150 to 250 square feet | 6,000 BTU | 42 to 52 dBA |
| 250 to 300 square feet | 7,000 BTU | 42 to 52 dBA |
| 300 to 350 square feet | 8,000 BTU | 44 to 56 dBA |
| 350 to 400 square feet | 9,000 BTU | 44 to 56 dBA |
| 400 to 450 square feet | 10,000 BTU | 44 to 56 dBA |
| 450 to 550 square feet | 12,000 BTU | 44 to 56 dBA |
Why Correct Size is Important
There are a multitude of reasons why choosing the correct size of your AC unit is important.
For starters, using an oversized unit will cause you to waste money on the initial purchase. There's no need to buy a 12,000 BTU window air conditioner for a small 150 square feet room. A 5,000 BTU window air conditioner would be a better investment.
Additionally, oversized air conditioners usually don't run long enough for the dehumidification process to take place, resulting in cool but moisture-laden air that feels clammy and uncomfortable to most people.
On the flipside, using an undersized AC unit will cause you to spend more money than necessary on electricity as you'll be using it for much longer periods of time than if you were to have a correctly sized unit. This also increases the risk of overheating and reducing the lifespan of your window air conditioner, as well as reducing its efficiency.
As you're looking for the quietest window air conditioner on the market, getting the correct size of AC unit is always ideal for better noise control too.
An oversized unit will make more noise due to the larger compressor. Therefore, if you don't need such a large unit, the louder noise will be unnecessary.
While an undersized window air conditioner will be quieter than a model with a higher BTU, using it at its maximum capacity will require you to listen to it 24/7. Additionally, using it for prolonged periods of time will age the unit prematurely. Overworked components will make more noise as they work together, making the unit louder in the long run.
What Is BTU Capacity?
BTU stands for British Thermal Unit, which is the international standard for heating and cooling appliances.
The higher BTU output relates to a higher amount of energy required to heat one pound of water by one degree Fahrenheit. However, in the HVAC industry, BTU measures the quantity of heat that an AC unit can remove from a room in one hour.
One BTU per hour is equivalent to 0.2931 watts.
The higher the BTU output, the larger the air conditioner size is. This also translates to heavier weight and more electricity usage. Therefore, the quietest and most silent window air conditioners have low BTUs and wattage use.
What is Energy Efficiency Ratio (EER)?
The Energy Efficiency Ratio or EER is a unit of measurement that is used with heating or cooling equipment, such as an AC unit. It measures the ratio of the cooling output (BTUs) compared to the power input (watts per hour) while the unit is running.
The higher the EER of an air conditioner compared to other systems, the higher the efficiency of the unit. Having a more efficient unit can save you money by requiring less energy to cool your room effectively.
However, the EER rating doesn't necessarily correlate with the noise level of an AC unit. You can have an incredibly efficient window air conditioner that still has noisy components.
Likewise, you can have a smaller, less efficient unit that is surprisingly quiet.
Features to Look for in the Quietest Window Air Conditioners
Digital Controls vs Knobs
Digital controls are easier to work with and often have an LCD screen that tells you more information about your AC unit. Knobs are considered less precise and you're often left guessing exactly what setting your unit is operating on.
However, window air conditioners with digital controls can be considered more high-tech and therefore more expensive. Budget window AC units will more often than not have knobs for the controls.
ECO Mode (Energy Saver)
ECO mode or Energy Save mode can make your AC unit quieter as it will be running at a slower rate. Eco mode can also reduce the cost of your unit and improve its efficiency in the long run.
Many people look for an Energy Save mode as it improves the EER rating and saves you money without compromising the performance.
Sleep Mode
Sleep mode is where the AC unit powers off or reduces its speed of the motor during the nighttime. This will reduce the noise level dramatically or stop it altogether, ensuring that you have uninterrupted sleep while still feeling some of the effects of your AC unit.
Wi-Fi
Connecting your AC unit to your home Wi-Fi network allows you to expand its capabilities and use it alongside other devices. You can use your smartphone to control the unit or even a voice activated home assistant such as the Amazon Alexa or Google Home.
Opting for a smart Wi-Fi window air conditioner does come with higher costs. But the added convenience is often well worth it for many people.
Air Filter
Air filters allow the AC unit to purify the air as it passes through the system. This makes the air in your home cleaner and free of harmful particles such as dust, pollen, allergens, and some bacteria.
Timer
A timer is a great feature to have when you don't want to use your AC unit constantly throughout the day. You can program the timer to turn the air conditioner off when you leave the house as well as turn it on just before you get back.
Timers help to reduce running costs as you won't be using the unit at maximum power all throughout the day.
Remote
A remote can be very handy, although it's not essential. Remote controls allow you to alter the settings of your AC unit without having to touch the unit itself.
As the window air conditioner is going to be placed near the window, the placement will determine the urgency of needing a remote control or not.
Quiet Window Air Conditioners Reviewed in this Guide
Here's a quick comparison chart showing the top quiet window air conditioners.
10 Best Quiet Window Air Conditioners
The MIDEA U Inverter is the best quiet window air conditioner in terms of noise level because it has the lowest running sound at 42 decibels.
You can also choose from three BTU outputs depending on the square footage of your room. And no matter which BTU you choose, the low dBA level remains the same.
Below are the BTU outputs as well as their corresponding square footage and decibel levels:
What's also nice about this window air conditioner is that it uses advanced inverter technology. This feature works to automatically adjust the AC unit's running speed to keep the temperature constant. This means that the unit will not always be running at maximum capacity, saving up to 35% on energy costs as well as reducing the noise level.
The U-shaped design also blocks noise from the cooling system by using your window as a sound dampener. Plus, you can still have access to open your window for fresh air without the AC unit getting in the way. No other product on the market offers this unique advantage.
Another stand out feature of this quiet window air conditioner is that you can connect it to your home's Wi-Fi network and control the unit from anywhere. You can also link it up to Amazon Alexa or Google Home to use voice commands to control every aspect of this AC unit.
The MIDEA U Inverter is truly one-of-a-kind and is paving the way for the future of window air conditioner design and convenience.
View on Amazon
The LG LW1019IVSM is the second-best quiet window AC unit on the market with only 44 dBA of noise. That's only 2 decibels more than our #1 review, which is barely noticeable to the untrained ear.
The LG window AC unit has a 9,500 BTU output which makes it the quietest window air conditioner for large rooms up to 450 square feet.
This air conditioner is the only other model on our list that uses inverter technology, and the LG model has a dual inverter system rather than a single inverter like the MIDEA unit above. The dual inverter technology does a better job at regulating the speed of the compressor, and therefore, lowers the amount of noise produced. No other window air conditioner of this BTU output is as silent as this unit.
LG is a trusted brand and this model tends to sell out quickly. So if you like it, then you may want to go ahead and grab it before it's gone because you might be waiting a while for a restock.
View on Amazon
Next up is the Haier ESAQ406T which we consider to be the quietest window air conditioner for small rooms. The decibel level of this AC unit is 44 dBA, which is the same as the previous model we reviewed.
However, this Haier window air conditioner will not cover as much square footage as the LG alternative. Instead, the 6,000 BTU output will effectively cool a small room up to 250 square feet, making it a more affordable option.
There are four functions on this air conditioner: cool, energy saver, fan, and dehumidify. So you can use this window AC unit for different purposes throughout the season.
The energy saver mode is a widely sought-after option when it comes to modern window AC units, so this is a great benefit of the Haier model. This mode will keep electricity costs low while still maintaining a cool temperature in the room.
There is also remote control and a 24-hour timer to take advantage of for added convenience.
View on Amazon
We've looked at both window air conditioners for smaller and larger rooms, and this is our pick for the best silent window air conditioner for medium-sized rooms.
The 8,000 BTU output will cover up to 350 square feet which will suit most average size rooms in your house.
The noise level to expect is incredibly quiet at 42 dBA and compares well to the MIDEA unit that was featured at the top of our review list. The main reasons why the MIDEA U Inverter model beat this TOSOT Tranquility window air conditioner is because the MIDEA unit gives you more BTU output options and has Wi-Fi connectivity.
However, you might prefer to buy this TOSOT Tranquility window AC unit because of the lower price or the aesthetic style.
The EER of this air conditioner is excellent at 12.0, saving you money on energy costs in the long run.
You can also install the unit within 15 minutes, allowing you to enjoy cool air very quickly after opening the box. It's also easy to remove after the summer season is over.
View on Amazon
Frigidaire has been a top brand for window AC units for years and if you want a quiet smart window air conditioner, then this is the one to buy.
Connect the AC unit to your home Wi-Fi and use the Frigidaire Smart App to operate every aspect of this window air conditioner with your smartphone.
You can use the app to turn the unit on or off, change the temperature, control the different modes, and adapt the fan speed settings. There is no denying that this is the easiest window AC unit to control thanks to the smart capabilities.
However, this model is much louder than the other air conditioners that we have reviewed on our list. The tradeoff here is to have the added luxury of smart controls for a noise level of 54 decibels.
Now, 54 dBA is still considered quiet for a window air conditioner, but it is not as impressive as the other models on our list. But you do get two size options to choose from:
Overall this is a good, smart and quiet window AC unit to consider, especially because it's highly favored by consumers and meets the demand of larger size rooms.
View on Amazon
LG is an incredibly popular brand that often sees its AC units sell out within a very short amount of time. The LG LW8017ERSM is no different and is also considered the most popular and best quiet window air conditioner from this brand.
It has been highly recommended and rated by many experts in the field of air conditioning, including us.
First introduced in 2017, the LG LW8017ERSM was one of the top leaders in the quiet window air conditioner market at the time. Since then, its reputation has not changed and it continues to remain in high demand.
Originally, this window AC unit only came with a remote. But now a Wi-Fi version is also available for added smart home convenience.
Regardless of the model you choose, each window air conditioner has 8,000 BTU output to cover up to 350 square feet at a sound level of 52 decibels.
Similar to the other LG window air conditioner reviewed on our list, if you're interested in this model you should grab it while you can. It sells out quickly.
View on Amazon
A 12,000 BTU window air conditioner will cover an impressive 550 square footage and are not often considered quiet due to the power that they require to cool such a large space.
However, LG has impressed us all with this unit that runs at only 50 decibels.
The LG LW1216ER is the larger version of our #6 review, but it does not offer a Wi-Fi version. That is why we listed it separately.
Also, the decibel noise level is actually 2 dBA quieter than the previously reviewed model and you get a more powerful window air conditioner for very large rooms.
It includes three fan speed settings and 4-way air deflection so you can better direct the cool air into the room to eliminate hot spots.
View on Amazon
The Frigidaire FFRA0511R1 is a classic window air conditioner that we all grew up around. It is a simple, yet effective unit with no confusing buttons to contend with.
Enjoy the nostalgia with rotary control dials and an AC unit that just plain works.
The 5,000 BTU output will cool rooms up to 150 square feet, which is the smallest size we've looked at in a silent window air conditioner. The noise level is not too bad at 51 decibels.
This model is simple to install and uses a low amount of power at around 450 watts. This keeps the running costs low, making it ideal for people looking for a budget option.
Not only is the initial cost lower than the market average, but it's also inexpensive to run. It costs about $0.05 per hour to run which averages around $0.50 for 8 hours of daily use.
The only drawback is that you can't set the exact temperature. But for some people that doesn't matter as long as the room feels cool. If you do want to pick the degree, then consider our next review.
View on Amazon
Next up is the upgraded version of the window air conditioner that we just looked at. But rather than using rotary dials for the controls, the Frigidaire FFRE0533S1 has digital controls that allow you to adjust the temperature settings much more precisely.
This quiet window AC unit also comes in two sizes so that you can choose the one that is best for your room and the space that you want to cover:
As you can see, this cheap window air conditioner runs at one decibel quieter than the previously reviewed model. And while the larger sized unit does run at a louder level, 55 decibels is still considered relatively quiet for a window air conditioner of that size.
View on Amazon
TOSOT might be a newer brand on the window air conditioner market, but they've wasted no time making a good impression with their Chalet AC unit that is available in three sizes:
No matter what size of the room you have to cool, TOSOT has you covered. Each size runs at the same noise level, 54 decibels, which is not the quietest sound on our list. However, this increased noise level does come with an added perk: smart temperature controls.
On most air conditioners, the thermostat is located on the unit itself. But on the TOSOT Chalet, the thermostat is located on the remote. This means that the AC unit will cool the room based on the temperature around your remote (i.e. where you're sitting).
There's only one other air conditioner we've ever seen on the market that has a similar feature, but it's much too loud to be considered a quiet window AC unit. So if you like this innovative idea, then this TOSOT Chalet window air conditioner is your best choice for the money.
View on Amazon
Frequently Asked Questions
How many decibels is a quiet air conditioner?
A quiet window air conditioner will have a decibel level of 42 to 54 decibels. Any louder than 60 decibels will not be considered quiet.
What is the best noise level for AC?
The best noise level for an AC unit between 40 to 50 dBA. However, you might need a larger AC with a higher BTU output to cover large square footage. In this instance, the best noise level for an AC unit is no higher than 60 dBA.
What does 50 decibels sound like?
50 decibels sounds like a normal conversation at home. As a comparative reference, 20 decibels is the sound of rustling leaves and 70 decibels is roughly the sound level that a washing machine makes.
How can I make my window air conditioner quieter?
The best way to make your window air conditioner quieter is to maintain it well. Make sure that none of the components are loose inside, keep the fans and coils clean and free of dust, and ensure that all screws are tightened.
If your air conditioner is making too much noise, the compressor might need to be upgraded to a new model.
Another way to make your window AC unit quieter is to hang a sound blanket over the top part of the window above the air conditioner. Also, you can use foam insulation on the sides to fill in gaps around the window kit to help muffle the noise and vibrations from the compressor.
Are new air conditioners quieter?
The majority of new AC units are quieter than older models because the components are newer and more innovative technology has been developed to reduce the noise level. Look for single or dual inverter technology for the most silent window air conditioners.
However, some budget air conditioners are not quieter than older models because their quality has been sacrificed to lower the manufacturing costs.
Are portable air conditioners quieter than window units?
Portable air conditioners are not quieter than window units. Many portable air conditioners range between 54 to 65 decibels of sound. Compare that to the best window air conditioner models that can be as quiet as 42 decibels even on the highest fans speed setting.
One thing to note; however, is that portable air conditioners do not always run loudly. When the AC unit reaches the set temperature, the compressor turns off while the blower fan still runs. This reduces the noise level considerably, but there is still some sound from the fan blade moving.
If noise is a top concern for you, then a good window air conditioner will be a better choice.
Bottom Line
The quietest window air conditioner models utilize inverter technology to control the speed of the compressor motor so it's less noisy. And, a U-shaped design makes for the best quiet window AC unit because it dampens the sound better. The information here will be beneficial in helping you narrow down the perfect AC unit for your home or apartment at a price you're comfortable with.