Ionic air purifiers, also known as air ionizers, are a very popular choice today. And for good reason — they're highly effective without being overly expensive.
But what is the best ionic air purifier you can buy today? And what is the most effective air ionizer for your home or office space? That's what we're going to answer today.
Disclosure: Home Air Guides is reader-supported. As an Amazon associate and affiliate for independent brands, we earn from qualifying purchases made through the links on our site. Learn more.
The Best Ionic Air Purifiers: Overview
Here's a quick comparison chart showing the top ionic air purifiers. We'll cover each aspect of these units in the reviews section below, but this gives you an idea of what's available and an easy way to compare them.
Best Ionic Air Purifiers List
If you want the best air purifier ionizer for home or office use that can handle any size space, large or small, then this is the product you want to get.
Not only is the Ivation air cleaner very affordable but it's also adjustable to purify a space up to 3,500 square feet, which makes it perfect for apartments, homes, and offices.
This top ionic air cleaner includes an adjustable dial to increase or decrease the rate of ionization production to remove the level of airborne contaminants from the room.
In addition to ionization, this air purifier also includes an optional ozone (O3) cleaning function that boosts the air cleaning ability. This feature helps remove viruses, bacteria, mold, and other toxins that are present in the air.
No particulates stand a chance against this powerful machine.
One thing to keep in mind is that O3 can be an irritant for some people. So our best advice here is to always ensure that the room you're using this product in is well ventilated so the ozone can dissipate.
A few additional tips you can follow for safety measures include:
Only use the ozone function when you're not in the room. That way you won't be exposed to any O3.
If you are in the same room as the unit, then start with the lowest setting on the dial and slowly turn it up over time until you feel negative effects from the O3 production. At that point, turn the dial back to lower the output to a more comfortable level.
It's important for you to know that not everyone will feel the effects of ozone production. There are many factors that come into play, such as any underlying medical conditions you may have, the room size, how well the area is ventilated, and more.
If you're at all concerned about it, you could always just keep that function turned off. For the money, you won't find any other ionizer that has this much air cleaning power.
With all that said, many people are happy with this ionic air purifier. So check out the reviews for yourself to see if it's a good choice for your home or not.
This product can strip the air of all types of harmful contaminants and irritants. Plus, the wood cabinetry and stainless steel facing are a beautiful touch and help it compliment the decor in any room or office.
If you have a large space to purify, we highly suggest you try this device. It's practically unbeatable.
---
The second best ionic air purifier you can get is this device.
For less than half the price of our first recommendation, you can enjoy an environment that's not only allergen free, but also smells fresh and reduces the exposure to illness.
In addition to ionization, the OION also helps fight against smoke, smells, bacteria, and viruses through the combination of Carbon Filtration and UV-C Lighting.
You also have a choice between two color options: black or silver.
And it comes with an optional night light function.
As for room size coverage, it can handle a space up to 300 square feet.
If you're looking for the best air ionizer to use in small rooms or personalized spaces, this is a great investment.
For anything larger, our #1 or #3 reviews would be better choices.
---
If you liked the idea of our #2 recommendation, but want something more powerful, then this ionic air cleaner is a great alternative.
It handles rooms that are about two times larger than the OION, covering up to 500 square feet.
That makes this air cleaner perfect for most larger rooms in your home or apartment, such as the living room, basement, and big bedrooms, as well as an office space.
It also has 3 fan speed settings and a filter clean indicator.
The main difference here is that the Envion Ionic Pro Turbo doesn't include the activated carbon filter for reducing odors like the OION product.
However, this ionic air cleaner does have a germicidal chamber that helps kill up to 99.99% of germs and bacteria that flow through the system.
All-in-all, this a great air ionizer that can remove airborne dust, allergens, bacteria, and viruses for a cleaner and healthier indoor environment.
---
At first glance, you may think that this is a radically different ionic air cleaner than the previous review. But it's actually just the upgraded version called the Envion Platinum.
This unit cleans the air in the same way as the Envion Pro by creating negative ions and releasing them into the air to electrically charge pollutants. This process makes it easier to trap the dust, germs, and allergens in the permanent filter plates.
It also covers the same amount of room space at 500 square feet.
So how is this ionic air purifier any different or better than the previous review?
It offers you several added benefits:
4 fan speed settings (low, medium, high, and auto)
An automatic mode that adjusts the fan speeds automatically to remove pollutants in the most efficient way
A silent mode for running the unit quietly at a low speed (best used for bedrooms and other quiet areas in the home)
A timer that allows you to set the unit to automatically turn off up to 24 hours in advance
A dim button for turning off the top panel lights
Even with all of these added features, this air ionizer still uses less energy than a compact fluorescent bulb, making it very energy efficient.
---
Perhaps you're looking for a small, compact ionizer air purifier for personal use.
Or maybe you just want something that you can take with you while traveling or to and from the workplace.
If that's the case, then this may be the perfect device for your needs.
The ionBox a powerful little ionic air purifier that can clean the air up to 500 square feet.
You can also plug it into a wall outlet or power it through a USB port, which makes it great for the office.
What's even better about this tiny ionizer is that it works non-stop to freshen the air and never needs any filter replacements. Independent lab tests by the manufacturer reveal that it emits up to 20 million negative ions per second to clean and freshen the air.
For the price and power, the ionBox is hard to beat in a low-cost ionizer air cleaner. While it doesn't trap the pollutants on electrically charged plates like our previous three reviews, it's still a good option for anyone who needs something that's simple to use and efficient.
---
Our final recommendation for a good ionizer is this small plug-in air purifier.
It's designed to neutralize contaminants and odors in small rooms in the house, such as bedrooms, bathrooms, and kitchens.
The PureAir 50 is effortless to set up and use; simply take it out of the box and plug it into a wall outlet. Then, turn the dial on the front of the unit to scale the level of air cleaning power.
It can clean the air in a space between 50 to 325 square feet.
One thing to keep in mind is that this ionic air cleaner uses both ionization and ozone to purify the air in small spaces (similar to our #1 ionic air purifier review). Therefore, it does emit O3 into the air which can cause lung irritation for some people.
If that concerns you at all, then just follow the same advice we gave in our #1 review about how to use the ozone function wisely.
Other than that, this is a great product for small rooms in the home and for travel purposes.
---
How a Room Air Ionizer Works
Here's a brief explanation for how an ionizer works:
An ionizer air cleaner operates by sending out negatively charged ions into the air. Airborne pollutants, such as dust, pollen, bacteria, and mold contain positively charged ions. In physics, opposites attract and when these two ions come into contact with each other they form an ionic bond, creating ionized air.
Once this bond is made, the airborne contaminants become heavier than normal. This weight causes these particulates to fall out of the air and onto the floor. This, in effect, neutralizes the toxins and prevents them from entering into your lungs when you breathe.
Some ionizer air purifiers include a fan to draw the negatively charged room air into the unit and pass it by electrostatic collection plates. These plates collect the pollutants and work as a permanent filter.
The only downside to ionizing air purifiers without a filter is that they require you to vacuum the room in order to completely remove the contaminants that settle on the floor.
Why an Ionic Air Purifier is a Great Choice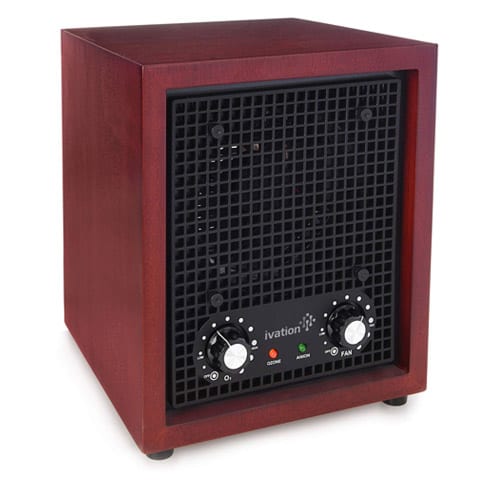 As you just discovered, ionic air purifiers use a powerful air cleaning technology that doesn't require a physical filter to produce clean, fresh air.
It's this feature alone that makes an air ionizer for home or office use so attractive for many consumers.
Other types of air purifying systems that rely heavily on HEPA filters require regular filter changes throughout the year in order to keep the device operating efficiently.
And these filter costs can really add up.
A HEPA filter is a dense, paper filter that works by trapping airborne particles that flow through the filter and deliver clean air out the other side. (Many of the best air purifier brands do contain this feature.)
While these filters are highly efficient, they can be expensive to replace over time as mentioned in our guide on an air purifier vs ionizer. That's what makes ionic air purifiers a more affordable investment for
An ionizing air purifier that does include a filter will contain a metal rod or plate that can be wiped clean and reused for the life of the unit.
Another important feature to point out is that the best rated ionic air purifiers can remove particulates as small as 0.01 microns.
This is the smallest size of toxins you can strip from the air and includes super-fine dust, bacteria, pollen, pet dander, mold spores, and more.
Finally, when shopping for a room ionizer, you may find it packaged with one or more additional air cleaning features.
These upgrades fill in the gaps where ionic technology needs some help.
The two most common features include:
Activated Carbon Filter: This filter helps to eliminate smoke and odor. It works by absorbing gaseous particles and makes a room smell fresh. While it's technically a physical filter, carbon is also cheap to replace.
UV Light: This technology uses UV-C radiation to destroy germs. It's completely safe for humans but destroys viruses and bacteria. It works by breaking up the DNA structure of these particles, which renders them harmless and creates a sterile environment. UV lights last around 10,000 hours and are not too expensive to replace.
Now that you know how an air ionizer works and what makes it such a great investment for your home or office, you can now understand why the products recommended above made it to the top of the list.
Frequently Asked Questions
Do ionic air purifiers remove smoke?
Ionic air purifiers do remove smoke particles from the air. This includes smoke of all kinds, like wood, tobacco, marijuana, and burning fuels. Ionic air purifiers can also help dissipate the odors from smoke; however, an activated carbon filter is much more efficient for heavy smells because it traps VOCs.
The effectiveness of the ionizer air purifier on smoke will depend on how much smoke is present, the size of the room, and how well ventilated it is. The bottom line is that it can definitely help for smokers.
Do ionic air purifiers remove odors?
Yes, air ionizers are effective at removing common household odors from pets, cooking, smoke, mold, and chemical cleaning agents.
How do I know if my ionizer is working?
You'll know if your ionizer is working if there's a fresh smell in the air. It's also working when you see fewer airborne particles, feel less fatigue, and breathe better. Some ionizers also collect pollutants on a metal plate. If the plates are dirty, then you know it is working.
If you want actual data to verify that your ionizer is working, then you can purchase an air ion counter. This handheld meter is designed to measure ion density which is the number of ions per cubic centimeter (ions/cc) in air. These units cost around $50 to $70.
What are the benefits of ionized air?
Ionizers offer many benefits, including the removal of airborne pollen, mold, dust, pet dander, bacteria, viruses, smoke, odors, and chemical toxins. This makes ionic air purifiers good for people with allergies, asthma, or chemical sensitivities.
Additional air purifier benefits you can experience from ionized air include:
Why do ionizers smell?
Ionizers smell because they charge the air with negative ions. When the air is in a highly charged state, it smells fresh and clean. A similar experience occurs naturally around waterfalls, rivers, and mountains, where large concentrations of negative ions are located. This is why the air smells highly refreshing.
Do ionizers kill mold?
Ionizers do not kill mold spores or destroy mold reproduction. An ionizer emits negative ions into the air that causes mold spores to settle out of the air faster. Therefore, ionizers do nothing to kill mold spores and have no effect on mold growing in your house.
If you want to kill mold spores, then an ionizer is best used in conjunction with a HEPA filter and a UV light. As the mold particles are knocked out of the air by the ionizer, the HEPA filter can capture them in order to remove the spores from the room. The UV light can then destroy the DNA structure of the mold so it stops reproducing.
If you want to learn more about this topic, then visit our page on do air purifiers help with mold.
What's the difference between a filter vs. filterless air purifier?
The difference between a filter and filterless air purifier is that the filter version uses a highly dense paper filter to capture airborne contaminants while the filterless type does not.
A filterless machine uses other means to remove pollutants from the air you breathe, like ionization, instead of sucking air through a filter and pushing it out the other side. Ionization is a colorless, odorless, invisible form of air cleaning technology that attacks contaminants out in the air where they're floating. Air purifiers that use filters can only clean the air that travels through the actual filter material.
Both methods (filter vs filterless) are effective at cleaning the air; however, this post focuses on the advantages of using the best air ionizer without filters inside the home.
Are ionizers safe?
When some people are looking to buy an ionizer air purifier, two questions that often come to mind are, "Are ionizers safe?" or "Are ionic air purifiers dangerous to be around?"
The answer is yes: The short answer is yes, ionic air purifiers are safe as long as the device falls into one of these two categories:
It's an ionizing product only and doesn't have an ozone generator
It allows you to control the amount of ozone emitted if high levels can be produced
Molecules that have extra negative ions attached to them are what contribute to the fresh air smell you experience in the natural world.
Bottom Line
As you discovered, air ionizers a an inexpensive and efficient way to clean the air indoors. Now you know what factors make up the best ionizer air purifier and classify it as good or bad for your health, you can make the smartest decision on which unit is right for you.