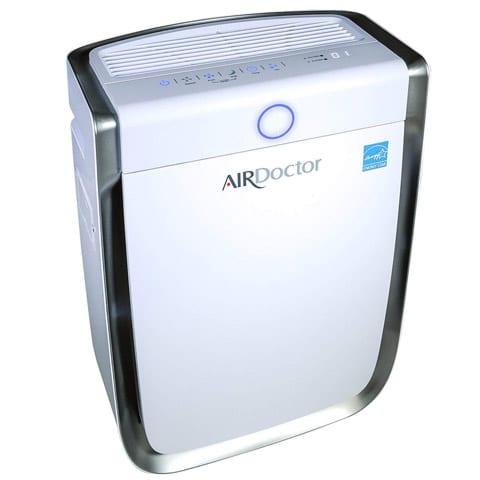 Have you seen the Air Doctor Pro purifier advertised on TV, the web, or through social media?
Are you also wondering if it's really worth the money or not?
In those ads, Peter Speigel, the inventor, claims that it's one of the best air purifiers you can buy today; specifically, that it outperforms all of the other competitors in the market.
But is that really true?
If you're looking for comprehensive Air Doctor Pro reviews, you've come to the right place.
In this post, we'll go over every aspect of this machine so you can find out once and for all if it'll meet your needs.
Overall, the Air Doctor purifier is an excellent device; however, it does lack a few things you would hope for from an air purifier of this magnitude.
What are those pros and cons exactly?
You'll find out in this Air Doctor purifier review.
Disclosure: Home Air Guides is reader-supported. As an Amazon associate and Air Doctor affiliate, we earn from qualifying purchases made through the links on our site. Learn more.
Air Doctor Purifier Review
When you're researching air purifiers there are several things you should take into consideration.
Knowing how the Air Doctor Pro purifier fairs in the categories listed below will help you make a better buying decision.
Air filtration (cleaning) process
Room size coverage
Additional features
Design and size
Warranty information
We'll cover each one of those topics in this Air Doctor purifier review.
Price
Air Doctor Pro Filtration Process
The Air Doctor Pro purifier has a 4-in-1 air cleaning process that includes:
Pre-filter — A washable filter that traps the largest particles, like dust, hair, and dirt. It helps improve the efficiency of the other internal filters by keeping large pollutants out of their filtering materials.
UltraHEPA Filter — This is the most advanced HEPA filter available. It captures 99.95% of particles down to 0.003 microns. That's 100X smaller than a standard True HEPA filter found in other air purifiers. It only traps particles as small as 0.03 microns. Air Doctor excels in this area.
Activated Carbon Filter — Air Doctor labels this as a "dual-action gas and VOC (volatile organic compound)" filter. That wording makes it sound more powerful; however, all Activated Carbon filters perform those same two functions. This is a common filter found in many other air purifiers. (See our article on what does an activated carbon filter do for more information.)
Ionizer — This is a bonus air cleaning feature that sends negatively charged ions out into the air to help purify it. Ionized air is known to be a mood enhancer and odor neutralizer. Air Doctor scores points for giving users this added capability.
All-in-all, the Air Doctor Pro purifier has a fantastic air cleaning process. The UltraHEPA filter, however, is what really makes this machine stand out among the competition. Only a few other air purifiers for sale actually offer a filter this advanced.
As for the cost of filter replacements and how long they last, you can expect:
12 months of use from the UltraHEPA filter (replacement cost is $60).
6 months of use from the Activated Carbon filter (replacement cost is $60).
In total, you'll spend about $180 per year to maintain the filters in this air purifier (1 UltraHEPA filter and 2 Activated Carbon filters).
That may seem like a lot of money but as you'll see in the next section, the Air Doctor purifier covers a lot of room area.
The truth is that large, powerful filters don't come cheap.
Air Doctor Purifier Room Size Coverage
While the Air Doctor purifier may look like a small machine, it actually handles a large amount of space.
This air purifier is rated to cover up to 900 square feet (sq. ft.). That's more than enough for most home applications, if not more.
The Air Doctor purifier is perfect for areas such as:
Open floor plans (a combination of living/dining/kitchen rooms)
Bedrooms
Finished or unfinished basements
Garages and workshops
Office spaces
ACH Rating
The Air Doctor purifier has a decent ACH Rating of 3X ACH.
Air Changes Per Hour (or ACH) indicates how many times per hour an air purifier can exchange the full volume of air inside a room.
This means that the Air Doctor purifier can clean the air three times per hour in a room up to 900 sq. ft.
People with severe allergies or asthma or have trouble sleeping at night will want at least a 3X ACH rating in an air purifier.
Anything lower, and the air purifier may not clean the air fast enough to warrant a noticeable improvement in your condition.
CADR Rating
Some air purifier manufacturers have an independent test performed on their products by the Association of Home Appliance Manufacturers (AHAM) to get a verified Clean Air Delivery Rate Rating (or CADR).
The CADR provides a separate score for filtering out tobacco smoke, pollen, and dust particles, so you know exactly how well the air purifier works against those substances.
The Air Doctor purifier has the following CADR scores:
326 Smoke
373 Pollen
343 Dust
As for what these numbers mean, the AHAM recommends that a CADR score for each particle tested be at least 2/3 the room size coverage of the machine. Therefore, it would be better if the Air Doctor purifier scored 600 or more in those areas.
As you can see, this air purifier doesn't meet the recommended standard of the AHAM since the scores in each category are about 1/3 the room size coverage amount (900 sq. ft.).
However, you can essentially raise the CADR scores for this air purifier if you use it in a smaller room.
To achieve the 2/3 CADR recommendation by the AHAM, you would need to use the Air Doctor purifier in a room that's 500 sq. ft. or smaller, like a bedroom, living room, or smaller basement.
Air Doctor Purifier Top Features
What type of features can you expect out of the Air Doctor purifier?
Below, is a list of everything you'll get with this device.
Auto Sensor with Air Quality Indicator — Displayed as a colored circle on the front of the unit. The color informs you of the current air quality.

Blue = Good
Orange = Moderate
Red = Poor

24 Hour Timer — Allows you to automatically turn the unit off after 1 to 24 hours of use.
4 Fan Speeds — Low, medium, high, and turbo.
Automatic Mode — This lets the air purifier do all of the work. It monitors the air quality and adjusts itself automatically to combat pollutants.
Whisper-Jet Fan — Noise levels range between 39~59 dB. Only the high and turbo settings are considered loud.
Energy Star Certified — It uses an extremely low amount of energy to run.
Filter Change Alert — Takes the guesswork out of when to change the UltraHEPA and Activated Carbon filters. An indicator lights up for each one when it's time for a replacement.
Night Mode — Dims the control panel if you want the lights out while you're sleeping.
What It's Missing
Two features we wished the Air Doctor purifier had are a remote control and/or Wi-Fi smart controls.
A remote control is a standard feature on higher-end air purifiers. It's the cheaper models that don't include one. We're surprised this machine doesn't have it.
The lack of Wi-Fi smart controls is also a drawback. You cannot connect this air purifier to a mobile device, which is a feature that's becoming more mainstream these days.
Perhaps Air Doctor will add at least one of these functions to their next version of this air purifier.
Air Doctor Pro Purifier Design and Size
In our opinion, the Air Doctor Pro purifier has a nice modern design.
And unlike other air purifiers that just have one solid color, the Air Doctor's two-tone white and gray exterior help it blend better with a wider range of existing room decor.
The rounded edges and corners of the machine also take away the "boxy" feel that other products possess. This is a positive trait that you'll find mentioned in other Air Doctor Pro reviews as well.
As for exact dimensions and weight, these include:
23.5″ (H) x 16″ (W) x 8.5″ (D)
20 pounds
Finally, surrounding air is drawn inside to the machine through two side vents on the front of the unit. After the air has been cleaned, it's expelled out the top through a single vent.
Who is the Air Doctor Pro Purifier for?
The people who would benefit most from this air purifier include:
Severe allergy sufferers
Asthmatics
People with multiple chemical sensitivities
Anyone who likes to cook and wants to reduce odors
People exposed to high levels of outdoor PM2.5 air pollution (i.e. city living)
Smokers
Pet owners
Anyone with large rooms to cover
Air Doctor Warranty Information
This air purifier comes with a one-year limited warranty.
Looking for More Air Doctor Pro Reviews?
Still not sure if this is the right air purifier for you?
Check out more Air Doctor Pro reviews on Amazon to see what other people have to say about it.
We hope that our overview and those Air Doctor purifier reviews are beneficial in helping you make a final decision.