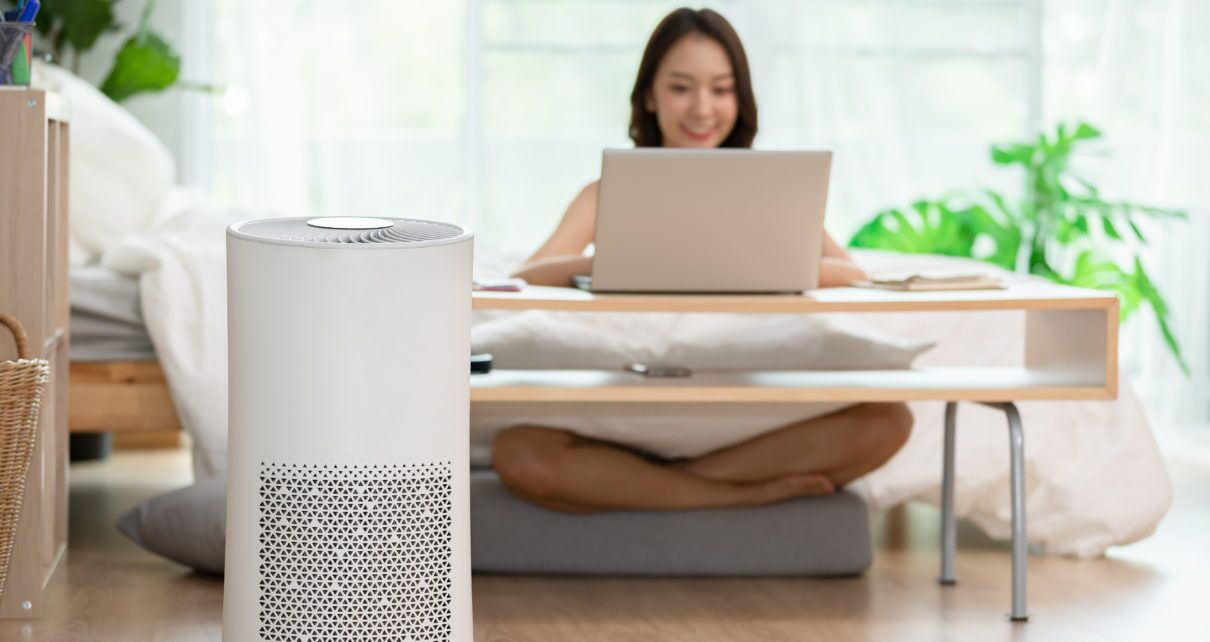 An air purifier is a device that removes airborne particles like dust, dander, and other allergens as well as pathogens like bacteria and viruses. They can even tackle tough odors from smoke or cooking. The trouble with many air purifiers, however, is that they're noisy. In this guide, we'll review some of the key features to look for in an air purifier, including quiet operation. You'll also receive recommendations for four of the best quiet air purifier picks on Amazon.
What to Look for in an Air Purifier
An air purifier equipped with a HEPA filter can remove up to 99.97% of airborne particulate matter. These devices often incorporate multiple forms of filtration, so they have the potential to significantly reduce allergies and help protect your family from illness. They can even neutralize unpleasant odors and eliminate harmful chemicals from the air.
Here are some factors to consider when shopping for an air purifier:
Capacity
The first thing to look for is the capacity – how large a space the air purifier can accommodate effectively. This is generally measured in square feet.
Filtration
The best air purifiers utilize HEPA technology but many also use a pre-filter to trap larger airborne particles and a carbon filter to reduce odor.
Operation
Some purifiers have a single button you use to toggle between fan speeds while others offer significantly more customization. Think about how much you want to be able to control the device.
Noise
If you're going to be running an air purifier constantly, think about how noisy it is. Many air purifier manufacturers list the noise level at different fan speeds in decibels (dB).
Price
You shouldn't skimp when it comes to the quality of the air in your home, but you don't necessarily need to spend a fortune. Think about your budget before you shop.
No two air purifiers are exactly alike, just as your needs for an air purifier are unique. The key is to determine what you need before you start shopping so you can narrow down the options. To help you get started, we've rounded up a handful of the quietest air purifiers on the market.
Best Quiet Air Purifier: Top Picks
When it comes to choosing an air purifier, you want a model that delivers the level of performance you expect but not at the cost of your peace of mind. We've scoured the Internet for the quietest air purifiers on the market that run quietly. Check out our top picks.
Product Specifications
Capacity

: 325 square feet

Dimensions

: 9x8x23 inches

Filter

: HEPA

Fan Speeds

: 3
If you're looking for an air purifier that gets the job done without too many complicated bells and whistles, the VEVA 8000 might be right up your alley.
This air purifier offers three different fan speeds and is equipped with dual-stage purification. In addition to a HEPA filter, it utilizes an activated carbon pre-filter to remove large airborne particles and neutralize odor. It even comes with three extra pre-filters to help you extend the life of the included HEPA filter.
The VEVA 8000 is rated for rooms up to 325 square feet, so it's surprisingly powerful for being a fairly compact unit. You can set the unit to three fan speeds ranging from Quiet to Turbo and the classic tower design makes it easy to place on the floor, table, or counter.
This filter removes particles as small as 0.3 microns, making it an effective tool for improving indoor air quality. It's also affordably priced under $100.
View on Amazon
Product Specifications
Capacity

: 540 square feet

Dimensions

: 13x13x20.4 inches

Filter

: HEPASilent

Fan Speeds

: 3
If you're willing to make a more significant investment in your home's air quality, the Blueair Blue Pure is a more powerful unit that still runs incredibly quietly.
This air purifier is rated for rooms up to 540 square feet, making it a great option for open-concept homes and large spaces. It offers three-stage filtration, capturing 99% of airborne pollutants including dust, pet dander, mold, viruses, and bacteria. Despite its powerful performance, it has low energy consumption and runs at just 31 dB on the lowest setting.
The Blueair Blue Pure features a HEPA filter along with a fabric pre-filter and a carbon filter. While the HEPA filter removes pollutants and pathogens, the pre-filter captures large particles like dust and pet hair. The carbon filter, of course, tackles odor.
Though certainly more expensive at nearly $300, this air purifier is thoughtfully designed with one-button control and it has a sleek and stylish appearance.
View on Amazon
Product Specifications
Capacity

: 547 square feet

Dimensions

: 8.7×8.7×16.25 inches

Filter

: H13 HEPA

Fan Speeds

: 3
Not in love with the square design of the Blueair or the towerlike shape of the VEVA 8000? This LEVOIT air purifier is sleek and cylindrical and comes in white or black.
This air purifier is compact in size but rated for rooms as large as 547 square feet. The cylindrical shape provides 360-degree air intake, enabling it to clean over 200 square feet in just 12 minutes. This model is lightweight as well, so it's easy to take with you from room to room.
The LEVOIT air purifier features a Core 3000 True HEPA filter along with VortexAir technology. It removes up to 99.97% of airborne particles down to 0.3 microns in size. This model includes a pre-filter to capture large particles as well, and a carbon filter to neutralize smoke, odors, chemical fumes, and VOCs.
For all of its features and impressive performance, this air purifier is affordably priced around $100. Plus, it offers whisper-quiet operation as low as 24dB.
View on Amazon
Product Specifications
Capacity

: 1,125 square feet

Dimensions

: 16x15x28 inches

Filter

: H13 HEPA

Fan Speeds

: 6
For very large rooms or commercial applications, the IQAir HealthPro Plus is a great option. Rated for spaces up to 1,125 square feet, it is an impressive air purifier and one that is easy to operate and simple to program.
Designed with IQAir's patented EverFlow Diffuser, this air purifier provides 320-degree air delivery with no noisy air outlet. With six different fan speeds, you'll enjoy quiet operation as low as just 25dB. A HyperHEPA filter removes at least 99.5% of particles down to 0.003 – that's 100 times smaller than what other air purifiers can offer.
This model takes up a fair amount of space and the boxlike shape might not be a fit for all homes, but is hard to beat its performance. In addition to the HEPA filter, it contains a pre-filter for allergens and large particles as well as a V5-cell filter to capture gas and odors.
View on Amazon
Bottom Line
Whether you suffer from allergies or simply want to improve the air quality in your home, an air purifier is a great investment. Take the time to determine what size purifier you need and think about any optional features you'd like. Don't forget to think about noise as well – the last thing you want is a noisy appliance constantly grating on your nerves.
When you're ready to start shopping, consider one of the four purifiers reviewed above. These purifiers deliver reliable quality and performance at a lower noise level than other options on the market.