Are you thinking of buying the BISSELL Air 400 air purifier?
But you're not sure if it's the right one for you?
If so, this guide can help.
On this page, you'll find a comprehensive BISSELL Air 400 review that goes in-depth on the top features of this air purifier.
Overall, the BISSELL Air 400 is a great machine that packs a lot of power in a small box. But, will it live up to your standards or should you look for something else?
Let's find out what this device can do in this review.
Disclosure: Home Air Guides is reader-supported. As an Amazon associate and affiliate for independent brands, we earn from qualifying purchases made through the links on our site. Learn more.
BISSELL Air 400 Review
The BISSELL Air 400 air purifier is a compact device that's made to handle a variety of pollutants in the home.
The major benefit of this machine is that it tackles dust, allergens, pet dander, odors, smoke, and other particles you can't always see in the air.
For small to medium-size rooms, this air purifier is an excellent choice because it contains three powerful filters to keep the air around you fresh and clean.
BISSELL Air 400 Filter Types
This air purifier includes a 3-stage air filtration system to strip a large number of contaminants out of the air.
The specific air filter types include:
Pre-filter — This captures the largest particles, like dust, hair, and dirt. It also protects the HEPA filter so it doesn't get clogged. The pre-filter is attached to the outside of the HEPA filter so you don't have to worry about a separate replacement.
HEPA Filter — This is where the true power of this device comes in. The HEPA filter traps 99.97% of particles down to 0.3 microns. That's a fraction of the size of a human hair. This filter eliminates ultrafine dust, allergens, mold spores, bacteria, visible smoke, and more so you can breathe better and feel better while at home.
Activated Carbon Filter — This filter keeps your house smelling fresh. The special material neutralizes odors from cooking, pets, garbage, mold, paint, cleaning chemicals, and other common household sources. It's also 1-inch thick, which makes it well above the industry standard. The thicker an Activated Carbon filter is, the better it eliminates those listed substances as explained in our article on what does an activated carbon filter do.
As for the filter life for each of these filters, it will vary based on daily run time and existing air conditions.
For normal use, you can expect these filters to last around 6 months. If you have pets that shed a lot of dander or you smoke tobacco indoors, you'll want to change them more often since those particles can wear out the filters faster.
In regard to filter replacement costs, you can expect to pay about $25 each or $50 in total for the set. That amounts to around $100 per year to maintain the internal air filters which is a typical price for this size machine.
BISSELL Air 400 Room Size Coverage
If you're reading this BISSELL Air 400 review to find out what types of rooms you can use it in, you'll be happy to find out that it's built to work in most areas of your home.
As for specific room size coverage, this air purifier can handle up to 400 square feet (sq. ft.).
That amount of power makes it ideal for indoor areas such as:
Living rooms
Bedrooms
Dining rooms
Kitchens
Smaller basements (finished or unfinished)
Apartments
ACH Rating
Air Changes Per Hour (or ACH rating) indicates the number of times per hour an air purifier can exchange the full volume of air inside a room.
The BISSELL Air 400 has a 3X ACH rating.
That means it can filter all of the air inside a room up to 400 sq. ft. three times every hour.
As explained in our article on what is an ACH rating, if you have allergies or asthma, you want at least a 3X to 4X ACH rating on an air purifier and the BISSELL Air 400 meets that requirement.
CADR Rating
The Clean Air Delivery Rate Rating (or CADR) provides a separate score for filtering out certain airborne contaminants, such as tobacco smoke, pollen, and dust particles.
These scores let you know exactly how well the air purifier is at combating those particular pollutants.
The BISSELL Air 400 has these CADR scores:
Dust = 307
Pollen = 206
Smoke = 279
The general rule of thumb is that you want the CADR score to be at least 2/3 the square footage coverage of the air purifier.
In a 400 sq. ft. room, only the dust score meets that requirement; however, you can boost the ability for this air purifier to capture more pollen and smoke by using the machine in a smaller room that's 300 sq. ft. in size.
Doing that will raise every one of the CADR scores to more than acceptable levels.
BISSELL Air 400 Top Features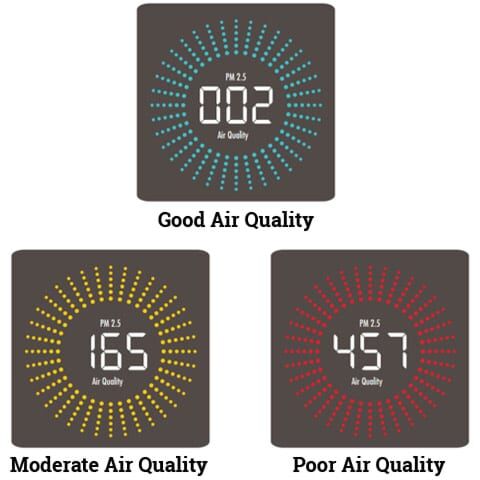 CirQulate™ System — This function continuously monitors the indoor air quality with a particle sensor and automatically adjusts the fan speed to meet the level of pollutants detected.
PM2.5 Air Quality Display — PM2.5 refers to particulate matter that's 2.5 microns and smaller, which is the worst type you can inhale. This air purifier displays the PM2.5 count on the front panel and changes color to indicate the severity of these pollutants. Not many other air purifiers include this feature and that makes it stand out among the competitors.

Blue = Good air quality
Yellow = Moderate air quality
Red = Poor air quality

Filter Change Indicator — With this feature, there's no need to guess when it's time to change your air filters. A small light shines when it's time for a replacement.
Timer — This allows you to set the air purifier to automatically turn off after 1, 4 or 8 hours. It's a good feature to have if you don't want it running for an extended period of time.
Night Mode — When the room goes dark, all of the lights on the air purifier dim. This is a good mode to have if you use this air purifier in a bedroom.
See More Features on Amazon.com
BISSELL Air 400 Design and Size
The BISSELL Air 400 has a sleek and modern design that helps it blend in well in any room.
Unlike other air purifiers that are bright white and can be glaring, this air purifier has a dark gray exterior that makes it less noticeable.
Also, this device doesn't have unsightly front air vents like some of the competitors, but rather the air is pulled in through the back of the unit. That makes the overall appearance of the BISSELL Air 400 nicer to look at than some other air purifying machines.
As for exact dimensions and weight, these include:
27.24″ (H) x 18.9″ (W) x 12.20″ (D)
26.46 pounds
Who is the BISSELL Air 400 Air Purifier for?
As you've learned so far in this review, the BISSELL Air 400 offers a significant amount of air cleaning power and includes a few top-notch features that make it a great buy.
But, who benefits the most from this machine?
The people who'll get the most out of this air purifier include:
Allergy sufferers
Asthmatics
People who have trouble sleeping at night due to respiratory issues
Pet owners with smelly pets
Anyone who wants to know the exact PM2.5 count in their home
People who like to cook and want to reduce lingering odors
Smokers (See our best air purifier for cigarette smoke page for additional recommendations.)
Anyone with small to medium-size rooms to cover
BISSELL Air 400 Warranty Information
BISSELL offers a 2-year limited warranty on this air purifier that covers the cost for repairs and replacement.
What Others Have to Say About the BISSELL Air 400
Still not sure if this is the right air purifier for you?
Check out more BISSELL Air 400 reviews on Amazon to see what other people have to say about it.
We hope those comments and this review help you make a well-informed decision.