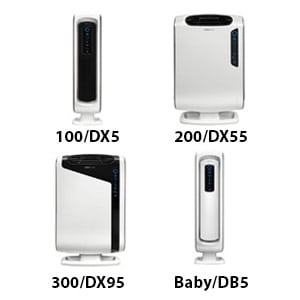 In this post, we'll share with you our review of the four Fellowes AeraMax air purifiers.
The AeraMax line of air purifying products offers several perks that set it apart from many other manufacturer's devices.
What you'll find is that Fellowes goes above and beyond with the design of these machines in order to maximize their effectiveness at purifying the air.
Hopefully, one of these units will work for you. But if not, check out our best air purifier for home guide to compare other top brands.
Certifications
One of the biggest highlights of this review is that each AeraMax air purifier holds a variety of certifications that prove their quality and safety:
Models
The Fellowes AeraMax air purifiers product line also consists of four models with the major difference between each being the amount of space it can purify.
Depending on the size of the room you want to clean the air in will determine which air purifier is the best option for you.
Disclosure: Home Air Guides is reader-supported. As an Amazon associate and affiliate for independent brands, we earn from qualifying purchases made through the links on our site. Learn more.
Here are the four Aeramax models:
AeraMax Overview Video
The true power of these AeraMax air purifying machines comes from the following features:
4-Stage air purification process that delivers amazing results

True HEPA filter captures 99.97% of particles down to .3 microns in size (pollen, pet dander, mold spores, dust and other allergens)
Carbon filter reduces household odors
AeraSafe Antimicrobial Treatment prevents the growth of bacteria and fungi on the True HEPA filter and prolongs its life
PlasmaTRUE technology safely emits ions into the air to reduce contaminants while not producing harmful ozone (can be turned on or off)

AeraSmart Sensor technology that monitors the quality of the air and adjusts the device automatically to remove airborne contaminants at the fastest rate
Aera+ Mode which increases the air turnover rate by 35-50% in order to capture more allergy inducing particles from the air
Each AeraMax air purifier (100, 200, 300 and DB5) also includes a touch screen display panel.
This panel allows you to easily change the settings for the device and includes visual indicators to alert for when the filters need replacement.
The AeraMax Baby DB5 air purifier features a child lock option on the display panel to prevent accidental changes.
It also includes a quiet mode setting and night mode to dim the lights for a peaceful sleep.
We recommend this product and it's bigger brother AeraMax DB55 on our best baby air purifier list.
Pricing
AeraMax Customer Reviews
Regardless of the AeraMax model that you're considering, these are the common themes you'll find among customer reviews for each product.
The Good:
Extremely quiet operation.
Very efficient for pollen and pet allergies.
Sleek design
Compact size
Filter change is a snap.
Lightweight
Allows manual fan speed control in addition to automatic mode.
Safe for the environment. Doesn't emit harmful ozone.
Easy to match the right product to the intended room size. Don't have to pay extra for too powerful of a device.
Includes a three year limited warranty.
The Bad:
Display panel color (blue) is not changeable and some think it's too bright.
The light weight can make it easy to tip over if you have pets.
Gives off a slight odor when first operating, but eventually goes away.
PlasmaTRUE technology may affect people with multiple chemical sensitivities.
We hope you enjoyed this review of AeraMax air purifiers and found the best product for your needs on this page.