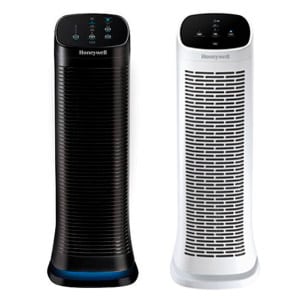 A relatively new line of air cleaners that have been gaining a lot in popularity with consumers is the AirGenius Series by Honeywell.
The AirGenius product line is unique because it features a patented ifD filter that's rated to capture up to 99.9% of microscopic contaminants.
This filter also boasts a few other advantages over the standard True HEPA filter that other manufacturers rely on for their air purifying machines – we'll explain what these are below.
In this article, we'll show you what the similarities and differences are between the Honeywell AirGenius 3 vs 4 vs 5 air purifiers and help you figure out which one would be best for you.
So, if you came here looking for specifically for a "Honeywell AirGenius 5 review", "AirGenius 4 review" or "AirGenius 3 review" then you'll enjoy getting a full comparison of each product.
Disclosure: Home Air Guides is reader-supported. As an Amazon associate and affiliate for independent brands, we earn from qualifying purchases made through the links on our site. Learn more.
The models within the AirGenius series include:
What is an ifD filter?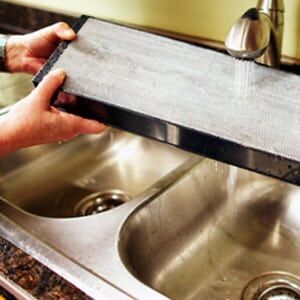 ifD technology is an advanced filtering process that takes air purification to a whole new level.
If you're like many other consumers, you've probably heard of the term "True HEPA" filter in relation to air purifiers and vacuum cleaners.
For years, this type of filter was considered the top choice for manufacturers because it captures 99.97% of particles down to .3 microns in size. This includes dust, pollen, pet dander, bacteria, germs and other debris that cause breathing problems.
However, since the development of the ifD filter, things have changed in the air purification world.
An ifD filter offers several advantages over a True HEPA filter and many manufacturers are starting to make this switch in their air purifying products.
The most notable difference between these two types of filters include:
Efficiency: ifD filter captures 99.99% of particles as small as .3 microns, True HEPAfilter = 99.97%
Service and Maintenance Cost: ifD filter is permanent, washable and lasts a lifetime, while a True HEPA filter requires frequent replacements and these costs add up
Noise Level: ifD filter has lower air flow resistance, which makes it quieter than a True HEPA filter
As you can see, an ifD filter has better ratings in the areas that impact consumers the most. The sole fact that it's washable and reusable for the life of the product, makes it the optimal choice when comparing air purifiers. It's no wonder why so many companies are switching over to ifD filters in their products.
Now that you know why the AirGenius air purifiers use an ifD filter, let's take a look at what the similarities and differences are between each model.
Similarities Between Honeywell AirGenius 3, 4 and 5
Each of the Honeweywell AirGenius models has been designed with certain features in common.
No matter which product you choose, you'll enjoy these benefits:
ifD filter (washable and permanent)
2 optional air purifier pre-filters

a washable foam pre-filter for larger dust, hair and pollen
an odor-reducing pre-filter to reduce gasses and Volatile Organic Compounds (VOCs)

Touch sensitive control panel
Energy Star qualified (uses the same amount of energy as a light bulb)
AHAM Certified for effectively removing dust, pollen and smoke
Oscillation function (distributes clean air around the room more efficiently)
Sleek tower design
5 year warranty
Difference Between Each Model (Honeywell AirGenius 3 vs 4 vs 5)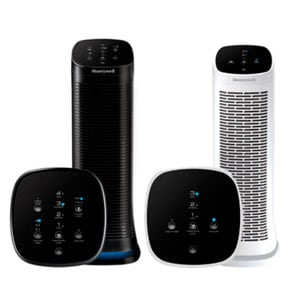 As you move up in model number with the AirGenius air purifier you'll notice a minimal gain in features.
Here's how each model compares:
Maximum Room Coverage

AirGenius 3 = 225 sq. ft.
AirGenius 4 and 5 = 250 sq. ft.

Cleaning Levels (Fan Speed)

AirGenius 3 = 3 (Sleep, General and Max)
AirGenius 4 = 4 (Sleep, Allergen, General and Max)
AirGenius 5 = 5 (Sleep, Germ, Allergen, General and Max)

Automatic Shut Off Timer

AirGenius 3 = No
AirGenius 4 = 2, 4 and 8 hour intervals
AirGenius 5 = 2, 4, 6, 8, 10 and 12 hour intervals

Color

AirGenius 3 = White
AirGenius 4 = Black
AirGenius 5 = Black
If you take a step back and really look at how these Honeywell AirGenius 3 vs 4 vs 5 air purifiers really compare, you'll notice that the differences are actually quite minimal.
For example, the Maximum Room Coverage is only a difference of 25 sq. ft. between the AirGenius 3 and the other two models, which is not much to worry about at all.
Also, the Cleaning Levels do not provide too much added value either. What most people do when they buy an air purifier is set it on the highest setting possible in order to clean the air quickly and then change it to a lower setting and keep it there to maintain a clean air space.
Having five speeds on the Honeywell AirGenius 5 model is a little overkill. However, it's still a great air cleaning device and one we highly recommend on our best air purifier with washable filter reviews.
Finally, the biggest difference between each of these AirGenius air purifiers that you should concern yourself with is the Automatic Shut Off Timer function. The timer feature is a nice addition and can really add a lot to the convenience of owning this product.
Setting the air purifier to turn off after a set hour interval is great because it means that it won't stay operating all day if you forget to turn it off when you leave the house.
Regardless of the Honeywell AirGenius air cleaner that you choose, you'll find that it helps create fresher air by eliminating common dust, allergens and bacteria that create breathing problems.
The only major drawback to these machines that we see is that they don't offer much variety in the amount of room space that they can cover. This line of air purifiers is suited for small to medium size rooms, but won't be effective in a large living room or office.
If you don't need a large air purifier, then this is a great investment for you to make. If you're looking for something that covers a larger space (and concerned about allergens) check out this guide on the best air filter for allergies.
Pricing
AirGenius Customer Reviews
Below, are some common themes you'll find among customers on other websites that are specific to Honeywell AirGenius 5 reviews, AirGenius 4 reviews, and AirGenius 3 reviews.
The Good:
Washable ifD filter saves a lot of money in maintenance costs
Comes with extra carbon filter
Stylish design
Oscillation on/off function
Lower operating costs due to Energy Star rating
AirGenius 4 seems to be the best overall value
The Bad
No color options and forced to buy te AirGenius 3 if you want a white air purifier
Wish the room coverage rating was larger in the AirGenius 5
Cleaning Level names are misleading. It just refers to fan speed level such as low, medium, high and turbo.
AirGenius 5 doesn't seem to offer any additional benefit for the higher price
We hope this detailed guide on Honeywell AirGenius 3 vs 4 vs 5 air purifiers helped you decide on which model is right for you.
Our goal here was to offer you more than just a single Honeywell AirGenius 5 review (the most popular model) and instead show you how it compares to the AirGenius 4 and AirGenius 3 air purifiers.