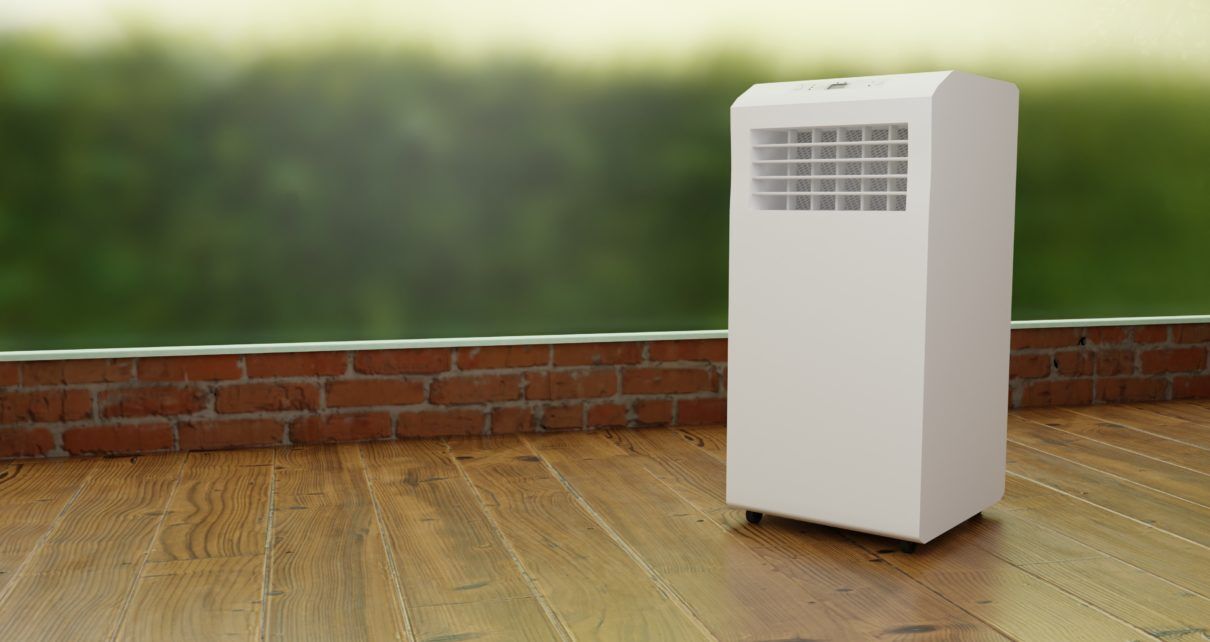 We've prepared an in-depth review of three portable Kenmore air conditioner models for you to choose from, so you don't waste time researching on your own. Let's look at their key features and benefits.
Summer is right around the corner, and heatwaves and high temperatures are here to stay. A portable air conditioner helps you keep the crazy hot weather under control, making sure you feel cool all season long. It is not mounted on the wall, so you can rest assured that you're not sweating in your gaming chair or in the kitchen while cooking.
What is a Portable Air Conditioner?
A portable air conditioner is an air conditioning unit that works best for cooling one room at a time. Their ergonomic design and rolling casters (included in most cases) makes them easy to move and carry around. They work on the principle of moving the hot air away from the room through an exhaust valve. You don't mount it on the wall, but place it on the floor near the window where the exhaust valve should go.
How to Clean a Kenmore Portable Air Conditioner
To clean a Kenmore portable air conditioner, you'll first want to disconnect the power supply. In most cases, using a half-wet soft cloth is enough, but if the unit is very dirty, you can scrub with a mild detergent. Clean the filters every two weeks to ensure proper operation and continuous air filtration.
Review: Kenmore Air Conditioners
All portable Kenmore models that we're going to discuss can maintain the temperature in rooms ranging in size from 250 to 550 sq. ft. This is enough power for an average-sized room or a whole studio apartment. There are four modes of operation to choose from depending on your needs: cool, dry, fan, and automatic. They're suitable for everyday use.
When the air reaches the wanted cooling temperature, the compressor shuts off but the fan keeps working, switching to low speed. When the surrounding air temperature increases by about 2⁰ F, the compressor turns back on, and the cycle starts again.

These indoor residential air conditioners feature cooling, dehumidification, fan-only, and continuous water drainage functions, making you feel comfortable indoors throughout the year. Even if you're boiling hot, Kenmore portable air conditioners will cool down the entire room in no time. Set the temperature and change the mode from anywhere in the room with the included remote control. You can place the remote control on the back of the body for convenient storage. The swing mode feature cools the room faster by allowing for more airflow to remove built-up hot air.
Fan mode allows you to circulate the air when there's no need to adjust the temperature. With an easy-to-read electronic display, you'll always have all the necessary information at your disposal. This is not the case when the dehumidifier mode is on, it will not show the relative humidity percentage of the air. Sleep mode and timer make it energy-saving with automatic shutoff and delayed starting. It is not recommended to install and use it in humid environments, or near flammable materials and substances.
Make sure you don't block the airflow around the air conditioner so maximum air circulation is ensured. Boasting an ergonomic design, it's easy to store and move around. When moving it, lift the unit by its handles to avoid any potential injury. But rolling casters also make them easy to roll forward and backward, whichever direction you need. Always make sure it is in an upright position, placed on a flat surface at least 20" (50 cm) away from the wall or any object behind it.
The engineers at Kenmore definitely found a design and stuck with it — the similarities far outweigh the differences. Still, it's good to see what your options are and what will suit your needs the best.
Kenmore 12,000 BTU Portable Air Conditioner
With a maximum cooling capacity of 12,000 BTUs, Kenmore's largest portable air conditioner will keep a 550 sq. ft. room comfy and cozy during hot times. Its airflow rating is 380 CFM (cubic feet per minute), which means it can keep a steady stream of cool air coming your way. This is the heaviest model, coming in at 61.7 lbs. You shouldn't need any help to take it from room to room, but you will definitely appreciate the casters letting it slide around.
Kenmore 10,000 BTU Portable Air Conditioner
This model is the little brother of the previous one, now with a 10,000 BTU maximum. You can use it to cool rooms up to 450 sq. ft. The physical dimensions and the air flow ratings are the same, but this one weighs a bit less and also consumes less electricity, giving you a nice blend of power and affordability.
Kenmore 8,000 BTU Portable Air Conditioner
For people with smaller rooms or efficiency apartments, 8,000 BTUs can easily cool down spaces up to 300 sq. ft. This model takes up less physical space than the others, and is by far the least expensive to run. While it is only 44 lbs, which most people can easily move around, the airflow still rates at 350 CFM, which shows that you've got a solidly-built fan doing work for you.
Bottom Line
Don't let scorching hot temperatures get to you. Keep doors and windows closed for the best cooling effect. Fortunately, Kenmore has a handful of air conditioner models available, and finding the right one comes down to your preferences. Portability, energy-saving and effectiveness makes any Kenmore portable air conditioner a great choice.