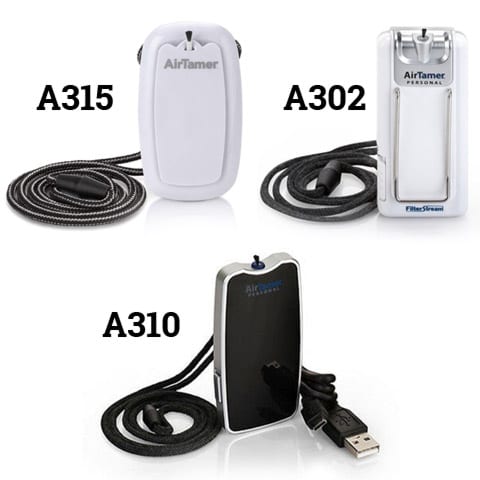 As you may have noticed, personal ionizer technology is increasing fast in the air purifying marketplace and AirTamer has delivered two incredible products that suited perfectly for the demanding needs of consumers.
In this post, we'll be reviewing:
AirTamer A302
AirTamer A310
AirTamer A315
While each device is made by the same company, it can be confusing as to which air purifier is actually the better buy.
Our goal is to help you discover which personal air cleaner is right for your specific needs by showing how each product compares. Below, we'll outline how each AirTamer device is the same and which ways they are different.
By the end of this article, you should know exactly which traveling air purifier would be best for you.
Disclosure: Home Air Guides is reader-supported. As an Amazon associate and affiliate for independent brands, we earn from qualifying purchases made through the links on our site. Learn more.
How the AirTamer A302 and A310 Works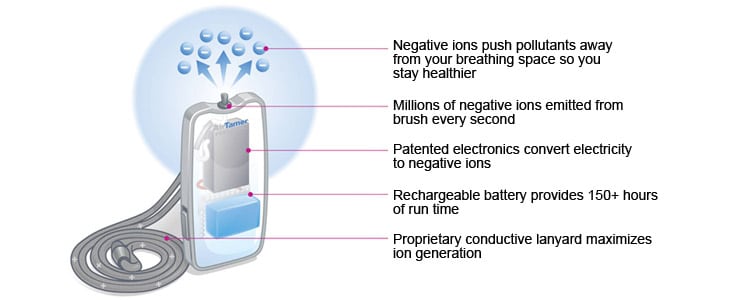 Before we explain all of the similarities and differences between each AirTamer product, it's good for you to know how these personal air purifying devices actually work.
The AirTamer technology operates by electrostatic purification.
What this means is that it emits more than 2 million negative ions every second out of a little brush that is attached to the top of the unit.
These negative ions attach themselves to harmful particles floating in the air around you, including allergens, viruses, bacteria, mold, smoke, etc.
These negatively charged particles then become attracted to positively charged surfaces within the surrounding area, such as tables, chairs, windows, etc.
This process causes the harmful contaminants to latch onto inanimate objects as opposed to making their way into your breathing passageway.
This process of personalized ionization helps keep you healthy by preventing the inhalation of bad particles that can make you sick. Many people choose this type of technology for air purifiers in their home. See our top ionic air purifier reviews for such devices.
An AirTamer air purifier is a great device to take with you when traveling on an airplane since this enclosed space is widely known as a being a breeding ground for germs and other viruses that cause illness.
An AirTamer is also a great device to carry with you when entering areas that include cigarette smoke.
The AirTamer A302, A310, and A315 are all excellent at reducing secondhand smoke from your personal breathing space.
Similarities Between AirTamer A302, A310 & A315 Personal Ionizer
Regardless of the AirTamer device that you choose, you'll enjoy these benefits listed below.
Electrostatic purification technology. This produces a constant stream of healthy negative ions that push harmful pollutants away from your personal air space (up to 3 feet.)
Lasts up to 150 hours on one charge. (Except for the A315. It only lasts 30-40 hours.)
Adjustable lanyard. Allows you to adjust the device for comfortable wear
No filters to replace. Making it maintenance free.
Includes a metal travel case. Protect the air purifier when not in use.
Differences Between These Three Models
Below, you'll find the main ways in which these personal ionizers stand out from each other.
This short list should help guide you in the right direction for which is the better buy for your individual situation.
Includes a lanyard. To wear the device around your neck.
Includes a clip. This lets you attach it to a belt, shirt or other convenient location.
Uses 2 lithium CR2025 coin batteries. Replacements while on-the-g0 can be hard to find. It's recommended that you stock up on these before traveling.
Outdated design comes in one color. Not very stylish in today's setting and only has one color option.
Average Cost: $60-80
Includes a lanyard.
Does not include a clip.
Does not use batteries. Recharges via USB. This may or may not be more convenient for you depending on if you travel with a laptop or other device that allows recharging through a USB port.

Sleek design and two color choices. Looks trendy and up-to-date with today's setting and comes in white or black.
Average Cost: $140-160

Includes a lanyard.
Includes a clip.
Sleek design and two color choices. Comes in white or black.
Battery level indicator. Tells you how much battery charge is left.
Replaceable Ion Emitter cover. Lets you restore the unit to factory condition after many months of continuous use.
Average Cost: $140-160
We hope you enjoyed this guide and found the best AirTamer air purifier for your needs.