When searching for the
best air purifier for your home
, it's important to do as much research as you can to find the best fit for you, your family and your lifestyle. At the end of the day, there's no one-size-fits all option here, and you'll want to decide what your top features are and what you can compromise on before you make a decision.
To that end, we're taking a closer look at the HoMedics air purifiers to help you decide if they're worth a spot in your home. Let's take a peek.
HoMedics Air Purifier Review Guide
HoMedics offers seven different air purifiers along four product lines. These include:
HoMedics TotalClean 5-in-1 Series
HoMedics Pet Plus Series
HoMedics True HEPA Series
HoMedics Desktop Series
HoMedics TotalClean 5-in-1 Air Purifier Reviews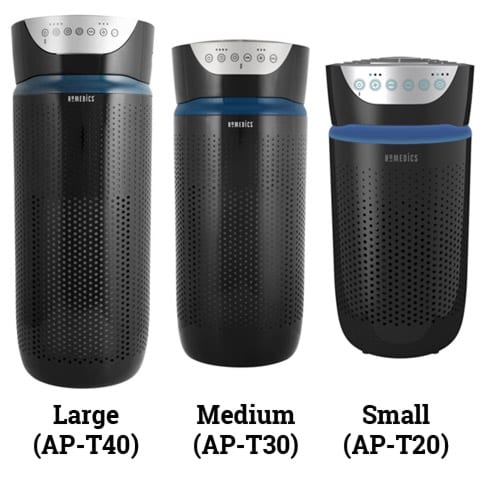 The HoMedics TotalClean 5-in-1 air purifier is the best of the best.
These HoMedics HEPA tower air purifiers offer 360 degrees of air cleaning power. With them, room air is drawn in on all sides of these air purifiers — which makes them more efficient than air cleaners that use a standard flat filter.
HoMedics offers three versions of the TotalClean 5-in-1 air purifier and each one offers great air filtration and useful features. However, there are some notable, albeit difficult-to-spot, differences.
Those models include:
To help you make the right choice between these HoMedics Tower HEPA air cleaners, we'll outline how these devices actually compare below with similarities and differences.
TotalClean 5-in-1 Similarities
No matter which model you choose, you'll enjoy a pre-filer that traps the largest particles that pass through the system, like dirt, dust and hair, as well as a 360° HEPA filter and 360° carbon filter. They capture allergens, pollen, dust, smoke, pet dander, mold spores and other airborne germs as well as eliminate household odors, gases and chemicals, respectively.
The UV-C light destroys airborne bacteria and viruses by breaking apart their DNA structure, creating sterilized air that's healthier to breathe, while the ionizer releases negative ions into the air to help boost the air cleaning power. This makes it easier for the HEPA filter to capture the charged particle clumps.
You can also adjust the auto-off time to turn the air purifier off automatically, and use the nightlight to replace your existing light while sleeping.
HoMedics TotalClean 5-in-1 air purifiers also come with multiple fan speeds and a replace filter indicator that lets you know when it's time to be replaced. The average replacement time lasts around 12 months.
TotalClean 5-in-1 Differences
The differences between each model in this series are slight but well-worth knowing.
For instance, the large and medium 5-in-1 models include a True HEPA filter which captures up to 99.97% of pollutants down to 0.3 microns in size, while the small version uses a HEPA-Type filter which can only capture 99% of particles down to 2 microns — that's 566% less efficiency.
In addition, the large model has four fan speeds, while the medium and small only have three. The large model also has a a particle sensor that detects the air quality levels in the room and automatically adjusts the fan speed to get rid of pollutants at a faster rate. You must manually adjust the medium and small models as they do not come equipped with this sensor.
Each model is also designed for a specific size room. The large model covers about 245 square feet; the medium covers around 185 square feet; and the small covers 155 square feet.
How to Pick the Best HoMedics Total Clean 5-in-1 Air Purifier
We recommend going with the model that meets or exceeds the total square footage of your room. After all, you don't want an air purifier that can't handle the space it's used in.
That said, if the small model meets your square footage requirement but the medium is still within your budget, we suggest going with that one instead. That's because the medium model has a much more advanced True HEPA filter that will capture finer microscopic particles.
If you want an air purifier that automatically adjusts itself for you, you'll want to go with the large option no matter what.
Buy Large Model on Amazon
Buy Medium Model on Amazon
Buy Small Model on Amazon
HoMedics Pet Plus Air Purifier Review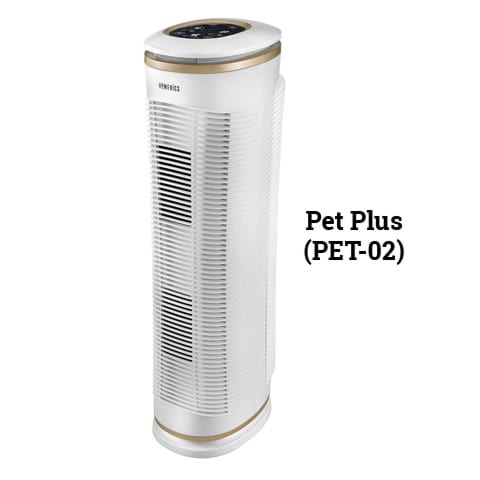 If you're a pet owner and are looking for one of the best air purifiers for pets, it's worth considering the HoMedics Pet Plus (AT-PET02) air purifier.
It includes a dedicated PetPlus™ odor filter which helps reduce the common odors associated with pets, such as animal smells, litter box odors, dander and more. It's also a great air purifier for smaller rooms.
Here's a rundown of its features:
Pre-filter: Traps dust, pet hair and larger dander particles from clogging up the True HEPA filter.
True HEPA Filter: Captures 99.97% of ultrafine pet dander particles down to 0.3 microns, which are the smallest ones that matter
PetPlus™ Odor Filter: Reduces odors that are emitted and left behind by your pets. It helps your home smell fresher by stripping those gaseous molecules out of the air.
Room Size Coverage: Covers up to 188 sq. ft. which makes it ideal for smaller rooms in the home or placed right next to your pet's bed or litter box.
Auto-Off Timer: Set the air purifier to automatically turn off after two, four, eight or 12 hours
Oscillation: The fresh air fan can move back and forth to more evenly distribute clean air into the room.
3 Fan Speeds: Control the level of air cleaning power.
Replace Filter Indicators: Alert you for when it's time to replace the internal filters. The True HEPA filter lasts around 12 months while the PetPlus™ Odor filter is good for about six months.
While it's not the most powerful air purifier HoMedics offers, it's the best choice for keeping pet dander and odors under control.
Buy on Amazon
HoMedics True HEPA Air Purifier Reviews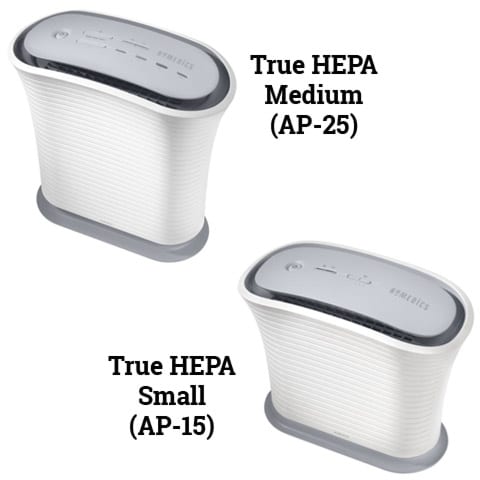 The HoMedics True HEPA air purifier series includes two versions:
These models are a more basic version of the HoMedics 5-in-1 air purifiers. That said, everything about these two air purifiers is more or less identical, safe for the automatic timer and square foot coverage.
True HEPA Air Purifier Similarities
Both models have a carbon-pre filter and a True HEPA filter. The carbon pre-filter is a dual-action filter that not only traps larger particles such as dust, hair and dirt, but acts as an odor neutralizer. The activated carbon lined in the pre-filter also helps trap household odors.
The True HEPA filter, on the other hand, captures 99.97% of ultrafine particles, down to 0.3 microns. This includes allergens, pollen, dust, bacteria, mold spores and particulate matter.
They both also come with a night light, three fan speeds, and replace filter indicators. The True HEPA filter lasts around 12 months, while the carbon pre-filter is good for about three months.
True HEPA Air Purifier Differences
As for the differences between these two models in the HoMedics True HEPA air purifier series, the medium (AP-25) version has an auto-off timer, while the small version does not. You can use this timer to automatically set the machine off after two, four, eight or 12 hours. The medium model covers around 184 square feet, while the small only covers up to 114.
Our Recommendations
If we're only comparing the HoMedics True HEPA air purifiers with each other and not against the other products listed on this page, then we recommend buying the medium model. The price difference between the medium and small is fairly small, but the medium model gives you significantly more room size coverage for a relatively small cost. Better yet, you can have the device farther away from you and still enjoy clean air.
However, if you plan to place the air purifier next to you on a desk or table, then the room size won't matter as much. To that end, you'll likely be better off with the small model.
Buy Medium Model on Amazon
Buy Small Model on Amazon
HoMedics Desktop Air Purifier Review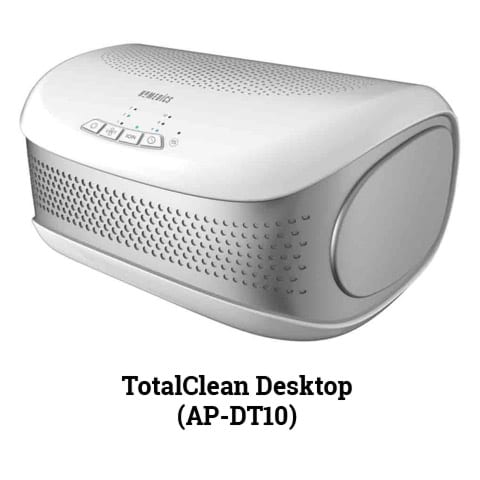 The HoMedics TotalClean Desktop (AP-DT10) is a small air purifier that's made specifically for personal use at home, the office or while traveling.
It's the cheapest product HoMedics offers, and gives you basic cleaning functions.
With it, you'll get a carbon pre-filter and a HEPA-type filter. The later of which is a lower-quality version of a True HEPA filter and only captures 99% of particles, down to two microns in size.
It also has an ionizer, auto-off timer, three fan speeds and a replacement filter indicator for both the HEPA-type filter and carbon pre-filter.
Last but not least, it comes equipped with an aroma slot with one pad to deliver a fresh aroma in the air.
The air purifier covers up to 124 square feet, which makes it ideal for small personal spaces.
The only drawback is that this device doesn't include a True HEPA filter, which is the most efficient, but rather a HEPA-Type filter. This filter variation means this machine misses some of the microscopic contaminants such as finer dust, allergens, and bacteria. If you have allergies or asthma, we recommend that you buy one of the other models listed on this page (the TotalClean 5-in-1 or True HEPA versions) since they're more efficient air purifiers.
Buy on Amazon
How to Decide Which HoMedics Air Purifier to Buy
If you're still unsure of which HoMedics air purifier you should buy, you've come to the right place.
As far as the HoMedics Total 5-in-1 air purifier, it's great if you lave a larger room to cover and if you want the cleanest, freshest air possible. This series has the most advanced air cleaning technologies, including a UV-C light that kills airborne bacteria and viruses. If you want a fully automatic air purifier, the large is a great option thanks to its particle sensor and automatic mode.
The HoMedics Pet Plus air purifier might be the best choice for you if you have pets, while the HoMedics True HEPA air purifier might be your best bet if you want the most value out of your air purifier. While it may not have the flashy features like the 5-in-1, it has a much more affordable price point — and will still get the job done with flying colors.
The HoMedics desktop air purifier might be for you if you need a machine for personal use, the office or traveling. If you don't have allergies or asthma and can handle the presence of some pollutants in the air, you should be good to go here. It could also be a good option for you if you want to pay the least amount of money possible for a HoMedics air purifier.
Homedics Air Purifier Alternative
While HoMedics makes great air purifier products, we know they're not the best fit for everyone. If you find yourself still not sold on any of these models, we'd strongly recommend the VEVA 8000 air purifier instead. It delivers powerful HEPA filtration in a sleek, compact design. This air purifier features a premium HEPA filter and an activated carbon pre-filter to remove airborne particles as small as 0.3 microns, all at a very affordable price point.
Buy on Amazon
Bottom Line
No matter which HoMedics air purifier you go with, you really can't go wrong. Each has a set of unique features that may be a better fit for you and what you're looking for — but with options like these, we're confident there's something for everyone.