Are you thinking of buying a Hunter air purifier?
But not sure which one to get or if they're even worth the money?
If so, you've landed on the right page.
What you'll find below is the most comprehensive Hunter air purifier reviews and buying guide.
The goal here is to help you compare all of the Hunter air purifiers available so you can find the best one for your home or office.
By the end, you'll have a better idea of which air cleaner is right for your needs.
Disclosure: Home Air Guides is reader-supported. As an Amazon associate and affiliate for independent brands, we earn from qualifying purchases made through the links on our site. Learn more.
Hunter Air Purifier Reviews Guide
The first thing you should know about Hunter is that the company has manufactured a variety of air purifiers over the years; however, several models have been discontinued.
Therefore, our guide has been updated to only review the current Hunter air purifier models since you won't be able to buy the obsolete models in the near future.
Current Hunter Air Purifiers (Reviewed Here)
Discontinued Models
HT1701
HT1702
HT1715
HT1725
HT1726
HT1811
HT1821
HT1831
Hunter Air Purifier Similarities
One of the best things about the current lineup of Hunter air purifiers is that they'are all practically the same with a few minor differences.
This means that no matter which Hunter air cleaner you buy (HP400, HP600, HP700, or HP800), you'll get to enjoy the following features:
Shared Filter Types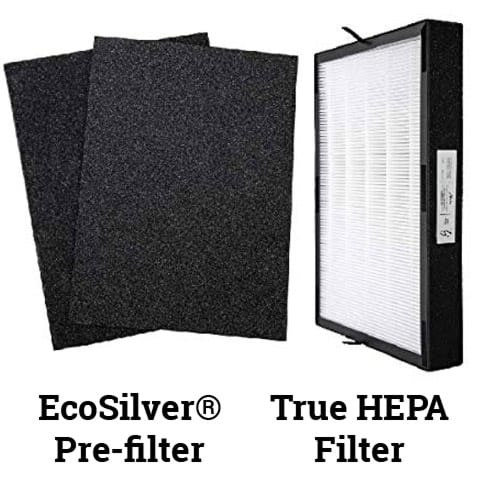 EcoSilver® Pre-filter with Coconut Carbon — This is the first line of defense against airborne contaminants. It traps the largest particles, such as dust, dirt, and debris. It's also lined with silver nanoparticles that prevent the growth of microorganisms on the filter (i.e. bacteria and viruses). The addition of coconut carbon also neutralizes harmful volatile organic compounds (VOCs) and household odors from cooking, cleaning, smoking, and pets. It lasts around 3 months.
True HEPA Filter — This is the highest-grade HEPA filter that removes up to 99.97% of particles as small as 0.3 microns, including ultrafine dust (and dust mite waste), pollen, allergens, pet dander, mold spores, and smoke. It lasts between 6-12 months depending on the air quality inside your home.
Other Top Shared Features
Multiple Fan Speeds — You can change the cleaning power of these air purifiers to meet the demands of the room.
Simple Touch Controls — Every aspect of these air purifiers can be adjusted by a touch of a button.
Sleep Mode — Puts the air purifier in a whisper-quiet operation mode for uninterrupted sleep.
Timer — Lets you automatically turn the devices off after 2, 4 or 8-hour intervals.
Filter Replacement Indicators — A handy reminder to alert you for when it's time to change the filters.
Differences Between Hunter Air Purifiers
As you just discovered, each Hunter air purifier shares the same high-quality air filters and a number of other useful features.
As for the differences between each model, here's how they compare:
360-Degree Air Intake — This model draws air in from every side of the unit. This design makes it more efficient for smaller spaces. (The other Hunter air purifiers have flat filters that draw air in through a front grill.)
3 Fan Speeds — High, medium, and low
LED Accent Light — An optional light that can be turned on or off for ambiance or to be used as a nightlight.
4 Color Options — Black & Blue, Black & Copper, Gray & Silver, and White & Gray
106 sq. ft. of Coverage — This air purifier is made for small rooms and personal spaces, such as a bedroom, small office, or for travel purposes.
Dimensions — 16.7″ (H) x 7.7″ (W) x 7.7″ (D)
Weight — 6 pounds
See the HP400 on HunterPureAir.com
---
3 Fan Speeds — Same as the HP400.
LED Accent Light — Same as the HP400.
Wrap-Around Cord Storage — For more convenient storage.
Built-In Handle — For easy transport if you want to take it from room to room.
3 Color Options — Black, White, and Graphite
202 sq. ft. of Coverage — This air purifier is made for small to medium-size rooms, such as an average size bedroom, smaller living room, apartment, or kitchen.
Dimensions — 25″ (H) x 9″ (W) x 9.5″ (D)
Weight — 15.5 pounds
---
3 Fan Speeds — Same as the HP400 and HPA600.
No LED Accent Light — Not available on this model.
2 Color Options — Black and White
315 sq. ft. of Coverage — This air purifier is made for medium to large-size rooms, such as a larger living room, big bedroom, home office, workshop, and a finished area of a basement.
Dimensions — 25.7″ (H) x 13.4″ (W) x 7.5″ (D)
Weight — 15 pounds
---
4 Fan Speeds — Has one additional fan speed than the HP400, HP600, and HP700.
LED Accent Light — Same as the HP400 and HPA600.
Wrap-Around Cord Storage — Same as the HPA600
3 Color Options — Black, White, and Graphite
550 sq. ft. of Coverage — This air purifier is made for large rooms and open indoor areas, such as multiple rooms that are connected (kitchen and dining rooms), large finished or unfinished basements, and big living rooms.
Dimensions — 25″ (H) x 20.8″ (W) x 12″ (D)
Weight — 33 pounds
Which Hunter Air Purifier Should You Choose?
Unlike other air purifier brands that have numerous differences between each model that can make it hard to choose, Hunter has taken the guesswork out of which product is best suited for your needs.
To choose the right Hunter air purifier, all you need to do is match the room size to the closest matching product.
You always want to use an air purifier that meets or exceeds the total square footage of space you're going to use it in.
For example, the HPA600 would work well for a room up to 202 sq. ft., but not so good in a room that's 300 sq. ft. The HPA700 is designed for that size space.
So, to find out which Hunter air purifier you should buy, just find the square footage of the room (or area) in your home or office.
Measuring Square Footage
Measure the width and length of the room (in feet) and multiply those two numbers together.
Here are a few examples:
A 12′ x 12′ bedroom would be: 10 x 12 = 120 sq. ft. (HPA400 is best)
A 13′ x 15′ living room would be: 13 x 15 = 195 sq. ft. (HPA600 is best)
A 10.5′ x 30′ basement area would be: 10.5 x 15 = (HPA700 is best)
A 20′ x 27′ kitchen/dining/living space would be: 20 x 27.5 = 540 sq. ft. (HPA800 is best)
If you're trying to find an air purifier for a very large room, and none of the Hunter air purifiers are powerful enough to handle it, you should check out our best large room air purifier reviews.
That page includes the best air purifier models for the largest spaces.
Who are these Hunter Air Purifiers for?
While all of these Hunter air purifiers can benefit any home or office, they work best for the following people and places:
People with allergies.
Homes with pets that shed dander.
Places with low to moderate amounts of tobacco smoke.
Anyone who wants to reduce their exposure to outdoor air pollution that makes its way indoors (i.e. factory smoke and automobile exhaust)
Apartment renters who can't control the air quality around them.
People who want to reduce the number of mold spores and bacteria indoors.
Anyone who wants an easy-to-use air purifier that works right out of the box.
Hunter Air Purifier Warranty Information
These air purifiers come with a 5-year warranty that covers repairs and replacements.
What Others Have to Say About Hunter Air Purifiers
Still not sure which of these air purifier models is right for you?
Check out more Hunter air purifier reviews on Amazon to see what others have to say about them.
We hope those comments and this review are beneficial in helping you make a final decision.