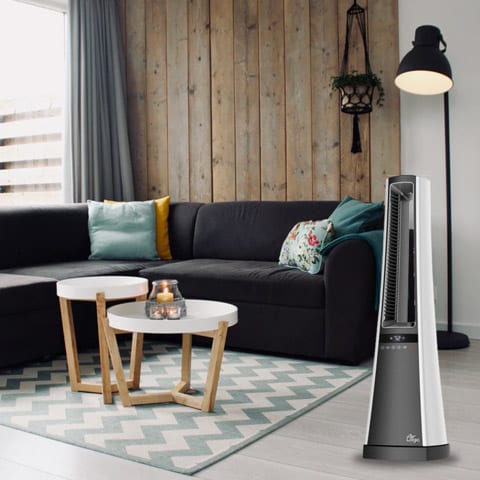 Are you looking for a low-cost way to heat up a room?
Have you been thinking about getting a ceramic heater?
If so, this guide is for you.
Ceramic heaters are a cost-effective and efficient way to heat up any space.
But how do you find the best ceramic heaters for your needs?
That's what this page will cover.
We'll take an in-depth look at some of the best ceramic space heaters on the market and point out the top features each one has.
In addition to portable ceramic heater reviews, you'll also discover how these popular devices actually work to warm up a room and about the various types you can choose between.
By the end, you'll have everything you need to make a well-informed decision on buying the best ceramic heater for your home, office, or apartment.
Disclosure: Home Air Guides is reader-supported. As an Amazon associate and affiliate for independent brands, we earn from qualifying purchases made through the links on our site. Learn more.
Ceramic Heaters Reviewed in This Guide
Here's a quick comparison chart showing the top ceramic heaters. We'll cover each aspect of these units in the reviews section below, but this gives you an idea of what's available and an easy way to compare them.
Best Ceramic Heater Reviews (Top 7 List)
---
At the top of our list of the best ceramic heaters is this bladeless model right here.
Compared to other heaters, there's really nothing else like this unit for the price.
Many people choose the model because it doesn't have any moving fan blades. It delivers warm air without any noisy distractions.
This unit also features an easy to use digital control panel that offers high and low heat settings as well as an 8-hour timer and adjustable thermostat.
It also comes with a remote control.
This heater also comes equipped with a rear filter that keeps the appliance free from dirt and debris.
It has a safe touch surface and designed to deliver heated air throughout your room quickly and in a uniform fashion.
It's powerful enough to heat a large room up to 300 square feet.
With its sleek design and contrasting color combination of black and silver, it fits easily into any room or space, and can match any décor.
---
If you're looking for a compact space heater, then this just might be the unit you're looking for.
It uses vortex air circulation which is how a forced air furnace operates to heat your home.
That internal design makes this space heater capable of producing heat on a smaller scale.
Technically, it's not a true ceramic space heater because it uses a metal coil instead of ceramic plates to deliver heated air; however, it still ranks high on our list because it delivers excellent performance and power at a reasonable price.
It comes with three fan speed heat settings: low, medium, and high, which allows you to tailor the heat output and reduce energy consumption.
It's good for a small space and medium-sized rooms up to 300 square feet.
There are seven temperature settings as well as an automatic mode to turn the heater on and off to keep the room at the desired temperature.
Those functions make it very energy efficient.
The safety features include tip-over protection, cool to the touch housing, and automatic safety shut off.
Another added perk is that this space heater comes with a 5-year warranty and has an active support team to help you with any problems that may arise.
---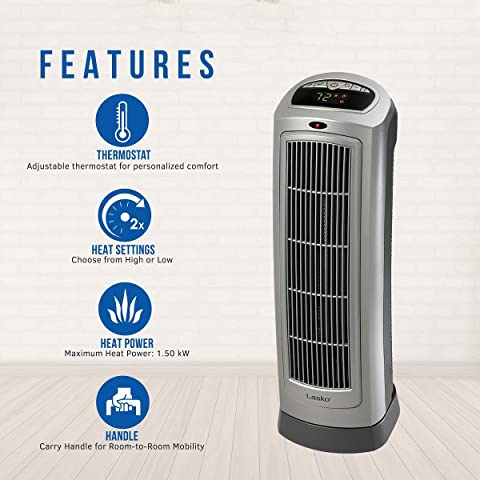 This tower ceramic heater is a fantastic space saver and can easily fit into the corner of any room.
It has two fan speeds and also includes an automatic mode.
When you switch the heater to the automatic setting, it will read the thermostat and turn on and off automatically to keep the room at the set temperature.
This unit also comes with oscillation to evenly distribute hot air throughout rooms up to 200 square feet.
You can choose to control it through the small remote or the top control panel.
The safety features included with this tower heater include cool-touch housing, tip-over protection, and overheat protection.
It's most effective in medium-sized rooms and the temperature can be increased or decreased to meet your personal heating needs.
All-in-all, it's a great heater for the price.
---
This portable ceramic space heater may be small in size but it has amazing heating capabilities.
It's best for small to medium-sized rooms up to 300 square feet, such as living rooms, bedrooms, personal offices, and small apartments, and can warm up a space in a matter of minutes.
It features three fan speed heat settings, one of which is a cooling fan, making this an ideal appliance to use year-round.
As for the heating temperature settings, they can be adjusted by a thermostat dial on the unit.
It's very energy efficient, incredibly lightweight, and portable.
You can also choose between two colors: black or silver.
And for the price, power, and features, this is one of the best ceramic heaters you can buy today.
In fact, this model has more than 18,000 reviews on Amazon—that's more than any other heater on this list.
If it makes that many people happy, it may be a great addition to your own home, office, or apartment.
---
If you're looking for the best ceramic heater that's for a small space that's also easy to transport, then you'll want to check out this model.
This appliance is unlike any of the other ceramic heater reviews on this list and weighs in at just over one pound.
You can take this heater anywhere and it's a great travel companion.
The only drawback to this convenience is that this unit only has an on/off switch without a thermostat.
You can't change the fan speed or temperature settings.
However, whether you're using this portable ceramic heater in your home, an office, or taking it on the road to keep you cozy, this heater warms up in no time at all.
It also has tip-over protection.
Plus, you can choose between four different colors to match your style and taste: black blue, pink, and white.
And finally, it has the lowest price out of any other heater on this list.
---
This portable ceramic tower heater comes with an LED screen that lets you know the exact temperature settings when using the adjustable thermostat on the control panel.
It also features a 24-hour timer and a remote control.
The safety features this heater has are automatic shut off to prevent it from overheat protection and tip-over protection.
The best part, and why people choose it, is the energy efficient ECO mode on this unit.
This feature saves energy by automatically adjusting the power and heat settings for the most comfortable and economical warmth.
It's also incredibly quiet, so you can keep it running while you're watching TV, working from home, or at night while you're sleeping.
And it's good for average size rooms, like a bedroom, up to 200 square feet.
---
If you're looking for a small portable ceramic heater that can do double-duty, then you'll want to choose this tower heater.
Not only will this unit heat up your space in the winter, but it also comes with a cooling fan mode, making it a cheap air conditioner to use in the summer.
It has two heat settings: high and low, and you can use the adjustable thermostat to set the exact temperature settings through a remote control
Easy to use buttons are also located on the top of the device.
Although it's a smaller ceramic heater, it does include an oscillation function to ensure widespread heating and cooling.
The timer function is also a nice bonus because it lets you program the unit to turn off between 1 to 12 hours to make it more energy efficient.
This unit is ideally used in small spaces as a personal heater and should be placed directly in front of you to keep you toasty warm.
You might also consider placing it on a desk or coffee table to ward off the chill from cold weather.
It's powerful enough to heat rooms up to 150 square feet, like a bedroom or bathroom.
If you want to take it with you from room to room, the included top carrying handle makes that easy to do.
The safety features included on this appliance are overheat protection and tip-over protection.
---
Ceramic Space Heater Buying Guide
How Ceramic Heaters Work
When it comes to finding an electric space heater that will work well for your needs, getting a portable ceramic heater is one of your best options.
The way a ceramic heater works is different than any other type of portable heater, mainly because ceramic heating doesn't use fire or other hazardous substances like propane to heat the air.
Instead, ceramic heaters are outfitted with ceramic plates that are attached to metal coils. These coils heat up as electricity passes through them and that heat is transferred to the ceramic plates.
After the ceramic plates absorb the heat, the heat is released into the air.
This ceramic heating process is almost instant and it takes very little time for you to feel the warming effects of a ceramic space heater.
Even the best infrared heaters take much more time to warm up a room because those models rely on heating up objects inside it, and not the air like a ceramic heater does.
Ceramic Heaters Use Convection Heat
"Convection" heating is the process of heat transfer by the movement of a fluid, such as air, where the heated fluid moves away from the source.
Convection occurs because fluid, such as air, becomes less dense as it's heated and therefore rises away from the heat source.
Convection heating is much different than "radiant" heating where electromagnetic waves spread out from the heat source to heat up physical objects.
The air itself doesn't get hot, like in convection heating, but rather the objects in a room absorb the heat waves that are transferred out of the radiant heater.
An infrared room heater is an example of a radiant heater.
A ceramic heater, by design, would distribute heated air slowly through convection; however, most of these heaters include a fan that blows air across the heating element to spread warm air faster around the room.
Since ceramic heating uses convection heat, you'll be able to warm up faster with a ceramic heater than any other type of portable heater because the heat transfer is instant.
Keep in mind that also because of the way a ceramic heater works, you're not exposed to the heating elements.
This makes ceramic space heaters much safer than other types of portable heaters and reduces your risk of getting burned.
Plus, the best ceramic heater has an internal safety mechanism that prevents it from overheating and all models cool down quickly when turned off.
Types of Ceramic Space Heaters
There are many different types and styles of ceramic heaters to choose from and finding the one that works for you will depend on the size of the room you want to use it in.
In general, there are three types of these heaters: compact, tower, and bladeless.
Compact Ceramic Heaters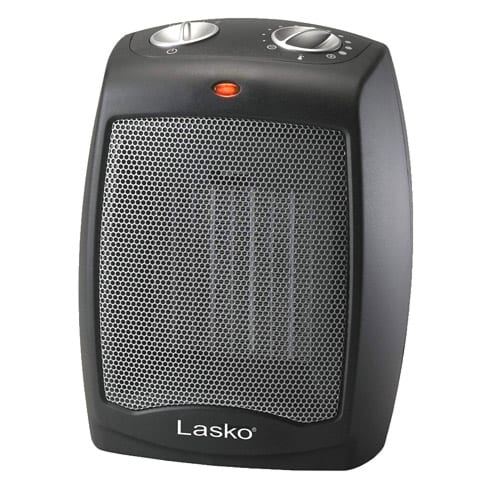 If you have small spaces to warm up or want to move the heater from one room to another, then you'll want to consider a compact portable ceramic heater design.
These popular models are small and lightweight which allows them to be moved around easily. Some people consider them to be the best bedroom heaters available for this reason.
Most often, people place them on the floor, but due to their compact size, you can also put these types of ceramic heaters on a desk or table if you need extra heat higher up.
Compact heaters are also good for smaller areas of the home, like bathrooms, that need some extra warmth.
Finally, these units have the lowest price.
Tower Ceramic Heaters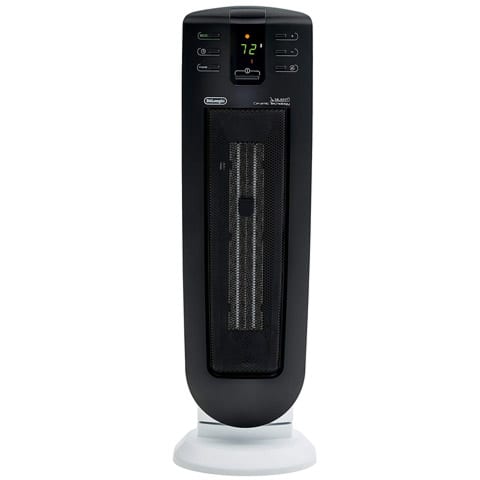 If you're looking to place a ceramic space heater in a more narrow space, then you'll want to get a ceramic tower heater.
These models are taller and skinnier than compact heaters and provide more fuller coverage.
Although most people keep these ceramic heaters in one spot, they do include a carrying handle if you want to carry it around the house.
These heaters also come equipped with oscillation.
With this feature, the unit rotates left to right to distribute heat more evenly throughout the room.
These units have a middle-of-the-road price.
Bladeless Ceramic Heaters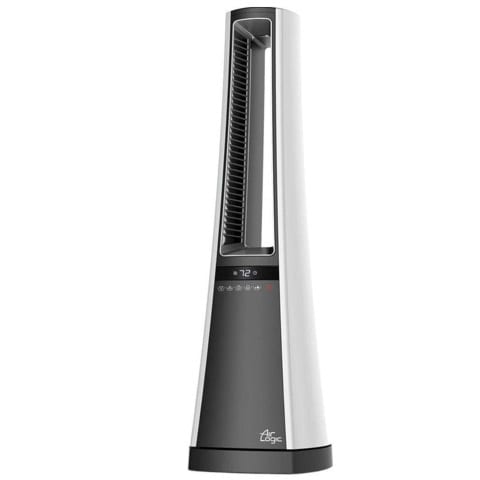 If you're looking for the ultimate in safety, or just want to the most modern design, then you'll want to consider a bladeless ceramic heater.
Like other ceramic space heaters, these models also use ceramic plates to heat the air, but they don't have traditional fan blades like other heaters do to blow hot air into the room.
Instead, the fan is hidden in the base of the unit and it pushes hot air up and out through a series of vents. This bladeless design keeps the entire heater cool to the touch when it's running.
Bladeless ceramic heaters like our #1 review above are a good option for anyone with small children or curious pets.
These units have the highest price.
Features to Look for in the Best Ceramic Heater
Ceramic space heaters come in a wide range of sizes and types as well as being equipped with a variety of different features.
When it comes to finding the perfect ceramic heaters for your home, office, or apartment, you'll find that you have a lot of options to choose from.
Keep in mind that you probably won't be able to find one heater with every feature listed below, but these are the things you'll need to consider when you're shopping for the best ceramic heater for extra warmth:
Fan Speeds — More often than not, ceramic space heaters come with only two fan speeds: low and high. And this is what controls the speed of the heat coming out of the machine.
Auto Mode — Some ceramic heaters can automatically switch between the low and high fan speeds to better control the desired room temperature. However, this auto mode feature is only available on models that have a digital thermostat to set a specific temperature degree.
Thermostat — This feature is what controls the temperature settings of the heat. Depending on your preference, it can be warmer or colder. Thermostats come in two types: a manual thermostat or a digital thermostat. Manual thermostats are a rotary dial that allows you to adjust the heat settings by turning the dial. But you can't set a specific degree. The temperature is displayed with numbers such as 1 to 7 or a – to + sign to indicate colder to hotter temperatures. As for digital thermostats, these are a control panel that lets you set a particular temperature for the room, such as 65, 70, 75, or 80 degrees. Many ceramic heaters with digital thermostats also have an automatic shut off function that saves energy once the temperature has been met.
Oscillation — This feature rotates the heater from left to right while the fan blows hot air into the room. It's usually only found on ceramic tower heaters which are specially designed for more even room heating.
Timer — This feature allows you to run your heater for a pre-determined amount of time. Whether it's 1, 2, 4 or 8 hours (or more), the heater then shuts off after the timer has ended.
Remote Control — This device allows you to control the heater settings no matter where you are in the room.
Tip-Over Protection — Should the room heater accidentally get tipped over, you don't want it to continue to run. This could turn into a hazard. With this feature, the heater will shut off if it's not in an upright position. This is a good option to have if you have kids or pets in your home.
Overheat Protection — This is a sensor that's included in the heater that shuts it off automatically when the internal components heat up to an unsafe temperature. Most ceramic heaters have this type of protection included.
Cool to the Touch Housing — You want your heater to effectively and efficiently heat up a room, but you don't want it to become a burn hazard. If it's equipped with this feature, then the body of the unit doesn't get hot at all, making it safe to handle even while it's running.
Advantages of Using a Ceramic Heater
Adding a ceramic heater to your home is a great way to make any space warmer and more inviting.
Although these devices are not designed to be the primary source of heat inside a house, they do work well in conjunction with a furnace to ward off the chill that accompanies winter to keep you toasty.
Below are some of the other advantages that come with using a ceramic space heater.
Size — Compared to other heaters, these appliances have a lot of power in a small, lightweight, and durable design. Because of their size, they can be used practically everywhere, from living rooms to bedrooms to bathrooms to garages and everywhere in between.
Portability — Most ceramic heaters are easy to move from one room to another, and many are equipped with carrying handles to make transporting simple. This means that no matter where you go in your house, you can be warm and comfortable.
Lower Risk of Fire — In the past, space heaters were considered risky because they posed a fire threat. You had to keep them away from furniture, curtains, and other items so that the heater wouldn't get them too hot and potentially catch on fire. With ceramic space heaters manufactured today, you don't have to worry about the unit getting too hot or catching other items on fire. The ceramic plates in these heaters are incredibly effective at heating and distributing the air, but they also come equipped with a variety of safety features, including automatically shutting off if they become too hot or get tipped over. Many ceramic heating devices also come with cool-touch housing which keeps the outside of the heater from getting hot.
No Toxic Emissions — These heaters run on electricity which means there are no toxic emissions that can get into the air, including carbon monoxide. This makes ceramic heaters a safe alternative to heating your home instead of using gas or propane heaters.
Safer for Children — Since these heaters are equipped with so many safety features, including cool-touch housing, overheating protection, tip-over protection, and a grille that covers the heating element, you won't have to worry about burns or other injuries when children are around these appliances.
Cost — These heaters have a low upfront price. You can spend anywhere from $20 to $100 depending on what size room you need to heat and the features you want the unit to include. The best part, however, is that these devices more than make up for their initial investment. Ceramic heaters can drastically reduce your heating and electricity bills, all while making your home warm and cozy.
Ceramic Heater Safety Tips
Even though most ceramic heaters manufactured today have built-in safety features, there are a few tips you should make sure to follow to lower your chance of a hazard:
Don't Use an Extension Cord — Ceramic space heaters draw a lot of electricity, so to ensure they don't overheat, cause a short-circuit, or potentially catch fire, these devices need to be plugged directly into the wall outlet. Never use them with an extension cord. Before buying the heater, check the cord length of the unit to make sure it will be long enough for your needs.
Always Place on a Stable Flat Surface — Placing your ceramic heater on an uneven surface increases the chances of it not working properly or tipping over and causing a fire. If it comes with the tip-over safety feature, it has to be on a stable flat surface to even run.
Choose the Right Location — The right location will vary from house to house, but in general, you should place your ceramic heater unit in an area where it's out of the way of traffic and can't get knocked over. Placing it in a corner or near a wall so the hot air is pointed outward toward the center of the room is usually optimal. However, if you're trying to heat up a personal space, like an office desk, then pointing the heater toward your legs would make the most sense.
Give the Heater Enough Space — Even though many ceramic heaters come with cool-touch housing and an automatic shut off function if they overheat, they can still pose a hazard risk. Thus, keeping the unit away from flammable materials such as paper, wood, fabrics, and other items is advised. Each heater manual will offer specifics, but a general rule of thumb is to keep a 3-foot clearance around the unit so that nothing overheats or catches on fire. This buffer also ensures that enough airflow can travel through the heater to warm up the space properly.
Cost of Using the Best Ceramic Heaters
If you're like most people reading this guide, you undoubtedly want to know how much an electric ceramic space heater will cost you to run each month.
Keep in mind that ceramic heating works best as a supplemental heat source, not a primary heating device in your home.
Working in conjunction with your furnace, it can lower your overall heating costs each month because you won't have to rely so heavily on your primary heating source.
The cost to power your ceramic space heater unit will depend on the electricity rates in your area.
The national average is 0.13 kWh.
To figure out how much it will cost you to use a ceramic heater, you can use the formula below or this handy calculator.
(Two examples are also provided below to ensure you understand how the formula works.)
Step 1: Multiply the number of watts the heater uses by the number of hours per day you plan to use it.

(Number of watts X hours of use = A)

Step 2: Multiply the answer you get from the first equation (A) by the electricity rate per kilowatt-hour for your area. You can find this on your electric bill.

(A X electricity rate/kilowatt hour = B)

Step 3: Divide answer B by 1,000, and this will tell you how much it costs to run a ceramic space heater.
Example 1:
A 1500 Watt ceramic heater unit used on the highest fan speed for 8 hours per day at 0.13 kWh would cost $1.56 per day to use. Here's the math based on the above formula:
1500W X 8 hours = 12,000
12,000 X 0.13 = 1,560
1,560 ÷ 1,000 = $1.56 per day
Example 2:
A 1500 Watt ceramic heater used on the lowest fan speed (750 Watts) for 8 hours per day at 0.13 kWh would cost $0.78 cents per day to use.
750W X 8 = 6,000
6,000 X 0.13 = 780
780 ÷ 1,000 = $0.78 cents per day
Ceramic Heaters vs Other Types of Heaters
Ceramic heaters are not the only type of electric portable heater. However, ceramic heaters do have their advantages over the competition.
Here's how ceramic heaters compare to those other types of heaters:
Infrared Heaters vs Ceramic Heater
Infrared heaters work by radiating heat into a room without the use of fans or blowers.
They're suitable for smaller rooms and spaces, but if you're looking to warm a larger room, then a ceramic heater is a better choice because it blows the hot air around.
In addition, ceramic heaters work better at maintaining an ideal room temperature with a room through convection heating, while infrared heaters excel at heating people and objects that are directly in front of them.
Quartz vs Ceramic Heater
Quartz can be a more effective heating element than ceramic, but after 10 to 15 feet, this type of unit no longer warms the room efficiently.
Thus, if you're looking for a more duarble heater that keeps your entire space at the best temperature, you'll want to consider a portable ceramic heater.
Ceramic Heater vs Oil Heater
Oil heaters need oil if they're going to heat properly and this makes them heavier and more dangerous than a ceramic heater.
Thus, if you have a home with children or pets, then using a ceramic heater is a better option for safety.
Oil heaters also take longer to heat up a room because they don't include a fan to help move the heated air like a ceramic heater unit.
However, the best oil filled radiator heater can provide longer-lasting warmth without running continuously.
Ceramic vs Radiant Heater
Radiant heaters are really great at heating up an entire room; however, they take a while to warm up.
If you're looking for quick heat, a ceramic heater is a better unit since the ceramic plates are instantly hot.
Some of the best portable propane heaters, which are radiant heaters, do include a fan to help speed up the heating process.
Ceramic Heater vs Fan Heater
Fan heaters have the ability to blow air into any space to keep it warm, but if the fan isn't running, then it can cool down quickly.
Ceramic heaters retain heat on the plates, so even when the fan isn't running, a ceramic space heater can still transfer heat into the room.
If you're looking for a powerful enough unit to heat up a large room like a basement, then a portable ceramic heater would be a better option than a fan heater.
However, both options are recommended on our best basement heater reviews page because each person's needs are different depending on the power they need.
Ceramic and fan heaters are also a good choice for anyone looking for a good bathroom safe heater.
Common Questions About Ceramic Heaters
Are Ceramic Heaters Better?
Yes, ceramic heaters are better because, for their size, they give off a lot of heat and are more energy-efficient and safer than many of the other heaters available on the market. This type of unit also heats up quickly to get you warm.
Do Ceramic Heaters Use Less Electricity?
Yes, ceramic heaters use less electricity than other types of heaters. Many ceramic heaters include features such as timers, automatic shut off, variable watts, and heat temperature control.
All of these things can help you save electricity and money when heating a room.
Overall, ceramic heaters are very energy-efficient and powerful devices that can be bought for an extremely low price. You can compare the most efficient electric heaters here.
Do Ceramic Heaters Smell?
Yes, ceramic heaters can smell.
The cause of this smell is dust and dirt buildup.
Make sure to clean the intake vent of the unit with a soft toothbrush to reduce the odor.
Ceramic heater smell can also happen during the first few uses since the heating elements haven't been used before but it should go away over time.
What is the Advantage of a Ceramic Heater?
The advantage of a ceramic heater is that they heat up quickly and reduce the amount you spend on utility bills.
Ceramic heaters come in a variety of different shapes, sizes, and power to fulfill any and all of your room or personal heating needs.
They're also inexpensive to buy.
In many ways, they're considered the best space heater for apartment living because of the low upfront cost and electricity usage compared to central heating systems.
Best Ceramic Space Heaters Brands
The reviews outlined earlier on this page included the top 10 heaters you can buy today.
If you're still not sure which unit to buy and want to do more research, here's a list of the top ceramic heater manufacturers for you to consider.
You can rest assured that getting a space heater from any one of these manufacturers will be a great purchase at an affordable price.
Amazon Basics
De'Longhi
Honeywell
Ivation
Lasko
Pelonis
Trustech
Vornado
Enjoy Your New Ceramic Heater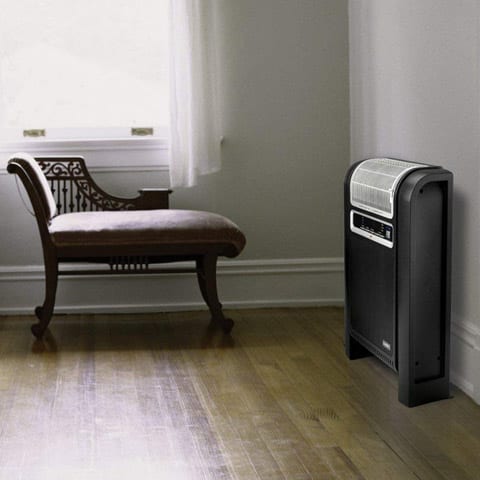 We hope you enjoyed this comprehensive guide on choosing and comparing the best ceramic heaters.
As you learned, a ceramic heater is a cost-effective unit that can keep you warm and toasty throughout the entire winter season.
And our ceramic heater reviews showed that these appliances also come in a variety of designs with various features to meet your particular heating needs.
Hopefully, the information provided here on the best ceramic space heaters has helped you narrow down the perfect little heater for your home, office, or apartment at a price you can appreciate.