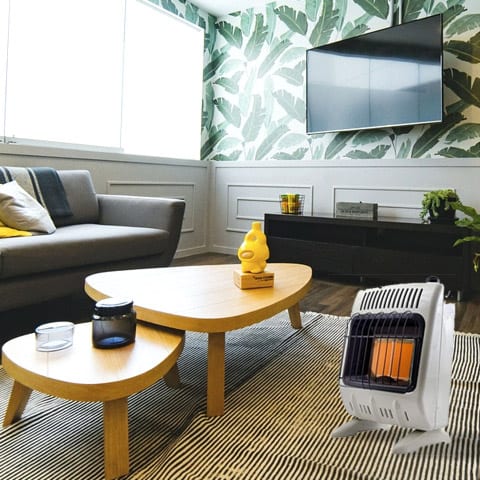 Not only do the best propane heaters add exceptional warmth to your house, but they also cost much less to run than electric heaters to deliver that heat.
But there are many options to choose from for homes, and finding the best indoor propane heaters for your needs can be tough.
And that's exactly why this guide exists: to help you find the best portable propane heater or wall mounted propane heater for your home.
If you're looking for a complete guide on choosing the best propane heater for house use, this is it. We've put everything together to help you pick the right indoor safe propane heater for your needs.
Disclosure: Home Air Guides is reader-supported. As an Amazon associate and affiliate for independent brands, we earn from qualifying purchases made through the links on our site. Learn more.
Indoor Propane Heaters Reviewed in This Guide
Here's a quick comparison chart showing the top indoor propane heaters for homes. We'll cover each aspect of these units in the reviews section below, but this gives you an idea of what's available and an easy way to compare them.

Best Propane Home Heater Reviews (Top 8 List)
If you're looking for one of the best indoor propane heaters to use in your house, then you'll want to check this one out.
In fact, it's North America's most popular portable propane heater for indoor use, specifically poorly insulated cold spaces like garages, sheds and unfinished basements.
And for good reasons too.
It's a ventless propane heater which means that it has been approved as an indoor safe propane heater as well as for outdoor use.
It has the ability to heat a space up to 450 sq. ft. in size and includes a blower fan to spread heat more quickly.
There are three heat settings: low, medium, and high that deliver 4,000, 9,000, and 18,000 BTUs.
Some of the safety features include Low Oxygen Shut Off (ODS), tip-over protection, and automatic shut off if the pilot light goes out.
It also gives you the option of connecting two 1 lb. propane tanks for ease of portability or connect it to a 20 lb. propane tank to use it in a more permanent location.
---
This is the smaller version of our #1 best portable propane heater reviewed above.
You can save about $50 by choosing this model; however, it does have a few differences that you should be aware of.
It only has two heat settings that deliver 4,000 and 9,000 BTUs.
It only connects to one 1 lb. propane tank but still can connect to a 20 lb. tank with an optional hose and filter.
Heating coverage is half the size of the Mr. Heater "Big Buddy" at 225 sq. ft.
But the safety features are the same.
If you want the cheapest, best propane heater for portable or indoor use, this heater packs a lot of punch.
---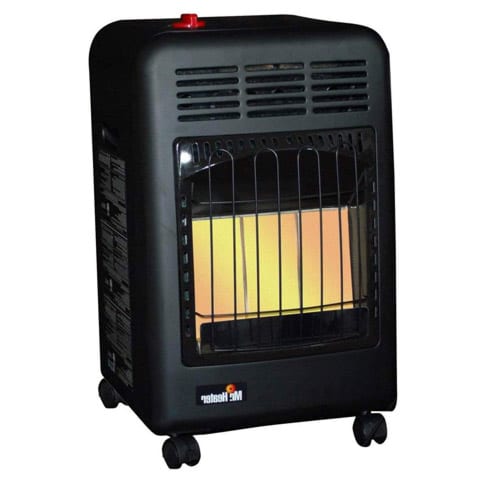 This portable propane heater is a nice choice if you're looking for something that comes with wheels.
It also comes with carrying handles on each side if you want to pick it up and take it with you somewhere.
One thing you'll notice when you're reading the technical specifications on this heater is that it's rated for "outdoor use only." The reason being is that it hooks up to 20 lb. propane tank which is not considered safe for indoor use because it can be an explosion hazard.
However, you can easily make this an indoor safe propane heater by adding a $5 tank adapter that allows you to connect 1 lb. propane tanks that are safe for indoor use.
For added security, this model also includes a Low Oxygen Shut Off (ODS) system to protect you from breathing in unsafe levels of carbon monoxide. It's a vented heater, so be sure to crack a window when using it.
As for the total square footage coverage, this device puts out 18,000 BTUs which can handle a space up to 450 sq. ft. This makes it good for most living areas, garages, workshops, and even for outdoor use while camping.
It's constructed of steel, so it's incredibly tough and durable and is one of the best propane heaters you can buy in a rolling cabinet form.
---
If you liked the idea of our #3 propane heater review, then you might want to consider this one as well.
It offers all of the same perks as the Mr. Heater MH18CH but has a slightly different cabinet design.
Both of these heaters are extremely popular models, so if the previous model is out of stock, then you can feel confident buying this one because it's almost an exact duplicate in terms of functions.
Just follow our previous tip about buying a 20 lb. to 1 lb. tank adapter to make it a safe indoor propane heater for home use without any concerns.
---
At first glance, this heater doesn't look too fancy.
However, it offers a number of benefits that may not be evident in the picture.
First, it's the most portable propane heater ever made. The top unit is less than 5 lbs. and quickly connects to a 20 lb. propane tank.
Second, it offers 360 degrees of instant radiant heat.
Third, it has massive coverage of up to 1,000 sq. ft., making it perfect for large garages, workshops, tents, construction sites, and more.
It's a vented heater without an oxygen depletion sensor, so you'll need to ensure there's adequate ventilation in any area you use it in to keep carbon monoxide from building up.
There's not a lot of bells and whistles to this thing, but if you want something lightweight, simple, and dependable, it's a great propane heater to have on hand.
---
This is another one of the best propane heaters for indoor use that mounts on a wall.
While it does have less total heat output than our #7 propane heater review, at 18,000 BTUs, it still handles large rooms up to 700 sq. ft.
That amount of coverage is often sufficient for most rooms inside a house.
Plus, this model also has optional base legs (WBL100) you can purchase if you want to use it as a portable propane heater instead.
A fan (WHF100) can also be added if you want faster, more forced hot air from the unit.
You get three heat settings: low, medium, and high as well as a Low Oxygen Shut Off (ODS) sensor to give you total comfort and peace of mind while using this indoor propane heater.
---
Perhaps you like the idea of having a choice between mounting your propane heater on a wall or using it as a portable device.
But, you don't need a high powered heater like our #7 and #8 reviews.
If that's the case, then this indoor propane heater might be the right one for you.
It's cheaper than those other two options and covers smaller areas up to 250 sq. ft. This makes it ideal for home offices, bedrooms, guest rooms, small living rooms, and workshops.
As we mentioned already, it can either be a permanent heater mounted to the wall or a portable heater by using the included legs. No additional purchase for those parts is necessary.
Total heat output is 10,000 BTUs with a variable heat knob. And it comes with the ever-important Low Oxygen Shut Off (ODS) sensor for your ultimate safety.
---
---
If you're looking for an indoor propane heater for house use that mounts to a wall, then this is a top choice.
Not many indoor propane heaters for homes offer that level of convenience.
It comes with thermostatic control and five heat settings.
Micro heat adjustments are available between each heat setting so that you can find the perfect temperature for your needs.
The thermostat also turns the heater on/off automatically to keep the room at the warmth you desire. So once you set it, you can forget it.
As for total heat output, you get 30,000 BTUs of blazing heat that covers up to 1,000 sq. ft. But you don't have to use it at full blast or in large rooms to enjoy it.
In fact, you can make your propane tank stretch much farther if you use this heater in a smaller room and/or keep it on the low setting while operating.
For safety, it comes with a Low Oxygen Shut Off (ODS) sensor; however, it does have a ventless design which makes it a fully indoor safe propane heater that doesn't require ventilation. The ODS sensor is just there to protect you against any faulty mechanisms.
---
Propane Heater Buying Guide
What is a Propane Heater?
A propane heater is designed to heat rooms and small areas with radiant heat. Propane heaters differ from electric heaters by using liquid propane (LP) as the power source.
How Do Propane Heaters Work?
Propane heaters work with an ignition source, pilot light, burner, thermostat, and knob to control the level of heat. Many propane heaters employ a piezoelectric igniter that causes an electric spark when pressure is applied. This action ignites the propane fuel.
These types of heaters use liquid propane (LP)—not gas—because it comes in a portable tank that is available almost everywhere for people to buy.
Often referred to as "blue flame heating," propane heaters function like a furnace inside your house. The propane system creates heat and then it's disbursed throughout the room.
But unlike your gas furnace heater which can be as low as 70% efficient, a portable propane heater delivers 99% efficiency with every ounce of fuel it burns.
Much like your house furnace though, some of the best indoor propane heaters can sense the temperature of the air in the room. Then, when it falls below the desired heat level, the burner will kick on and hot air will be disbursed into the area.
As long as the tank that's fueling your heater has liquid propane in it, your heater will continue to run. However, you will need to check the tank every now and then to ensure that it's full and get it refilled when necessary. But that's something you can easily get done at stores that sell propane, including gas stations and hardware stores.
Types of Propane Heaters
There are many different options when it comes to propane heaters.
And finding the one that's right for you will depend on a few factors, including if you want a portable propane heater or a permanent indoor propane heater as well as if it needs to be ventless propane heater for indoors or vented unit for outdoor use.
Below are the different options for you to consider.
Portable Propane Heater
A portable propane heater is one that you can easily move from one room to another or from inside to outside without any concerns.
These heaters tend to be smaller, lighter weight, and have a handle or wheels for transport.
The most versatile portable propane heaters available use a small 1 lb. propane tank which makes them easier to carry and move around.
Some larger portable heaters can use up to a 20 lb. propane tank, but these kinds often include wheels for easier mobility.
Permanent Propane Home Heater
If you're looking for the best propane heater for house use, then you might want to consider a permanent propane heater.
Permanent heaters come in two types: tall units and wall mountable versions.
The tall heaters are often used in outdoor locations like a patio. The wall mounted heaters are for indoor use a great option if you want a fixed heating source inside your house.
Most permanent home propane heaters use 20 lb. or larger propane tank.
For the tall outdoor heaters, the tank is usually stored in the base of the unit.
For wall mounted heaters for indoor use, the tank is stored outside for safety reasons and a gas line runs through the wall to fuel the heater.
Ventless Propane Heater for Indoors
One of the best propane heaters to consider for indoor use is a ventless one.
Ventless propane heaters get their name because they don't need to have any special ventilation to operate safely.
A ventless heater works by taking the oxygen needed to fuel the combustion from the air in the room, heats it, and then disperses it back into the space.
You don't need to open a window when using a ventless heater because there are no concerns about carbon monoxide buildup.
Thus, ventless heaters are safe and effective heaters to add heat to your house.
While ventless propane heaters are mainly designed for indoor use, you can also use them outdoors which makes them making them an incredibly versatile heater.
You can also purchase a ventless heater in either a portable or permanent form as you saw in our propane heater reviews section.
Vented Propane Heater
Vented propane heaters require ventilation to operate safely.
As a vented heater burns fuel, carbon monoxide is released into the air and it can be dangerous to your health.
Vented heaters are primarily designed to be used outdoors for patios, camping, or inside garages that have good ventilation.
Since vented propane heaters come with a risk of carbon monoxide poisoning, it's imperative that you only use these devices in open areas.
If you place them in your garage or another closed in area, make sure to open a window to let the gas escape.
Vented heaters come in both portable and permanent designs.
When it comes to the best heater for indoor use, these units come equipped with an oxygen depletion sensor which automatically shuts the heater off if the breathable air in the room falls below a safe level.
However, many outdoor propane heaters are now coming equipped with that same function to keep users safe.
So, it's recommended that you only buy a vented heater that offers the level of safety if you intend to use it in an enclosed space.
Features to Look for in the Best Propane Heater for House Use
In addition to there being different types of propane heaters to choose from, these devices also come with a range of features.
Not every indoor propane heater will come equipped with these options listed below, but you can decide which ones you can't live without when choosing the best propane heater for your house:
Ignition Type: Propane heaters come with two different types of igniters: manual and automatic. Both ignition types are considered safe, but you may prefer one over the other. With a manual ignition, you have to light the pilot light with a match. With an automatic ignition, you just push a button to create a spark.
Total Heat Output: This refers to how hot your heater gets. Basically, the higher the BTU number, the bigger the room (i.e. square footage) it can heat. For example, a 10,000 BTU heater can cover approximately 250 sq. ft. while an 18,000 BTU model can cover around 450 sq. ft.
Heat Settings: Most propane heaters come with two or three heat settings, such as low and high, or low, medium, and high. These settings are what delivers the level of heat as it relates to the BTU output. For example, an indoor propane heater might offer 6k, 12k, and 18k BTU output in low, medium, and high heat settings. Just keep in mind that the higher the heat setting, the more propane is used at a faster rate. Thus, if you're looking for a way to conserve propane, you'll want to use a lower heat setting.
Blower Fan: Not all propane heaters have this feature because propane heat is so hot and it's delivered efficiently through a "radiant heating" process. Radiant heat uses invisible, electromagnetic waves to warm up objects around in a room. If a heater is equipped with a blower fan, then it will help speed up this process; however, it's not required.
Thermostat: When it comes to the thermostat on indoor and portable propane heaters, they use a dial that's labeled with the numbers 1 to 5 or the symbols – to +. These increments control the temperature setting, and the more you turn the dial, the warmer the heater gets. Some models also automatically turn on and off based on where you set the dial to maintain a set temperature in the room.
Casters: Some portable propane heaters come with casters (or wheels) which make them easier to move from place to place. They also make it easy to reposition the heater inside room if you need to.
Wall Mount: If you're looking to add a permanent propane heater to your home, then you might consider finding one with a wall mount option. This allows you to keep the heater out of the way and prevents it from ever tipping over. It also allows you to place it optimally in the room so that it keeps it cozy and inviting throughout the cold winter months.
Low-Oxygen Shut Off (ODS): This is an incredibly important feature on propane heaters and every high-quality indoor propane heater includes it. Since these heaters use propane as a heat source, the chances of carbon monoxide poisoning increases. Thus, this feature constantly monitors the oxygen levels in the room and when they fall into an unsafe threshold, the heater will automatically shut off.
Tip-Over Protection: To further ensure safety, you'll want to consider getting a portable propane heater with tip-over protection. This feature automatically shuts the heater off if it accidentally gets knocked over, reducing the chances of a fire.
Overheat Protection: To work effectively, propane heaters have to generate a lot of heat. This means there's a chance that the internal components could reach unsafe levels. However, to prevent the heater from ever becoming a fire hazard, overheat protection ensures that the heater will automatically shut itself off when those unsafe heat levels are reached.
Best Propane Heater Brands
The propane heater reviews you found on this page included the top 10 portable and indoor propane heaters for house use.
If you're still not sure which product you should buy, or just want to do a bit more research, here's a list of the top propane heater brands for you to consider.
Purchasing a heater from any one of these companies is often a good choice.
Avenger
Camco
Dewalt
Dyna-Glo
Dura Heat
Highland
Mr. Heater
Pro-Temp
PROCOM
What is the Best Indoor Propane Heater?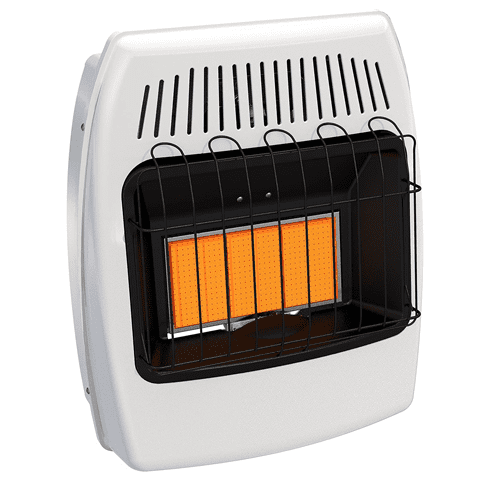 Our recommendation for the best indoor propane heater from the products reviewed in this guide would have to be the Dyna-Glo IR18PMDG-1.
It gives you the option to use it indoors by mounting it on a wall or using the included stand to set it on the ground. Not many propane heaters give you those options.
This model also has a total heat output of 18,000 BTUs which is sufficient for most people's needs. It heats up to 700 square feet.
If you're looking for the best space heater for basement areas, the Dyna-Glo model is a great one to get as well. It's also on our best space heater for large room guide too.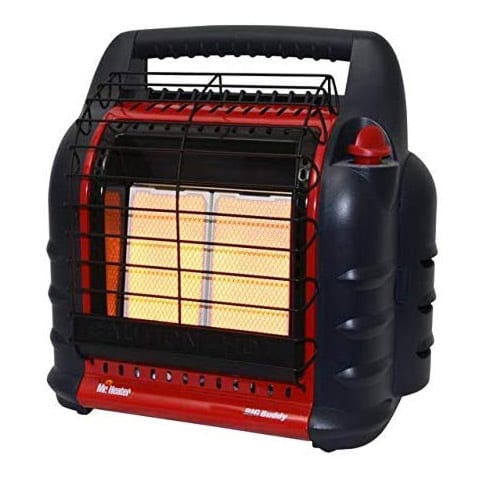 What is the Best Portable Propane Heater?
If we had to choose only one product from this list to be the best portable propane heater, it would have to be the Mr. Heater MH18B Big Buddy.
It offers the best balance between portability, heat output, and price. You can heat an area up to 450 square feet.
If you want the best propane heater for house use and outdoor use, then this is the one to buy. It's considered to be North America's most popular portable propane heater on the market.
Benefits of Using a Propane Heater
When it comes to adding space heaters to your home, you have a lot of options to choose from. However, there are benefits to using a propane heater, including those listed below.
Hottest Heat: If you're looking for a portable or indoor heater that provides the most heat possible, then you'll want a propane heater. Electric heaters max out at 1,500 Watts which is equal to around 5,000 BTUs in a propane heater. The average propane heater can get up to 18,000 BTUs (or more), which is a 260% increase in heat output.
Widespread Heat: Not only do propane heaters get hotter than other types of space heaters, but they spread that heat far and wide too.
Always Available: Since propane heaters don't use electricity to run, you'll always have a heat source even if the electricity goes out. This makes propane heaters ideal for emergency or backup situations in addition to everyday use in a house.
Silent: Since propane heaters don't have any moving parts, they're incredibly silent. Unless your model includes a blower fan, the only way you'll know these heaters are running is by feeling the heat.
Cheaper Than Electric Heaters: Using propane fuel is cheaper than electricity, so running this type of space heater in your house will save you more money (about a 20% savings over the best ceramic space heaters).
Portable: Many models come equipped with wheels and carrying handles, so they can be easily moved from one place to another. Also, the propane tank used to fuel these heaters is a separate item so the actual heating unit is very lightweight.
Indoor and Outdoor Use: Almost every propane heater can be used both indoors and outdoors as long as precautions are made. Ventless heaters are completely safe for either location while vented heaters will require an open window for ventilation. For outdoor patio areas, check out our best outdoor patio heaters guide.
Clean Burning Fuel: When using propane heaters you don't have to worry about smelling fuel during or after use. Propane is also less flammable than other fuel types, making it safer to store.
Cost: Since propane is less expensive than electricity per BTU, and these heaters are incredibly efficient, you'll be able to rely less on your electric furnace and save a great deal of money on your monthly utility bills.
Best Indoor Propane Heater Safety Tips
Propane heaters are an excellent source of heat in the winter; however, they do pose some risks if they're not used properly.
Here are some safety tips to help you keep your heater from turning into a hazard:
Never Leave it Alone: Since propane heaters use a flame to burn the gas, you should never leave these units unattended for any length of time. While a serious fire is rare, it's still not worth the risk of letting the heater operate without someone around to tend to it.
Keep Flammable Materials Away: The heat that propane heaters put out can be extremely hot up close. Thus, if flammable materials are next to or touching the unit there's a possibility of them catching on fire.
Ensure Adequate Ventilation: Vented propane heaters can emit carbon monoxide as they operate and if the room isn't properly ventilated then it could have serious impacts on your health or potentially lead to death. Even if your indoor propane heater is ventless, it's still a good idea to crack a door or window so fresh air can circulate in the room.
Choose the Right Location: To ensure that your propane heater is effective, you need to make sure it's placed in the right location. This includes keeping it away from flammable materials as well as putting it in an area where it won't accidentally get knocked over. The optimal location is in the center of a room where the heat can radiate throughout the entire space without being too close to any objects. Also, never use a propane heater in a bathroom. Wet areas like this need a special bathroom safe heater with specific safety features in place.
Give it Plenty of Space: Most propane heaters don't come with cool touch exteriors, so it's possible the housing will get incredibly hot. To reduce the chances of fires, follow the minimum recommendation stated in the product manual. A general rule of thumb is to make sure there's at least a 3-foot space around the entire unit.
Never Move it While it's On: Since propane heaters can get incredibly hot, you never want to touch it while it's on. Also, because there's an active flame, you could burn yourself accidentally if you move the heater while it's running. Thus, if you do need to move the heater, turn it off and wait until it has cooled.
Cost of Using an Indoor Propane Heater
If you're wondering what the cost is to use a propane heater, you'll be happy to know that these heaters are the most economical choice.
In fact, propane heaters give you around 20% cost savings versus electric heaters (i.e., ceramic, infrared, and oil-filled radiators).
The average local cost for propane is approximately $3 per gallon, and one gallon of propane contains 92,000 BTUs of heat.
Therefore, if you have a 10,000 BTU propane heater, you can get just over 9 hours of continuous heat. This means the cost to operate a 10,000 BTU propane heater is around $0.33 per hour.
As we mentioned earlier in this guide, most portable electric heaters max out at 1,500 Watts which is equal to 5,000 BTUs on a propane heater. Therefore, the average cost for an electric heater is $0.19 per hour versus $0.16 for a propane heater (or 20% cheaper).
As you can see, both portable and indoor propane heaters are the most cost-effective heating solution for any home—even when compared to the best infrared space heater.
Common Questions About Propane Heaters
Are Propane Heaters Safe to Use Indoors?
Yes, propane heaters can be used indoors as long as they're the ventless kind or you provide adequate ventilation for a vented heater. Many ventless indoor propane heaters also include a Low Oxygen Shut Off (ODS) system to automatically turn the unit off if it senses unsafe levels of carbon monoxide in the room.
How Long Will 100 Gallons of Propane Last?
You can estimate how long 100 gallons of propane will last by using the following formula:
(92,000 × Gallons) ÷ BTU Load ÷ Hours Used Per Day = Days Available
For example, if you have a 100-gallon propane tank that's being used to fuel an 18,000 BTU propane heater, then it would last around 63 days (or 511 hours) if operated for 8 hours per day. If the heater ran for 12 hours per day, then it would last for 42 days
Here's how the formula works out:
(92,000 x 100) ÷ 18,000 ÷ 8 = 63 days
(92,000 x 100) ÷ 18,000 ÷ 12 = 42 days
Is it Safe to Run a Propane Heater in My Garage?
Yes, it can be safe to run a propane heater in your garage if you follow safety protocols. This includes keeping highly flammable items away from the heater and making sure the room is ventilated. You should also consider adding a CO detector to the space, as this will ensure you don't get carbon monoxide poisoning.
Check out our best heater for garage reviews to find a good propane heater for this purpose.
Can You Get Carbon Monoxide Poisoning from a Propane Heater?
Yes, you can get carbon monoxide poisoning from a propane heater if it's not properly ventilated. Propane heaters that are not a ventless type release carbon monoxide as they burn, and this can be a health hazard. Always make sure the heater has a Low-Oxygen Shut Off (ODS) mechanism for your protection.
Do You Need Ventilation When Using a Propane Heater?
Yes, you need ventilation when using a vented style propane heater. Ventless propane heaters do not need ventilation. Vented propane heaters need oxygen to fuel the firing process, which fresh air provides, and an open door or window also allows carbon monoxide to escape the area.
How to Vent a Portable Propane Heater?
To vent a propane heater properly, you need to open windows or doors that lead to the outside in order to allow fresh air and oxygen into the space. Cracking a door or window 2-3 inches is usually sufficient.
How to Light a Portable Propane Heater?
To light a portable propane heater, you will open the control valve on the propane tank by turning the knob counterclockwise. You will then push in and turn the knob on the heater to the "Start" or "Light" position. To get propane into the heater, you will push and hold the knob.
Then, you will to light a match or press the igniter button on your heater until it makes a clicking sound. Depending on the type of heater you have, you may have to press the button several times. You'll then hold the knob for 30 seconds to light the burner. You can then release the knob and adjust the temperature control knob to the desired heat setting.
Can Propane Heaters Make You Sick?
Yes, a propane heater can make you sick if it's not well ventilated. Sickness occurs from carbon monoxide, which includes headache, dizziness, weakness, nausea, vomiting, chest pain and confusion. High levels of carbon monoxide inhalation can cause loss of consciousness and death. Ventless propane heaters do not release carbon monoxide, so they don't need to be ventilated.
Is it Cheaper to Heat with Propane or Electric?
In most cases, propane is consistently cheaper than electricity because it burns hotter and more efficiently. The cost per hour to use a propane heater is about $0.16 versus $0.19 for an electric heater. That makes propane heaters 20% cheaper than even the best oil filled heater which is also an economical choice.
However, if you live in an apartment, then you shouldn't use a propane heater because it may violate your rental agreement. For that reason, it's better to invest in an approved apartment space heater like the ones reviewed in that link.
Enjoy Your New Propane Heater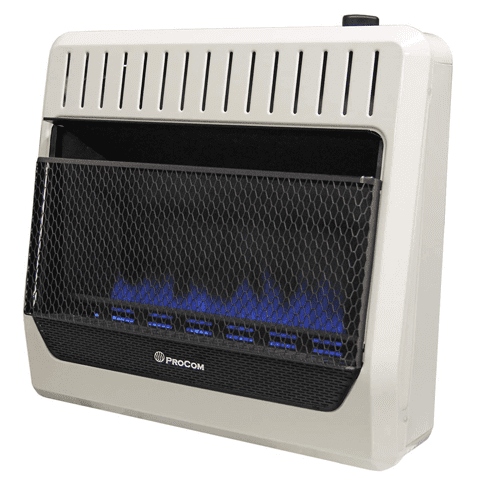 We hope this guide on choosing the best propane heaters for your house was helpful.
As you discovered, propane heaters operate much differently than other types of portable space heaters to provide warmth. In particular, these devices use propane (not electricity) to fuel the burning process, and the heat that comes off these devices is much hotter than their electric heater counterparts.
The best propane heater for house use is also much cheaper to operate than other types of heaters. As well, the best indoor propane heaters for homes include a variety of safety features to keep you and your family safe from any potential hazards.
Hopefully, you found the best portable propane heaters or permanent solution for your needs on this list and enjoy it to keep you toasty warm for years to come.