As you know, having a cold garage during the winter makes it unpleasant to work in. Fortunately, specialized heaters for garages now exist.
But how do you choose the best garage heater?
That's where this guide can help. It lists and reviews the best space heaters for a garage on the market today so you can find one that meets your needs and budget.
Disclosure: Home Air Guides is reader-supported. As an Amazon associate and affiliate for independent brands, we earn from qualifying purchases made through the links on our site. Learn more.
Garage Heaters Reviewed in This Guide
Image
Fireplace Details
Price
Fahrenheat FUH54 Heater

Best electric garage heater
BTU: 25,000
Coverage: 500 square feet
Type: Electric

Check Price
Mr. Heater F274800 MH18B Heater

Best portable garage heater
BTU: 18,000
Coverage: 450 square feet
Type: Propane

Check Price
Mr. Heater MH60QFAV Heater

Best propane garage heater
BTU: 60,000
Coverage: 1,500 square feet
Type: Propane

Check Price
Mr. Heater F260550 Big Maxx MHU50NG Heater

Best natural gas or propane heater
BTU: 50,000
Coverage: 1,250 square feet
Type: Natural Gas or Propane

Check Price
Dr. Infrared DR-238 Heater

Best electric garage wall heater
Wattage: 1,500
Coverage: 200 square feet
Type: Electric

Check Price
King KBP1230 Heater

Best compact electric garage heater
Wattage: 2,850
Coverage: 600 square feet
Type: Electric

Check Price
Mr. Heater Blue Flame Heater

Best vent free natural gas heater
BTU: 30,000
Coverage: 1,000 square feet
Type: Natural Gas

Check Price
Mr. Heater Corporation MH70KFR Heater

Best kerosene garage heater
BTU: 70,000
Coverage: 1,750 square feet
Type: Kerosene

Check Price
"We don't claim, by any means, that the list below is conclusive. But these are the specific models that we recommend based on intensive research and expert reviews," says Patrick Holmes, Senior Air Quality & Comfort Specialist at Home Air Guides. "Depending on your individual needs and preferences, one of these garage heaters may be able to guarantee your satisfaction. It can also help you get a grip on what the best garage heater should be and have."
Best Garage Heater Reviews (Top 8 List)
This is one of the best electric garage heaters you can choose if you have a medium-sized garage that fits 2-3 cars (about 500 square feet).
It's a surprisingly small garage heater with almost industrial-strength power that it offers, which makes it perfect for individuals who don't want to sacrifice too much of their precious garage space.
Even better, it has a relatively rare feature for such a unit, as it can also be mounted on a wall or ceiling with its emitted heat directed where you want it with an adjustable louver. This surely provides flexibility much-needed for manual work.
This FUH54 garage heater is definitely an excellent choice for your garage, workshop, or basement, with its max BTU of 25,000 and a wattage range from low to high of 2,500 to 5,000.
It's an electric heater, so you won't have to worry about connecting it to your gas installation or providing a gas cylinder.
It's a small heating unit that, once mounted on a ceiling or wall, won't disrupt your range of movement or routine. It's quite heavy (25 lbs), but since it's not a portable heater, it shouldn't really concern you.
Thanks to its thermostat, you can adjust the power to your needs and preferences (from 45°F to 135°F).
However, you need to bear in mind that you can't simply plug in this heater for it to work. As it has to be hardwired, you will need an electrician or another specialist who will be able to do this safely.
If you buy this garage heater through Amazon, though, you can additionally book installation upon delivery. This is another reason why we consider it to be the overall best space heater for garages.
---
We consider this to be the best portable garage heater for those who don't have an electricity supply in their garage or workshop.
It's sufficient to warm you during your work, especially if you direct it on yourself, providing between 4,000 and 18,000 BTU for areas up to 450 square feet.
Mr. Heater F274800 is incredibly safe, having the necessary safety features already built-in.
Thanks to the auto-shutoff system, the unit can turn itself off when it's tipped over, the pilot light stops working, or the oxygen levels drop too low.
Besides, its shock-absorbing insulation provides durability and easy replacement of the ceramic burner tile.
You only need to remember not to place it too close to any flammable materials, as it still gets quite hot at times.
You can move it to different locations with a comfortable handle, which is also foldable so that the unit doesn't take up unnecessary space.
Moreover, it's possible to buy an additional connecting kit that will allow you to power this garage heater with a propane tank – it's an excellent option for longer projects.
---
Propane garage heaters using the forced-air heating system are perfect choices for warming an entire space. This is especially beneficial if you spend a lot of time in your garage, workshop, or basement.
Such a device pushes heated air forward to make sure the whole room is warm. This model provides 60,000 BTU output to manage a space up to 1,500 square feet, which makes it one of the best space heaters for a garage of any size.
The MH60QFAV propane heater not only works well for garages, basements, or workshops, but also any utility spaces, events, factories, or patios, especially that it works incredibly quietly. This is thanks to the Quiet Burner technology that makes the unit half as loud as regular propane heaters.
It's high-quality, designed and produced with great care, equipped with a high limit switch, thermoelectric safety valves, a 10-foot hose, and the propane tank regulator.
Its standard tank can last up to 14 hours if it's on the low settings.
This propane heater for a garage comes with a continuous ignition feature, which means that you don't have to worry about the startup of the device – it will always be quick and clean.
---
If you're looking for the best gas garage heater that can use either natural gas or propane, then this unit has you covered.
This Big Maxx device produced by Mr. Heater can be powered by either of them and conveniently ceiling mounted to help you avoid giving up any of your garage space. It can warm areas up to 1,250 square feet, providing even 50K BTUs per hour.
Moreover, this garage heater is also available in a forced-air option, which is even more powerful and can cover up to 2,000 square feet.
Both options offer much more power than a regular garage needs to be adequately heated, so it's recommended not to use this heater in smaller areas, especially those with relatively low ceilings.
The Big Maxx garage heater has a powered exhaust system built in to enable horizontal and vertical venting. It has controls on its exterior if you want to be the thermostat (as it's sold separately) or gas connections.
It originally comes as a natural gas garage heater but can easily be converted to run on propane liquid – all you need is a conversion kit that can also be provided by Mr. Heater.
Additionally, there's a mounting kit provided as well to help you with the installation, which should be done at least 8 feet from the floor.
---
Not everyone has warmed to the idea of a device hanging from the ceiling, and when such a person doesn't have too much space on the floor, the range of products to choose from significantly narrows.
Luckily, it's not the end – Dr. Infrared Heater DR-238 is probably the best electric garage heater that was designed to be safely mounted on the wall.
The infrared heating system ensures fast but even warmth distribution both indoors and outdoors.
Depending on your needs and preferences, you can choose one of 3 different settings – low, medium, or high (900 watts, 1,200 watts, and 1,500 watts, respectively).
On the highest setting, it can provide enough heat if you're outside and it's chilly, or warm up a garage up to 200 square feet.
Once it's mounted on the wall, you only need to plug it into a 110/120v outlet, and it's ready to provide the heat.
Dr. Infrared heater comes with a ceiling mount bracket to facilitate installation, but you can also buy an optional tripod – you won't need anything else to hang it.
To make things easier for you, this garage heater can be controlled with a remote, which is already included in the original kit.
An electric garage heater may not be as powerful as a propane garage heater, but it certainly provides cleaner heat and additional safety; apart from that, it's easier and cheaper to maintain.
---
When you know that a small space heater won't be enough to warm up your space, but you would still like something more compact, the King KBP1230 garage heater is the way to go.
It's powerful enough to heat large areas up to 2,850 square feet even with a cold winter raging outside, which can pose a challenge for most other garage heaters.
According to the manufacturer (a trusted and well-established American brand: King), you can install it yourself in half an hour, but in case of any issues, you can call their customer support to walk you through the whole process over the phone.
King also offers a 5-year warranty on their products, proving the trust they have in what they do and the reliability of their devices.
Moreover, to save even more space, the King KBP1230 heater can also be wall or ceiling mounted.
The brand advertises their products for commercial purposes, but considering this unit's efficiency, it will also serve you well if you have a larger area to warm.
Made in the USA, all King's heaters have a flow-through design, which means that the air is pulled from the back and discharged out the front, allowing efficient air movement. It enables these heaters to manage with warming up areas up to 600 square feet.
Additionally, all heaters are available in different sizes and wattages for you to determine what you need.
Plus, for increased security, they all feature a patented Smart Limit Protection system, which means a device shuts the power off in case anything out of usual happens.
Another great option is the possibility to turn on the fan without heating, so the device can also provide you with cooler fresh air during summer.
---
A natural gas heater is an excellent and efficient choice if your home is already connected to a natural gas line.
It will provide you with both cheap and clean heat, and one of its greatest advantages is that it doesn't rely on an electric power supply.
So, in case of a power outage, it will still be able to warm you up.
Customers love this 30,00 BTU garage heater because it's flexible, easy to install, and maintain. Its great advantage is that it doesn't have to be vented to the outside, but for better air circulation, it still is recommended to avoid using it in really small areas.
It heats up to 1,000 square feet. And you can adjust its heating power to your needs by choosing one of 5 temperature settings. It doesn't require electricity at all.
What makes this one of the best gas garage heater units available is that it's recognized as one of the most energy-efficient options on the market as it's 99.9% fuel-efficient.
Additionally, it has an automatic shut-off feature in case of low oxygen levels, being tipped over, or the pilot light is out.
The small garage heater is specially designed to serve well as both a free-standing and a wall-mount unit, where it can be installed easily by virtually anyone.
For even more storage space saved, it has a convenient but foldable handle.
It also comes with a limited 2-year warranty.
---
Kerosene garage heaters are less commonly chosen than propane, natural gas, or electric garage heaters, but they certainly have their advantages.
With a tank capable of holding almost 3 gallons of fuel and producing 70,000 BTUs of heat, this garage heater can provide heat for about 6 hours straight.
Many users value this unit over other types of garage heaters because of how quietly it works – contrary to, for example, forced air heaters, you may not even hear it at all.
Plus it heats large garages up to 1,750 square feet.
You are also enabled to operate the thermostat and heat output to control fuel consumption.
Apart from that, this kerosene garage heater can be switched to diesel fuel as well. However, bear in mind that the device still needs electricity to work.
One thing you should know is that this unit comes with a short, less than a foot long cord, so you may want to buy an additional extension cord if you don't have a dedicated location for the heater.
To make this device more portable and easier to move, the manufacturer equipped it with an ergonomic handle and durable wheels.
---
Garage Heater Buying Guide
From the type of heater you prefer, to the space it can cover, when it comes to buying a garage heater, there are a few things you'll need to consider.
Below, we'll take you through everything you need to know about garage heaters. This information can help you make a better-informed decision when it comes to purchasing one of these units, and ultimately, will help you find the best garage heater for your needs.
Types of Garage Heaters
Gas Powered Garage Heaters
Propane or natural gas garage heaters don't need electricity at all, which makes them more cost-effective as well as portable (unless there's an issue with your installation and it's a device connected to your natural gas line).
They run or gas or fuel, thanks to an extremely controlled flame located inside the unit that heats the air, which is later pushed into the room by a fan.
As discussed on our gas heater vs electric heater page, gas-powered garage heaters can heat up space quite quickly and maintain the temperature for extended periods without disruptions.
Whether it's natural gas or propane, even the best space heater for garage of this type needs some regular maintenance to keep them working safely. Some people even opt to use this type of heater inside their homes.
If you want to see what's available, check out our list of the best indoor propane heaters here.
Infrared or Radiant Garage Heaters
Most types of heaters produce heat by heating the air, while a radiant or infrared heater warms the object you direct it at – this may be your work surface, you, a wall, or floor.
They can heat it up quite fast directly but, logically, will need much more time to cover larger areas.
The top rated infrared heaters available are best for projects involving woods and other messy materials, as because they don't have fans, they won't stir up dust particles and other waste products.
Fan-Forced Garage Heaters
A fan-forced garage heater draws the air through a fan, warms it with its heating elements, and blows it back into the room.
A quality device of this type can efficiently warm up enclosed spaces of almost all sizes and is able to do it in a relatively short period of time.
However, because it blows the air around the room, this garage heater can make quite a mess if you work with wood or paint.
Garage Heater Power Sources
Electricity
In general, electric garage heaters tend to be more expensive to maintain than other space heater types that run on fossil fuels such as natural gas.
Still, they are commonly chosen for both commercial and residential purposes, mostly because of their ease of use; apart from that, electric devices have become way more powerful recently, making them the best option for larger areas.
Moreover, the best electric garage heater units reviewed on this page are also safer to use, as they come with a variety of modern safety features.
Natural Gas
Natural gas heaters are incredibly cost-effective, especially if your house is already connected to a natural gas line.
Cost-effectiveness is especially important for heating larger areas and using the heater for longer periods of time. These units are usually quick to warm up and relatively stable in the long run; plus, they cool off quickly, so you don't need to worry about leaving them suddenly.
Propane
Propane garage heaters are a popular alternative for those who can't or won't use an electric garage heater but aren't connected to a gas line.
The main disadvantage is that they need to be refilled often if you run them for hours on end, and you should always think ahead to avoid a situation when you would be left without heat in the cold.
If you're looking for a heater for recreational purposes (e.g. your patio) then this is good option to consider. Take a look at our best patio heaters list for the top recommendations.
Kerosene
A kerosene-powered garage heater is usually portable and reliable.
You can find two types of kerosene heaters: the radiant or convection one.
The former is best for smaller areas, as it uses a reflector or a fan to direct the heat at the desired object.
The latter, on the other hand, is designed for larger spaces, as it is cylindrical and can distribute heat evenly outwards and upwards.
What to Consider Before Buying a Garage Heater
How Big Is Your Space?
There's really no need to look for the most powerful device if you only need a heater for your medium-sized garage.
On the contrary – if you buy a garage heater with too much power, you may create an excessively hot environment or even a safety threat.
Not to mention that it would simply be a waste of money. So, measure your space carefully to make the right decision.
Apart from the size of your garage, you also have to think about the shape of the space you need to heat, as logically, a square room will be much easier to heat up than a room of the same size with more walls and corners.
What Do You Want to Heat?
If you only want to warm yourself up when you work in your garage or workshop, it may be enough to buy a small, portable heater – it won't cost you much even in the long run, and you will be 100% satisfied.
However, if you have a larger space or work with other people, you will have to consider where you will need the heat.
Can You Power It?
Consider available or desired power source to choose the most suitable solution.
For example, if you are connected to a gas line, a natural gas garage heater would be the best option, being the cheapest to maintain.
However, if you need a device to often provide you with heat for considerable periods of time, you probably wouldn't like a propane garage heater that needs to be refilled way too often for such frequency of use.
Do You Need It to Be Portable?
If you need a device for different projects that you will carry out in various locations, then you definitely need to focus on finding a portable device.
The best portable garage heater units on the market can be powered by both propane and electric. So just choose the type prefer.
However, if you have a workshop and want to heat the whole space evenly, then a fixed garage heater would be the better choice. The best wall heaters reviewed on this page would be a better option in this situation.
How Much Can You Spend?
The average price of a garage heater is around $200, but you can find small units for as little as $25 and large and powerful ones up to $1,000, so be sure to choose according to your needs.
Common Questions About Garage Heaters
How many BTUs does it take to heat a 2 car garage?
It takes around 45,000 BTUs to heat a 2 car garage with a fan-forced system. It takes around 30,000 BTUs when using an infrared heater.
What is the most cost-effective way to heat a garage?
The most cost-effective way to heat a garage is to get a properly sized heating unit. Trying to heat a garage with a heater that's too small will waste electricity and gas. Therefore, you want the right size heater for the space to heat it effectively.
Where should a heater be placed in a garage?
A heater should be placed in the coldest corner of the garage and directed towards the center to get the most heating benefits.
Can a garage heater be too big?
A garage heater can be too big for a space. If the heater is too big, then you'll waste money on heating power that you can't use. Also, the bigger the garage heater, the large it is in size, and a large heater in a small space can cumbersome to work around.
We explain this concept in more depth on our article about will space heaters save money. So give it a read if you're interested in learning more about
Are infrared heaters good for a garage?
Infrared heaters are good for a garage. An infrared garage heater directly heats the people and objects in the space as opposed to the air. This is a more efficient method of heating than other types of heaters.
You can learn more about these heaters in our instructional guide on how infrared heaters work.
Is a propane heater safe in a garage?
A propane heater is safe in a garage if it's rated for use in that space. Some garage propane heaters require ventilation so that carbon monoxide does not build up. However, ventless propane heaters do not need ventilation because these units do not release carbon monoxide.
Can you heat an uninsulated garage?
You can heat an uninsulated garage with a gas, propane, infrared, or fan-forced electric heater. Some of heat will be lost during the heating process without proper garage insulation, but you can still warm up the space with any of those types of heaters.
If you choose an electric heater for your garage, then be sure to have reasonable expectations of the energy costs in an uninsulated garage. You can get a better idea of this by reading our post on how much electricity does a heater use.
Is a garage heater worth it?
A garage heater is worth it if you use your garage for anything other than parking your car or using it as a storage space. If you spend time working in your garage, then heaters are worth it to keep the space from being too cold to spend time in.
Best Garage Heaters Safety Features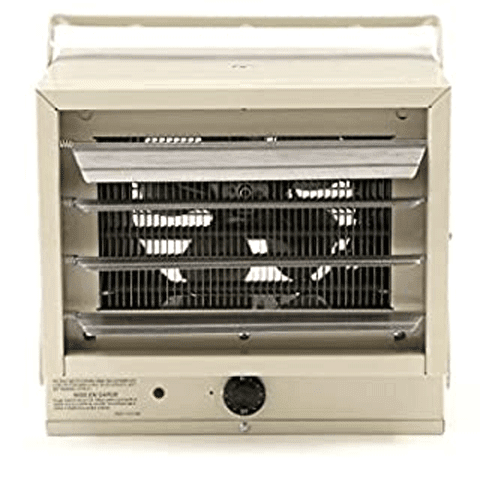 No matter the power source of your garage heater, you should always pay attention to built-in safety features or those that can be added independently.
Different types of heaters may involve completely different potential threats, but some properties worth looking for in these devices include:
Guards and other safety nets are essential for you not to burn yourself by accident. You probably know better than to touch heaters, but accidents happen, and you should limit all the risks.
The overheat protection system makes sure that the device shuts itself off when any heating element gets too hot.
The tip-over protection system allows the heater to turn off in case it's tipped over.
Using a Garage Heater – Safety Tips
The Electrical Safety Foundation International (EFSI) says to always "make sure your space heater has the label showing that it is listed by a recognized testing laboratory." And before using the space heater, "read the manufacturer's instructions and warning labels carefully."
Additional tips on using a garage heater safely include:
Plug directly into an outlet. Make sure your outlet provides enough power for the amount recommended for your heater. Then, if it's possible, plug it directly into an outlet, as all additional cords increase risks.
Don't leave your garage heater running unattended. You never know what will happen, so it's better to turn it off every time you leave, even if it's for a relatively short period of time. Even the safest and the best garage heater can malfunction.
Make sure it's stable. It will reduce the risk of the unit tipping over.
Always have a certified technician to repair it.
Don't cover it. It's not a regular radiator, so don't put anything on a garage heater to dry off.
Keep an eye on children and pets, if you have any.
Keep flammable materials away from your garage heater. Yes, you can find a large or small garage heater with special added protection, but whenever there's heat involved, you'd better not take any risks.
Enjoy Your New Garage Heater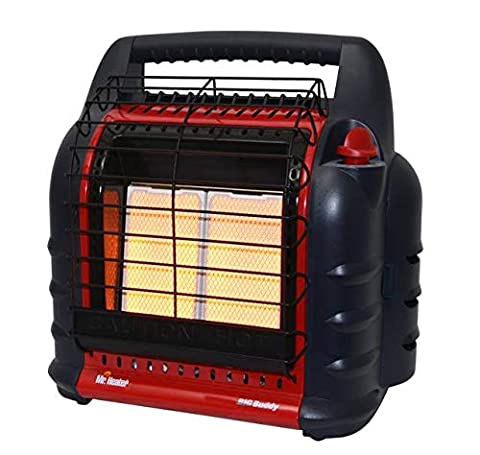 As you can see, there are many things to consider while researching the best garage heaters.
However, if you sacrifice some time to make a well-thought-out decision, you will be able to provide the desired amount of heat whenever and wherever you need it while remaining comfortable and safe – so it's definitely worth it.
All types of heaters, no matter their power source, have their advantages and disadvantages.
Their significance will depend on your individual needs, requirements, and preferences, so make sure to consider them carefully.
Know what you will need your garage heater for, how much space it will have to heat up, and what kind of power source is the easiest for you to provide.
Whether you decide on an electric heater, a small space heater, or a propane gas-powered device, be 100% positive that it's precisely what you need.
Equipped with all the examples and information we have provided, we are sure that you can now easily find the best space heater for garage that will be suitable for your personal needs.