Feeling cold in your bathroom is certainly an unpleasant experience.
Stepping on cold tiles or shivering while waiting for the water to get warm is something that many of us are desperately looking to get relief from during the colder months.
Fortunately, there's a simple solution: buying one of the best bathroom heaters available.
But how do you find the best space heater for bathroom heater for your needs? Should it be a portable bathroom heater, wall heater, ceiling heater, or fan heater unit?
To make things easy for you, we've put together a list of the best bathroom space heaters on the market. And you'll find the top choices for every type.
We hope one of these bathroom safe heaters makes your life a lot more enjoyable this winter.
Disclosure: Home Air Guides is reader-supported. As an Amazon associate and affiliate for independent brands, we earn from qualifying purchases made through the links on our site. Learn more.
Bathroom Heaters Reviewed in This Guide
Here's a quick comparison chart showing the top bathroom heaters. We'll cover each aspect of these units in the reviews section below, but this gives you an idea of what's available and an easy way to compare them.
Thanks to small bathroom heaters, you do not have to increase the central heating in your whole home, which would generate more costs—you can just make your bathroom warmer and cozier for your bath or shower.
However, with so many products from various manufacturers being available at the market, you may feel overwhelmed and confused on which to pick.
For that reason, we have gathered all of the products that were evaluated as the most recommended with their detailed descriptions below.
Best Bathroom Heater Reviews
The Lasko CD08200 bathroom heater may look modest due to its small size, but in fact, it is one of the best bathroom heaters out there.
Its size is actually an advantage because, as a result, it can be conveniently used even in a very tiny bathroom.
Also, as it does not weigh too much, you can easily transfer it to another interior that needs heating at a given moment.
Nonetheless, this model is also powerful enough to provide warmth even in a bigger bathroom space. In fact, it can cover up to 225 square feet faster than you think.
If you prefer simple devices over those that have too complex and confusing settings, then this is a perfect portable bathroom heater for you.
All you have to do after turning it on is just select between low heat and high heat on the push-button panel. You can trust us that those two options are enough to provide you with satisfying results!
What is more, it has a significant safety feature: efficient overheat protection. This means that in case this bathroom heater produces too much heat, it will automatically shut-off, so there is no danger of it going on fire.
Apart from that, even when it is set on high heat, it remains cold to the touch, so you will not get burnt by touching it.
One important feature that this bathroom heater is lacking is an automatic switch-off in case of knocking over. However, thanks to a wide base keeping the device stable, it is not likely to happen.
It is also worth knowing that this portable space heater can collect a lot of dust on the back of the unit where the fan is. So make sure to clean it off on a regular basis so it continues to heat the most efficiently.
But if something does go wrong, Lasko provides you with a 3-year limited warranty on the unit. This manufacturer has been providing its clients with some of the best space heaters for a bathroom for over 100 years, so you can be pretty sure that this unit will last.
---
Apart from being one of the best portable bathroom heaters, this device can also be used in smaller rooms and offices.
It is very practical and versatile, so it can easily meet various needs.
Due to the fact that it is a portable heater, you can move it from one room to another and always provide pleasant warmth whenever necessary.
However, we noticed that its handle is not positioned best—its angle can make it easy for the device to slip off your hands. Therefore, it is recommended to ensure a firm grip when carrying it (with two hands preferably).
One of the most significant advantages of this bathroom fan heater is its water-resistance. Thanks to this feature, there is no risk of condensation, which is crucial in every room with a lot of moisture.
Nonetheless, it does not make it waterproof, so it is still best to keep this portable bathroom heater away from water splashing around.
Still, it has a vital safety feature that ensures that in case of tipping the device, it will automatically switch off.
Apart from that, this bathroom heater will also cease working when it gets too hot due to the included overheat protection.
Another useful safety property is the ALCI that can detect any electrical risks in advance. The ALCI feature is a ground-fault interrupter built into the cord to prevent electrical shocks.
As this portable heater has a built-in thermostat detector, you can easily check the temperature in your bathroom or any other interior.
This device has three modes:
You can use the exhaust fan without producing any heat which is a program designed to provide a pleasant chill during summer.
On cold days, you can use the 750 watts and 1500 watts mode for heating.
This bathroom fan heater has oscillation levels of up to 80 degrees, so it can cover quite a wide surface.
There is a 1-year limited warranty provided by the manufacturer, so you can use that for protection if you notice that there is something wrong with this OPOLAR small heater for a bathroom.
---
If a good wall-mounted heater is what you are searching for, then this product manufactured by Broan is definitely worth your attention.
We consider this the best bathroom wall heater for anyone who wants a seamless installation. It's not too expensive or hard to install, and it offers a lot of useful features that will make it possible for you to get the most of it.
In this bathroom safe heater, you will find a front-mounted, built-in thermostat where you can adjust the temperature you like to have in your bathroom without any difficulties—it is easy to reach and straightforward to operate.
And thanks to the color-coordinated knob there, you will see what settings the heater is on in the blink of an eye.
On top of that, the heating element placed in the center of this device is completely energy-efficient, so you will be able to save on your electricity bills.
As the alloy in the heating element is of very high-quality, it can heat up fast when this wall-mounted heater is turned on.
To provide the proper maintenance of such a device, you can take it out of the housing anytime you want to clean it.
Also, the motor in this wall heater is permanently lubricated to allow for easier care. This way, you can avoid expensive repairs.
To promote even heating, this 20-gauge steel construction with enamel finish has been enriched with louvers allowing you to direct the heat downwards.
This model is factory-wired for 1500 watts at 120 volts for 100 square feet of heat But if it is necessary for your installation process, you can easily convert it to 1500 watts at 240 volts or 750 watts at 120 volts for 100 square feet of heat.
It is also worth keeping in mind that the producer provides 1-year limited warranty.
---
The Stiebel Eltron CK 15E is another great choice for anyone who wants a wall-mounted bathroom heater without having to run electrical wires.
This is the best bathroom wall heater available for anyone with a simple set of tools. The space heater is very easy to install because it's mounted to the surface of the wall without needing to make a hole in it or connect the unit to an electrical panel.
Just attached the space heater to the wall, plug it into a standard power outlet, and you're good to go.
What's more, is that this model is highly appreciated in the market for its amazingly quiet operation. If noise reduction is a crucial factor for you, such a wall-mounted bathroom heater is one of the most suitable options for you.
On top of that, its construction is very solid, so it cannot be damaged easily, and it is likely to serve you for many years.
We have been surprised by how powerful this wall-mounted heater is. You can use it not only in your bathroom, but it can even prove useful in other rooms of the home, for instance, your basement.
There are various heating temperatures to choose from, so you can easily adapt the device to your current needs.
The only significant drawback we have noticed is the fact that this wall heater is a bit more expensive than other products in the same category.
However, it also has a longer lifespan than many other bathroom heaters, so it seems like an excellent investment.
On top of that, it is outstandingly energy-efficient, so it allows you to enjoy more effective heating and save some money.
In this way, even if its price is relatively higher than a portable unit, this Stiebel Eltron wall heater is likely to pay off in the long run. Also, it does not have to be set on the maximum heating level—you can select a program designed to provide less heat and more money-savings.
For more convenience, this Stiebel Eltron bathroom heater has been enhanced with a 7-day timer. As a result, you are able to program it for a longer period without the need to adjust all the settings from scratch every day.
As there are controls with backlit LCD, it is very straightforward to use, and all the information provided is clear and readable.
Furthermore, Stiebel Eltron has improved its bathroom heater with superb additional features, such as open window detection and frost protection.
As you can see, this is the best space heater for a bathroom for anyone that wants convenience. And it is worth investing in despite the relatively higher price. To confirm its quality, this German manufacturer offers 3 years of warranty.
---
Finally, a bathroom safe heater like this exists.
It's something we've all been wanting but just didn't know something like it was even made.
This innovative bathroom heater manufactured by Minetom has been featured on As Seen on TV, and there are a number of good reasons for that. Overall, we consider it the best budget bathroom heater you can find.
One of its main pros is undoubtedly the compact size, namely 4.3″ x 2.8″ x 6.5″ inches. Being so small, it can be conveniently used in a tiny bathroom, tight spaces, and carried from one place to another without any difficulties.
It's also a wall-mounted bathroom heater fan with no cords to deal with. This is especially useful for people with mobility issues, like the elderly, who may find it challenging to bend over or lift heavier objects.
Apart from that, this small heater for a bathroom is highly appreciated for its modern appearance and low profile. It also takes up just one power outlet and leaves the other outlet free for you to plug in other electronics.
Another convenient feature of this bathroom heater is its rotating plug with 3-prongs. To alter the rotating degree, all you have to do is just push the button under the plug.
And, if quiet operation is vital for you, this bathroom heater would be a fantastic suggestion. But do not think that it means it is less powerful—it can efficiently heat up to 100 square feet to provide pleasant warmth without disturbing anyone trying to sleep or concentrate.
It is also worth pointing out that this bathroom heater has a digital thermostat that not only gives you the choice between high or low heating but actual degrees to set. You can select the desired temperature between 60°F and 90°F.
Plus, no matter how high you set it, the outer surface will always stay cool, so you don't need to be afraid to touch it when it is on.
You should also note the low wattage of this bathroom heater. Its parameters are just 350 watts, 120 volts, 2.9 amps, and 60Hz. This means that it will not consume too much energy and will not affect your electricity bills too much. Moreover, it will not overload the circuit.
For higher clarity and convenience of use, this Minetom bathroom heater also has a LED display and a timer. You can set it anywhere between 1 and 12 hours for it to automatically turn off; taking into account there are 1-hour increments only.
It truly is a one-of-a-kind heater for bathroom use, but can be used in any small room of the home actually. If you do buy this unit, then you may want to pick up two or more during checkout to use in other rooms or additional bathrooms in the home.
---
According to our team, this is the best bathroom ceiling heater we have ever seen. It is a very safe model as it has an overheat protection system included.
Furthermore, like any other heater of this type, it does not create a risk of accidental knocking over as it is installed above your head.
Additionally, this Broan-NuTone model allows you to avoid leaving it working unintentionally because you can easily program it with a simple timer.
This bathroom ceiling heater can work under 1250-watt heating power, which should be enough to cover all of your bathroom space and provide you with pleasant warmth for a morning or evening shower.
It is also worth noticing that bathroom ceiling heaters are particularly safe, as the risk of splashing them with water is very low.
A pretty interesting feature of this model is that you can combine fan and light bulb generated heat or just choose one of those options if that is your preference.
To make it a low-maintenance ceiling-mounted bathroom heater, the manufacturer enabled it with permanent lubrication so you do not have to worry about oiling it.
You should also know that it is a low-profile bathroom heater, and it will successfully function as an energy-efficient supplement to your home heating system.
It is a very durable ceiling-mounted device as it has been made from a solid aluminum grille. It will also be an elegant addition to your existing decor as it has a stylish satin finish.
The installation process of this unit is very straightforward: it can be mounted in any standard 3-1/2″ or 4″ round or 4″ octagonal ceiling electrical box. And when the heater is mounted, it should not extend too much from the surface.
One last thing to note here is that if you are looking for a bathroom heater that provides great heating power, it may not be a good idea to pick this Broan-NuTone device. It can efficiently radiate heat across the interior thanks to the built-in fan, but it is not that powerful if you want the most heat output for your money.
However, if you're set on getting a ceiling-mounted heater, then this is the best bathroom ceiling heater on the market right now.
---
De'Longhi is a top brand for all types of heating units, and this is one of the best bathroom fan heaters available today.
The manufacturer has certainly put the safety issues at the forefront of this portable small heater for a bathroom that everyone can appreciate.
Namely, it has a GFI safety plug and has been designed with IP21 that is aimed at protecting you against condensation and water drips that can be a problem in a bathroom.
Also, to keep your pipes safe from freezing, the device has been enriched with an anti-freezing feature.
But the most fascinating benefit of this fan heater is its foot pedal. Thanks to this element, you can conveniently activate motorized oscillation and spread the heat all around the room faster and more effectively. No other heater we've seen on the market has this option.
You can easily adjust the settings in this bathroom heater too. There is a 24-hour programmable timer with 3 heat settings, so you can have the warmth as intense and as long-lasting as you need.
It is also a great choice if you are looking for a powerful heater for your bathroom because it has 1500-watt heating power. This can make your bathing and showering experience more enjoyable because it will get toasty warm in the entire space.
This is one of the most lightweight portable heaters for bathrooms or other areas, so you will be able to take it with you whenever you need some additional heat with no hassle.
You may even want to consider using this heater in your office or another work area because of the combination of features you get with it.
---
If you want the best small heater for a bathroom that won't dry out the air, then this is a good choice.
There is no fan or speed settings. It's an oil heater, which means that the inside is filled with oil. And as this oil heats up, it then emits heat which is radiated into the room.
The oil lasts for the lifetime of the heater and you never need to replace it. It's a nice innovative solution for a bathroom and works well for most people's needs.
This bathroom heater manufactured by De'Longhi has 1200 watts of heating power, and it will prove excellent in small bathrooms that need additional warmth on cold days.
A crucial feature of this bathroom safe heater is the built-in GFCI function. GFCI stands for a ground-fault circuit interrupter and is a circuit-breaker that can react quickly and shut off the electricity in case of a ground-fault.
It can power off as fast as in 1/40 of a second, so it makes this heater really well-suited for a bathroom when such a failure can be particularly life-threatening.
Furthermore, this bathroom heater can maximize radiant heat flow, at the same keeping a low surface temperature with vertical thermal chimneys.
You can easily adapt this product to your personal needs and preferences as there are three heat settings and a customizable thermostat.
Impressively, this model also has an energy-saving timer enabled with 96 settings to choose from—you can select any heating periods throughout the day and night.
Thanks to its compact size, it is the best bathroom heater for a small space.
For additional safety reasons, this bathroom heater has a thermal-cut off feature and a gently rounded shape.
So if you want the best space heater for a bathroom that doesn't cost much or blow hot air directly at you, then this is a top choice to consider.
---
Bathroom Heater Buying Guide
If you want to learn more about bathroom heaters or just need some additional advice on how to choose the right space heater for your needs, then this section can help.
Below, you'll find out about teach type of bathroom heater available, get answers to the top questions about these heating units, and learn how to use one of these units safely.
Types of Bathroom Heaters
There are many different types of space heaters available, but when it comes to a bathroom, there are essentially three types to choose between for added warmth.
Portable Bathroom Heaters
Portable bathroom heaters are small units that can easily be moved around. If you're looking for a good space heater for a bathroom that can also be used in other rooms of the house, then you may want to consider a portable heater.
These bathroom heaters come in three types:
Ceramic heater that uses ceramic plates to transfer heat to the air.
Fan heater that uses an electric coil to deliver warm air.
Oil heater that uses an internal oil heating system to warm up a set of columns and slowly radiate that warmth to the surrounding air.
Wall Bathroom Heaters
Wall bathroom heaters are a permanently installed units that provide dedicated heating to a single room. These heaters are a good long-term solution for cold bathrooms.
These bathroom heaters come in two types:
Wall-mounted heaters are mounted directly onto the wall's surface and plug into an electrical outlet. These units are typically easy to install and can be used by anyone that doesn't have much electrical installation experience.
In-wall heaters are mounted inside the wall panel and require you to cut a hold in the drywall. You also have to run the electrical wires to the house electrical panel for it to work. Professional installation is recommended if you're not familiar with doing electrical work.
If you're interested in getting an efficient heater for other rooms of the home, consider our guide on the best wall mounted electric heaters for common living areas.
Ceiling Bathroom Heaters
Ceiling heaters are a good long-term solution for heating a bathroom. These units are also the best choice for anyone who doesn't want to use a portable bathroom heater or bathroom wall heater.
Ceiling heaters are mounted directly to the ceiling of the bathroom and require a direct connection to the house electrical panel. These units are the longest-lasting option.
These bathroom heaters come in two types:
Ceiling heater with a light.
Ceiling heater without a light.
Common Questions About Bathroom Heaters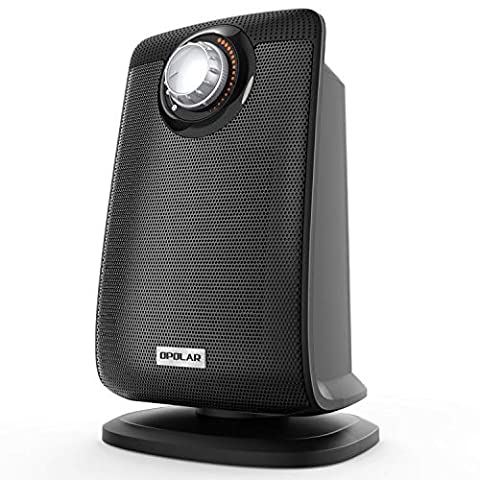 What is the best heating for a bathroom?
The best heating for a bathroom is a fan heater. Bathroom are typically small rooms and a fan heating unit can warm it up quickly and efficiently. Fan heaters can have either ceramic plates or an electric coil to heat up the bathroom air.
What heaters can be used in a bathroom?
The heaters that can be used in a bathroom are as follows: fan heater, ceramic heater, oil heater, wall heater, and ceiling heater. The best and most safe bathroom heaters will include a GFCI function that can act as a circuit-breaker to shut off the electricity to the unit in case of a ground-fault.
How can I heat my bathroom in the winter?
You can heat your bathroom in three ways:
Run the shower with hot water. The steam will warm up the bathroom.
Use a bathroom space heater to heat up the air.
Install a heated floor system under the flooring material.
Can I use a ceramic heater in a bathroom?
You can use a ceramic heater in a bathroom as long as you do it responsibly. Even though there is water vapor in the air, most ceramic space heaters are still able to run without any problems. Just keep it away from any water source like the sink or shower so that it doesn't get splashed.
The best ceramic heaters for a bathroom will include a GFCI function to protect the unit and yourself from any harm if the heater does get wet.
If you want to learn more about ceramic heaters and how they function, then check out our page on how do ceramic heaters work.
Can I use a fan heater in a bathroom?
You can use a fan heater in a bathroom. And in many cases, a good fan heater will take about 5 minutes to warm up the bathroom. For the safest use, keep the fan heater away from the sink and shower so it is not close to any water sources.
Are bathroom heaters safe?
Bathroom heaters are safe when used responsibly. Portable bathroom heaters must be kept away from water sources like the sink and shower faucets. Wall heaters should not be touched or become a hanger for wet towels. Ceiling bathroom heaters are the safest because their mounted up high.
According to Consumer Reports, "it's also safest if your heater has an appliance leakage current interrupter (ALCI) plug." The heating and electrical experts at R.S. Andrews explains that "ALCI plugs are used to monitor the current coming into the appliance. If the device senses an imbalance, it cuts off power in a fraction of a second. Think of it as a circuit breaker to your appliance. If it senses danger, it eliminates the risk.
Benefits of Using a Bathroom Heater
Now that you know how to find the best bathroom space heater for your needs, let's take a look at some points for why it is worth purchasing in the first place.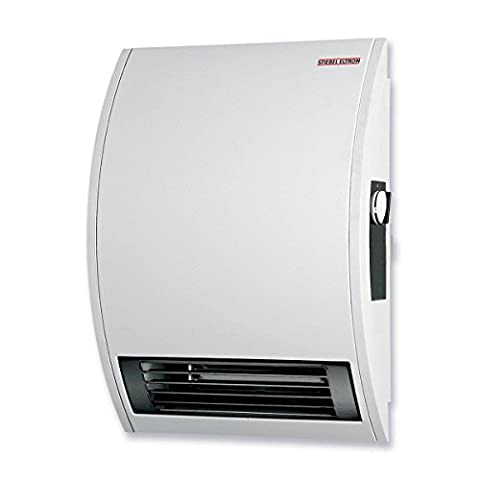 Keeping Your Bathroom Warm and Cozy
As it was mentioned earlier, the primary purpose of bathroom heaters is to keep a pleasant temperature when you are about to take a shower or bath.
Thanks to such an enhancement, you will no longer have to get quick ablutions to get in your towel or bathrobe as soon as possible.
You will be able to actually enjoy the experience and start or end your day in a very enjoyable way.
Helping to Reduce Moisture and Odors
As a space heater for your bathroom will heat up the air, it will also keep it free from moisture and odors.
As a result, it will contribute to avoiding the development of mildew and mold that is not only harming the appearance of your bathroom but is also detrimental to your health.
Making Your Bathroom Safer and More Convenient
It is also worth knowing that such a space heater can make your bathroom a safer place.
As it evaporates all the wetness left after taking a shower, there will be no risk of slipping on the floor when you or someone else goes to the toilet, for example.
Additionally, as it will keep your mirror dry, it will enhance its convenience of use – you will not have to wipe it to see anything.
It is understandable that you may have second thoughts about placing an electric device in your bathroom but keep in mind that there are, for instance, safe-to-use ceiling-mounted or portable heaters that allow you to keep them away from water.
Easy to Use and Not Requiring Too Much Maintenance
Another advantage of a bathroom heater is that it is really easy to use.
In most cases, you just need to plug it in, turn it on, and choose the preferred heating power.
What is more, such a product also does not require too much maintenance. All you have to do is clean it sometimes to make sure that there is no formation of grease in it.
Money-Saving
People often wonder will space heaters save money? Fortunately, you can appreciate the fact that even the best bathroom heaters are not too expensive.
The total price depends on many factors, such as a heater type, brand, overheat protection or other additional features, and so on.
Nevertheless, these units are usually energy-efficient and provide you with a wonderful performance. Running them is also money-saving due to the fact you do not heat your whole home but just a chosen area that you are focusing on at a particular moment.
The South Alabama Electric Cooperative reports that "space heaters can be an efficient choice for heating a single room or small space. If there is one area of your home that always seems a little colder than others [like a bathroom], or if you're just looking for a little extra heat, a space heater can be an efficient alternative to raising the temperature in your entire home."
The true cost for how much electricity does a heater use will depend on your usage. But overall, you can expect to pay around $0.19 per hour for a 1,500 watt heater in a bathroom.
How to Use Bathroom Heaters Safely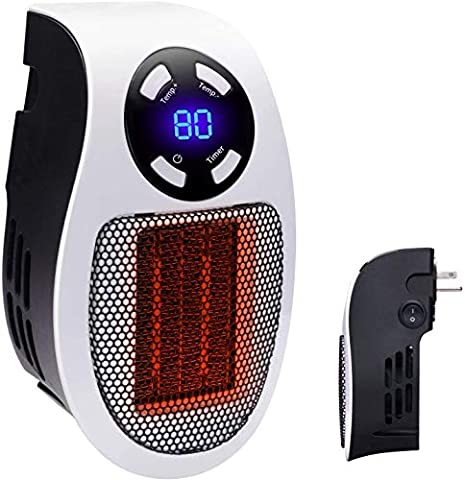 When you already have the best space heater for your bathroom, please bear in mind to follow all the safety rules to enjoy the pleasant warmth without any risks to your health.
A bathroom is quite a dangerous place in general—there is a risk of slipping and falling on the floor or some installed fixtures, and also, faulty electrical wiring can hurt you when it has contact with water.
To keep you safe while using bathroom heaters, always stick to the following rules:
Use a Heater Dedicated for a Bathroom
One of the most significant rules is to pick the best bathroom space heater, adjusted to your needs, from the list of products dedicated for such use.
As there are many products of this kind, you should always find a type of heater that will suit your preferences.
It is not recommended just to buy any space heater you like because it should be designed to work properly in a damp environment, especially if it is a portable heater.
Keep It Away From Water
Bear in mind that even those bathroom heaters that are supposed to be waterproof should be kept away from water just in case.
Do not place such a device in a place where you know splashing can occur easily or in a spot where pipes can leak onto it easily. Our #8 best oil filled radiator heater reviewed above includes a GFCI function as an extra safety precaution in case it gets wet.
If you do not want to worry about where to put your unit, you can just choose one of the ceiling heaters or install a wall-mounted one as high as possible. This way, you will make it harder for anyone to reach the heater, so it lowers the risk of getting injured.
Also, remember that even if bathroom heaters are adapted to work in damp spaces, you should not mount them just above your bath or shower because even if you do not splash them with water, there will be a lot of steam reaching this area.
Additionally, stay away from electric baseboard heaters. Although they may seem convenient, they're more susceptible to water damage because of the longer length. You can check our baseboard heater reviews for good options to use in other areas of the house.
Do Not Obstruct Bathroom Heaters
Take into account that you should never use bathroom heaters for other purposes than just producing heat in a certain space.
It may be tempting to use it to dry your towel or a piece of clothing you need as soon as possible, but obstructing any type of heater can be detrimental to the device and dangerous for you.
Always Have a Fire Extinguisher Just in Case
Even if you follow all the rules above, it is always recommended to have a fire extinguisher in the room where you use a bathroom heater.
It does not have to be a huge purchase – a small fire extinguisher is relatively cheap, and it will help you to stay safe in many different circumstances.
Enjoy Your New Bathroom Heater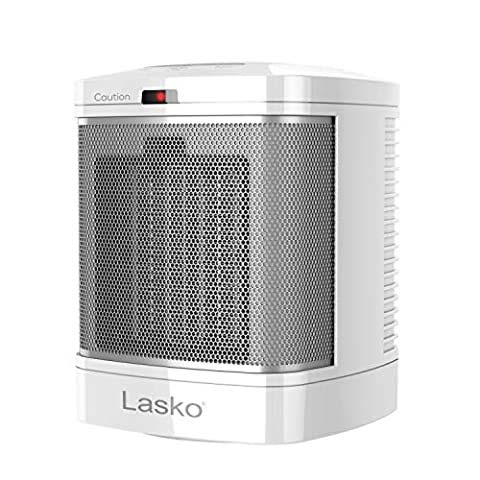 All in all, there are many bathroom heaters for you to select from, and you will certainly find the best model for your needs.
We hope that our buying guide has helped you to understand what you should look for in every bathroom heater and which products are the best deal.
You can select from a portable bathroom heater, wall heater, or ceiling mounted heater, depending on your needs and budget.
You should always remember to choose a model that is the least risky to use. To get a good bathroom safe heater make sure that it has such features as a GFCI safety plug, an overheat protection system, or a tipping switch-off if it is a portable unit that sits on the floor.
Nevertheless, even if you buy the best space heater for a bathroom and install it in a safe spot, you should never allow it to be obstructed or get wet.
We are convinced that the best bathroom heaters we gathered for you above will be a great choice that will improve your showering or bathing experience.
Have a good purchase!