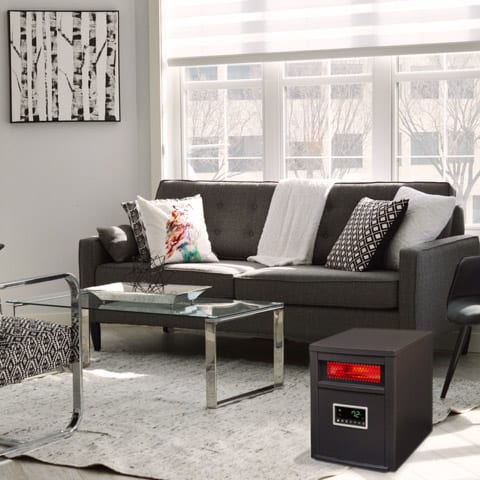 Are you looking for a good infrared heater that can keep you warm and cozy all winter long?
Would you like to find one of the best infrared heaters on the market that come with high energy savings?b
If so, you've come to the right place.
Infrared heaters are incredibly efficient when it comes to warming up a room and they're a great choice to ward off the winter chill.
But, finding the best infrared space heater can be a bit of a challenge.
That's why we put together this guide: to help you find the top rated infrared heaters that work for your needs and budget.
So, if you want to find the best electric infrared heater that can make your bedroom, living room, office, or apartment nice and warm, then these infrared heater reviews are perfect for you.
Disclosure: Home Air Guides is reader-supported. As an Amazon associate and affiliate for independent brands, we earn from qualifying purchases made through the links on our site. Learn more.
Infrared Heaters Reviewed in This Guide
Here's a quick comparison chart showing the top infrared heaters. We'll cover each aspect of these units in the reviews section below, but this gives you an idea of what's available and an easy way to compare them.

Best Infrared Heater Reviews (Top 9 List)
When it comes to the best infrared heater on the market, this model tops practically every list.
Why?
Because it uses 100% of the heat produced. This creates almost zero loss in heat transfer which makes it extremely efficient at heating large areas up to 1,000 square feet.
Plus, it combines radiant infrared heat with convection heat through a fan. That makes it 60% more efficient at heating a space than other models.
This model includes a digital thermostat and a temperature display for precise heat control and wheels for easy portability.
Another particular feature that makes this infrared heater stand out from the rest is the fact that it can be upgraded to include a humidifier. Since winter air can be drier, putting moisture back in the room can help relieve dry skin, a stuffy nose, itchy throat, and respiratory issues.
Safety features on this heater include tip-over and overheat protection. And it only becomes warm to the touch if you put it on the hottest heat setting; otherwise, the exterior stays cool.
---
This is another infrared heater that can heat up to 1,000 square feet, making it great for large basements, living rooms, open floor plans, etc.
This is a portable tower heater that's lightweight with a traditional wooden exterior that complements any room décor. And since this heater is tall, it takes up less room than other portable infrared heaters.
It also comes with an oscillating fan to help distribute the warm air throughout the room to heat the space more efficiently as well as a digital thermostat, temperature display, and remote.
The safety features on this heater include an automatic shutoff when it reaches 80 degrees, tip-over protection, and a cool-touch exterior.
---
If you want a WiFi controlled infrared wall heater, then this is the one to buy.
You can control every aspect of it from your smartphone and set up personalized heating schedules with the app. (A remote is also included if you want to use it.)
Although it's a modern device, this infrared heater is also perfect for older homes that have colder rooms that need some extra heat. The reason being is that this model only uses 1000 Watts, which makes it less likely to cause electrical issues (e.g. tripped breakers) with older or poor wiring.
That lower draw of watts also makes this the best infrared space heater for use in an apartment or office space where power consumption is a concern.
Plus, this unit has a compact design and is made to be mounted on a wall. Total room size coverage is 500 square feet.
It has an LED display that shows you what the ambient air temperature is at all times and the safety features include a cool-touch exterior, tip-over protection, and overheat protection.
---
This fixed infrared heater is another powerful option and can be used in rooms up to 1,000 square feet.
The great thing about this unit is that it not only heats your space but it can also be used as a side table. With a cool-touch exterior, you can place books, plants, or other decorative items on the top, making it an excellent choice for a living room or bedroom.
This infrared heater is also an energy-saver by including a built-in digital thermostat that automatically turns the device off once the room has reached the ideal temperature.
It also comes with an ECO mode that balances power consumption to save additional energy while it perfectly maintains a warm 68° F.
Included with this infrared heater is also an advanced timer that allows you to program the heater to turn on or off in up to 12-hour increments. That way you can have a room toasty warm before you even step foot into it.
Two final features worth pointing out are the inclusion of a fan to help distribute the heat through the room more quickly and an air ionizer system that purifies the air to make it clean and healthy.
---
This is an alternative to our #5 infrared heater review that has a more modern look to it.
Although it's wrapped in a black metal cabinet, this heater still has a cool-touch exterior so you can set things on it if you'd like.
This model also comes with the same heat settings as our previous review including the ECO mode which keeps the unit from running on the full 1500 Watts of power.
Most of the other features are to same as well including a digital thermostat, a fan, and remote.
It has a bit more room coverage; however, and can heat an area up to 1,500 square feet. For that reason, it's one of the best infrared heaters for large rooms.
---
This infrared heater, like the one listed above, comes with a more modern design with a black and gray exterior.
However, one of the biggest differences between this heater and the last one reviewed is the fact that the Homegear model is half the weight of the Lifesmart heater with similar dimensions.
At a little over 11 pounds, this infrared space heater is lighter and easier to move around if you need that type of portability.
However, compared to the previous model, this infrared heater only heats rooms up to 1,000 square feet, but that may be all you need.
It has three heat settings, including low, high, and the energy-saving ECO mode, and has a quiet fan for dispersing the infrared heat as well as a remote control.
Overall, this infrared heater may be small and lightweight, but it packs a powerful and stylish punch.
---
This is one of the most portable infrared heaters on our list.
Its small, compact size makes it easy to carry anywhere you go and weighs only 4 pounds. You'll never have to overexert yourself to have portable heat.
There are two heat settings, 400 and 800 Watts, which makes it best for rooms up to 300 square feet.
The safety features included with this infrared heater are tip-over protection, overheat protection, and a cool-touch exterior.
Another nice perk is that it's virtually silent when it runs.
So if you want the best portable infrared heater, this is a good choice.
---
Our last infrared heater recommendation is this popular model here.
It's the best budget infrared heater available that comes in two exterior designs: black and wood.
If you go with the black option, the controls and carrying handle are located on the top of the unit. And it weighs 14.6 pounds.
If you choose the wood case, the controls are located on the front and there is no carrying handle. It's also a bit heavier than the black version, weighing in at 23.5 pounds, so this option might be better suited as a fixed place heater.
Both heaters come with four heating elements, including 750 and 1500 Watt power settings, and an ECO mode to help you save on your energy bills.
As for room size coverage, these infrared heaters can warm rooms up to 1,000 square feet.
This infrared space heater is also equipped with a remote control, an 18-hour timer, and overheat protection. Those are all features that make it a good addition to any home living space, office, or apartment.
---
This infrared heater is another one that can heat up rooms that are 1,000 square feet in size.
It's quick too and can heat up a large room in as little as 10 minutes.
It comes in a wood case with wheels so you can move it from one room to another with ease.
The digital thermostat with an LED temperature display lets you adjust the temperature to ensure your room is as warm as you want it.
Some of the safety features included in this infrared space heater are a cool-touch exterior and overheat protection.
It's safe to use around kids and pets, making it the best infrared space heater for families who want a wood cabinet design.
---
Infrared Heater Buying Guide
If you'd like to learn more about electric infrared heaters, including how they work, features to look for, comparisons to other types of heaters, and answers to common questions about infrared heaters, then this section can help.
What is an Infrared Heater?
An infrared heater is a type of heating unit that uses infrared light to warm up a room. This is a different process than other types of heaters, like conventional heating units, that heat up air molecules.
How Do Infrared Heaters Work?
An in frared heater works by converting electricity into radiant heat. Infrared heaters emit electromagnetic waves (invisible light) that are absorbed by your body and objects in the room.
The process of infrared heating is similar to the sun. These heaters use infrared rays at a frequency between 9 to 14-micron meters. These waves heat up particles in the surrounding environment which causes them to circulate. This results in the objects in a room—and you—getting warmer.
According to NASA Science, "the terms light, electromagnetic waves, and radiation all refer to the same physical phenomenon: electromagnetic energy. This energy can be described by frequency, wavelength, or energy." And infrared heating is 100% safe to be around. It does not cause cancer or harm your health.
When you add one of the best electric infrared heater to your house, office, or apartment, you'll be able to heat up your entire body with a warmth that feels more natural than a furnace or any other type of space heater.
And because an infrared heater works by heating up both the objects and human bodies that are around it, the process makes infrared space heaters more efficient than even the best ceramic heaters on the market. That's because those types of heaters warm up air molecules, and the air is a poor conductor of heat.
In fact, the best infrared space heater can help to lower your heating bill by 50% because you don't have to run it as long or as hot as other types of heating units.
While it's true that infrared heaters run on electricity, these devices use a quartz tube or ceramic element as the heat exchanger. Since these materials are incredibly efficient and can last for a long time, they have the ability to convert more than 95% of the electricity that's put into the heater into usable heat.
There are even some infrared heaters that can convert 100% of the input electricity into heat (like our #1 review above), making them some of the best infrared heaters on the market.
As you can see, the way an infrared heater works makes it super-efficient and a great option for warming up any room. If you want to learn more about this topic, visit our page on how do infrared heaters work.
Types of Infrared Heaters
When it comes to finding the perfect infrared heater for your needs, you have different options to choose from.
These include the following:
Portable Infrared Heater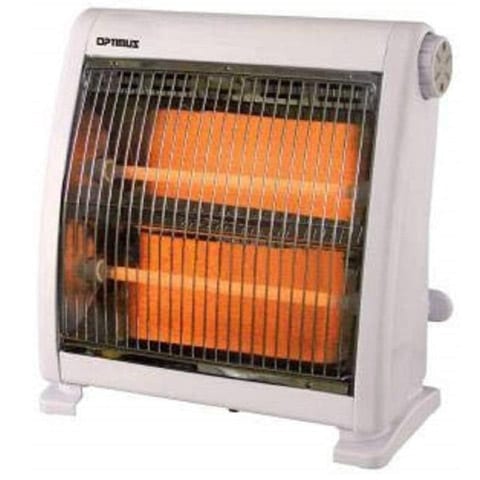 For some people, portable infrared heaters are the top choice to buy.
Portable units are equipped with wheels and/or handles as well as being lightweight to make them easy to move from one place to another.
If you plan on moving your infrared space heater often, then you want to get a portable infrared heater to make it easy as can be.
However, there are some infrared heaters that are less mobile than others but are still considered to be portable. These models are generally a bit larger and may be equipped with sliders on their feet to make them easy to push across the floor.
Those types of portable infrared heaters may not be as convenient to move but they can be a good option if you have larger rooms you want to keep warm. They're also a good option for outdoor patios. To see what's available for that purpose, check out our best patio heaters page for some good recommendations.
Fixed Infrared Heater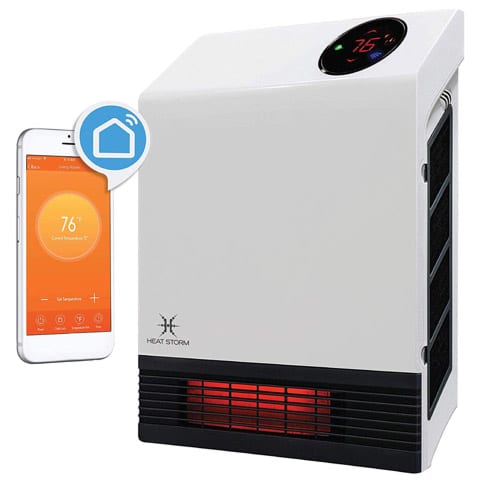 Fixed infrared heaters aren't meant to be moved at all.
These models are usually large and heavy, and they don't come with wheels or carrying handles for transport.
In most cases, these types of infrared space heaters are meant to be in a permanent location and have a decorative appearance.
Some models, like our #5 infrared heater review above, can even double as a side table. Others, like our #3 and #4 reviews, come with brackets to mount the heater on the wall.
Having a fixed infrared heater can be a great choice if you want a dedicated device in one room to keep it comfortable. These types of infrared space heaters can be a great addition to a living room, bedroom, bathroom, garage, or office space and are considered to be the best energy efficient electric heater for year-round use.
If you're looking for a good garage space heater, check out our garage heater reviews page.
Features to Look for in the Best Infrared Space Heaters
In addition to infrared space heaters being portable or fixed, they also come with a variety of different features.
Some devices are incredibly simple with only an on/off switch and heat setting, while others are more advanced with WiFi control and scheduling capabilities.
Finding a top rated infrared heater for your own needs will depend on your budget and the options you can't live without.
Here's a list of the top features you'll find in infrared space heaters today:
Fan: Not all infrared heaters come equipped with a fan. Remember, they function much like the sun. They warm up bodies and any objects around them, so they don't really need a fan. However, a few models do come with this feature to help speed up the warming process.
Heat Settings: The heat settings on infrared space heaters refers to the wattage used. Often, there are only two choices: a high and low setting. This might include 1500 Watts for the high setting and 750 Watts for the low setting. On select models, there can be a third setting, usually referred to as "medium", that gives you an additional layer of heat control.
Energy Saving Eco Mode: If your infrared heater is equipped with this mode, it will only use enough power necessary to heat up the room. That means that if it's really cold, then it may use the high setting to bring the temperature in the room up to the desired degree. And once the optimum temperature has been reached, the heater will automatically drop into the lowest setting to keep the room cozy. The purpose of this mode is to use the least amount of energy possible, which translates into the most money saved on your electric bill.
Thermostat: When it comes to the thermostat on an infrared heater, you have two options: manual and digital. A manual thermostat uses a knob to control the temperature but doesn't offer specific temperature degrees. A digital thermostat uses push-buttons to dial in a specific temperature degree. It also displays that temperature on an LED screen.
Air Filter: Some infrared heaters are equipped with an air filter to help improve the quality of air while it heats a room. It accomplishes this by removing airborne contaminants like dust, allergens, and other pollutants.
Oscillation: Although it's rare, some infrared heater models do come equipped an oscillation feature that turns the heater from side to side so that the room is heated evenly.
Timer: A timer lets you set the desired amount of heating time before the unit automatically turns off. Each model is different when it comes to the timer settings, but they typically range from 1 to 24 hours of run time.
WiFi Control: A few infrared heaters now offer WiFi control. This feature allows you to control the heater from a smartphone or other mobile device. You can also set up a heating schedule just like with a programmable house thermostat.
Tip-Over Protection: In the past, space heaters were viewed as a fire hazard because if they were tipped over, they wouldn't stop running. Currently, many infrared heaters incorporate tip-over protection so that if they're accidentally knocked over, they'll shut off.
Overheat Protection: The heating elements inside infrared heaters get incredibly hot. In the past, that could have led to a fire. However, with this safety feature in place, the heater will automatically shut itself off it reaches unsafe temperatures to prevent any chance of it becoming a fire hazard. This is especially important when looking for the best space heaters for bedrooms to keep you safe while you sleep.
Cool-Touch Housing: Many models come with cool-touch housing which means that the outside of the heater stays cools to the touch to prevent burns. If you have kids or pets in your home, this is an essential feature to look for if they're going to be playing near the space heater.
Remote Control: If the infrared heater has a remote control, this means you won't have to get up to change the heat settings, and this can make staying warm incredibly convenient.
Best Infrared Heater Brands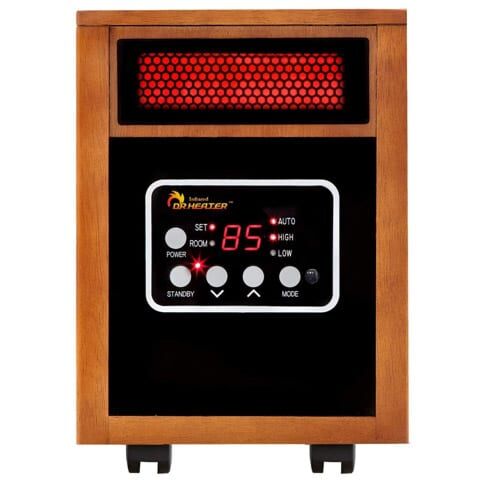 The infrared heater reviews you found on this page included the top 10 space heaters that are currently available.
If you're still not sure which product you should buy, and need to do a bit more research to make a final decision, here's a list of the top rated infrared heater brands for you to consider.
Purchasing a space heater from any one of these companies should give you the comfort and features you need.
Comfort Zone
De'Longhi
Duraflame
Dr. Heater
Dr. Infrared Heater
Heat Storm
Homegear
Life Smart
Optimus
Several of these brands are also featured in our reviews on the best heater for large room page.
Advantages of Using an Infrared Heater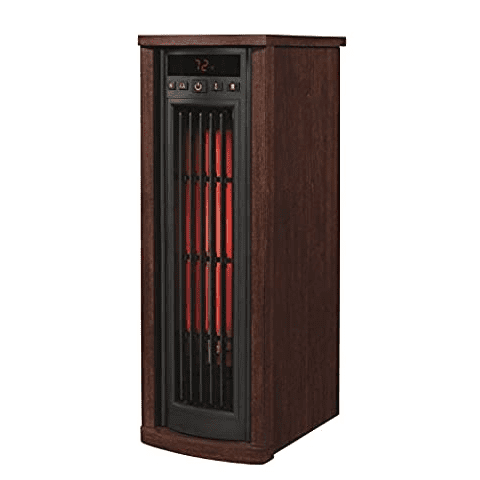 There are many different types of space heaters available on the market today.
And any one of those heaters can be effective at heating up a room in your home.
However, there are some major advantages to getting an infrared heater which you may enjoy below:
Instant Heat: When it comes to creating heat, other space heaters rely on heating up the air to warm a room. This can take a lot of time because the heater needs to heat the entire volume of air to make it consistently warm. Infrared heaters emit infrared light as soon as they're turned on and since they warm objects and bodies, and not the air, they take almost no time to get you warm.
Heat Lasts a Long Time: With other heaters, once they shut off and are no longer heating the air, the air cool down. Since infrared heaters heat objects around them, it takes longer for these items to cool off, which means the space will stay warmer, longer.
Silent: The vast majority of infrared heaters don't have fans to distribute the heat around the room, which means they are incredibly quiet. This is ideal if you're heating a bedroom while you're trying to sleep or you don't like unnecessary noise in a living or work area.
Doesn't Dry Out the Air: During the winter, the air has a tendency to get drier and if you're running a fan heater it can take even more moisture out of the environment. Since infrared heaters don't need to rely on fans to distribute the heat, they won't remove moisture from the air. This is beneficial to keep skin from drying out and cracking or your throat and sinuses from getting sore. If you want to use a heater in a bathroom, then you may want to visit our best bathroom heater list. It includes the top units that can help dry out the air in a high-moisture environment like this.
Lower Risk of Fire: With the safety features that are included on many different models of infrared heaters, if they get too hot or are accidentally tipped over, they will automatically shut off. This reduces the risk of flooring or other objects overheating and catching on fire.
Environmentally Friendly: There are some space heaters that need fuel to run, and these devices can pump harmful gases into the air as they operate. Since an infrared heater doesn't run on fuel, you won't have to worry about harmful chemicals filling the air. In addition, infrared space heaters use less energy than other types of space heaters, which makes them more efficient at heating your home.
Stylish Design: A lot of infrared space heaters are designed to look like a piece of furniture, with many of them having wood exteriors. Others can be mounted on a wall. This makes them look better and more stylish than ceramic heaters, which can look like mechanical tower fans or industrial units. You may also want to consider our guide on the best electric fires and the best electric wall fireplace for a more cozy or modern look.
Cost: Many infrared heaters come with an affordable upfront cost, and then they can help you save money by reducing your heating bill by being energy efficient. Remember, infrared heaters warm up objects and bodies in a room, so they don't have to run continuously like other types of electric space heaters that only heat the air.
Infrared Heater Safety Tips
When selecting the best electric infrared heater for your home, you should always look for a unit that contains a label of approval from a certification agency. This certification label may be located on the outside of the package and on the unit itself.
According to the U.S. Department of Energy, you should "only purchase newer model heaters that have all of the current safety features. Make sure the heater carries the Underwriter's Laboratory (UL) label."
In Canada, the Standards Council of Canada recognizes several certifications and marks for certifying electrical equipment approval: CSA, UL and ULC.
Now, here are some of the top safety tips to help you keep your infrared heater from turning into a hazard:
Don't Use an Extension Cord: Even though infrared heaters are efficient and can use electricity effectively, it's important that you plug them directly into the wall. This ensures that they're pulling the power needed to run optimally and reduces the chances of overheating an extension cord and causing a fire.
Use a Grounded Outlet: If you're running your infrared heater on high, then you need to ensure it's plugged into a grounded outlet. It can use a lot of electricity and if the outlet isn't grounded it can overload the grid.
Choose the Right Location: The goal of adding an infrared space heater to your home is to provide supplemental heat during the cold winter months. Even if it's equipped with safety features, you still want to put the heater where it can't be accidentally knocked over. It's also beneficial to place the unit where the heat can flow easily into the space to warm the room quickly and evenly. The best places are generally in a corner pointed out toward the center of the room, next to a wall or even mounted on the wall.
Keep it Clear: Even with a cool-touch exterior, an infrared heater is still capable of burning you or your pets. Since this heater heats up everything in the room, not just the air, if you or a pet stands too close they could overheat. Remember, an infrared heater functions much like the sun, so being directly in front of the heater could lead to injuries similar to a sunburn. It's also important to not place anything in the way of the heater. Again, this heater is capable of heating up everything in its path, including furniture, curtains, and flooring. If any of those objects are highly flammable or get too hot, it could result in a fire. To stay warm and safe, it's advised that people and objects stay 12-18 inches away from infrared space heaters.
Cost of Using Infrared Space Heaters
How much does an infrared heater cost to run each month?
That's a common concern people have about these devices.
Sure, they provide toasty and long-lasting warmth, but at what cost?
One thing to keep in mind is that these space heaters work best as a supplemental heat source, not a primary heating device in your home. To get the most value out of an infrared heater, you'll want to use it in conjunction with your furnace.
By doing so, you can lower your overall heating costs each month because you won't have to rely so heavily on either heating source.
As for how much an infrared heater will cost you to run, here are the details:
The cost to run your infrared space heater will depend on the electricity rates in your area. The national average is 0.13 kWh.
To figure out how much it will cost you to use an infrared heater, you can use the formula below or this handy calculator. (Two examples are also provided below to ensure you understand how the formula works.)
Step 1: Multiply the number of watts the heater uses by the number of hours per day you plan to use it.

(Number of watts X hours of use = A)

Step 2: Multiply the answer you get from the first equation (A) by the electricity rate per kilowatt-hour for your area. You can find this on your electric bill.

(A X electricity rate/kilowatt hour = B)

Step 3: Divide answer B by 1,000, and this will tell you how much it costs to run an infrared space heater.
Example 1:
A 1500 Watt infrared heater used on the highest setting for 8 hours per day at 0.13 kWh would cost $1.56 per day to use. Here's the math based on the above formula:
1500W X 8 hours = 12,000
12,000 X 0.13 = 1,560
1,560 ÷ 1,000 = $1.56 per day
Example 2:
A 1500 Watt infrared heater used on a lower setting, like 750 Watts, for 8 hours per day at 0.13 kWh would cost 0.78 cents per day to use.
750W X 8 = 6,000
6,000 X 0.13 = 780
780 ÷ 1,000 = 0.78 cents per day
Infrared Heaters vs Other Types of Heaters
Infrared heaters are not the only type of portable space heaters. However, infrared heaters do have some advantages over the competition.
Below, you'll find how infrared heaters compare to other types of heaters:
Infrared vs Ceramic Heater
When it comes to deciding between an infrared heater vs ceramic heater, an infrared heater is better for your overall health and quieter than ceramic heaters. Infrared heaters don't dry out the air and many don't include a noisy fan. An infrared heater is also ideal for heating localized living areas and can accomplish the task in a shorter amount of time than a ceramic heater.
Infrared vs Radiant Heater
Infrared heaters and radiant heaters one and the same. There is no difference between the two because each heater uses the process of radiant heating to warm up a space. Infrared heaters and radiant heaters use electromagnetic waves to spread out there heat and warm up all of the objects in a room as opposed to the air itself.
Oil Filled Radiator vs Infrared Heater
Oil filled radiators can be a great source of supplemental heat in your home but infrared heaters are often a better option for people. The main difference is how each appliance works to heat the surrounding space. Infrared heaters heat bodies and objects around them which produces quick and long-lasting heat. In contrast, oil filled radiator heaters warm the air around them and not the objects in a room which makes them slower at heating up a space.
If you're interested in learning more about oil heaters, you can view our best oil heater guide.
Infrared Heater vs Propane Heater
Both infrared heaters and propane heaters use infrared rays to heat up a room. However, infrared heaters run on electricity while propane heaters are fueled by liquid propane (LP). A traditional electric infrared heater is safer to use in many ways because it doesn't use a flame or emit carbon monoxide as some propane heaters do. However, the best indoor propane heaters that have a ventless design don't emit any toxic fumes.
Common Questions About Infrared Heaters
Can I leave infrared heater on all the time?
Yes, you can, and it's actually advised that you do this. The best way to ensure your heater is running properly is to get one equipped with automatic temperature settings. This will ensure that the heater turns itself on/off to keep your space at the ideal temperature.
Do infrared heaters use a lot of electricity?
How much electricity an infrared heater uses depends on the heat setting you choose. Most infrared space heaters use anywhere from 750 to 1500 Watts. However, since these appliances are incredibly effective at heating a room in your home, they don't need to run continuously.
When people ask this question, what they really want to know is "do space heaters save money on the electric bill. And this answer is yes when compared to a central heating system.
If you live in an apartment, you might want to consider investing in an infrared heater to help lower your overall utility bills. Many of the models reviewed here are also listed on our best space heater for apartment guide.
How much does it cost to run a 1500 watt infrared heater?
A 1500 watt infrared heater costs around $0.19 per hour to run based on the national electricity average of $0.13 per kWh. Therefore, a 1500 watt infrared heater will cost around $1.56 per day when run for 8 hours or $48 per month.
See this post for more information on how much electricity does a space heater use.
How effective are infrared heaters?
Infrared heaters are incredibly effective and can heat the room in as little as a few moments. Infrared heaters are also more energy-efficient than other types of electric space heaters. The top infrared heaters use 100% of the heat they produce which creates almost no loss in heat transfer when warming up a room.
Is infrared heater better than electric?
Infrared heaters are better than standard electric heaters when it comes to efficiency and cost-savings. However, electric heaters do have their place, and one type may be better suited for you than the other. It's best that you compare the features and benefits of an infrared heater vs electric heater to find the right type for your needs.
Both models of heaters are listed on our best electric heater for basement guide. So, if you're looking for a space heater for downstairs, you'll be happy with either type.
How many square feet will a 1500 watt infrared heater heat?
As a general rule of thumb, a 1500 watt infrared heater will heat 1,000 to 1,500 square feet. With an infrared heater, you'll need roughly 1 to 2 watts of heating power for every square foot of floor area in the room.
Where should I place my infrared heater?
You should place your infrared heater in a position that allows the infrared rays to come into contact with as many objects in the room as possible. Placing your infrared heater in this way will ensure that the warmth created will be absorbed and re-emitted by the floor, walls, and furniture.
Can infrared heaters damage furniture?
Infrared heaters cannot damage furniture. Infrared heaters do not emit harmful radiation. And because infrared heaters do not dry out the air, it is a safe heating option for your furniture.
Can infrared heaters cause health problems?
Infrared heaters do not cause health problems. Infrared heating is 100% safe for your well-being as the human body is designed to accept and emit infrared waves. It is ultraviolet radiation that can harmful, not infrared electromagnetic waves.
The World Health Organization (WHO) states, "despite extensive research, to date there is no evidence to conclude that exposure to low level electromagnetic fields is harmful to human health."
Enjoy Your New Infrared Heater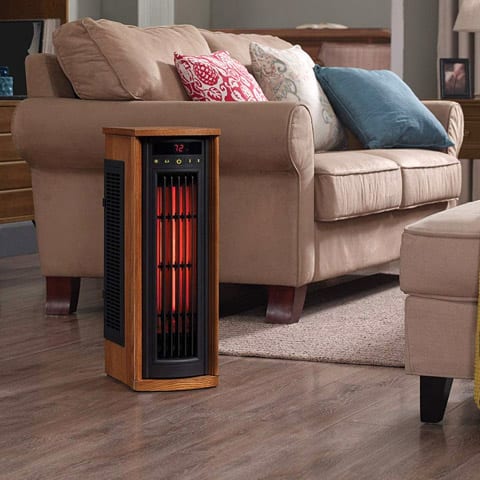 We hope you got a lot of value out of this detailed guide on choosing and comparing the best infrared heaters.
As you discovered in our top rated infrared heater reviews, these units operate much differently from other types of portable space heaters to warm up a room. In particular, these devices emit infrared light that's absorbed by you and objects in the room rather than blowing hot air or radiating heat off of a surface.
Hopefully, you found the best infrared space heater for your needs on this list and enjoy it for years to come in your home, office, or apartment.