Are you thinking about buying an outdoor patio heater?
But you're not sure which one to get?
If so, this guide is for you.
The best patio heaters come in two heating options: propane gas and electric. And you can choose from various types: pyramid style, mushroom style, tabletop design, and an electric heat lamp.
What's also nice about the best outdoor heaters is that there are a variety of mounting options as well to fit the layout of your outdoor space: freestanding, wall-mounted, and ceiling-mounted patio heaters.
Below, you'll find an in-depth look at some of the best outdoor patio heaters on the market along with a list of their top features so you can make the right choice for your outdoor needs.
Disclosure: Home Air Guides is reader-supported. As an Amazon associate and affiliate for independent brands, we earn from qualifying purchases made through the links on our site. Learn more.
Outdoor Patio Heaters Reviewed in this Guide
Here's a quick comparison chart showing the top outdoor patio heaters. We'll cover each aspect of these units in the reviews section below, but this gives you an idea of what's available and an easy way to compare them.
Best Outdoor Patio Heater Reviews (Top 8 List)
---
If you're looking to quickly warm up your outdoor area, then the Hampton Bay GSH-A-PC Pyramid Patio Heater could be the best choice for you.
This patio heater looks similar to our #1 best outdoor heater review but has a few subtle differences.
WIth 42,000 BTUs of heating power, it gives you one extra foot or heating coverage than our #1 review. In total, you can expect about 16 feet in diameter of warmth in an open outdoor space.
This is an extremely durable patio heater too and is constructed from steel. This means it will be able to withstand whatever the weather throws at it without getting easily damaged.
It's rust-resistant as well, so even if it's left outdoors during rainy conditions it will come out the other side looking as good as new.
It comes in one color choice with a gold-effect finish and measures 90-inches in height to give this outdoor heater an aesthetically pleasing appearance.
Although it's tall, it's still relatively lightweight for its size at 50 lbs. Plus, it has a wheel kit for you to easily move this patio heater around your outdoor space.
Powered by propane for ultimate efficiency, this outdoor heater features an integrated ignition system that makes lighting easy and, more importantly, safe.
It also features an automatic shutoff device that turns the patio heater off if it gets accidentally knocked over.
Finally, this unit gives you good control over temperature as well and features a built-in control valve. So on those colder nights, you'll be able to turn the heat right up. And on summer evenings, you can create a gentle warmth for mood and ambiance effect.
---
For some people, the best outdoor patio heater needs to be able to withstand frequent use and extreme elements without requiring a lot of maintenance, and this where the Thermo Tiki Pyramid Patio Heater excels.
Constructed from premium, high-grade aluminum and steel, it's one of the most durable patio heaters you'll ever come across.
Its construction makes it very weather-resistant, and it has a rust, fade, and corrosion-resistant finish. This means it can survive prolonged sun exposure, rain, snow, and even salt air without easily getting damaged.
And if the weather gets really bad, you can easily move your heater to a sheltered space thanks to the built-in wheels.
There's no denying this patio heater's strength, but how does it perform when it's been ignited?
The Thermo Tiki operates with 45,000 BTUs across a 17 feet diameter, giving it the power to warm an outdoor space measuring 225 square feet.
This patio heater also offers a couple of safety features that ensure you and your family are kept well protected while it's in use.
The first of these is a built-in safety valve that automatically cuts off the gas supply if the heater gets accidentally knocked over or tilted. Secondly, the glass heating column is protected by a mesh-grille, making it impossible to gain access to the flame.
Inserting a propane tank into this patio heater is easy and can be done by opening the access door located in the base. This also allows you to hide the tank out of view and keeps everything contained.
You also won't have to worry about lighting matches or dealing with open flames, as this patio heater has an integrated ignition system. Simply turn on the gas, click the ignite button, and the flame will automatically ignite for you.
---
Delivering 41,000 BTUs of heating power across a 15 feet diameter, the Hiland HLDS01-WCGT Mushroom Patio Heater can provide the same level of warmth as our first two picks.
However, the company states that it can heat a larger enclosed area measuring 250 square feet when operated at full blast.
The stainless steel construction of this patio heater makes it highly durable too, and it also features a powder-coated finish. This gives it the ability to withstand different temperatures and weather conditions without getting easily damaged.
This outdoor heater is propane powered and will give you between 8-10 hours of use from a 20 lb. propane tank on its highest setting. You've also got full control over the level of heat being emitted through an integrated control valve, making it perfect for year-round use.
The first of its two added safety features is an anti-tilt device that shuts off the gas supply if the patio heater is tilted or accidentally knocked over. It also features a weight bladder on the base that can be filled with sand or water to add extra stability to the heater.
This is an aesthetically pleasing patio heater and it has a hammered-bronze finish that would look fantastic alongside any set of garden furniture.
It also features wheels for easy maneuverability and a built-in, adjustable table that can be used as an extra place to set your drinks on during an outdoor party.
---
If you like the design of our #4 outdoor patio heater review, but you're looking to provide warmth to a larger space, then this Mushroom Patio Heater from Gorilla Gadgets could be the best patio heater for your needs.
It offers 48,000 BTUs of power output to warm an area that's 19 feet in diameter. That's about as large as you'll get in an outdoor patio heater with today's standards.
The base of this patio heater has been cleverly designed to distribute the weight of a propane tank equally. This makes it sturdier and reduces the risk of the heater tilting or getting accidentally knocked over.
It also has an extra safety feature in the form of tip-over protection, automatically cutting off the gas supply if the heater tilts more than 30-degrees.
Igniting this patio heater is safe and easy too, thanks to the built-in instant-ignition button. Simply select your preferred level of heat, press the button, and you'll have an instant flame.
You've also got full control over heat-level settings through the integrated variable heat control knob.
The steel construction makes this a highly durable outdoor patio heater too, so there's no need to worry about it getting easily damaged in an unexpected shower of rain.
It features two smooth-rolling wheels that make maneuvering the heater around your garden and storing it away safely during the hotter months.
---
Constructed from premium-quality stainless steel, the Dyna-Glo DGPH202SS Mushroom Patio Heater is one of the most durable options on our list.
Not only is it capable of withstanding the elements, but this outdoor heater won't get easily damaged by the occasional bump or scrape. This makes it ideal for an active family life.
It offers the same output of heat as our #5 best outdoor heater review (48,000 BTUs of power) to cover 19 feet in diameter. Igniting is easy with an electronic ignition button which also makes it super safe to use.
And, like all of the top patio heaters, it features an anti-tilt safety device.
Plus, there's no need to worry about an exposed propane tank as you can store it neatly away inside the heater's base. The base itself can also be filled with sand or water to add even more stability to the heater.
You've got a greater choice over the heat settings too, thanks to the integrated variable heat control dial.
Built-in wheels and an integrated handle allow you to move this patio heater around your outdoor area with ease whenever you like.
---
If you've got a smaller outdoor space, then the Hiland HLDS032-BB Tabletop Patio Heater makes a great alternative to a traditional, larger patio heater.
As the name suggests, it's designed to be placed on a table for ultimate space-saving convenience.
Don't be fooled by the compact size of this tabletop patio heater, though. It can generate a powerful 11,000 BTUs of heat across an 8 feet in diameter which is larger than the average outdoor table. But if you use it in an enclosed space, then you can get around 30 square feet of warmth.
Its 38-inch height allows it to distribute warmth equally over your outdoor space as well as being tall enough to stay out of your immediate eye line while you gather around it.
The easy-access door makes installing and concealing a 1 lb. propane tank quick and easy, and you're also given the option to connect a 20 lb. propane tank externally with the purchase of an additional hose.
Having the larger tank installed is ideal if you'd like to use the heater regularly but don't want to change the tank as often.
The instant-ignition button takes away the need to light the heater with an open flame, and you have full control over the heat settings with the integrated dial and thermocouple.
The top of the heater also features a protective heat screen to help prevent accidental burns, and it features an anti-tilt safety device.
Constructed from stainless steel and featuring a hammered-bronze finish, this is a patio heater that's capable of withstanding bumps, scratches, and bad weather throughout the season.
The durable construction also helps to keep it steadily in place while it's in use, which is essential in a tabletop patio heater.
---
Working with a limited budget doesn't mean that you have to sacrifice quality or performance, and the Hampton Bay Tabletop Patio Heater is here to prove it.
Boasting the same powerful level of heat as our #7 review (11,000 BTUs) and generating 8 feet of diameter for warmth, this 39-inch tall patio heater can quickly warm up 4 to 6 people in an outdoor setting.
It's perfectly designed for smaller outdoor areas and can be conveniently placed on a table without taking up a huge amount of space.
An easy-access door and simple connector allows you to easily install a 1 lb. propane tank and gives you somewhere to conceal it too. There's also an instant-ignition button located directly on the heater that makes lighting it quick, easy, and safe.
Extra safety features are offered in the form of an anti-tilt switch and a protective heat screen. You can also adjust the heat level using the integrated dial, so you have full control over the temperature.
This tabletop patio heater has an aesthetically pleasing appearance as well, and its bronze finish will blend in perfectly with a variety of outdoor furniture.
Constructed from highly durable stainless steel and featuring a bronze powder coating, this powerful tabletop patio heater is designed to last.
It even includes a one-year warranty that covers you for repair or replacement in the unlikely event of something going wrong.
---
Another fantastic propane-free option for providing outdoor warmth is the Briza Infrared Patio Heat Lamp.
It can also be used as supplemental heating indoors, making it a super versatile choice that can provide warmth all year round.
It includes a stand that allows you to adjust the height of the heat lamp up to 7 feet. And it only weighs 13 lbs. This design makes it a highly portable outdoor heat lamp that can easily be moved around your patio or garden, and even in and out of your home.
Operating with a variable power of 750W-1500W, the amount of space it can comfortably cover depends on where you're using this heat lamp. When placed outdoors, you can get up to 15 feet in diameter of heat. But when used indoors, it will radiate heat across a much larger space, around 800 to 1,000 square feet.
The carbon infrared technology of this heat lamp also means that it can raise the surrounding temperature more efficiently than a gas-powered patio heater. This is because it doesn't only warm up the air, but the rays it produces are absorbed by any surrounding items, such as garden furniture. As the cool surfaces warm up, the ambient temperature also rises.
You have full control over the level of heat produced and a small LED display located on the front of this portable outdoor heat lamp tells you what level you've selected. You can even adjust the temperature from the comfort of your chair by using the included remote control.
Another good feature of this heat lamp is the timer function that allows you to program it to automatically switch off after a set amount of time. You won't find that in many other outdoor patio heaters.
The all-metal construction of this heat lamp makes it highly durable too, and the protective metal shielding means that it's completely weatherproof.
Finally, we also consider this to be one of the best outdoor patio heaters available because it can be wall-mounted to help save space and keep it out of the way, which is ideal if you have a smaller outdoor area, or used with the included stand for maximum portability.
---
Outdoor Patio Heater Buying Guide
From the style of heater you prefer, to the space it can cover, when it comes to buying an outdoor patio heater, there are a few things you'll need to consider.
Below, we'll take you through everything you need to know about patio heaters. This will help you make a more informed decision when it comes to purchasing one and, ultimately, will help you find the best patio heater for your individual needs.
What is a Patio Heater?
A patio heater does exactly what it sounds like; it's a heater that brings warmth to an outdoor area like a patio.
However, it doesn't necessarily need to be placed on a hard patio surface as there are several designs to choose from, including freestanding, tabletop, and wall-mounted.
How Do Patio Heaters Work?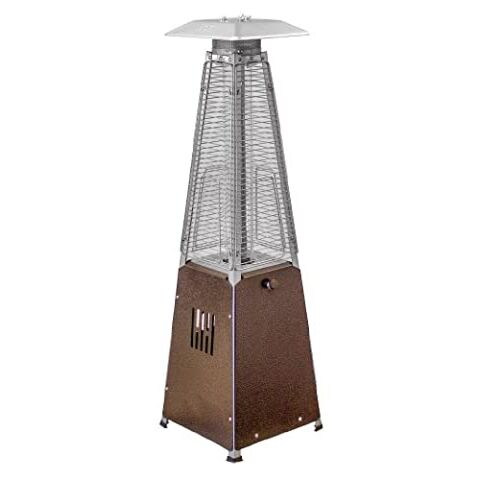 Patio heaters work in one of two ways: by burning fuel such as propane or natural gas, or using electricity.
And unlike some indoor heaters that blow hot air, patio heaters work to heat up a space through radiant heating that radiates from the unit's heating element.
Gas-powered patio heaters are powered by installing a gas tank to create a flame. This flame heats the air as it burns and, in turn, brings warmth to the surrounding area.
Electric patio heaters (also known as heat lamps) use infrared technology to warm up an outdoor space. This means that rather than warming the air surrounding your outdoor space, the infrared rays emitted by the heat lamp are absorbed by the surrounding objects, including yourself.
Infrared heat is felt almost instantaneously, so an outdoor patio heater that uses this technology is a good choice for anybody looking for instant warmth. It's also the top choice for indoor heating as well. You see our infrared heater reviews here for indoor spaces.
Types of Outdoor Patio Heaters
As you begin looking for a patio heater, you'll notice that there are lots of different types to choose from. Of course, aesthetics will play a large role in the type of patio heater you choose, but there is a little more to it than just looks.
Mushroom Style Patio Heaters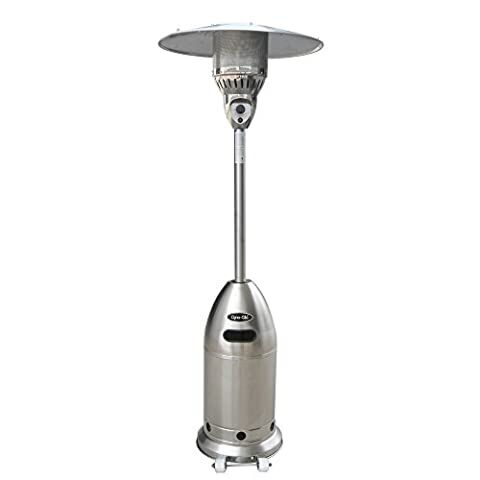 Named after their shape, mushroom style patio heaters are the best choice for anybody looking for maximum heat output. This is because they generally have a higher number of BTUs, which means that they're capable of producing more heat.
Their mushroom-inspired design also allows the heat to be deflected down towards the ground, rather than being sent upwards and away from the area you're trying to warm.
The burner on a mushroom-style patio heater is located directly at the top underneath the hat, and this has two benefits. First of all, it plays a large role in ensuring that the heat is deflected downwards. Secondly, it keeps the flame well out of easy reach.
So, if you've got a family with inquisitive children or pets, it makes a safer option to choose a mushroom style heater.
Mushroom patio heaters fall into the gas-powered category, which means they require a fuel source like propane and emit radiant heat to warm the surrounding air.
Pyramid Patio Heaters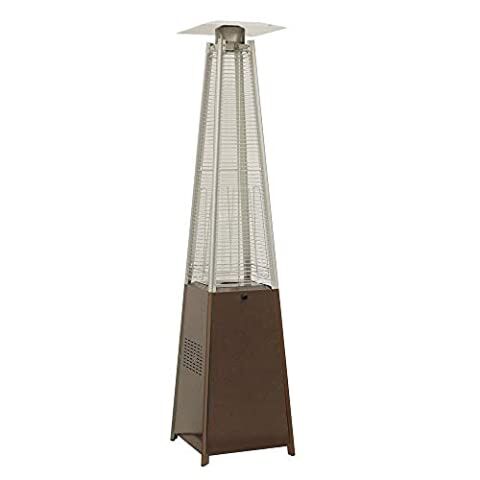 Another style you can choose is a pyramid patio heater, which are also known as "glass tube" patio heaters.
These units are generally regarded as being the most aesthetically pleasing option and the tall, vertical flame they produce makes an eye-catching focal point during nighttime parties.
Pyramid patio heaters are capable of producing a good amount of heat too and, although generally lower in BTUs, can still rival some mushroom-style patio heaters. Because the fire is contained within a glass tube and surrounded by a 360º protective grille, they also make a safe option for family homes.
Their pyramid structure also makes them strong and they are not as top-heavy as mushroom-style patio heaters. This means that pyramid patio heaters are less susceptible to getting accidentally knocked over.
As with mushroom-type patio heaters, pyramid patio heaters rely on gas to power them. This allows them to warm the surrounding air and produce an evenly distributed ambient temperature that fights off the surrounding cold air.
Tabletop Patio Heaters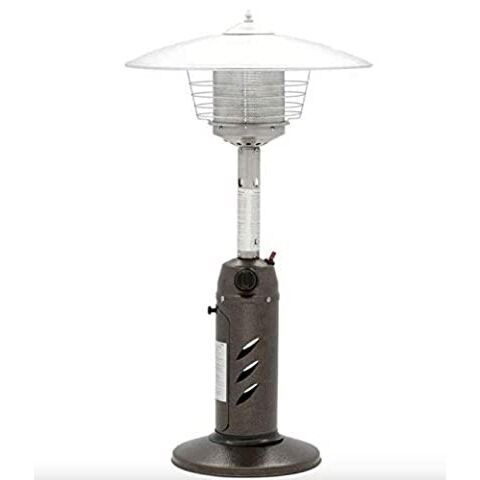 If you have a smaller outdoor area then you may want to consider purchasing a tabletop patio heater. As you might have guessed, these are designed to be placed on top of a sturdy table, taking up a lot less space than a traditional freestanding patio heater.
Most tabletop patio heaters are smaller versions of a mushroom-type patio heater and will deflect heat downwards from their ha'. This means that they can quickly warm up smaller areas without risking any heat escaping into the air above.
The majority of tabletop patio heaters also use propane to produce a flame, but the tank you use will also be smaller (usually around 1 lb.). This does mean that you'll need to change the tank more often if you intend on using a tabletop patio heater regularly.
However, some tabletop patio heaters offer additional accessories that allow you to attach an external 20 lb. propane tank. This can give many days, if not months, of outdoor heat without having to worry about replacing the fuel tank.
It is worth noting that tabletop patio heaters are designed for smaller areas and can only cover up to 30 square feet of space. So, if you're looking to bring warmth to an area larger than this, you'll need to consider a different type of patio heater.
Outdoor Electric Heat Lamps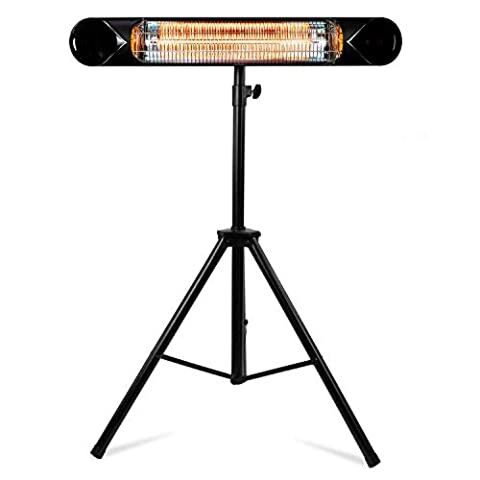 Finally, you might want to consider choosing an electric heat lamp over a gas-powered patio heater. These tend to have a lower heat output, with a 1500W heat lamp only creating around 5,000 BTUs.
But when you consider that these units use infrared heat rather than radiant heat to warm up space, the heat feels more immediate. This makes outdoor heat lamps an ideal choice for colder nights or if you're only planning on spending a short amount of time outdoors.
You've also got a greater amount of versatility over placement with an electric heat lamp. Most of these units come with a stand and allow you to mount it either horizontally or vertically.
Heat lamps are also a good choice for outdoor areas like garages. But they're not the only option. If you have a garage you want to heat, then check out our best heater for garage page for more recommendations.
Some even give you the ability to mount it onto a wall which is perfect for smaller areas where floor space is a precious commodity.
Another great thing about electric outdoor heat lamps is that they can be used indoors to provide supplemental heating during particularly cold periods of weather.
They're easy to operate too and you won't have to worry about dealing with propane tanks. Simply plug the cord into an electrical outlet and you're good to go.
Outdoor Patio Heater Fuel Sources
As well as different styles of patio heaters, you'll also need to think about which fuel source works best for you. These are propane, natural gas, and electric.
We've touched on these briefly above, but let's take a closer look at the different types of fuel sources patio heaters use below.
Propane Patio Heaters
As a fuel source, propane is easy to use and install. Depending on size, propane tanks are simple to maneuver as well, which means you'll still be able to wheel your patio heater around your outdoor area without a struggle.
One of the best things about propane-powered patio heaters is that they can be set up virtually anywhere without being restricted by wires or plumbing. They also don't require any special installation and can simply be connected to your patio heater through an existing tube.
There are a lot of different sizes of propane tanks to choose from and most patio heaters will be able to comfortably house a 20 lb. tank inside their base. Tabletop patio heaters; however, will usually only be able to conceal a 1 lb. tank, but many offer a 20 lb. adapter.
The one downside to propane is that it can be more expensive than natural gas (discussed next). With this in mind, you could find yourself having to limit the usage of your patio heater to make your propane last longer if fuel costs are a concern.
But also keep in mind that you can get a propane heater for indoor use too. If that interests you, then check out our best portable propane heater page.
Natural Gas Patio Heaters
Your second option is a patio heater that's powered by natural gas, although these are less common than propane and electric heaters.
A natural gas patio heater works by being plumbed into an existing gas supply. While this might seem like an easier option because it takes away the need to deal with propane tanks, there are a couple of downsides to natural gas.
The first of these is a reduced level of portability. If you choose to go for a natural gas powered patio heater, you'll need to make sure that you're happy with keeping the heater in its position as a permanent fixture.
Secondly, installing a natural gas patio heater can be a difficult task if you're not familiar with plumbing. This often means that you'll face the added expense of calling a professional in to install it for you.
With all that being said, natural gas tends to be a cheaper fuel source when compared to propane. So if you want the cheapest option for an outdoor patio heater, then a natural gas heater may be the way to go.
Electric Patio Heaters
If you want cleaner air and ultimate convenience, then an electric patio heater would be the best choice. These units don't need to be plumbed into an existing gas supply and you won't need to worry about handling propane tanks.
Instead, you can simply plug an electric patio heater into an electrical outlet and enjoy instant warmth.
But while electric patio heaters are cost-efficient and better for the environment, there are a couple of things you'll need to consider before committing to one.
The positioning of an electric patio heater will be dictated by the availability of electrical outlets. And it's not advised to use an extension cord with outdoor heaters such as these as it poses an additional fire risk.
Electric patio heaters also use infrared heat to warm up an area of space. This gives you almost instantaneous warmth but it only goes in one direction. Some propane and natural gas patio heaters can deliver heat in all directions.
Understanding BTUs and Patio Heaters
A unit of measurement you'll see time and time again when you're shopping for a patio heater is BTUs.
But what does this mean?
BTUs is an acronym for British Thermal Units and, put simply, the higher the number of BTUs a patio heater has the more heat it can produce.
It's essential to think about the size of the space you want to bring some warmth to when you're looking at BTUs.
Most freestanding patio heaters use BTUs as a measure of their heating power. If you've got a larger outdoor area then you'd be right in thinking that you need a patio heater with a high number of BTUs. Likewise, smaller spaces need smaller BTUs.
The amount of space a patio heater can warm up will most commonly be measured in diameter , which is the number of feet surrounding the heater. This is another important thing to think about and it goes hand in hand with BTUs.
Here's an example:
If a patio heater has 40,000 BTUs and a 15ft diameter, this would be ideal for a space that measures around 175 square feet. If your patio is smaller than this, then you'll want to go for a smaller number of BTUs and a smaller output diameter as a way to save money.
To help make things a little easier, we've put together this useful table that shows exactly how many BTUs you need for a set amount of space:
| | | |
| --- | --- | --- |
| BTUs | Square Feet | Diameter |
| 5,000 | 25 square feet | 5 feet |
| 10,000 | 50 square feet | 7 feet |
| 15,000 | 75 square feet | 9 feet |
| 20,000 | 100 square feet | 11 feet |
| 25,000 | 125 square feet | 12 feet |
| 30,000 | 150 square feet | 14 feet |
| 40,000 | 175 square feet | 15 feet |
| 50,000 | 200 square feet | 20 feet |
Outdoor Patio Heater Sizes
The size of your chosen patio heater will also play a large role in how much space it's able to cover.
Generally speaking, if you're looking to warm up a larger area then it would be best to choose a tall, freestanding heater that has around 40,000 BTUs, such as a pyramid patio heater or mushroom patio heater. This is because the larger the heater (and the more BTUs it has), the more air it will be able to heat.
If you've got a smaller outdoor area then a tabletop heater could be the best option. These aren't as powerful in BTUs as pyramid and mushroom outdoor heaters, but they don't need to be because they'll be heating a smaller space. Somewhere around 10,000 to 12,000 BTUs is perfect for a smaller patio.
Placement is also as important as size when it comes to patio heaters. Looking at the table above, you can see how many square feet of coverage you'll get from a set number of BTUs when the unit is in a central location.
However, if you place your patio heater in the corner of the area you're heating, you'll be cutting the coverage in half.
Finally, electric patio heaters are the best choice for really small spaces. This is because they use infrared heat, so they don't need to warm up the surrounding air.
Instead, you'll feel immediate heat emitting from them and the objects in your garden will also absorb the heat to create an ambient warmth.
Common Questions About Outdoor Patio Heaters
Do Outdoor Patio Heaters Really Work?
Outdoor patio heaters do really work and they are a great way of providing warmth to an outdoor area so you can spend more time outside when the nights get longer.
However, some patio heaters work better than others and the choice you make will depend on the size of your outdoor space, the design you like best, and the fuel type you prefer to use.
Take a look at all of the information we've listed above to get a better idea of what you need to look for in a patio heater.
What is the Most Efficient Patio Heater?
The most efficient patio heater depends on what you'd like from it. Warmth is a given, but are you looking for immediate heat? Or would you like long-lasting heat that continues to warm an area once you've turned the heater off?
For immediate results, an electric patio heater (or heat lamp) would be the best choice. These units produce infrared heat that is instantly felt and is also absorbed by surrounding objects to create an ambient level of warmth.
Once switched off, the heat also lingers around a bit as the objects cool down.
However, if you'd a bubble warm air that you can walk in and out of, then a gas-powered patio heater would be better. This is because gas heaters warm the surrounding air to create ambient heat that can be enjoyed in all directions.
If you're looking at energy-efficiency in particular then an electric patio heater would be the best choice in most circumstances. To determine which is cheaper, propane or natural gas vs electricity, you'll need to know the cost for each power source.
Electricity is measured in kWh (kilowatts per hour) and can be found on your home's electric bill. Propane and natural gas is measured in gallons.
Can I Put a Patio Heater on a Wood Deck?
Patio heaters can be put on a wood deck provided that they are not left unattended. Because most patio heaters use a flame for heat, a responsible adult must be present at all times during use in case the flame touches the wood deck.
With that in mind, many modern patio heaters have the flame contained within a glass tube or metal shielding, which makes it much safer to put a patio heater on a wood deck.
Most patio heaters also come with safety features that kill the flame immediately if the heater tilts or gets knocked over, making them even safer to place on a wooden deck.
It is recommended, however, that a patio heater is never left unattended on a wood deck. They are, after all, a source of fire and so they must be operated, attended to, and monitored at all times for safety.
Can I Put a Patio Heater Under a Covered Porch?
You can put a patio heater under a covered porch if you have the right type of heater. You also need to make sure that it fits within the dimensions of the porch.
Mushroom-style patio heaters can be used under a covered porch and will need a minimum clearance of 2 feet between the top of the heater and the porch roof. Electric heaters need a smaller clearance space of 0.5 feet between the heater and the roof.
Pyramid heaters can be used underneath a covered porch but, again, height needs to be considered with at least 2 feet of space between the heater and the roof.
Enjoy Your New Outdoor Patio Heater
We hope you enjoyed this comprehensive guide on choosing the best outdoor patio heaters.
As you learned, outdoor heaters are a great way to keep you and your guests warm on a cold night. And you can pick the best patio heater style for your needs: pyramid patio heater, mushroom patio heater, tabletop heater, or electric heat lamp.
Our outdoor heater reviews also gave you plenty of options to choose from when it comes to selecting a heating source: propane gas or electric, and mounting options: freestanding, wall-mounted, or ceiling-mounted.
Hopefully, the information provided here on the best outdoor heaters has helped you pick the perfect unit for your outdoor needs at a price you can afford.