Are you looking for the best bedroom heater to keep you warm all night long?
How about the safest space heater for bedroom that doesn't cost much to use?
If so, this guide is for you.
Below, you'll find reviews of the best space heater for a bedroom of every type: ceramic, fan, infrared, oil-filled, and panel heaters.
Our goal is to give you the most comprehensive list of the best electric heaters for a bedroom so you can make the right choice for your needs and comfort while you sleep.
Disclosure: Home Air Guides is reader-supported. As an Amazon associate and affiliate for independent brands, we earn from qualifying purchases made through the links on our site. Learn more.
Bedroom Heaters Reviewed in this Guide
Here's a quick comparison chart showing the top bedroom heaters. We'll cover each aspect of these units in the reviews section below, but this gives you an idea of what's available and an easy way to compare them.
Image
Heater Details
Price
De'Longhi TRD40615E Heater

Best overall bedroom heater
Lightweight and compact design
Eco-friendly with lots of safety features
Coverage: 150 to 300 square feet

Check Price
Vornado MVH Heater

Best portable heater for bedroom
Very portable design
Three safety features
Coverage: 150 to 300 square feet

Check Price
Vornado SRTH Heater

Safest electric heater for bedroom
One of the safest heaters on the market with plenty of safety features
Low running costs
Coverage: 50 to 100 square feet

Check Price
Heat Storm HS-1000-WX-WIFI Heater

Best Wi-Fi electric bedroom heater
Control the heater from your smartphone
Infrared technology helps your bedroom remain warmer for longer
Coverage: 200 to 500 square feet

Check Price
Lasko 1500W Heater

Best space heater for small bedroom
Extra-long power cable to reach all outlets
Three heat settings
Coverage: 150 to 300 square feet

Check Price
Dr. Infrared DR-968 Heater

Best space heater for large bedroom
Large heater ideal for remaining in one place
Long 72-inch power cord for better positioning
Coverage: 1,000 square feet

Check Price
Lasko AW300 Heater

Best bedroom heater with thermostat, timer and remote
Plenty of features to enhance your experience
Good option for all types of bedrooms
Coverage: 150 to 300 square feet

Check Price
Best Bedroom Heater Reviews (Top 8 List)
With a light weight of 26 pounds and a compact size measuring in at 16.4 x 10.3 x 26.1 inches, this small but mighty heater is the best bedroom heater in our eyes.
The 1500 watts of power will allow this heater to warm up a 150 square feet bedroom as the only heat source and up to 300 square feet as a supplemental heating source.
To help you visualize that level of heat output better, 150 sq. ft. is roughly a 10' x 15' room while 300 sq. ft. is a 15' x 20' room.
There are plenty of features that make it a safe heater for bedroom too, such as the automatic shut off feature and low exterior temperature with advanced thermal chimneys. The wiring is also insulated and reinforced for additional safety.
The thermal chimney design is one of the top reasons why we consider it to be the best electric heater for bedroom.
This feature draws heat up the large fins to heat your room in a shorter amount of time by providing 25% more radiant surface. It also lowers the surface temperature of the unit which is a win-win for anyone with pets or small children in the house.
You can take advantage of the Eco mode and thermostat too so you're never spending more money than you need to heat a room. With the Eco mode engaged, the unit will cycle between the lowest and highest settings to ensure a comfortably warm room with the lowest energy use.
This oil-filled heater is on stable wheels to make moving it around simple and easy for you. You can easily reposition it in a bedroom to get the best warmth or take it to other rooms of the house without throughout the day.
With the added timer you can program the heater to switch off within the next 24 hours, allowing you peace of mind without worrying about it.
Oil-filled heaters are one of the most cost-effective on the market, and the De'Longhi TRD40615E is no different. You can expect to spend at most $0.20 an hour while running this heater, depending on your local utility rates. But with Eco mode turned on, it should be much less.
---
The Vornado MVH is a very effective fan heater that heats a room by circulating hot air with vortex circulation. Essentially, this design is similar to how a forced air furnace works but on a smaller scale.
Fan heaters are some of the most portable heaters on the market and the Vornado MVH is no different. Measuring in at 9.2 x 10.4 x 10.6 inches and weighing only 4 pounds, this is the best electric heater for bedroom for anyone who wants to move the unit around with ease.
With the three heat settings: 750 watts, 1125 watts, and 1500 watts, you can control how much energy you want your heater to use. You'll also be able to heat a bedroom between 150 to 300 square feet, depending on what setting you have it on.
Enjoy peace of with this safe heater for a bedroom with features such as cool to touch exterior, automatic shut off, and tip-over protection. The internal thermostat will also help to protect the heater from overheating after prolonged use.
As for energy used, you can expect around $0.20 per hour on the maximum wattage setting based on your local electric rates.
---
This is another good fan forced air heater and is our top pick for the safest space heater for bedroom.
The Vornado SRTH heats your bedroom gently, yet powerfully, through an innovative V-shaped heat circulator. This prevents the heater from using intense heat which might reduce oxygen levels.
The advanced safety features are to be admired on this heater, with a cool-touch exterior, automatic safety shut-off, and tip-over protection. It's an especially good heater for anyone who has small children or pets in their bedrooms.
You can feel confident leaving the Vornado SRTH heater on without worrying thanks to those important safety features. You'll also be happy to know that it's certified and safety-tested, so you can rest assured that this is an incredibly safe electric heater for bedrooms.
Two heating settings are available: 450 watts and 900 watts. This allows the heater to cover small bedrooms measuring 50 to 100 square feet. This equates to a 5' x 10' room or 10' x 10' room.
And this means that the running cost would be roughly $0.05 to $0.12 an hour depending on the heat setting you use.
---
Dyson has become a top household name over the past few decades, and recently this brand has been expanding into heaters and coolers.
And a 2-in-1 device like this is extremely useful when it comes to the changing seasons and anyone looking for an efficient and safe heater for bedroom.
Overally, this is the best bedroom heater and cooler combo that ensures you'll get the most out of your money when using it all year round.
Air is forced through the unit, with it being heated in the process. The thermostat monitors your bedroom to ensure that it is not getting too hot or cold for your preference. This also ensures that no energy is wasted by heating the room too much.
The technology behind this bedroom heater can be used in two ways: as a powerful stream of airflow that is jet focused on to provide isolated heating or as a diffused heating fan that projects a wide airflow to mix the surrounding air.
The Dyson Hot + Cold Jet is safe to use around pets and children as there are no dangerous aspects exposed. There is also an automatic shut-off system in case the heater is tipped over.
You can set the heater to the temperature that you want; however, it runs on a maximum of 1500 watts. This means that it will be able to heat a bedroom between 150 to 300 square feet, with a maximum running cost of $0.20 an hour.
---
Having a remote control to work alongside your space heater for the bedroom is a must-have feature for many people, but the Heat Storm HS-1000-WX-WIFI goes one step further.
The remote control is your phone!
You can control the thermostat, timer, and child lock all from your smartphone since this is a Wi-Fi enabled heater. You can even make schedules of when you want the heater to turn off and on again no matter where you're located.
There's not much else you can ask for in the best space heater for bedroom in today's modern world.
This heater uses infrared technology which means that it heats the objects in your bedroom rather than the air. This technology ensures that your room will remain warmer for longer thanks to the electromagnetic waves.
The modern design allows you to secure the heater onto the wall so that no floor space is taken up. The cool to touch exterior is also a very useful safety feature.
1000 watts of power allow you to heat up to 200 square feet of space as a primary heat source or up to 500 square feet alongside another heat source like a central heating system. As for the running cost, it averages around $0.13 per hour.
---
If you have a small bedroom, then you won't need to purchase a large space heater for it. Using a heater too large for your space can waste both energy and your money.
As a ceramic heater, the Lasko 1500W is the ideal portable heater for every bedroom space. Measuring in at a compact 9.2 x 7 x 6 inches, it will take up almost no floor space in a small bedroom. It can also easily sit on a side table.
The two heat settings of 900 watts and 1500 watts allow you to heat up between 150 to 300 square feet of your bedroom.
The extra-long 8-foot power cable ensures that you'll be able to place your heater wherever you see fit. This is especially important as smaller bedrooms tend to have a small number of outlets, and they always seem to be unfortunately placed.
Tip-over protection and automatic overheating shut-off capabilities keep you and your household safe while using the Lasko 1500W heater.
---
One thing people forget about space heaters is the noise that they can make. Believe us, it can wear on you quickly when you're trying to get a good night sleep.
Luckily, the Dr. Infrared DR-968 is one of the best electric heaters for a bedroom that runs at an impressive noise level under 39 decibels. That's quieter than a typical conversation.
This heater boasts its ability to heat a large room and previous customers have been impressed by how it can cover up to 1,000 square feet. And you say goodbye to cold patches in your bedroom, as this heater will take care of the entire space through infrared heating technology.
There are three heating modes for you to choose from including an eco-mode for maximum energy savings. The heater will also shut itself off after 12 continuous hours to prevent it from overheating.
The power cord is impressively long at 72 inches, making it easy to position where you need it.
Now, this heater is larger and more cumbersome than the rest on our list, weighing 20 pounds and measuring in at 13 x 12.5 x 17 inches. But, it does have wheels for easily moving it around.
This heater will require around $0.20 an hour to be powered.
---
The Lasko AW300 has it all: an adjustable thermostat, a timer, and a remote, allowing you to adjust all of the settings from anywhere in your bedroom.
For an excellent and competitive price, you can purchase a bedroom heater with all the benefits.
What's more, the enhanced safety features prevent any incidents from occurring during use. The cool to touch surface also hides any heating elements with the power to burn fingers, and the heater will turn itself off if it is tipped over or starts to overheat.
Air is pulled through the heating elements and pushed out further into your bedroom, enhancing its performance and heating your room much faster. The ceramic plates will remain hot even after the heater is switched off, leaving you with longer-lasting results.
Lasko advises that this heater is for supplemental heat rather than being a primary source, but the maximum output is 1500 watts. This means that you should be able to use it in a small bedroom around 150 square feet without any problems whatsoever.
But if you pair it with a central heating system that's turned down to around 66 to 68 degrees at night, then it may work well for you in a large bedroom up to 300 square feet in size.
---
Bedroom Heater Buying Guide
What is a Bedroom Heater?
A bedroom heater is a good alternative to central heating that is specifically designed to be used in the bedroom. You can use them as a primary heat source in smaller bedrooms instead of central heating or alongside it in larger rooms as a secondary heat source for better energy savings and focused heating.
Bedroom heaters come in a variety of shapes and sizes so that you can find the perfect option for your space, no matter how big or small. Some bedroom heaters can be attached to the wall while others are freestanding.
Most importantly, these types of heaters can disperse a lot of heat into the room in a very short amount of time, which is important in a bedroom.
How Do Bedroom Space Heaters Work?
A bedroom space heater works to heat a room in one of two ways: through radiant heat or convection. Radiant heat is like the warmth you feel from the sun with electromagnetic energy. Convection heat happens when air surrounding the heater is heated.
There are many different types of heaters for a bedroom, all of which work in slightly different ways as we'll explain next.
Ceramic Heaters
The basic process for how ceramic heaters work is that they use electricity running through a coil to heat ceramic plates, which then releases the heat into the room. Ceramic heaters can heat an entire room incredibly quickly.
A ceramic heater with a fan will heat the room in even less time as the heat will be pushed further away from the heater. Ceramic heaters are often small and lightweight, and they can be energy-efficient as the ceramic plates will cool down slowly once the heater is turned off.
Fan Heaters
Similar to the ceramic heater, a fan heater removes the need for ceramic plates. It heats a metal coil instead and the fan transfers the heat into every corner of the room.
These types of heaters are even lighter than ceramic alternatives as the plates are not needed. They are quick to heat any room and are relatively inexpensive. Fan heaters are also a good choice for use in apartments.
If you're looking for a good bathroom safe heater in addition to a bedroom, then you'll want to consider a dedicated unit for that space. Check the link for good bathroom heater recommendations that have specific safety features in place for damp environments.
Infrared Heaters
The process for how infrared heaters work is different than any other type of heating unit. An infrared heater uses electricity to emit electromagnetic waves into the room. These waves heat any objects that they encounter, such as furniture, the walls, and human beings.
Some of the top rated infrared heaters will include a fan to help speed up the heating process, although this added feature is not as vital as when it's used with a ceramic or fan heater. Infrared heaters work best in rooms with lots of objects ready to absorb heat (e.g. a mattress, chair, table, clothing).
Some infrared heaters even look like a fireplace. If you want a more cozy look and feel from your heating unit, then consider our best electric fires list for all types of choices or narrow it down to wall-mounted options on our best electric wall fireplace list.
Oil-Filled Heaters
This heater looks the most like a traditional radiator, but still runs only on electricity. The body is full of diathermic oil that is heated up and moved around inside the multiple fins to warm the metal casing through. Heat then radiates from the metal and warms up the room.
Note: The oil never has to be changed or replaced as it is a closed system. And the best oil filled radiator heater units come in two sizes: standard and mini.
Many people consider oil-filled heaters to be the most efficient bedroom heaters as the metal will remain warm even after the heater is turned off. They're also silent heaters because there are no moving parts or fans. (You can see our best energy efficient electric heater page to compare them against various units.)
This type of heater is best used for smaller rooms less than 150 square feet if it is the primary source of heat and up to 300 square feet as a supplementary heating source.
To learn more, check out our page on oil heater vs electric heater to get the full list of benefits and costs associated with each type.
Panel Heaters
The newest type of bedroom heater available is a panel heater. It can either be fixed onto a wall or placed on the floor using the stand. Instead of using oil as the previous type of heater, a panel heater uses electrical currents to produce the hot air.
While the technology is promising, some believe that there are still more improvements needed before panel heaters take over oil-filled heaters in terms of popularity. Panel heaters are often best used alongside another heat source to give the overall temperature an added boost.
However, good wall mounted heaters do exist that can keep even the coldest of rooms warm.
Best Type of Space Heater for Bedroom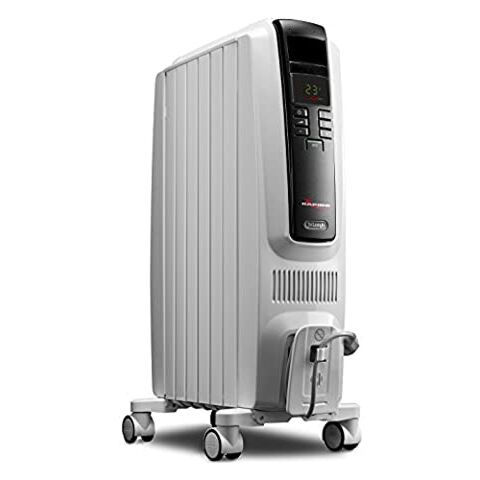 While the best type of space heater for a bedroom will depend on your needs and budget, we suggest oil-filled space heaters as the top option.
The De'Longhi TRD40615E is the best overall space heater for bedrooms and is an oil-filled model.
Oil-filled bedroom heaters run in complete silence to avoid disturbing your sleep. The last thing you need is a bad night's sleep thanks to a noisy space heater.
This type of heater is also energy-efficient and won't increase your electricity bill very much if used in an efficient manner. Eco mode is common among oil-filled heaters and will keep your bedroom warm with the least energy used as possible.
Oil-filled heaters can be used as a primary source of heat if you have a smaller bedroom up to 150 square feet or they can be used alongside another source in a space up to 300 square feet (i.e. turning the central heating system down to 66 to 68 degrees at night).
Many models also have wheels so you can move it around easily and find the perfect location in your bedroom for heat as opposed to picking it up and repositioning it. This is convenient for you and it prevents the heater from succumbing to damage.
Best Efficient Heater for Bedroom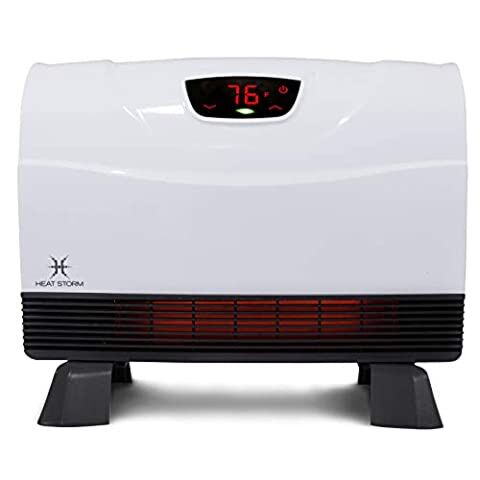 The Heat Storm Phoenix HS-1500-PHX is the best efficient heater for the bedroom because it is an infrared heater. If you're looking for comfort without the steep energy bill, an infrared heater is the one for you.
There are a few reasons why infrared heaters are best for being efficient. Perhaps the most prominent is that the electromagnetic waves emitted heat up objects in the bedroom rather than just the air.
Air is a poor conductor of heat, making it lose the heat quickly and forcing you to keep the heater running for longer. Infrared heaters; however, warm objects that stay warm for much longer even after the heater turns off.
Some infrared heaters also come in wall-mountable versions. Therefore, you can choose between placing the heater on your bedroom floor or mounting it to the wall for added convenience.
Best Space Heater for Child's Bedroom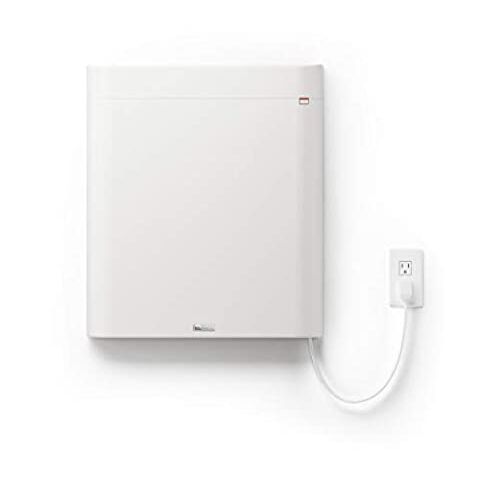 The best space heater for a child's bedroom is the Envi Panel because it is a wall-mounted heater. There are several top safety features on this heater, which makes it ideal for small fingers.
The heater is completely covered with a plastic cool to touch casing. The heater also automatically shuts off once it detects that it has been taken off the wall. And the low power of 500 watts is ideal for heating a small space such as a child's bedroom.
The safety of your child is of utmost importance and the Envi Panel recognizes this. Therefore, a wall-mounted panel heater is undoubtedly the best option for a child's bedroom.
Features to Look for in an Electric Heater for Bedroom
Your search for the best electric heater for a bedroom will be much easier once we show you some key features to look out for. Make sure that you keep an eye out for these features when shopping around, otherwise, you might be left with a model that doesn't work for your needs.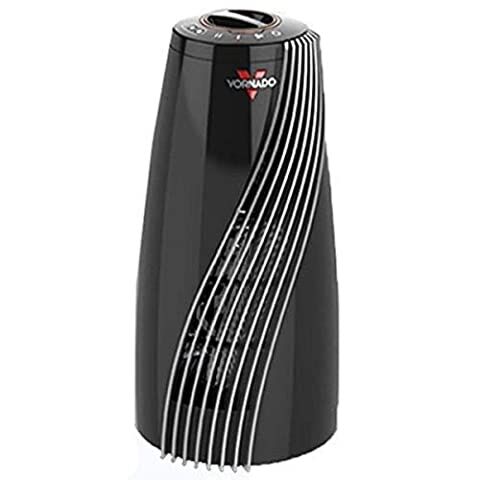 Safety
Safety is undoubtedly one of the most important factors to consider when choosing a heater for a bedroom. There are plenty of flammable materials found within a bedroom that has the potential to create a dangerous situation with an electric heater.
According to the Electrical Safety Foundation International (ESFI), "Heating equipment is the second leading cause of home fires in the United States…[and] Safety should always be a top consideration when using space heaters."
Luckily, many manufacturers have considered these concerns and added several safety features to their electric heaters. This makes them safer to use and prevents incidents from occurring.
The U.S. Department of Energy recommends that you "only purchase newer model heaters that have all of the current safety features. Make sure the heater carries the Underwriter's Laboratory (UL) label." UL is a global leader in testing, inspection, certification, auditing, and validation for safety standards.
Here are some good safety features to look for:
Tip-over protection shuts off power to the electric heater as soon as it detects that the heating element has been tilted or tipped over. Damages are much more likely to occur once the heating element is on its side, so tip-over protection is vital for unstable heaters.
Another feature to look for is overheating protection, which will shut off the heater automatically once the internal components reach a certain temperature. This is helpful in case you fall asleep with the heater still on and it accidentally malfunctions and starts to overheat.
Cool-touch housing is a great advantage to find, especially if you have small children or animals around the house. Cool-touch housing allows you to touch the heater without being badly burned. The best housing will keep the exterior cool while not affecting how much heat is produced.
Any electric heater that features safety labels is the best option, particularly if they indicate that the heater has been tested in recognized labs. Ones to look out for are ETL, UL, or CSA.
Heat Output
Another important feature to look for with your bedroom heaters is how much output you're going to get from them. If you have a large bedroom, you might not want to get a panel heater that can only heat rooms without the help of another primary heat source.
You can estimate the size of your required space heater with a simple equation. All you need to know is the square footage of your bedroom.
To get that measurement, just measure the width and length and multiply those two numbers. For example, a 10′ x 14′ bedroom equals 140 square feet.
For every square foot, you'll need around 10 watts of power to heat it sufficiently.
For example, if your bedroom measures 140 square feet, you'll need a heater that uses 1,400 watts of power. Otherwise, you won't feel the benefits of the heater nearly as much. (One thing to note here is that a good heater for a large room will use 1,500 watts of power and be an infrared type. See our best space heater for large rooms page to learn more about this if you need a good unit for big rooms in the home.)
However, if you are purchasing a heater to use as a secondary source of heat, then you can use a much lower wattage for the same size room. A good estimate is about 5 watts of power per square foot.
So the square foot of your room multiplied by 5 = the wattage you need for the heater.
Thermostat
A thermostat will allow you to adjust the temperature of your electric heater. Adjusting the thermostat helps you to keep the running costs of your electric heater down as you don't always need to run it at a constant temperature.
The thermostat feature can also help you if you're planning to use the heater as a secondary source of heat. Electric heaters with no thermostat can force you to choose between being too hot or too cold.
Most modern electric heaters now come with a thermostat so that you can use it how you require. However, it's still important to look out for this feature as you don't want to be left with a one-trick pony as a heater.
The majority of thermostats will come in the form of a dial which you can turn to reach the desired temperature. These dials usually increase in 5 to 10 degree increments.
Alternatively, you can find a digital thermostat that is much more specific and allows you to increase the temperature by 1 degree each adjustment.
The best electric heaters will give you a wide range of temperatures so that you can find the optimal temperature for you.
Energy Efficiency
Electric heaters start producing heat almost immediately once you turn them on. While this is great for cold people who want to warm up quickly, it's not so great for your electric bill.
Some heaters use a lot of electricity to heat an entire room, and they can cause a not-so-good surprise when the electric bills arrives if you run the constantly.
People often wonder, "do space heaters save energy", and the fact is that they can if used in an efficient manner. There is a feature that protects your money and electricity bill from getting out of hand called an "Eco mode".
Using an Eco mode allows you to experience the benefits of the electric heater without using as much power. The heater will cycle between low heating and the highest setting to keep the room warm.
Instead of having the electric heater on the highest temperature constantly, the Eco mode will switch between this and the coolest mode to reduce energy consumption.
Experts agree that you should always look for an energy efficient heater with an Eco mode if you want to reduce your electric bills while using a bedroom heater.
Timer
Timers are not an essential feature of your electric heater, but they can be very beneficial nonetheless. Electric heaters almost always come with strict warnings not to leave unattended, but sometimes you just have to leave it on without being around.
As you're going to be leaving the heater in a bedroom, the last thing you want to do is fall asleep and leave the heater on all night. This can pose a threat to you, your belongings, and anyone else in your house.
For this reason, a timer is a great advantage to look for. A timer gives you the power to know exactly when your heater is going to turn off. It also gives you peace of mind that if you fall asleep with it still on, it will turn itself off sooner or later.
Timers will usually allow you to choose several minutes until the heater turns off.
Some models give you free rein to adjust the timer in one-minute increments while others give you a set of common timers to choose from. For example, these could be 5 minutes, 15 minutes, 30 minutes, or 60 minutes.
Again, you don't necessarily need a timer but you might like to be in complete control of your heating device. If so, a specific digital timer might be best for you to look out for.
Remote Control
We've all been there – comfily wrapped up in our warm bed, ready to sleep when we suddenly get the disappointing realization that we've left the space heater on. Just as common is when the heater has made the room way too hot or is on too low of a heat setting and it feels code in the room.
Begrudgingly, we have to leave our warm cocoon and brace the cold to fix the mistake.
An electric heater that comes with a remote control can remove this issue altogether. Remote controls allow you to adjust the heater from the comfort of your bed.
Another benefit of a remote-controlled electric heater is that you can still control it easily even if you've attached it to the wall. Some of the controls might have been hidden by the installation process.
If you are looking for a heater with a remote control, it's worth checking how many features you can adjust. Some only allow you to turn the heater on and off while others can adjust every feature such as the thermostat, timer, and eco-mode.
Wi-Fi Control
Some space heaters for bedrooms now come with Wi-Fi control. And this is a good feature to have if you want all of the benefits of a remote control through your smartphone or other mobile device.
Wi-Fi bedroom heaters also come with several advanced features, such as push notifications, wireless control from anywhere, and the ability to set up customized heating schedules throughout the day and week.
Casters (Wheels)
Finally, casters are another feature to look out for. This is particularly important if you're looking at a heavier electric heater such as an oil-filled heater, panel heater, or infrared heater.
As these heaters are the least portable due to their size and weight, casters might be essential to move your heater around. Even if you think that you won't need to move your heater that much, wheels can still come in handy sooner or later.
If you're opting for a heater with casters, make sure that they have stoppers or locks so that you can decide when it can be moved and when it can't. Locks are beneficial if you have small children or pets in your house that might want to play with the wheels.
Unless you'll be installing your heater onto the wall, casters are a good feature to opt for. They might also prevent damages occurring to the heater from picking it up and putting it down so much.
Common Questions About Bedroom Heaters
Can I Sleep with a Space Heater On?
Many people have different opinions on whether you should sleep with a space heater on. The belief that space heaters are not safe to use in a bedroom while sleeping generally stems from older heaters that didn't have as many safety features as modern models include.
Most manufacturers, and even the fire department, will advise that you never sleep with a space heater on. It's just too risky. But if you have a heater that includes the top safety features, then it can give you the most peace of mind.
The more safety features your space heater has the better. And if you're going to sleep with the heater on, then you should set the timer so that it is not running all night.
Additionally, make sure that your heater is certified by a major testing organization and that you have a working smoke alarm to alert you of fire.
Do Room Heaters Reduce Oxygen?
Room heaters can burn oxygen in the air if they are fan-based convection heaters or halogen heaters. This reduces the levels in the air and can pose a threat to your health. However, by leaving the door ajar you can decrease these risks.
Oil-filled space heaters do not reduce oxygen, so if this is a concern for you, then we recommend that you purchase one of these bedroom heaters.
Can You Get Carbon Monoxide Poisoning from a Fan Heater?
Fan heaters do not pose a danger of carbon monoxide poisoning. An electric heater does not burn fuel like a propane heater or kerosene heater. Therefore, you are at no risk of carbon monoxide poisoning when running a fan heater.
If you want a safe heater for bedroom, then a fan heater can be a good choice.
What Type of Heater Uses the Least Electricity?
Infrared heaters use the least electricity as they have the lowest wattage per heat output. These electric heaters average $0.10 per hour.
Oil-filled heaters are also relatively inexpensive to run, costing around $0.15 per hour. Fan heaters without thermostats are the most expensive to run, at around $0.20 per hour.
But the true cost for how much electricity does a heater use will depend on the wattage and heat setting. A 700 watt space heater will use less electricity than a 1500 watt heater.
If budget is a top concern for you, then the best electric heater for a bedroom would be the infrared type regardless of the wattage used. That's because infrared heaters warm up objects in the room instead of the air, and that heat lasts longer.
Enjoy Your New Bedroom Heater
We hope you enjoyed this detailed guide on how to choose the best bedroom heater for your home.
As you discovered, a good electric heater for bedroom comes in five types: ceramic, fan, infrared, oil-filled, and panel heaters. And the unit you choose will depend on the type and efficiency of heating you want while you sleep.
Hopefully, our bedroom heater reviews made things easier for you to make that choice by showing you what the best space heater for a bedroom is in each of those categories. You can also rest assured that these are the safest space heater for bedroom options available.
Now that you know what heaters are on the market, it's up to you to pick the perfect unit for your bedroom needs at a price you can enjoy.