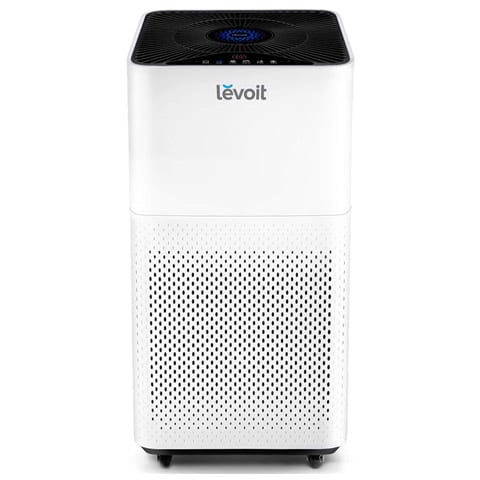 Have you been looking for an air purifier for your home?
Has the Levoit LV-H135 air purifier caught your eye but you're not 100% sure if it's the right one for you or not?
If so, this Levoit LV-H135 review can help.
We've put together the most in-depth information on this air purifier to help you determine if it will work well in your home, office, or apartment.
We'll look at all of the top features and air cleaning capabilities to give you a better idea of what the Levoit air purifier LV-H135 can do for you.
So, let's get started.
Disclosure: Home Air Guides is reader-supported. As an Amazon associate and affiliate for independent brands, we earn from qualifying purchases made through the links on our site. Learn more.
Levoit LV-H135 Review
By far, Levoit is the most popular brand of air purifiers today and is continually featured on our best air purifiers page.
And the Levoit LV-H135 air purifier is one of the more advanced air purifiers you can get from this company.
What we like most about Levoit is that this brand goes out of its way to release a wide range of air purifiers to fit every want and need.
The company has developed a strong reputation for delivering the highest quality air purifiers.
The Levoit LV-H135 is no different.
It's a top air purifier for medium to large size rooms that can easily be used throughout multiple rooms in your home, office, or apartment since it has caster wheels.
It also has some more advanced operational features that can't be found on other models offered by this company.
Let's explore everything this model has to offer.
Levoit LV-H135 Air Filter Types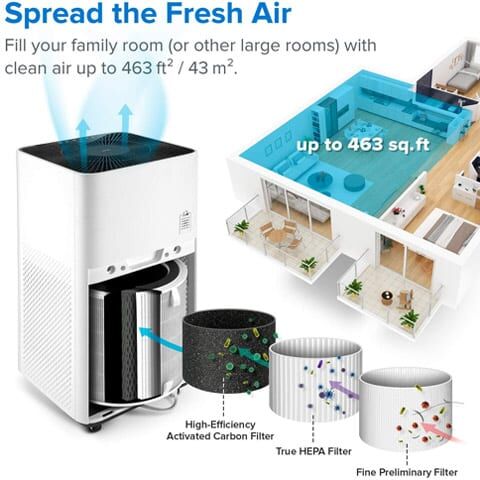 Like many of the other models in the Levoit line-up, the Levoit air purifier LV-H135 has a 3-stage air filtration system.
The all-in-one filter includes:
Pre-filter – This fine pre-filter is in place to capture large pollutants as they pass through the unit. These include dust, pet dander, hair, and lint. To keep this pre-filter clean, you'll need to vacuum it regularly, but this will ensure that it lasts for a long time.
True HEPA filter – This filter has the ability to capture 99.97% of particles that are as small as 0.3 microns in size. This includes the most common airborne pollutants such as pollen, mold spores, allergens, smoke, bacteria, and some viruses.
Activated Carbon filter – Having this filter in the Levoit LV-H135 air purifier gives it the ability to remove unpleasant odors from your home, office, or apartment, as well as take care of volatile organic compounds (VOCs). This filter has the ability to deal with smoke, kitchen odors, pet smells, chemical gases, and more.
Levoit LV-H135 Room Size Coverage
The Levoit LV-H135 is a powerful air purifier for large rooms up to 463 square feet in size.
That amount of air cleaning power makes this air purifier best to use in the large areas around your home or office, like the living room, kitchen, open concept dining/living rooms, conference rooms, workshops, etc.
It can also be placed in a basement to make the air fresh and clean by removing airborne dust and mold particles.
Here's how other Levoit air purifiers we've reviewed compare:
Levoit LV-H135 ACH Rating
It's helpful to know how fast this air purifier can clean the air in your home, so we'll now talk about the ACH rating in this LV-H135 review.
ACH stands for "Air Changes Per Hour" and this number refers to how many times in one hour the air purifier can recycle the air inside a room.
The Levoit LV-H135 has a 4x ACH rating.
That means this air purifier can clean the air four times each hour or every 15 minutes.
A 4x ACH rating is an exceptional score for a large room air purifier like this. You don't find many models that offer anything higher, unless you want to pay a much higher price.
Levoit LV-H135 CADR Rating
How well the Levoit air purifier LV-H135 does at removing harmful elements from the air is referred to as its CADR rating, which stands for Clean Air Delivery Rate.
This is a test that is conducted by the Association of Home Appliance Manufacturers (AHAM) and it looks at how well the unit can remove three things from your home: pollen, dust, and smoke particles.
The closer the CADR number is to the room size it's rated to clean, the more efficient the air purifier is.
The Levoit LV-H135 air purifier has a CADR rating scale of 212.
What this number means is that it does an adequate job of filter out airborne contaminants.
It's not the best and it's not the worst CADR rating for an air purifier. It's right there in the middle.
Levoit LV-H135 Top Features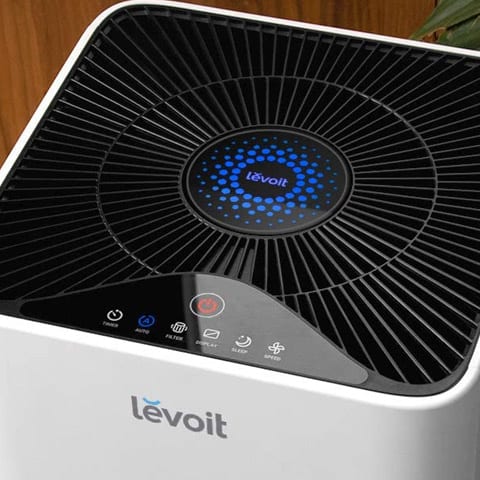 The Levoit LV-H135 has some advanced features that can't be found on some of the other models offered by this brand.
And they're well worth mentioning in this Levoit LV-H135 review:
Smart Sensor – This detects any changes in the air quality in your home and sends a signal t the air purifier to boost its air cleaning power.
Auto Mode – If you put this air purifier in Auto Mode, it will work in conjunction with the Smart Sensor to automatically adjust the fan speed to ensure you're getting clean air throughout your room.
Real-time Air Quality Updates – This feature gives you instant air quality feedback with an LED light indicator. The colors used include blue (very good), green (good), yellow (moderate), and red (bad).
Sleep Mode – When you put the Levoit air purifier LV-H135 into Sleep Mode, you won't even know it's running. You'll be able to get a great night's rest and still enjoy the benefits of clean air.
Timer – You have the ability to set the timer for 2, 4, or 8 hours, and the unit will turn itself off automatically when the time runs out.
Caster Wheels – This is the only air purifier from this brand that has casters, making it easy tomove from one place to another or position perfectly in the room with ease.
Levoit LV-H135 Design and Size
Although this Levoit LV-H135 air purifier has a 3D rectangular shape, it still offers a 360-degree air intake design.
The internal filter is large and shaped like a cylinder.
With air intake vents all around the lower half of the unit, room air is sucked in more efficiently and at a faster rate than other products of this size that only draw air in from one or two sides.
After pollutants are filtered out of the air, clean air is released back into the room by an outlet on the top of the unit.
As for the exact dimensions and weight of the Levoit LV-H135, these include:
Width: 13.5″
Height: 25″
Weight: 17 lbs.
It sits just below your waist level and is not that heavy of a unit.
However, it also comes with easy-glide caster wheels on the bottom so you don't have to lift to move it around.
You can easily move it from room to room or readjust it without much effort.
It also comes with a flat white finish, so it looks good from all angles.
Who is the Levoit LV-H135 Air Purifier for?
The Levoit LV-H135 is a powerful air purifier for a good price and it can meet most people's needs.
But, those who will benefit the most include:
Anyone who suffers from asthma or allergies.
People with pets who want to remove dander, hair, and odors.
Individuals who have multiple chemical sensitivities and want to remove as many airborne contaminants as possible.
People who want less dust and fewer allergens, bacteria, and mold spores in their home or workplace.
Anyone who needs an air purifier to meet the demands of a large room.
People who want a smart device that works 24/7 to clean the air without any user input.
Anyone who wants an air purifier that offers real-time air quality feedback through the color-changing LED light.
Levoit LV-H135 Warranty Information
The Levoit air purifier LV-H135 comes with a basic 1-year warranty, but you can add another year by registering the product for free. When you take this step, Levoit will also give you community rewards, which can be used for your next purchase with the company.
More Levoit LV-H135 Reviews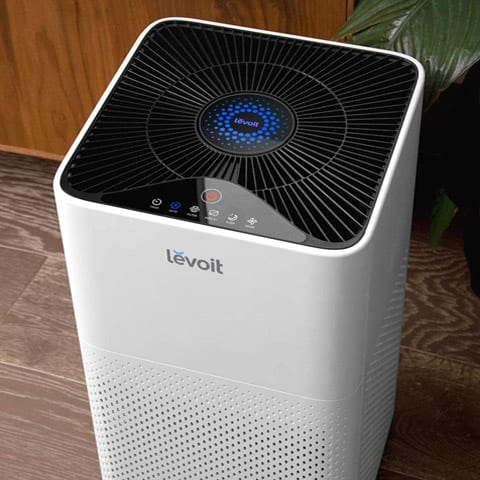 Still not sure if the Levoit LV-H135 air purifier is right for you?
This air purifier can be a great addition to any home, office or apartment because it removes a wide range of harmful airborne pollutants to give you fresh clean air.
But, if you're not 100% sure if you should buy it or not, then check out more Levoit LV-H135 reviews on Amazon to see what other people have to say about it.
We hope those comments and this Levoit LV-H135 review are beneficial in helping you make a final decision.