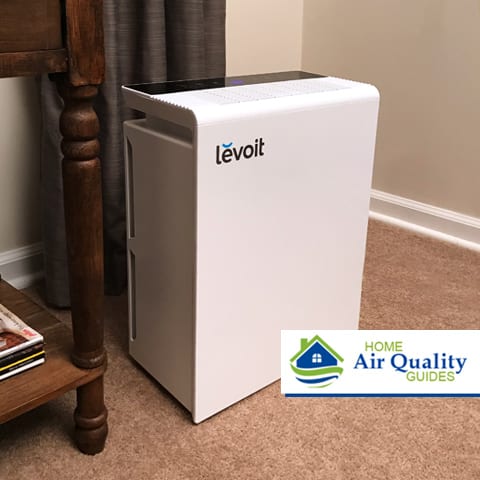 In this post, we're going to review one of the most popular Levoit air purifiers:
We consider this to be one of the best air purifier for home because not only can you find it for less than $170, but it's also one of the only smart enabled air purifiers at this price point with WiFi controls.
As you'll see below, this product uses a three-stage air filtration system to cleanse the air and comes with all of the basic features you need in a high-quality air purifier.
So let's get started.
Disclosure: Home Air Guides is reader-supported. As an Amazon associate and affiliate for independent brands, we earn from qualifying purchases made through the links on our site. Learn more.
Levoit LV-PUR131S Review
Levoit LV-PUR131S Air Filtration Technologies
The Levoit LV-PUR131S air purifier is designed to capture 99.97% of harmful indoor particles down to 0.3 microns in size and fine particulate matter (PM) air pollution down to 2.5 micrometers.
What those numbers mean is that this air purifier can capture both common indoor pollutants and external pollution that makes its way into your home including:
Dust
Dirt
Soot
Smoke
Drops of liquid
Pet dander
Pollen
Mold spores
Some forms of bacteria and germs
Volatile Organic Compounds (VOCs)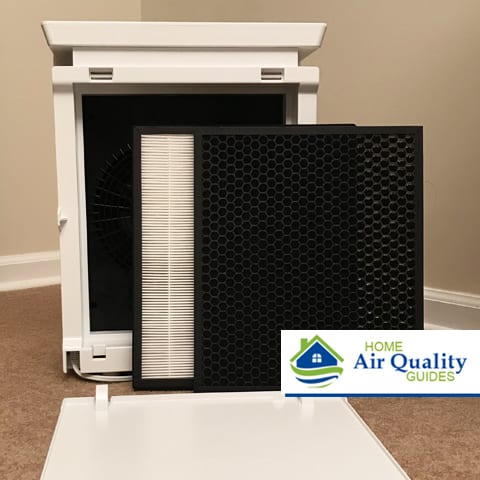 The LV-PUR131S removes those types of contaminants from your indoor air through a three-stage air filtration system.
This system includes:
Pre-Filter for trapping the largest particles like hair, dirt, and bigger dust
True HEPA Filter for capturing finer allergens, dust, pet dander, bacteria, and germs
Activated Carbon Filter for reducing household odors from pets, smoking, cooking, and chemical gases (VOCs)
The pre-filter is attached to the True HEPA filter and the Activated Carbon filter is a completely separate filter.
The recommended interval of replacing these filters is ever 6 months depending on use. Replacement filters come in a set.
Levoit LV-PUR131S Coverage
With the Levoit LV-PUR131S you're going to get up to 322 square feet (sq. ft.) of coverage.
That makes this unit ideal for most medium size rooms.
For example, a room that is 16 feet by 20 feet would be a perfect match (16 x 20 = 320 sq. ft.). So would anything smaller.
You'll find that this amount of coverage is more than enough for many living rooms, dens, and bedrooms in a single-family home or apartment.
This unit is also a good choice to use in an office and is featured in our best office air purifier reviews.
Here's how other Levoit air purifiers we've reviewed compare:
Levoit LV-PUR131S Design
The sleek white design is modern and appealing and doesn't call much attention to itself.
That's a good thing for anyone who wants an air purifier that can fit in with any décor.
Another positive point here is that the air is drawn in from the left and right sides of the unit through thin openings near the back.
This is a much nicer design than many other air purifiers that have unsightly air vents on the front of the machine to suck in surrounding air.
The shape and noise dampening body of the Levoit LV-PUR131S also makes it one of the quietest air purifiers we've tested.
Levoit LV-PUR131S Size and Dimensions
The Levoit LV-PUR131S has great size for the amount of power it packs. The full specs are below, but to help you visualize what these numbers mean the height is just about knee level and the depth is less than the length of a sheet of paper.
This machine is also relatively light to handle and can easily be carried from room to room.
Width: 14.5" wide
Height: 18.5" tall
Depth: 7.2" deep
Weight: 15.8 lbs.
Levoit LV-PUR131S Features
Smart Enabled with App Control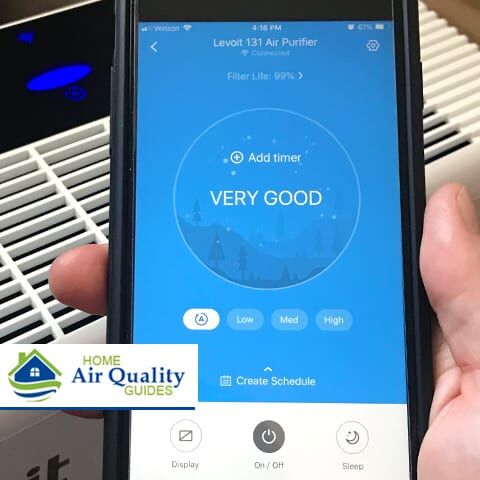 The most important feature to point about the Levoit LV-PUR131S is that it's a smart enabled air purifier. This means you can control every aspect of it from a mobile device or tablet as long as you're connected to WiFi.
We often recommend it as one of top units on our best WiFi air purifiers reviews page.
Being a smart air purifier also means that you can set up a customized operating schedule.
By downloading the free VeSync app from the App Store or Google Play Store, you can set up an unlimited number of dates and times for your air purifier to operate.
For example, you can have the unit automatically turn on at 7 a.m. on a Monday and off at 2 p.m. that same day.
You can also repeat this pattern for any other day of the week, set up various timings for the weekend, and more.
(You can see pictures of these app settings at the end of this review.)
Additionally, this model can be set up to work with Amazon Alexa or Google Assistant.
Fan Speeds and Modes
While the purpose of buying this air purifier is to get the smart controls, you'll be happy to know that every aspect (except for scheduling) can be controlled by the touch panel on the machine.
Those functions include:
Fan speed (low, medium, and high)
Auto mode (allows the fan to adjust speeds automatically depending on the air quality)
Sleep mode (keeps it in low mode at all times)
Timer (for automatic shut off between 1 and 12 hours)
Air Quality Indicator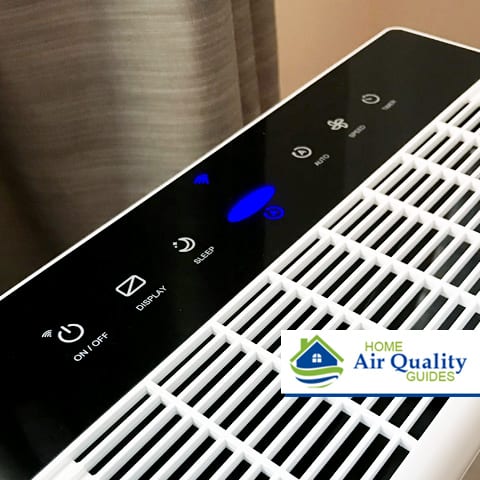 This air purifier has an air quality alert indicator to show you how clean or dirty the air is inside a room.
This is a convenient feature to have because you can instantly know what the quality of your indoor air is just by looking at the light on the top of the machine.
(This information is also available in the app.)
The colors for the air quality alert indicator light are below:
Red = Bad
Yellow = Moderate
Green = Good
Blue = Very Good
Air Filter Replacement Indicator
This feature is one that we thought could be improved upon because the way it currently operates can be a little confusing.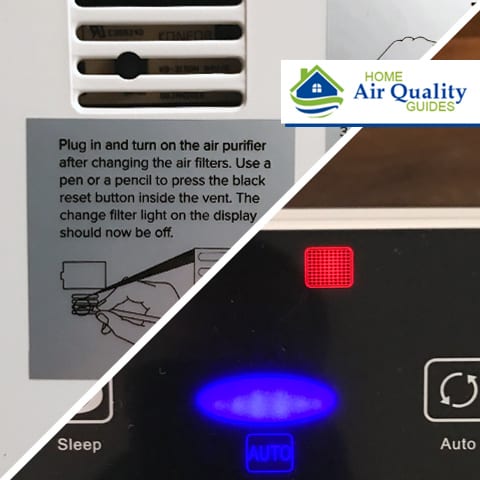 The air filter replacement indicator lights up in the color red on top of the unit every six months no matter if the filters need to be replaced or not.
If you read the operating manual closely, you'll find that this function is normal and the purpose of the alert is to remind you to visually check the filters.
This feature can be somewhat misleading for anyone who doesn't thoroughly read the manual because if you see the light illuminated you may think that it's time to replace the filters even if they still have a lot of life in them.
We thought that the VeSync app would give a better indicator of filter life since it reports the filter life as a percentage between 0-100%; however, after talking with the manufacturer we discovered that this it's basically just a countdown timer.
Once the unit is turned on for the first time (or the filters are replaced) the percentage in the app starts ticking down from 100% to 0%.
This happens over an average of six months if the air purifier is operated for at least 16.5 hours per day.
Once the app reports 0%, you need to check the filters to see if they actually need to be replaced or not.
The red light will also light up on the top of the machine.
If the filters still look clean, you simply have to rest the light by using the app or the button on the side of the unit.
If you reset the filter indicator on the unit itself, be prepared for a little bit of a hassle. To reset it, you need to push a button that's hidden behind a vent on the side of the unit.
The manual recommends using a pencil to push the button but a paper clip will also work too.
We found this air filter light reset process to be inconvenient and we're not sure why Levoit didn't just put the button in an easier to reach spot.
Fortunately, you can easily reset it using the VeSync app so the physical button may not really be much use to you.
Free Extended 1 Year Warranty
A pleasant surprise you'll find in the box is a chance to extend your product warranty for an extra year. To cash in on this opportunity all you have to do is register your product within 14 days after purchase.
Who Should Buy the Levoit LV-PUR131S?
The Levoit LV-PUR131S air purifier is a great product for a wide variety of users, however, we think that it's best suited for someone who falls into any of these categories:
You want simplicity – This air purifier is easy to use and can work instantly out of the box without any complicated set up.
You want app control – Not many air purifiers include mobile apps at this price level and this model is one of your best options.
You want multi-level air filtration – It includes the three must-have air filters for any high-quality device: Pre-filter, True HEPA filter, and Activated Carbon filter.
You want a great performer – It removes 99.97% of indoor particles down to 0.3 microns and PM 2.5 air pollution.
You don't want to spend a lot of money – The cost is very competitive at less than $170 and outperforms many other air purifiers in its class.
More VeSync App Pictures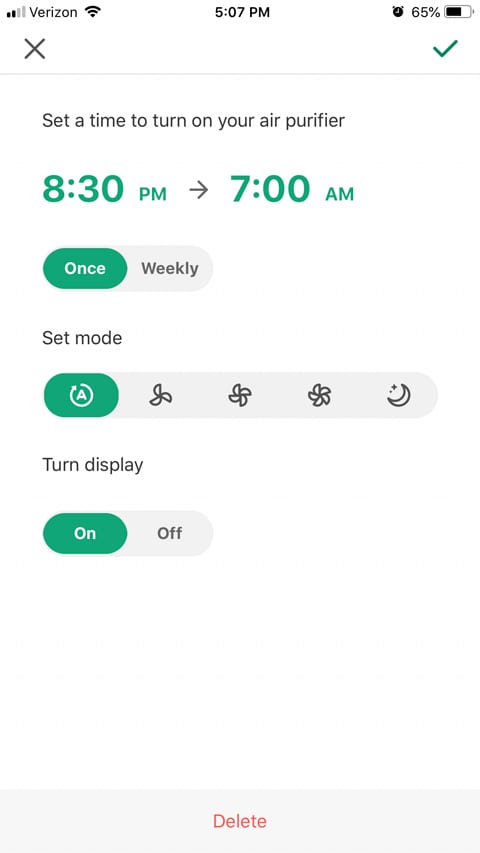 ---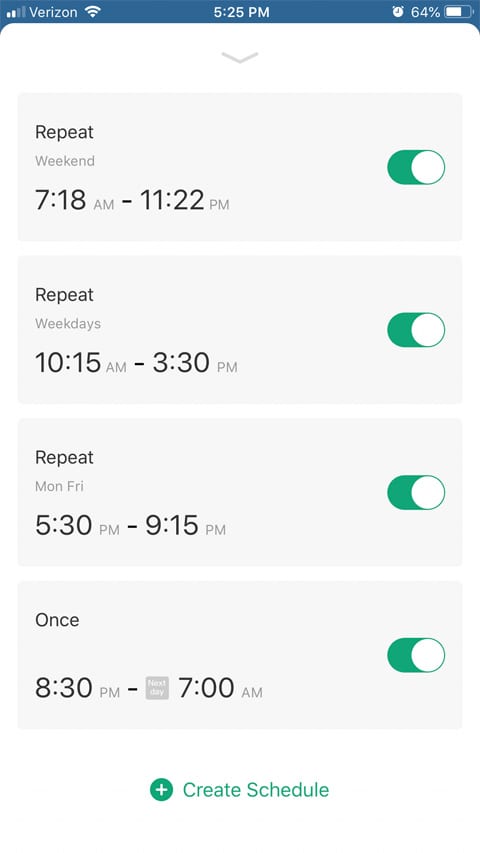 ---
---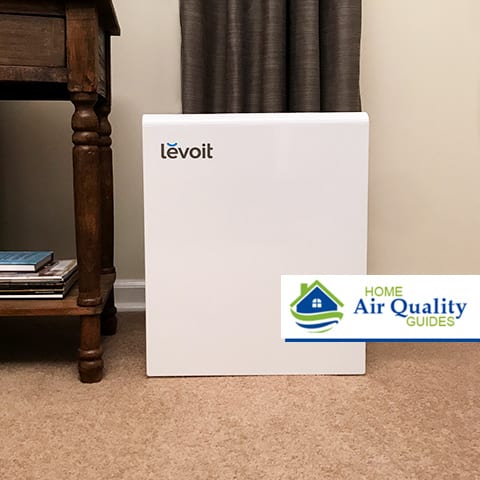 We hope you enjoyed this Levoit LV-PUR131S air purifier review!