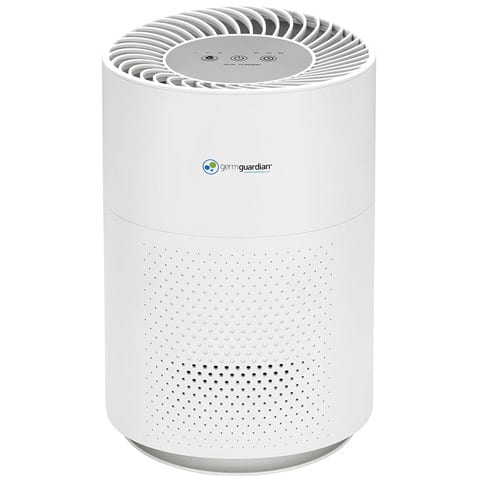 Are you looking for a small air purifier that does a good job of removing airborne pollutants?
Are you considering the GermGuardian AC4200W air purifier and hoping that it can clean the air as well as it says it can?
Then this GermGuardian AC4200 review is for you.
Below, you'll get information about the features and performance of this air purifier to help you decide if you should have it in your home, office, or apartment.
Let's check out what makes the Guardian Technologies GermGuardian AC4200 air purifier a good option for you and your family.
Disclosure: Home Air Guides is reader-supported. As an Amazon associate and affiliate for independent brands, we earn from qualifying purchases made through the links on our site. Learn more.
GermGuardian AC4200 Review
Before we begin this review, we wanted you to know that we'll use the model numbers "AC4200" and "AC4200W" interchangeably throughout this guide.
At this time, the GermGuardian AC4200 air purifier only comes in the color white, so you may find it labeled as "AC4200W".
The "W" refers to the color white.
With that information out of the way, let's begin the review.
The GermGuardian brand is known for offering high-quality air purifiers at a lower price, and the GermGuardian AC4200 air purifier fits perfectly into its business model.
This unit may be smaller and less expensive than other options on the market, but it does a good job of removing pollutants and other airborne particles that may be harmful to your health.
The GermGuardian AC4200W air purifier is a compact unit, which means that it's small and can be used for personal use.
That doesn't mean it's not powerful, though.
Even in small spaces, this unit cleans the air to make it pure for you to breathe.
GermGuardian AC4200 Air Filter Types
The GermGuardian AC4200 air purifier is a simple device with a two-stage air filtration system.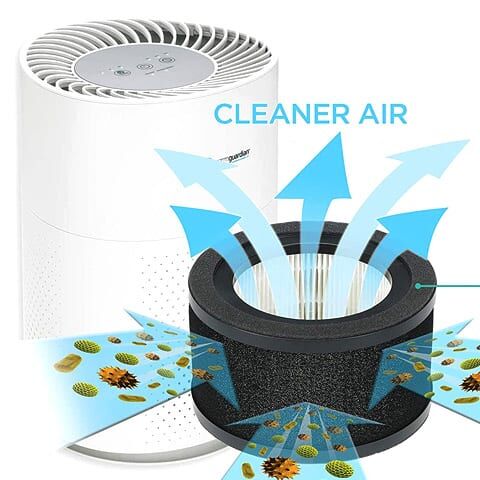 The filters included with this unit are the following:

Activated Carbon Pre-filter – This filter serves two purposes:

To remove large particles from the air, including dust, dirt, hair, and debris.
To reduce common odors that come from cooking, pets, tobacco smoke, and airborne chemicals.

True HEPA Filter – This filter captures 99.97% of particles as small as 0.3 microns in size. It removes the harmful pollutants that the pre-filter can't trap, such as ultrafine dust, pollen, allergens, bacteria, pet dander, and mold spores.
Both of these filters are combined into one filter unit.
That means you only need to make one filter replacement every 6 to 8 months when the material gets filled up with contaminants.
We're not sure why, but the GermGuardian AC4200W doesn't include a UV-C light for killing bacteria and viruses.
Almost every other air purifier by this brand does include that feature.
Perhaps, Guardian Technologies chose to eliminate the UV-C light on this model to make it less expensive or maybe they're just targeting specific types of consumers with it.
If you do want a small air purifier with a three-stage air filtration system, then the GermGuardian AC4100 is a good alternative.
GermGuardian AC4200 Room Size Coverage
Because the GermGuardian AC4200W air purifier is a compact air purifier, it works best in smaller spaces.
The GermGuardian AC4200 can clean the air in rooms up to 105 square feet in size.
That amount of coverage makes it good for:
Bedrooms
Guest rooms
Home offices
Small workplace offices
Cubicles
Small living rooms
Apartment rooms
Here's how other GermGuardian air purifiers we've reviewed compare:
GermGuardian AC4200 ACH Rating
The ACH rating on an air purifier stands for "Air Changes Per Hour" and it lets you know how many times in one hour the air purifier can clean the air.
As explained in our article on what is an ACH rating, this is a good thing to know because it tells you the efficiency of the air purifier.
The GermGuardian AC4200 air purifier has a 4x ACH rating.
That means it can clean the air four times in one hour or once every 15 minutes, which is a great rating to have.
GermGuardian AC4200 CADR Rating
In addition to the ACH rating, you also want to know how good an air purifier is at removing certain particles from the air, such as dust, pollen, and smoke.
That rating is called the CADR rating which is short for "Clean Air Delivery Rate".
The Association of Home Appliance Manufacturers (AHAM) is the organization that conducts independent tests to determine the CADR ratings for an air purifier.
The GermGuardian AC4200W CADR ratings are as follows:
Dust: 76
Smoke: 68
Pollen: 77
According to these results, this unit does a great job of removing particles from the air.
When it comes to the measurements, you want to see numbers that are close to the air purifier's room size coverage.
If they're within 2/3 of the total room size, then you know you're getting a high-quality unit that works hard to remove airborne pollutants.
GermGuardian AC4200 Top Features
To ensure this GermGuardian AC4200 review contains all the information you need to make the best decision, we'll now look at the top features offered in this air purifier.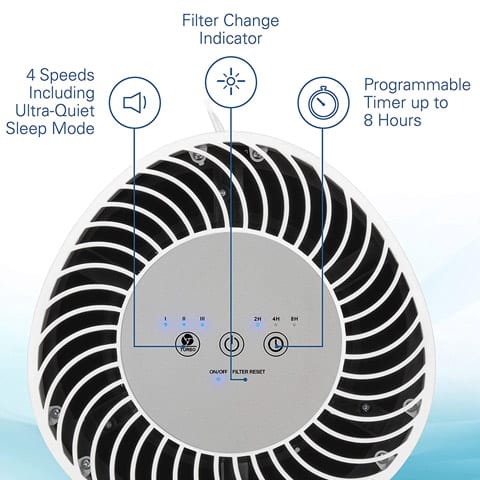 Since this is a smaller air purifier, it doesn't come with a ton of extras.
But, the features it does have are the most important for easy operation:
4 Fan Speeds – One of these speeds is an ultra-quiet "Sleep Mode" that runs silently for a good night's rest. Another fan speed is called "Turbo Mode" which circulates clean air very quickly and efficiently throughout the room.
Timer – This feature allows you to program the run time for up to 8 hours. The unit will then automatically turn off.
Filter Change Indicator – A light on the top of the GermGuardian AC4200W air purifier lets you know when it's time to replace the filter. That way, you never have to guess.
GermGuardian AC4200 Design and Size
The GermGuardian AC4200W air purifier is cylinder-shaped and has a spiral air grill on the top of the unit. This is also where the controls are located. The air intake vents are located on the body of the air purifier and cover the entire 360 degrees, ensuring that it takes in and cleans as much air as possible.
This air purifier is 13.5 inches tall and weighs slightly over 8 pounds. It's the ultimate in tabletop air purifiers, and the white color means it will match with any décor in your home, office, or apartment.
Who is the GermGuardian AC4200 Air Purifier for?
Since this air purifier has a True HEPA filter, it's a good choice for anyone who has allergies, asthma, or just wants to remove the widest range of airborne pollutants.
Being equipped with an Activated Carbon filter, the GermGuardian AC4200 can also work well in areas where smells or chemical odors are present.
For people with pets, this air purifier can help reduce the amount of hair and dander floating around, as well as trap pet smells.
So, in many ways, this is a good air purifier for all types of people who want clean air indoors.
GermGuardian AC4200 Warranty Information
This air purifier comes with a 3-year limited warranty.
More GermGuardian AC4200 Reviews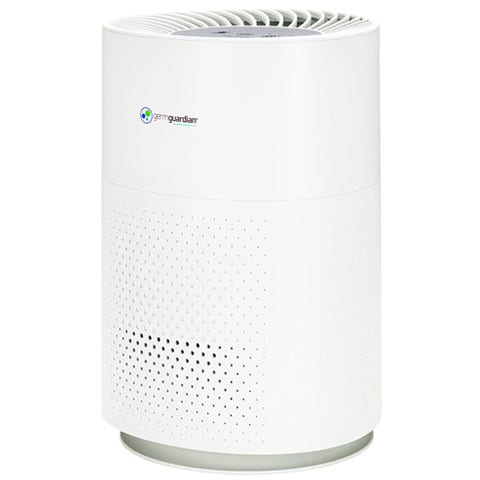 The Guardian Technologies GermGuardian AC4200W air purifier comes from a brand that is well-known for developing high-quality compact units.
This model, in particular, works well as a personal air purifier, and it might be exactly what you need in your home or office to keep the air around you healthy and safe to breathe.
But, if you're still unsure if this is the right unit for you, then check out more reviews on Amazon to see what other people have to say about it.
We hope those comments and this GermGuardian AC4200 review are beneficial in helping you make a final decision.