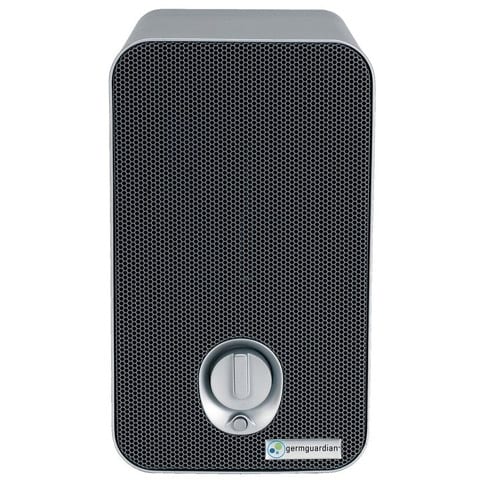 Are you looking for a small but powerful air purifier that can help keep you healthy?
Have you been wondering if the GermGuardian AC4100 air purifier has what it takes?
Then, you've come to the right place.
We've put together this GermGuardian AC4100 review to let you know exactly what this air purifier is capable of doing.
Finding the right air purifier for your wants and needs can be a challenging process—unless you have the right information.
After reading this Guardian Technologies GermGuardian AC4100 review, you'll know about all of the air cleaning features of this unit to make a good decision.
Let's dive in!
Disclosure: Home Air Guides is reader-supported. As an Amazon associate and affiliate for independent brands, we earn from qualifying purchases made through the links on our site. Learn more.
GermGuardian AC4100 Review
The GermGuardian AC4100 air purifier is an inexpensive unit that can be used to improve the air quality in any home, office, or apartment.
While it may not come with a lot of fancy extras, it does what you need it to do: remove harmful pollutants from the air.
When it comes to air purifiers that are affordable yet efficient, you can't go wrong with the Guardian Technologies GermGuardian AC4100.
And it may be exactly what you're looking for to keep the air around you clean and safe to breathe.
GermGuardian AC4100 Air Filter Types
The GermGuardian AC4100 air purifier comes with a powerful three-stage air filtration system.
The filters included are the following:

Activated Carbon Filter – This filter is in place to remove any odors that might be floating around your indoor air. This includes smells from cooking, pets, and tobacco smoke. It also has the ability to remove volatile organic compounds (VOCs) from the air as well. VOCs are found in building materials, paints, office equipment, carpeting, furniture, and adhesives.
True HEPA Filter – This filter has the ability to capture 99.97% of airborne particles down to 0.3 microns in size, such as household dust, pet dander, mold spores, and pollen.
UV-C light – This special technology gives the GermGuardian AC4100 the ability to fight against germs, microorganisms, and pathogens that are in the air. This UV-C light kills bacteria, viruses, mold spores, and other harmful germs.
See Filters Up Close on Amazon.com
It should be mentioned in this GermGuardian AC4100 review that internal filters last about 6 to 8 months before a replacement is needed.
The UV-C light bulb last much longer and will need to be replaced every 10 to 12 month depending on the environmental factors.
GermGuardian AC4100 Room Size Coverage
Since the Guardian Technologies GermGuardian AC4100 is a compact air purifier, it's designed to clean the air in small spaces.
The GermGuardian AC4100 has enough power to purify the air in rooms up to 78 square feet.
That means this unit will work best in the following areas:
Bedrooms
Bathrooms
Craft Rooms
Children's playrooms
Cubicles
Home offices
Studio apartments
Here's how other GermGuardian air purifiers we've reviewed compare:
GermGuardian AC4100 ACH Rating
When it comes to keeping the air around you clean and fresh to breathe, it's beneficial to know how effective an air purifier really is at this job.
And that's where the ACH rating or Air Changes Per Hour number comes into play.
The ACH rating tells you how many times an air purifier cleans the air every hour.
The GermGuardian AC4100 air purifier has a 2x ACH rating.
This means that the unit cleans the entire volume of air in a 100 square foot room twice in one hour or once every half an hour.
That's a good ACH rating for a small compact air purifier.
Bigger and more expensive air purifiers often have a 3x or 4x ACH rating.
GermGuardian AC4100 CADR Rating
In addition to the air purifier being able to efficiently remove airborne particles, you also want it to be effective at getting rid of common pollutants, including dust, smoke, and pollen.
The Association of Home Appliance Manufacturers (AHAM) puts air purifiers to the test, and the results are called the Clean Air Delivery Rate (CADR).
If the CADR numbers for an air purifier are at least 2/3 of the room size coverage, then the air purifier does a great job of removing those common particles.
The CADR ratings for the GermGuardian AC4100 air purifier are:
Dust: 66
Pollen: 76
Smoke: 50
As you can see, this unit does a great job of removing dust and pollen from your indoor air.
However, the CADR rating for smoke is a bit low. That measurement is only 1/2 the size of the room size coverage for this air purifier (100 sq. ft.).
So, if you want a good air purifier for allergens and germs, this is a good pick, but for smoke, it's not the best option.
GermGuardian AC4100 Top Features
This air purifier is incredibly simple in its design, so it doesn't come with a lot of additional features.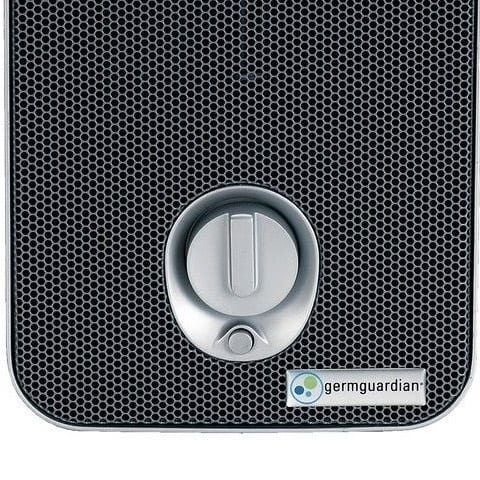 The three features we'd like to highlight for you include:

3 Fan Speeds – The fan speed settings are controlled by a dial on the front of the air purifier. The higher the setting, the harder the air purifier works to ensure you are breathing clean air.
UV-C Light Button – This lets you turn the UV-C light sanitizer function on and off.
Compact Design – The small size of this unit makes it an ideal tabletop air purifier for bedrooms, home offices, or other personal spaces.
GermGuardian AC4100 Design and Size
The Guardian Technologies GermGuardian AC4100 is a boxy air purifier that's small and lightweight.
It's easy to move this unit from one small space to another and it can be used as a personal air purifier on-the-go.
The fan speed setting control dial is located on the front of the unit.
The air intake grill is located on the back and the entire front of the unit is the clean air output vent.
The dimensions and weight of the GermGuardian AC4100 are as follows:
Dimensions: 11″ (H) x 6.5″ (W) x 7.5″ (D)
Weight: 5 pounds
With a small compact design, you have the option of placing this air purifier on a nightstand, desk, or table to ensure that the air in your immediate area is free from harmful pollutants.
Who is the GermGuardian AC4100 Air Purifier for?
Since the GermGuardian AC4100 comes equipped with three-stage air filtration system, it can be a good choice for many types of people:
Anyone with allergies.
People with asthma.
Individuals prone to sickness or just want fewer germs in their breathable air.
Anyone who wants less dust accumulation indoors.
People who want cleaner air without harmful gases or chemicals (i.e. VOCs).
Anyone who needs a powerful, but small and affordable air purifier.
GermGuardian AC4100 Warranty Information
The Guardian Technologies GermGuardian AC4100 comes with a 1-year limited warranty.
More GermGuardian AC4100 Reviews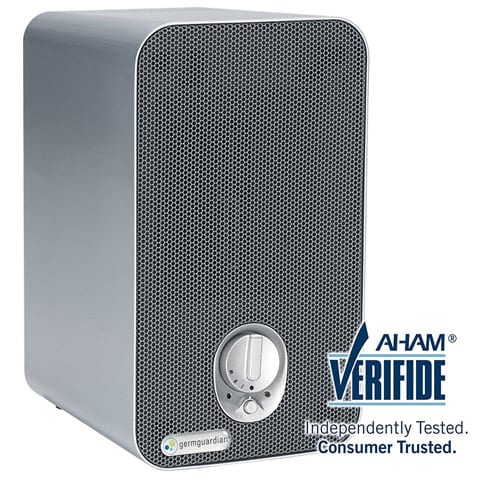 As you discovered, the Guardian Technologies GermGuardian AC4100 comes with a special UV-C light that gives it the ability to remove bacteria and viruses from the air to keep you healthy.
You won't find that feature in many other air purifiers of this size.
However, the UV-C light is common among all GermGuardian air purifiers.
But, if you're still trying to decide if the GermGuardian AC4100 air purifier is the best choice for you, then check out more reviews on Amazon to see what other people have to say about it.
We hope those comments and this GermGuardian AC4100 review are beneficial in helping you make a final decision.