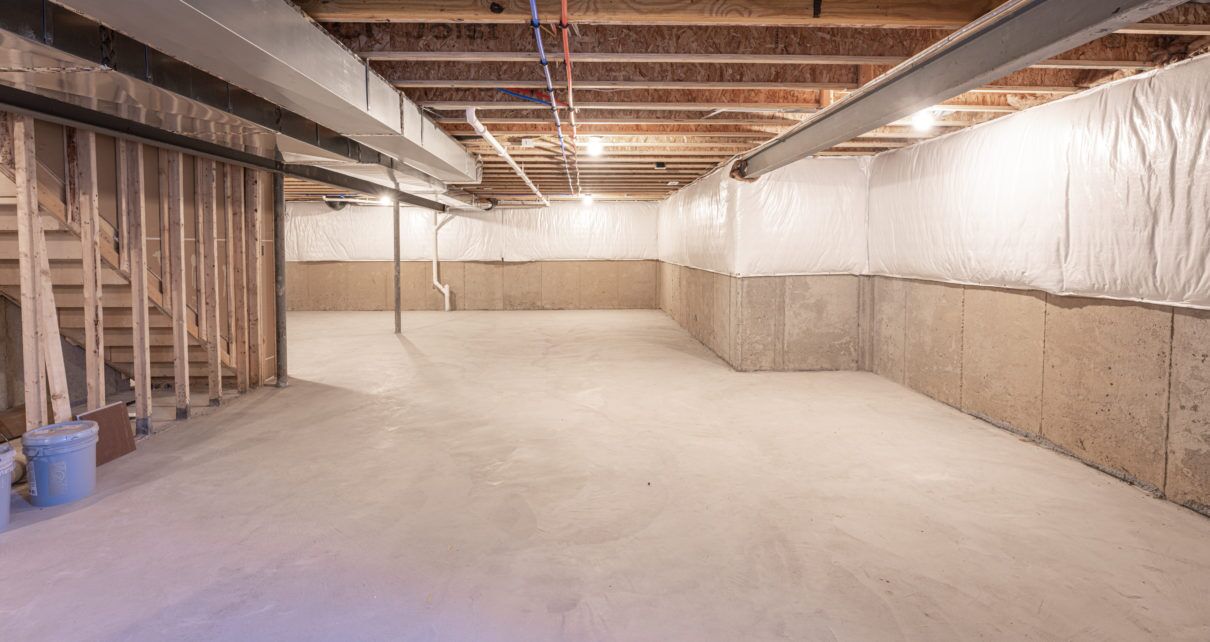 Are you looking to improve the air quality in your basement? Do you have a musty mold smell you want to get rid of so it's more tolerable to be down there? We've done all the work to help you find the best basement air purifier picks on the market—large and small, finished or unfinished.
Disclosure: Home Air Guides is reader-supported. As an Amazon associate and affiliate for independent brands, we earn from qualifying purchases made through the links on our site. Learn more.
Benefits of a Basement Air Purifier for Basement
Basements can be a great for everything from extra storage to bonus living space, but being partially or fully underground naturally impacts the air quality. Between the lack of circulation and prescence of more building materials, there are a lot of reasons why your basement might feel stuffy. An air purifier can fix that tangible issue and eliminate the invisible pollutants that can negatively impact your family's health.
Increased Air Circulation
If you have a basement without windows, or a door that's hardly ever left opened, the air inside can become stale and stuffy. The air exchange rate with the outdoors is a crucial factor in determining indoor air pollutant concentrations, according to the United States Environmental Protection Agency
Fewer Contaminents
Air purifiers are great for allergy and asthma sufferers because they trap irritants, including allergens, pet hair, pet dander, smoke, cooking odors and other triggers for sneezing, coughing, wheezing, or asthma attacks. Both unfinished and finished basements can also be breeding grounds for dust and mold. Air purifiers remove dust and dust mites as well as capturing and destroying mold spores that can cause damage.
Almost all building materials, paints, flooring, carpeting, and furniture release volatile organic compounds into the air which can cause odors and harm your health. Air purifiers remove these gaseous chemicals by absorbing the vapors before they get into your eyes, throat, or lungs.
Enhanced Mood and Sleep
Research shows that breathing in cleaner air improves your mood and decreases anxiety and stress. Air purifiers are perfect for anyone looking for better well-being. With an improved mood and less disruptive air quality, better, consistent nights sleep are within reach.
Tips For Using a Basement Air Purifier
To get the most value out of your purchase, there are a few simple tips you can follow after unboxing your new air purifier.
Don't Obstruct the Air Flow
Most air purifier manufacturers recommend that you leave at least 18-24 inches of space all around the unit. While it may be tempting to stick your air purifier in the corner of the room, keeping it as central as you can will give the air purifier enough clearance on all sides to draw a sufficient amount of air into the device and pump clean air back into the room. It also ensures that the Clean Air Delivery Rate (CADR Rating) and Air Changes Per Hour (ACH Rating) remain high.
Don't Turn the Air Purifier Off
Air purifiers run at peak performance when they operate 24 hours, 7 days per week. Every hour the device runs, the cleaner the basement air becomes. If you turn the machine off for any length of time, indoor contaminants will start to build up again, which defeats the purpose of having an air purifier. If the cost of running your air purifier all day worries you, rest assured that these machines are very energy efficient and barely impact your electric bill.
Keep Windows and Doors Closed
For efficiency, try to keep the air purifier inside a tightly closed space. By keeping windows and doors closed, you're giving the air purifier a chance to fully exchange the air inside. The more time the machine can operate in this manner, the better the air quality. Each time a window or door is opened, you're essentially letting purified air escape and inviting pollutants to flow back in, which makes the air purifier work harder to keep the air clean.
Check and Change Filters Regularly
Once the air filters become full, they can't operate effectively. Some of the best purifiers include a filter change indicator that alerts you for when it's time to check or change the filters. The easiest rules of thumb for changing are if the True HEPA filter looks brown and dirty and if the Activated Carbon filter is coated in white dust. If you're in any doubt, just know that having an overly clean filter is never a bad thing.
What to Look for in a Basement Air Purifier
Now, before you rush out and buy just any air purifier, hoping that it will cure all of your basement air quality problems, there are a few things you need to look out for to ensure that you get the best product.
True HEPA Filter
Essential in a basement air purifier because it's the only type of HEPA filter that's certified to capture particles as small as 0.3 microns. This includes mold spores, dust, allergens, smoke, pet dander, and thousands of other particles. However, watch out for air purifiers that use the words "HEPA-like," "HEPA-type," or just "HEPA" when referring to the filter. If it doesn't have the word "True" attached to it, then it's an inferior filter that won't be the best HEPA air purifier for allergies and other particles in your basement.
Ultraviolet Light
Also crucial because it's the only air purification technology that can kill mold spores and other microbes. A UV light works by using a beam of light to destroy the DNA structure of microorganisms. The UV-C light is completely safe for humans, however, it's still contained inside the air purifier and doesn't release any light into the room.
Activated Carbon Filter
Another must-have feature because it's the only type that can reduce basement odors. An activated carbon air filter does this through a chemical process called "adsorption" (which is similar to "absorption"), where odor particles cling to the filter medium. Activated carbon is the only substance that can remove a musty smell, volatile organic compounds, and other common basement odors.
Size
If you don't get the right size air purifier for your space, you won't be reaping all the benefits. Many models and brands may even offer different sizes for different size spaces – and the math is easy to do. Measure the width and lenth (in feet) of your basement, or room, and round up to the whole number. Multiplying the width and length will get you the square footage of the space.
Basement Air Purifier: Our Top Picks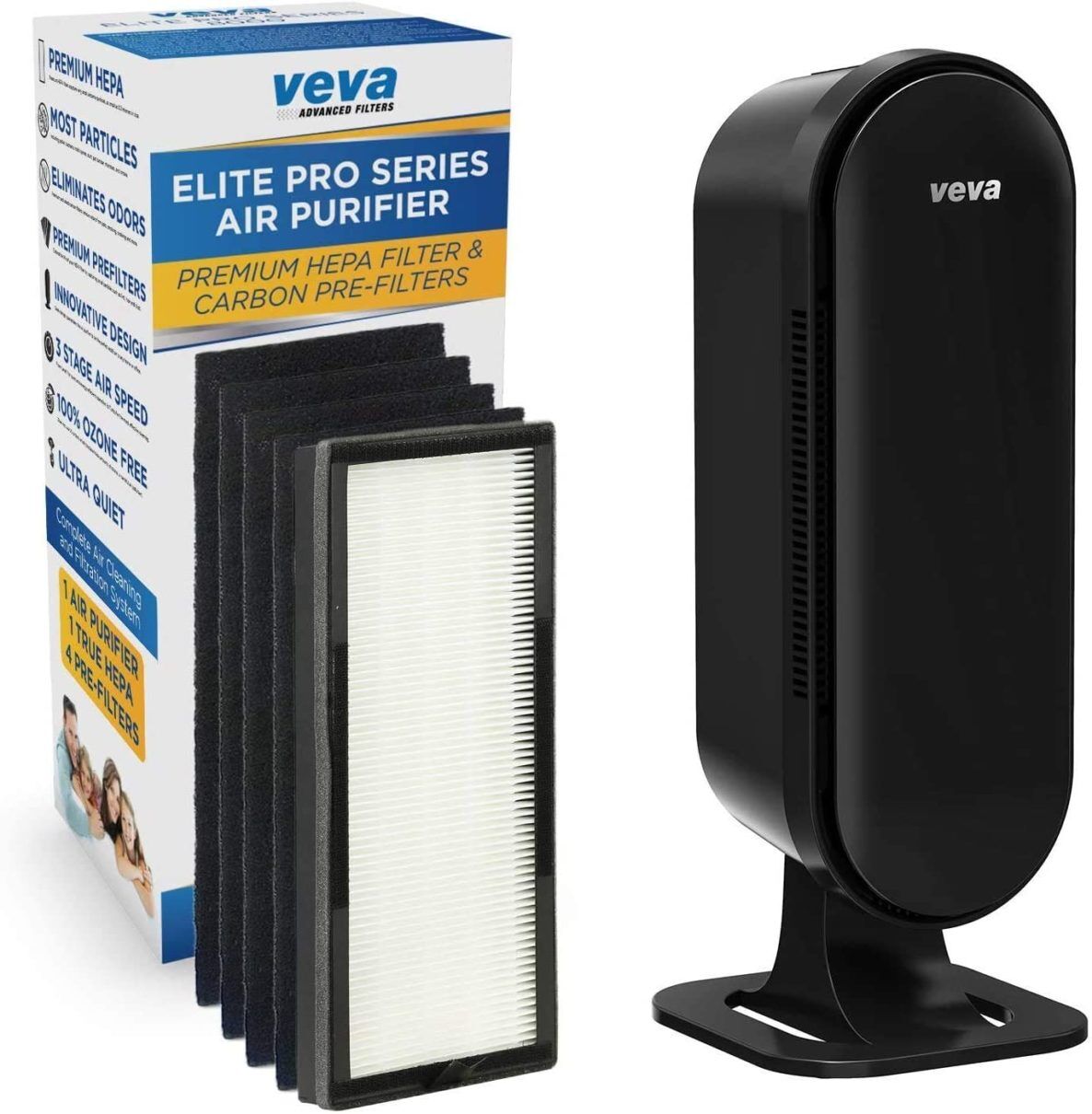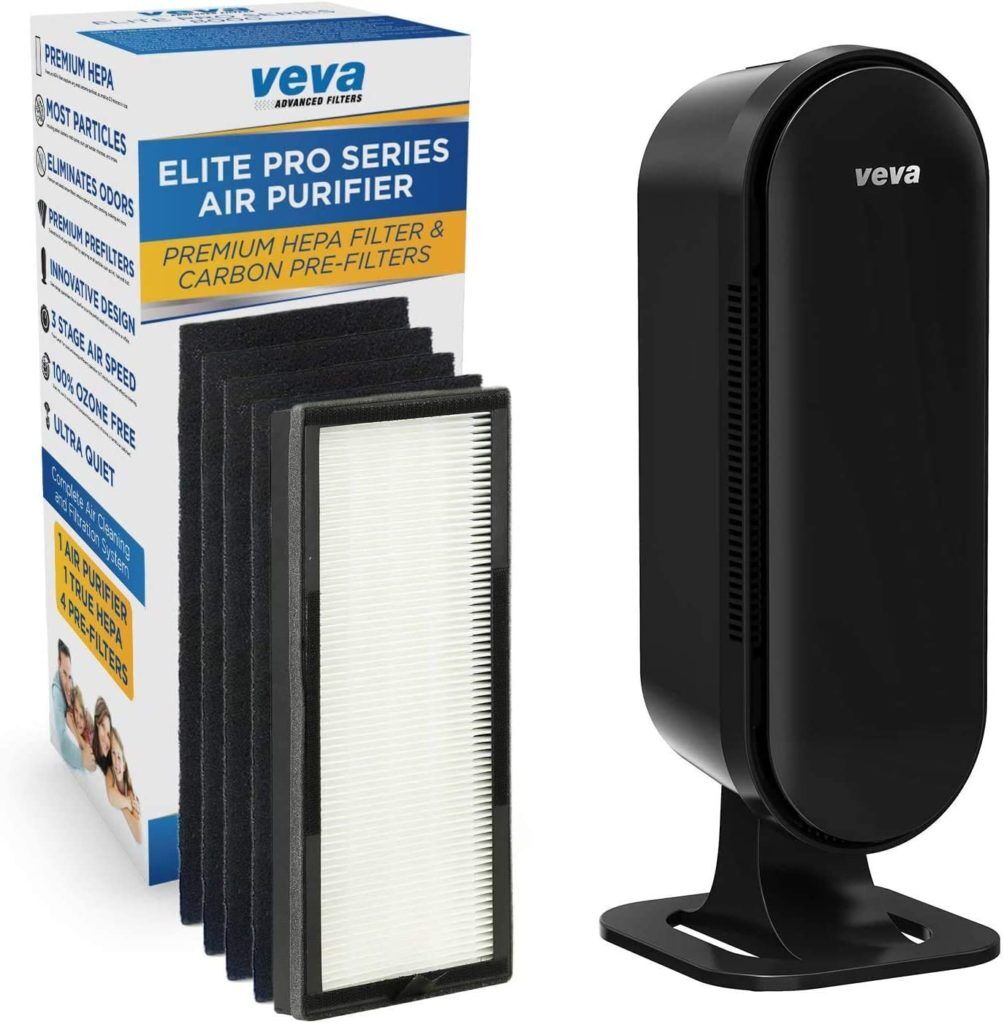 Best Air Purifier for Medium-Sized Basement (Finished or Unfinished)
The VEVA air purifier effectively filters pollen, bacteria, mold spores, dust, pet dander, microbes, smoke and more.
It comes with a premium HEPA filter to capture dust and allergens as well as four carbon pre-filters to remove odors and provide fresh, clean air throughout a room.
This air purifier has a sleek design that's great for any space. It also has an automatic shut-off safety feature (when the front panel is removed), making it safe for homes with children and/or pets.
The VEVA 8000 Elite Pro Series offers more filters and lower replacement costs compared to other air purifiers of similar size, all for a very reasonable price.
Best Air Purifier for Large Basement (Finished or Unfinished)
This product takes care of all of the particles that cause your downstairs air to be musty, stuffy, and stale.
The 5-stage air filtration system includes:
Pre-filter for trapping the largest particles.
True HEPA filter for capturing 99.97% of particles down to 0.3 microns in size.
Ultraviolet light to kill mold, bacteria, and viruses.
Activated Carbon filter for reducing odors.
Ionizer that attacks pollutants out in the air where they're floating around as well as extend the life of the internal filters.
Another feature you'll love about this device is that the internal filters are shaped like a cylinder; this increases the surface area by 60%, which makes it much more efficient than flat filters.
Finally, this air purifier covers very large spaces—up to 500 square feet—making it a perfect choice for most finished or unfinished basements.
Best Air Purifier for Small Basement (or Finished Room)
If you need an air purifier for a smaller unfinished basement or just a finished space, this stylish unit is going to be your best choice.
This air purifier covers up to 319 square feet which is optimal for many downstairs areas and excellent for
With a True HEPA filter, Ultraviolet (UV-C) light, Activated Carbon filter, and Ionizer, it strips the air of practically every airborne contaminant.
It also leaves the air smelling fresh and clean, which is what you want.
If you're going to use this device in a basement bedroom or living area, you'll be happy to know that it also includes a sleep mode that turns off all of the active lights.
For moderate size spaces, there's not much else you can ask for in an air purifier for basement smell and dust.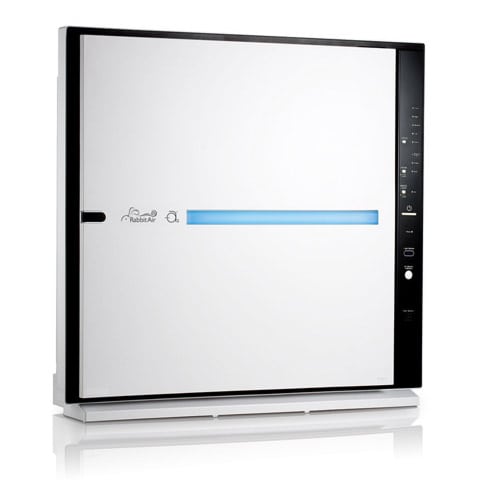 Best Air Purifier with Wall-Mount and Custom Design
How would you like an air purifier for your basement that not only cleans the air efficiently but can also be mounted to the wall?
It's the industry-leader for cleaning indoor air with these six powerful filters:
Pre-filter
Medium Filter
BioGS HEPA Filter, which is a more advanced True HEPA filter that lasts up to two years
Customized Filter
Activated Carbon Filter
Ionizer
The customized filter option is where this unit really shines and allows you to enhance the air cleaning abilities for specific types of pollutants in your basement, such as:
Germ Defense Filter: Reduces airborne bacteria, mold spores, and particles that carry viruses.
Pet Allergy Filter: Reduces pet dander, pet allergens, and pet hair.
Toxin Absorber Filter: Reduces volatile organic compounds (VOCs) and other chemicals.
Odor Remover Filter: Reduces odors from pets, cigarettes and cigars, cooking, and mildew.
You can also customize the front color panel design to match your basement's existing style and decor.
Lastly, you can choose between three versions to meet your size and control needs:
MinusA2 700A covers rooms up to 700 square feet.
MinusA2 780A covers rooms up to 815 square feet.
MinusA2 780N is the Wi-Fi model that covers rooms up to 815 square feet.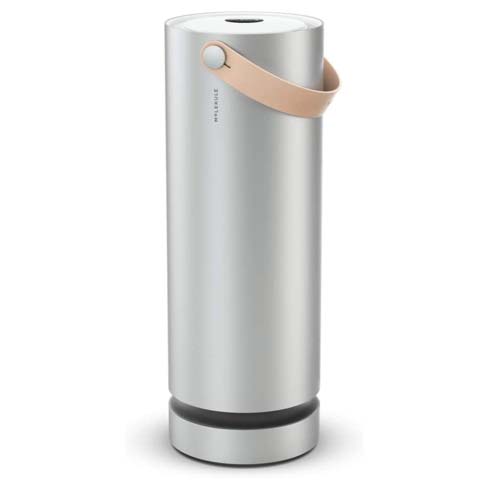 Powerful Air Purifier for Destroying Basement Pollutants
This air purifier has an advanced air filtration technology that actually destroys airborne pollutants at a molecular level.
In lab tests, these air purifiers have been proven to destroy airborne bacteria, mold, and viruses at an efficiency rate of 98.7% to 99.99%.
It's unlike any other air purifier reviewed on this list because it uses a proprietary PECO filtration technology:
PECO technology destroys particles at their core so you have the cleanest, healthiest air to breathe.
PECO filtering can eliminate contaminants that are 1,000 times smaller than standard HEPA filters.
The taller version of this air purifier can handle basements rooms up to 600 square feet.
The fan speeds and automatic modes can be controlled by the touch screen display on the top of the unit or you can sync it up with your iPhone or Android device with the Wi-Fi app.
Best Air Purifier for Smaller Basement Rooms
Do you just need to improve the air quality inside a small basement or sectioned off room like a bedroom?
This handles up to 180 square feet and includes all of the crucial filters for cleaning the air downstairs: True HEPA filter, Ultraviolet (UV-C) light, and Activated Carbon filter.
It does lack an Ionizer, which our top two recommendations include, but that's not a must-have feature for purifying basement air.
The vertical shape is a nice design because it allows you to place the device practically anywhere in a room.
Best Decor-Friendly Air Purifier for Smaller Basement Rooms
This product includes the same air purifying features as the GermGuardian air purifier above (True HEPA filter, Ultraviolet light, and Activated Carbon filter), but has a different shape and color.
Honestly, either of these air purifiers is a good choice for basement areas up to 200 square feet.
The chic design of this machine seemlessly blends into any decor without being an eyesore.
It's a fantastic air purifier with loads of positive happy customers—and inexpensive too.
Best Air Purifier for the Largest Basements
This air purifier covers the largest amount of space, up to 1,256 square feet.
The AIRMEGA 400 model can handle even more, up to 1,560 sq. ft.
This machine only includes a True HEPA filter and an Activated Carbon filter and not an Ultraviolet light, so while it can trap the contaminents, it can't actually kill them.
It's nearly impossible to find an air purifier that includes an Ultraviolet light and can cover more than 1,000 square feet without breaking the bank. So if you have an entire basement floor you want to keep fresh and clean, this is going to be one of your top choices for that size space.
Note: This product also comes in a 300S Wi-Fi version, if you want the convenience of controlling it from your mobile device.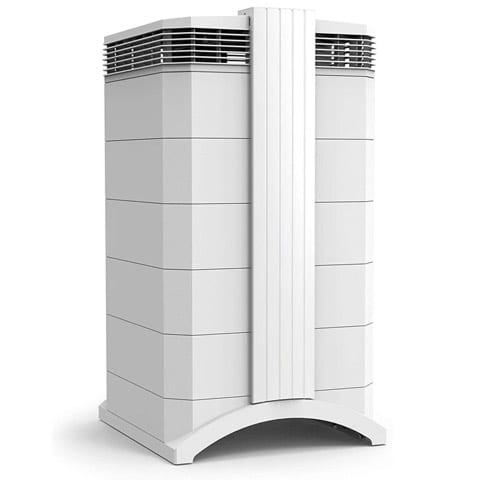 This air purifier covers the largest basements up to 1,125 square feet.
What makes it different from the AIRMEGA air purifier are the two internal filters:
It has a more advanced HyperHEPA filter that captures 99.95% of particles down to 0.003 microns—the smallest that exists.
A special V5-Cell Gas and Odor filter removes a wide range of chemical pollutants and household odors. If you want the cleanest air with fewer toxins and smells, then this is the top filter to get.
Additionally, these filters last for several years before they need to be replaced. The HyperHEPA filter lasts up to four years and the V5-Cell and Gas and Odor filter is good for two years.
This unit has also won numerous awards for being a top air purifier for improving health.
Those benefits combined make this air purifier outstanding for basements and makes it a very affordable air purifier in the long-run.
Frequently Asked Questions
Are air purifiers good for basements?
Yes, air purifiers are good to use in the basement. These devices improve air circulation and reduce pollutants such as mold spores and dust. A basement air purifier can help improve the overall air quality in the lower level of a home, and even more so if the basement doesn't have windows.
Why does mold grow in basements?
Mold thrives in damp, dark places, which makes basements one of the top locations for mold to grow.
Additionally, many basements get very little (or none at all) sunlight, have poor ventilation and air flow, and higher levels of humidity. Water problems inside basements can also be common from leaky pipes or flooding, and it takes longer for these areas to dry out. Condensation that results from colder temperatures combined with higher humidity also causes mold growth.
And finally, people often neglect to clean their basements and the build up of dust and dirt can encourage mold to grow. If humidity is an issue in your basement, combining an air purifier with a dehumidifier will give you the best protection against mold formation. Here's an article on the difference between air purifier and dehumidifier, if you're not aware of those things.
How do you deodorize a basement?
There are several steps you can take to deodorize a basement.
1) Open all windows and doors that lead to the outside so that air can circulate.
2) Use an air purifier in the basement with the windows and doors closed.
3) Spray a deodorizing agent with antifungal properties on the hard surfaces like the floors and walls.
4) If you have an unfinished basement, sprinkle chlorinated lime (bleaching) powder all over the floor and let it sit for 10 minutes before sweeping up to remove odor-causing microbes.