Whether you have dust allergies or are looking for the best air purifier for dust removal so that your home stays cleaner, you've come to the right place.
We reviewed and tested some of the top air purifiers on the market so that you can make an informed decision and find the top air purifier machine that's best for eliminating dust. We'll also share with you some tips on how to remove dust from air inside your home in the easiest and most effective way.
Disclosure: Home Air Guides is reader-supported. As an Amazon associate and affiliate for independent brands, we earn from qualifying purchases made through the links on our site. Learn more.
Best Air Purifiers for Dust: Overview
Here's a quick comparison chart showing the top dust air purifiers. We'll cover each aspect of these units in the reviews section below, but this gives you an idea of what's available and an easy way to compare them.
Image
Air Purifier Details
Price
VEVA Pro HEPA 9000 Air Purifier

Best overall air purifier with 3 dynamic air speeds
Filters: Washable Pre-filter, HEPA Filter, Activated Carbon
Coverage: 600 sq. ft.

Check Price
Levoit LV-H133 Air Purifier

Good choice for adaptability in larger rooms
Filters: Pre-filter, True HEPA, Activated Carbon
Coverage: 538 sq. ft.

Check Price
Medify MA-40 Air Purifier

Has a medical-grade HEPA filter
Filters: Pre-filter, H13 True HEPA, Activated Carbon, Ionizer
Coverage: 840 sq. ft.

Check Price
Rabbit Air MinusA2 Air Purifier

Most advanced and customizable air purifier available
Filters: Pre-filter, Medium, BioGS HEPA, Customized, Activated Carbon, Ionizer
Coverage: 700-815 sq. ft.

Check Price
Molekule Air Purifier

Destroys dust at a molecular level
Filters: Pre-filter, PECO nanotechnology
Coverage: 600 sq. ft.

Check Price
IQAir HealthPro Plus Air Purifier

Largest air purifier for dust
Filters: HyperHEPA, V5-Cell Odor & Gas
Coverage: 1,125 sq. ft.

Check Price
Honeywell HPA250 Air Purifier

Great value for dust allergies
Filters: Pre-filter, True HEPA, Activated Carbon
Coverage: 310 sq. ft.

Check Price
Best Air Purifiers for Dust Removal
Recommended for spaces up to 600 square feet, the VEVA ProHEPA 9000 air purifier is an incredibly affordable option for larger rooms.
It's equipped with three filters to capture unseen air invaders and larger ones alike.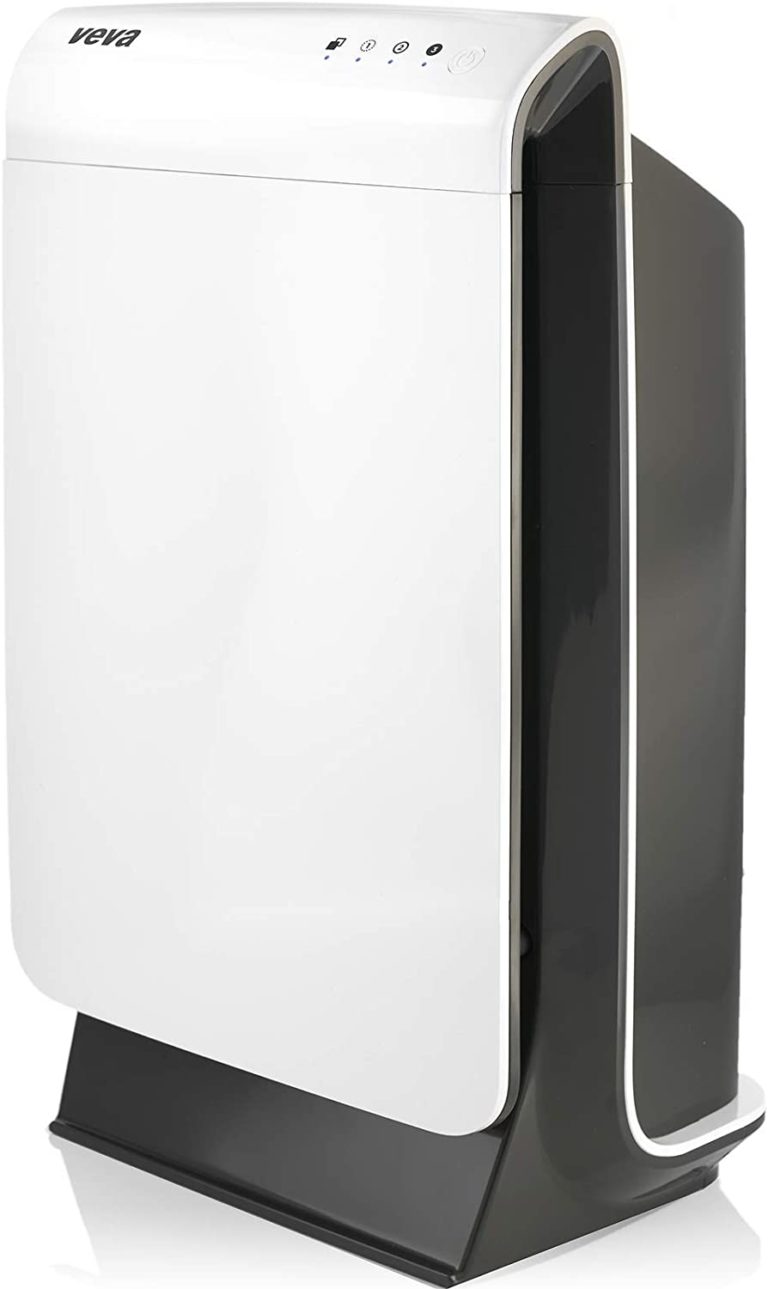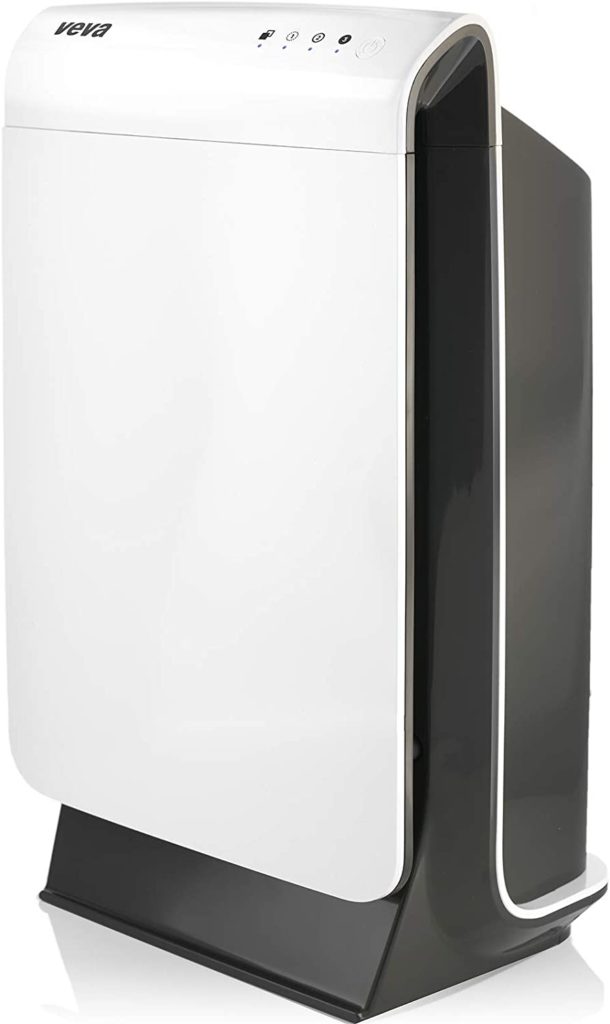 The washable pre-filter uses micro mesh technology to grab larger particles, like hair, pet dander, and lint.
Next, the air meets a microparticle and activated carbon filter which helps to extend the HEPA filter's life and remove odors, smoke, and other vaporized pollutants.
Lastly, the medical-grade H13 premium HEPA filter effectively traps pollen, dust, mold, and other nasties to bring you the best air possible in your home.
Unlike other air purifiers on the market, this VEVA air purifier doesn't use UV lights or ions. Those are known to create trace amounts of ozone that can pollute the very air you're trying to clean. For families with babies, cats, or dogs, you can breathe easy knowing this little machine is a lot safer than some of the other products out there.
Its small, sleek, and modern design is also a huge perk – if you're looking for a smaller option you should consider the VEVA 8000 Elite Pro Series Air Purifier.
---
This is another top choice for removing dust from the air in your home.
The advantage it has over our first recommendation is that this air purifier includes a medical-grade H13 true HEPA dust filter for rooms.
The HEPA filter on this unit captures 99.99% of dust particles and allergens down to 0.1 microns in size, making it the best air filter for dust and allergies.
With this product, you'll enjoy a dust-free zone up to 840 square feet, which makes it a good air purifier for large rooms and apartments.
It also features an activated carbon filter, which is excellent for removing airborne chemicals, gases, and odors to keep your home smelling clean and free of toxic substances.
Another unique benefit of this product is that it includes an Ionizer to further boost the air cleaning power.
This feature sends out negatively charged ions into the air that causes airborne particles to clump together and fall out of the air. This added benefit makes it easier for the internal filters to capture dust particles and other contaminants in the room.
It also comes in two colors: white or black, so you can get the right model to match your personal taste.
---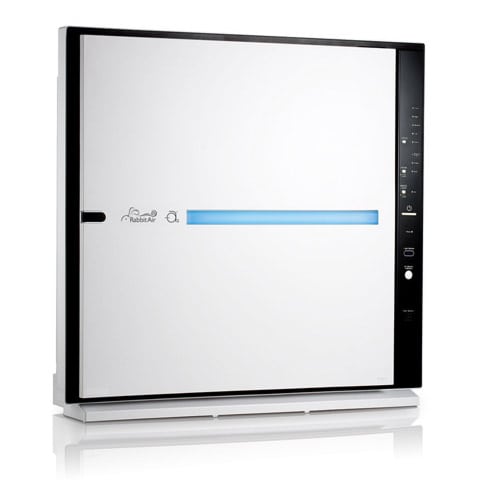 In many ways, this air purifier is a much better choice than our #1 air review.
However, we listed at #3 because not everyone needs the personalized customization and extreme performance of an air purifier for dusty room like this.
But if you do, then this will be your topic choice for dust removal and is the best air purifier for dust mites and all other indoor pollutants.
What makes this unit so good is the 6-stage air filtration system that includes:
Pre-filter
Medium Filter
BioGS HEPA Filter, which is a longer-lasting True HEPA filter
Customized Filter
Activated Carbon Filter
Ionizer
This combination of air cleaning technologies makes it the leader in the industry for purifying indoor air.
The customized filter option allows you to further target specific contaminants inside your apartment including:
Germ Defense Filter: Reduces airborne bacteria, mold spores, and particles that carry viruses.
Pet Allergy Filter: Reduces pet dander, pet allergens, and pet hair.
Toxin Absorber Filter: Reduces volatile organic compounds (VOCs) and other chemicals.
Odor Remover Filter: Reduces odors from pets, cigarettes and cigars, cooking, and mildew.
This air purifier is also the only one available that can be wall-mounted or stand alone as a floor unit. So you can place it anywhere inside a room to meet your needs and remove dust particles.
Additionally, the front panel comes in two color choices and multiple designs so the unit can blend in like a piece of art.
Plus, a Wi-Fi enabled version is also available to control everything from your iOS or Android device.
As for room size coverage, it can clean the air in a room between 700 to 815 square feet.
All-in-all, this is the best air purifier for dust removal and every other contaminant indoors. It's truly one-of-a-kind and you won't find anything else like it.
---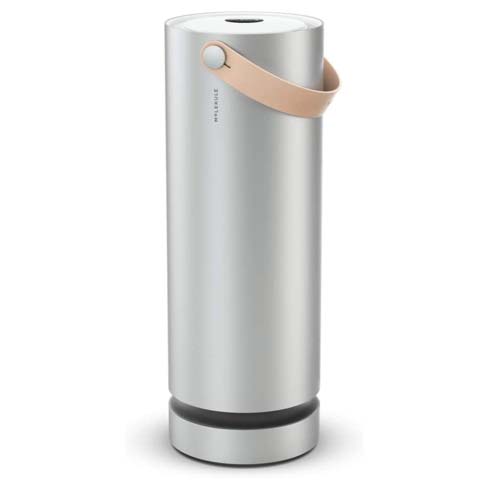 If you haven't heard of the name Molekule before, then we're happy to bring this air purifier to your attention.
This air purifier brand is getting a lot of publicity these days because of its advanced air filtration technology that actually destroys—not traps—airborne pollutants at a molecular level.
It's unlike any other dust air purifier reviewed on this list because it uses advanced PECO filtration technology:
PECO filtering uses the combination of light and a filter membrane coated with nanoparticles to break down pollutants of any size.
PECO nanotechnology destroys dust particles, allergens, mold, bacteria, and viruses at their core so you have the cleanest, healthiest air to breathe.
PECO filtering can eliminate pollutants that are 1,000 times smaller than standard filters must meet to qualify as HEPA.
So basically, PECO eliminates every trace of dust that passes through the system with no chance of it ever escaping because it's broken apart at the molecular level.
The PECO technology makes it a good air purifier for dust mites and eliminating their allergens.
As for room size coverage, this air purifier has good performance for large rooms up to 600 square feet.
And while this is a good Wi-Fi air purifier for dust that can sync with your smartphone, it also includes a touch screen display on the top of the unit for making adjustments to the fan speeds and automatic modes of the air purifier for anyone who doesn't want to use that feature.
Finally, the sleek design makes it one of the best-looking air purifiers you can buy today as well as having a solid leather handle for easy transport around the house.
---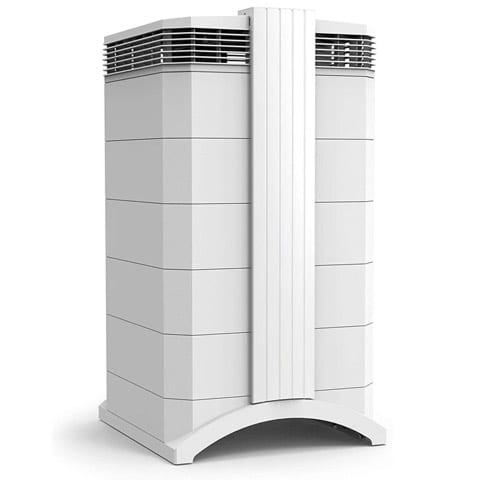 Perhaps you have a very large room in your home or have severe dust allergies and need a powerful air purifier to clean it.
If so, this is going to be the best air purifier for dust allergies for your needs.
The IQAir HealthPro Plus covers the largest amount of space than any other air purifier on this list, up to 1,125 square feet.
That makes it excellent for open floor plans, large basements, big bedrooms, and any other large area in your house.
Additionally, this air purifier has the most advanced HyperHEPA filter out there.
It traps super-fine dust and other microscopic particles down to 0.003 microns. That's 100X more efficient than a standard True HEPA filter.
Plus, the HyperHEPA dust filter lasts up to 4 years before a replacement is needed.
Another nice perk about this dust air purifier is that it comes with a V5-Cell Odor & Gas filter. It's packed with 5 pounds of activated carbon to extract the widest range of chemical pollutants in the air and household odors.
So not only do you get the most powerful cleaning power against dust but you also get advanced protection against other toxic contaminants in the air.
---
Our next recommendation for the best air purifiers for dust is this Levoit model here. Our team has reviewed many Levoit air purifier models that have all impressed, but this one balances size and design very well.
The Levoit LV-H133 air purifier works tremendously well for dust removal in rooms up to 538 square feet.
This is close to double the coverage as the Winix 5500-2 Air Purifier mentioned above.
The biggest difference between these two air purifier models; however, is that the Levoit LV-H133 offers 360-degrees of air filtration.
Dust is drawn in from all sides of the unit which makes it 40% more efficient at reducing dust and allergens.
Plus, this air purifier includes special cyclone technology that makes it whisper-quiet at the lower fan speeds and not too loud on the highest setting.
While it doesn't include PlasmaWave technology Winix Air Purifier, it's still a very energy efficient unit and holds the Energy Star certification for low energy consumption.
That makes this air purifier a good deal for anyone's budget.
---
Honeywell produces some of the most effective air purifiers for eliminating dust, allergens, and other common allergy irritants — ad this HPA250 air purifier is no exception.
What makes this one of the best air purifiers for dust is that it's packed with a high-quality True HEPA filter to clean the air as efficiently as possible.
It exchanges the full volume of air 5X every hour in a room up to 310 square feet.
Many other air purifiers only have a 2X or 4X rating, so this unit is much more efficient at cleaning the air.
Additionally, this air purifier includes Bluetooth connectivity. This gives you wireless access through your smartphone to a 24-hour timer, custom air cleaning schedules, fan speed settings, filter reminders, and more.
It's also one of the quietest air purifiers ever tested at its highest speed too.
Honeywell made this air purifier to meet the high demands of removing microscopic dust and other allergens to give allergy sufferers long-term relief as well as give users the most modern controls. It's one of the best air purifiers you can buy today.
---
Other Air Purifier for Dust Filtering Features
As you've already learned, the secret to eliminating dust from your home is using an air purifier that has a True HEPA filter.
But many of the best rated air purifiers also come with additional filtering technologies to help purify the air from other contaminants. To help you fully understand how these dust air purifiers work, we've provided a more detailed description of these air filter types below which add to the list of air purifier advantages you can experience.
PlasmaWave Technology
While True HEPA filters are excellent at trapping dust and other fine allergen particles, these filters are not the best for capturing pollutants that are known for making people sick. This includes viruses, bacteria, and chemical vapors.
What PlasmaWave technology does is attacks those types of harmful toxins at the molecular level and neutralizes them so they can't make you ill.
The way it does this is by sending an electric pulse through the air after it has been filtered by the True HEPA filter. As the air comes out of the machine, it's put into a plasma state. Once the air is in this state, it comes into contact with airborne water vapor to form Hydroxyl Radicals (OH). OH are unstable molecules that have been stripped of hydrogen and oxygen atoms.
They latch onto viruses, bacteria, chemical vapors, and other germs, and during this process, those contaminants are destroyed while the Hydroxyls change back into harmless water vapor.
What makes PlasmaWave so unique is that it mimics the way air is cleaned naturally in our outdoor environment. PlasmaWave doesn't create any harmful byproducts, like ozone, and is completely safe for humans.
Activated Carbon Filter
Another area where True HEPA filters are lacking when it comes to air purification is odor control.
Dust and allergens are microscopic particles that are easily trapped inside a dense HEPA filter, but things like pet odors, chemical gases, kitchen smoke and other common sources for household smells easily slip by these types of filters.
The answer to those types of problems is an Activated Carbon filter. Activated Carbon air filters are made up of millions of tiny pores that absorb odors, gases, and chemical vapors. These filters don't do much else besides that.
They can't trap dust or eliminate allergens. Nor can they get rid of bacteria, viruses or other germs. If you want a fresh-smelling home, in addition to one that is free of dust, you'll want an air purifier that includes this additional filter type.
Ionizer
There's no doubt that True HEPA filters are amazing at capturing dust. As air passes through these filters, dust, allergens and other harmful particles get trapped in the dense filter. However, the air inside our homes is constantly being introduced with contaminants from the outdoors.
Another top feature to look for in an air purifier for dust control is an ionizer.
Once this bond is made, those particles become too heavy to stay in the air and therefore fall to the ground. An ionizer is a good feature to have on an air purifier because it acts as a secondary defense against dust, allergens, and other germs.
As new particles enter a room, the True HEPA filter will need some time to cycle the air and draw them into the filter. In the meantime, the ionizer can work to pull these pollutants out of the air so you have cleaner, fresher air to breathe while the True HEPA filter is doing its job to trap them.
PECO
Photo Electrochemical Oxidation (PECO) is a type of air cleaning technology that eliminates indoor pollutants at a molecular scale. PECO is a proprietary technology used by Molekule air purifiers.
PECO works by having a light shine onto a filter membrane coated with nanoparticles. This light-activated catalytic reaction on the surface of the filter breaks down pollutants of any size. Microscopic pollutants like dust particles, allergens, mold, bacteria, viruses, and airborne chemicals are essentially eliminated from indoor air as they pass through the PECO filtration system.
If you have asthma, and dust irritates the condition, then getting a Molekule air purifier with a PECO filter can be a good choice. We recommend it as a top option in our guide on the best air purifier for asthmatics.
How Do You Remove Dust from the Air?
If you want to get dust out of the air, you can follow these tips for how to remove dust from room:
Dust Properly
Use a damp cloth or sponge to clean surfaces and trap dust. Always start at the top and work your way down to avoid scattering too many dust particles in the air.
Clean Bed Linens Weekly
Wash your sheets, pillows, pillowcases, and comforters at least once every week in hot water. This also helps reduce the number of dust mites.
Use a HEPA Air Purifier
This is the best machine to remove dust from the air. The most effective HEPA (High Efficiency Particulate Air) filters can remove up to 99.97% of airborne particles to help you effectively control and reduce dust inside the home.
Change Your HVAC Air Filter
Heating and air conditioning system air filters get dirty fast. Make sure to change this filter once per month so trapped dust doesn't float back through the system and into the various rooms in the house.
Vacuum Regularly
Do a thorough vacuuming at least once per week. To avoid stirring up dust in the air, it's best to use a vacuum with a HEPA filter that traps the particles.
Mop the Floors
After vacuuming, use a wet mop to clean hard surface floors to pick up any remaining dust.
Replace Carpeting
Carpets easily collect and trap dust. Dust mites also like to live in carpeting and rugs. If you can, replace carpeting around the home with tile or hardwood floors to minimize dust accumulation.
Keep Dirt Out
Place high-quality doormats in front of every door and make everyone take off their shoes as they come in. Having a shoe tray to the door is also a good idea. This step will reduce the amount of dust and dirt that comes inside from the outdoors.
Maintain Your Home
Dust particles can enter into the home from cracks and crevices around windows and doorways. To avoid dust accumulation, be sure to weatherproof the doors and windows and seal up any cracks and crevices indoors.
Skip the Clutter
Keeping a tidy home and minimizing the clutter gives dust fewer things to stick to. This helps keep dust under control. It also helps speed up the dusting process.
Frequently Asked Questions
What exactly is dust?
Not only does it include skin flecks and dirt, but it's also made up of insect waste, mold spores, pieces of food, pet dander, hair and more. And every time we open a window or door, we bring more of this dust into our homes.
In fact, dust is made up of many different things including:
pet dander
hair
lint
insect parts
mold spores
bits of food
dirt
flecks of skin
and most importantly, the waste particles from dust mites
Another important note is that often, we use the words "dust mites" and "dust" interchangeably, but the two are not the same thing. Dust mites are tiny bugs that feed off of the dust particles. If you eliminate the dust, you have a better chance of preventing dust mites from hanging around your house. When it comes to indoor allergens, dust mites are the number one cause for your year-round allergy symptoms.
Is dust harmful to your health?
The type of dust, the amount, and length of exposure will determine how toxic it is to your health. The most common effects include coughing, sneezing, eye irritation, hay fever, and asthma attacks.
While there is no hard evidence, breathing high concentrations of dust over many years may reduce lung function and lead to disorders like chronic bronchitis, heart trouble, and lung disease.
Do air purifiers help with dust?
Air purifiers do help with dust if they have the right type of filter. A HEPA filter is designed to remove dust particles from the air through mechanical filtration, which is a method of capturing pollutants within the filter fibers. An air purifier must have a HEPA filter to be effective against dust.
What is the best type of air purifier for dust?
There are so many different types of air purifiers on the market today that it can be very confusing to know which one to buy. When looking for the best air purifier for dust removal, you want a product that uses at least True HEPA filtering.
Why is a True HEPA filter the best air purifier for dust?
True HEPA air purifiers are the only devices with a HEPA filter that are certified to capture 99.97% of particles as small as 0.3 microns in size. This includes all types of dust particles and even dust mites.
What is the best dust remover?
The best dust remover will depend on your room size needs and budget. With those two things in mind, these are the top machines you can use:
Winix 5500-2 Air Purifier: 360 square feet
Medify MA-40 Air Purifier: 840 square feet
Rabbit Air MinusA2 Air Purifier: 700-815 square feet
Molekule Air Air Purifier: 600 square feet
IQAir HealthPro Plus Air Purifier: 1,125 square feet
Honeywell HPA250 Air Purifier: 310 square feet
Levoit LV-H133 Air Purifier: 538 square feet
Bottom Line
An air purifier is a great investment if you want a cleaner home that's free of dust particles. Just remember, the best air purifiers for dust contain a True HEPA filter, which is a certified efficient dust filter for room. A PECO filter, on the other hand, is a good air purifier for dust mites because it destroys—not traps—particles of this type.
And, if you want additional air cleaning power, choose a model that has PlasmaWave technology, an Activated Carbon filter and/or an ionizer.