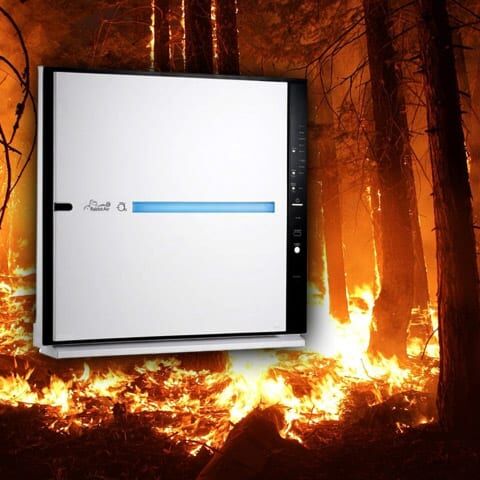 Are you worried about wildfire smoke seeping into your home?
Do you want to protect yourself from the harmful effects that forest fires can have on your health?
If so, you've landed on the right page.
In this article, you'll learn important information about wildfires as well as how an air purifier can help keep you safe.
You'll also find out what the top features are to look for in the best air purifier for wildfire smoke so you can get a device that actually works.
By the end, you'll have everything you need to keep the indoor air you breathe clean and free of forest fire smoke.
Disclosure: Home Air Guides is reader-supported. As an Amazon associate and affiliate for independent brands, we earn from qualifying purchases made through the links on our site. Learn more.
Air Purifiers for Wildfire Smoke Reviewed in This Guide
Here's a quick comparison chart showing the top air purifiers for wildfire smoke. We'll cover each aspect of these units in the reviews section below, but this gives you an idea of what's available and an easy way to compare them.
Image
Air Purifier Details
Price
Rabbit Air MinusA2 Air Purifier

Best overall air purifier with customizable features
Filters: Pre-filter, Medium, BioGS HEPA, Customized, Activated Carbon, Ionizer
Coverage: 700-815 sq. ft.

Check Price
VEVA Pro HEPA 9000 Air Purifier

Best value for square footage
Filters: Washable Pre-filter, HEPA Filter, Activated Carbon
Coverage: 600 sq. ft.

Check Price
Levoit LV-PUR131 Air Purifier

Best value and performance
Filters: Pre-filter, True HEPA, Activated Carbon
Coverage: 360 sq. ft.

Check Price
Levoit LV-H132 Air Purifier

Good for personal use and small rooms
Filters: Pre-filter, True HEPA, Activated Carbon
Coverage: 86 sq. ft.

Check Price
IQAir HealthPro Plus Air Purifier

Has the longest-lasting filters
Filters: Pre-filter, HyperHEPA, V5-Cell Gas and Odor
Coverage: 1,125 sq. ft.

Check Price
The Best Air Purifiers for Wildfire Smoke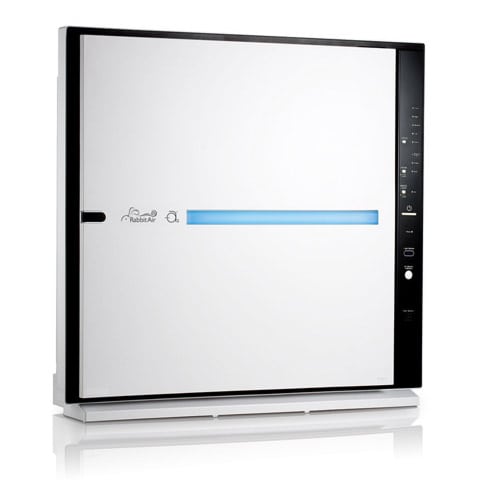 This product tops the list for wildfire smoke because it offers an unmatched six-stage air purification system.
With this air purifier you're getting:
Pre-filter to capture large particles and debris. Also extends the life of the other internal filters.
Medium Filter to trap smoke particles larger than 1 micron in size.
BioGS HEPA Filter to capture 99.97% of smoke particulate matter down to 0.3 microns in size. This is a more efficient version of a True HEPA filter that lasts much longer, up to 2 years.
Customized Filter for targeting smoke toxins (or other indoor concerns).
Activated Carbon Filter for removing VOCs and wildfire smoke odor.
Ionizer for boosting the air cleaning power and freshness.
Three additional benefits that make this a standout air purifier for any homeowner include:
Wall mountable in addition to standing on the floor.
Numerous front panel designs and colors to match your personal style and decor.
MinusA2 780N Wi-Fi version is also available if you want wireless control.
Finally, it covers between 700-815 square feet which is the optimal amount of space for an air purifier for wildfires.
All-in-all it's one of the best air purifiers you can buy for wildfire smoke.
---
The next best air purifier is this model right here.
Recommended for spaces up to 600 square feet, the VEVA ProHEPA 9000 Air Purifier is an incredibly affordable option for larger rooms, especially considering the level of quality air purification you get for the price.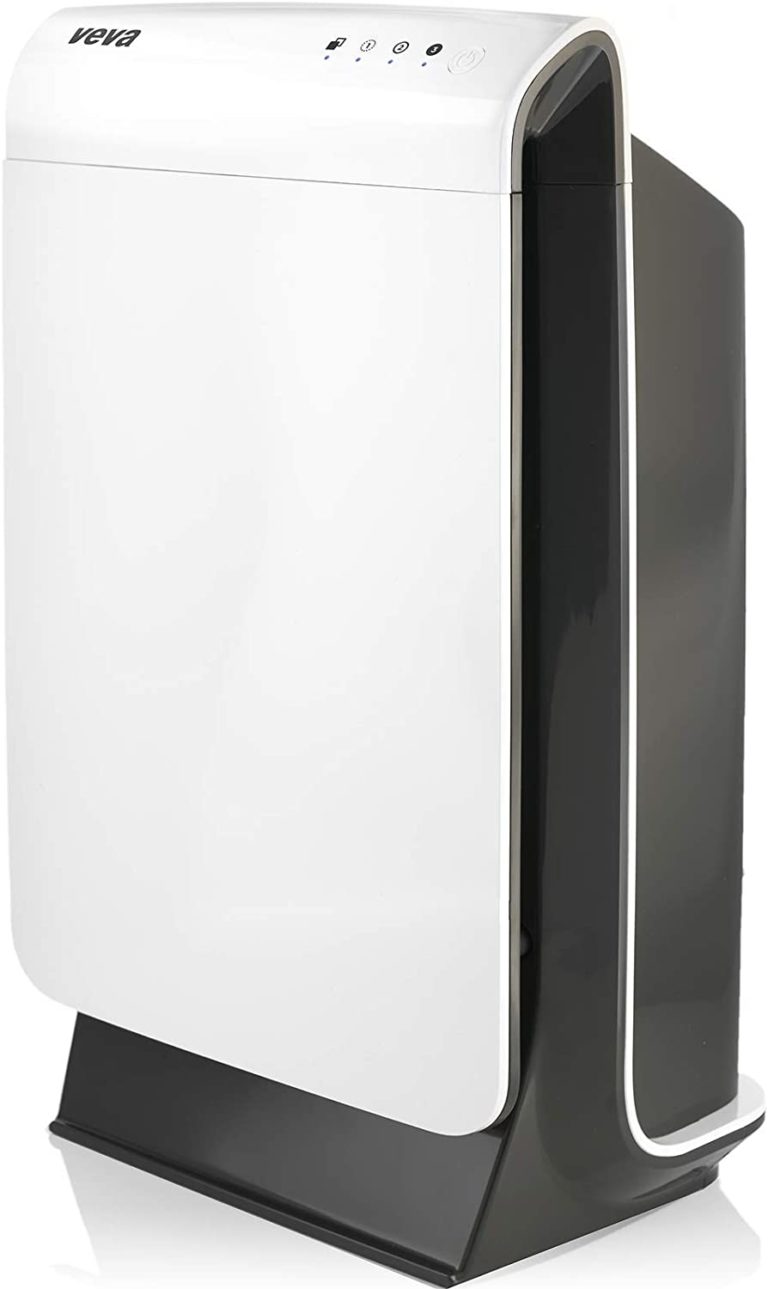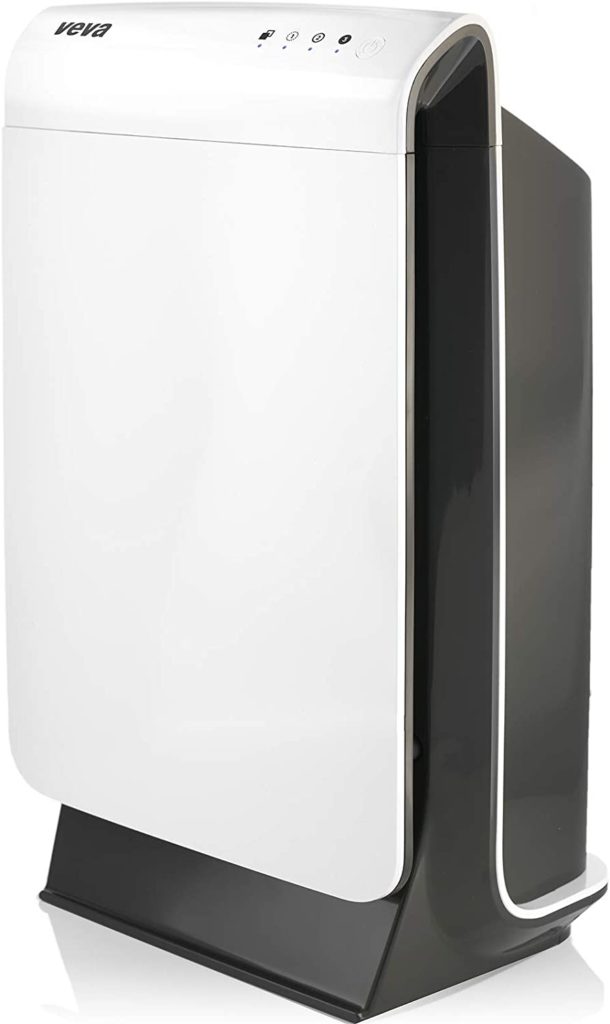 It's equipped with three filters to capture unseen air invaders and larger ones alike. The washable pre-filter uses micro mesh technology to grab larger particles, like hair, pet dander, and lint. Next, the air meets a microparticle and activated carbon filter which helps to extend the HEPA filter's life and remove odors, smoke, and other vaporized pollutants. Lastly, the medical-grade H13 premium HEPA filter effectively traps pollen, dust, mold, and other nasties to bring you the best air possible in your home.
Unlike other air purifiers on the market, this VEVA air purifier doesn't use UV lights or ions, which are known to create trace amounts of ozone that can pollute the very air you're trying to clean. For families with babies, cats, or dogs, you can breathe easy knowing this little machine is a lot safer than some of the other products out there.
Plus, the installation is simple. You just slide the filters into their designated slots and it's ready to go.
Customize how you purify your home with the three airspeeds ranging from extra quiet to ultra turbo. For instance, the extra quiet speed ensures your air is clean while you sleep without the noisy whir of the motor.
Its sleek and modern design is also a huge perk — the VEVA air purifier seamlessly integrates into any home décor for a sensible solution to air quality that doesn't disrupt your personal style. You can also consider the smaller VEVA 8000 Elite Pro Series Air Purifier.